Boxer briefs are one of the most comfortable things anyone can wear – take it from the ladies who steal briefs from their fellas. People are constantly looking for an extra pair to wear or give as a novelty gift. Printify brings you excellent custom boxers that are comfortable, stylish, and sell extremely well. Get busy and start designing.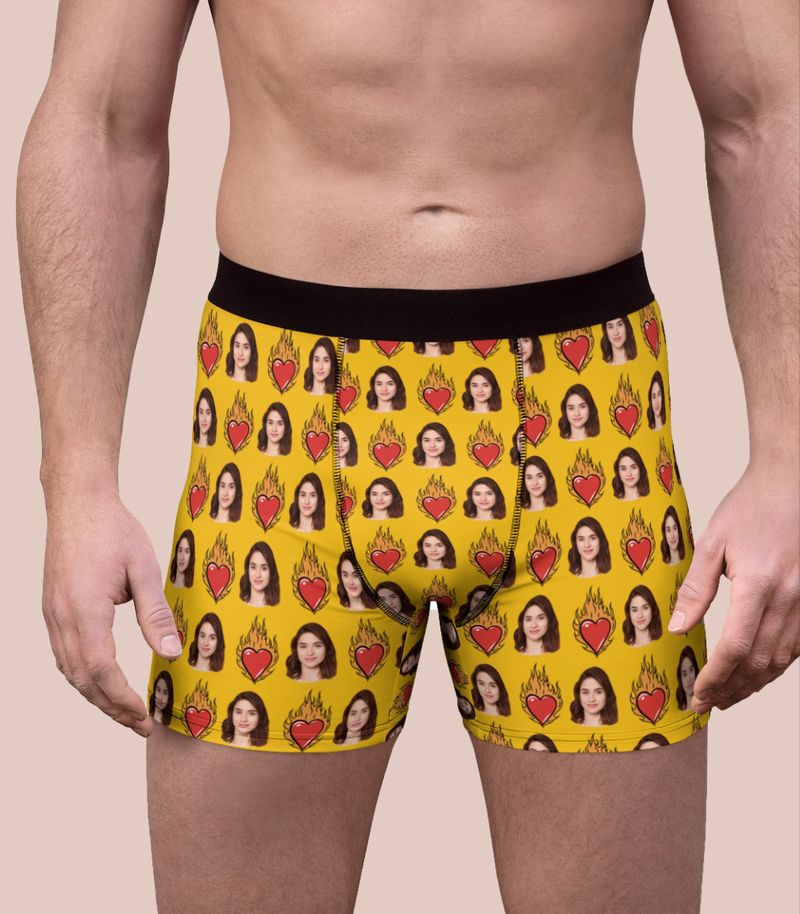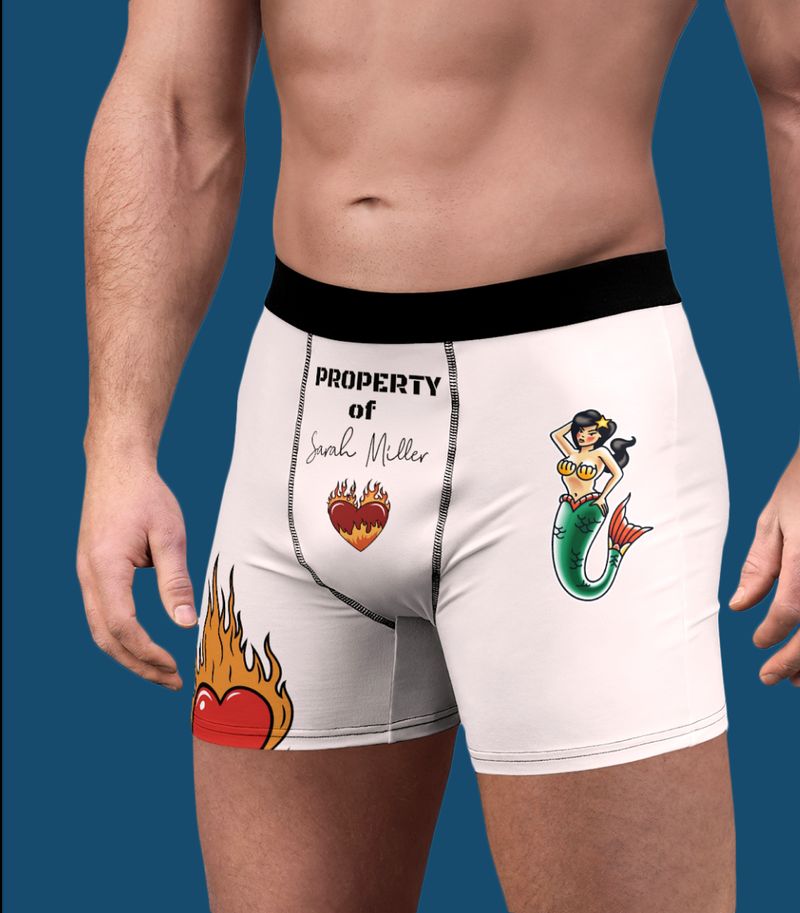 Why Sell Custom Boxers Online?
Printify offers high-quality men's briefs that will stay bright wash after wash. Besides, custom boxers are the perfect gift for any occasion.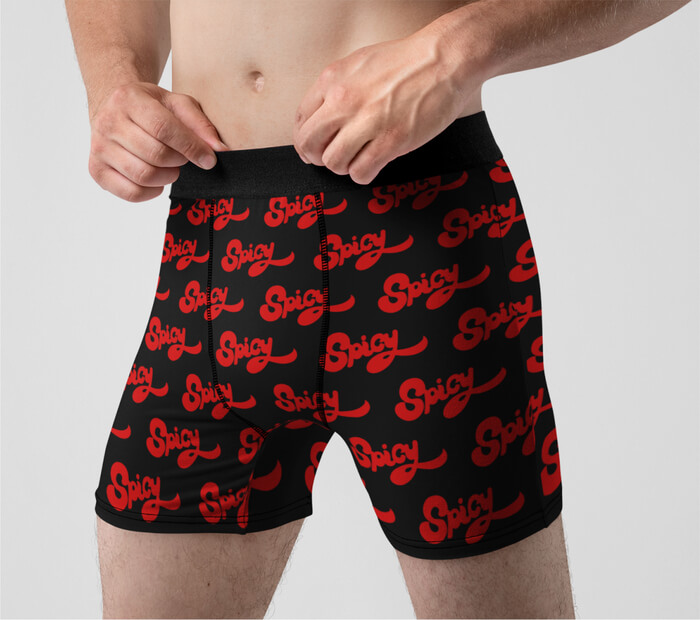 Whether as a birthday gift or any other holiday, a pair of quality classic boxer briefs with your design will put a smile on people's faces and money in your pocket. Get a 20% discount on every item in our catalog – subscribe to Printify Premium and earn even more.
men's underwear industry research anticipates almost a twofold increase in market value by the end of 2031.
The market is predicted to grow at a strong CAGR of 5.3% over the next three years.
How to Sell Custom Boxer Briefs in Four Easy Steps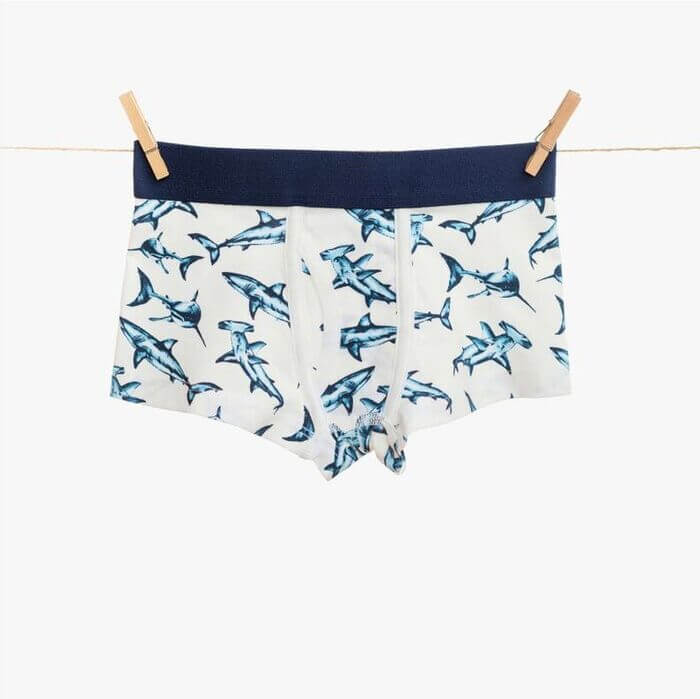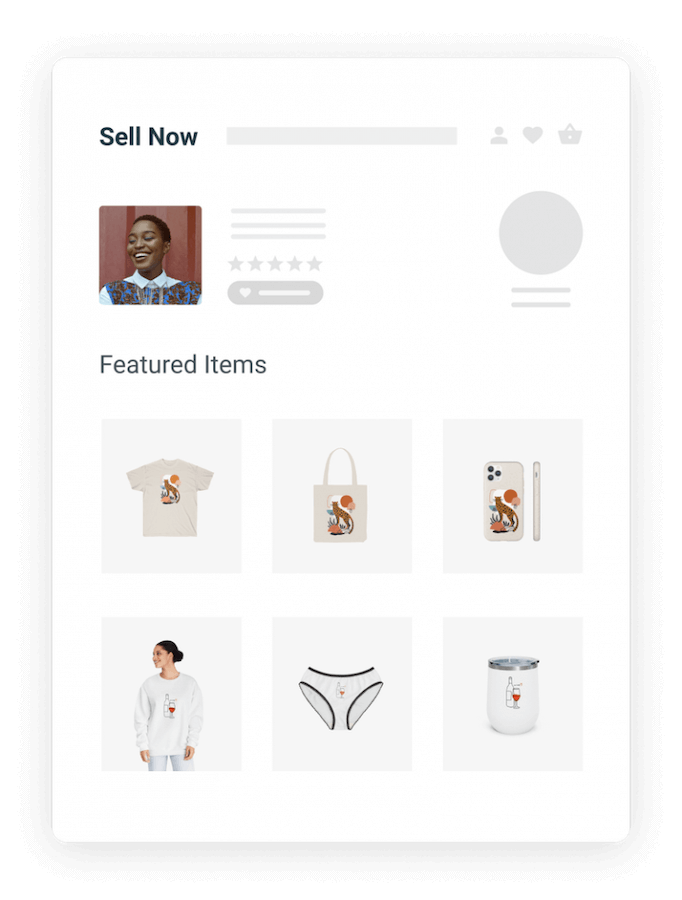 Working Printify is the easiest way to start selling personalized boxers – we will do all the heavy lifting for you. You only need to sign up and create an account.
When your Printify account is ready, visit our catalog of over 800 beautiful custom items and choose men's boxer briefs. 
They are made from super soft material while being durable and strong at the same time. Made of 100% polyester, they're super comfy and can be worn all day long, even at the gym.
3. Create Your Unique Design
Even though eye-catching designs are essential for the success of custom boxer shorts, it does not mean you need to be a professional designer.
You can if you've got the skills, but another way is to hire a freelance artist. There are numerous platforms for finding an artist that matches your ideas.  
You can also take advantage of our collaboration with Shutterstock to choose from among thousands of pictures to use for your custom apparel and accessories.
4. Customize Your Product
Once your designs are prepared in a suitable format, you're ready to create custom products with our Mockup Generator, which is straightforward and easy to use.
Select the product.

Play around with your uploaded designs. Remember, our personalized boxer briefs are printed in

all-over-print

or AOP technique, so you will want your design to wrap around the whole product.

Make use of our

text editing tool

to add custom text.
After designing your boxer shorts, it's time to list them on an online marketplace or platform.
Printify has made it as simple as the press of a button. Our partners are the most prominent online marketplaces and eCommerce platforms – Shopify, eBay, WooCommerce, Etsy, and others. You choose which is best for you and easily integrate.
Start Selling Custom Boxers Online!
Tips for Selling Personalized Boxers
Custom Boxer Shorts Design Ideas
Form-fitting boxers are a great medium to showcase your creativity. Personalize our briefs with photos, cool texts, abstract patterns, or animal faces. Promote your brand or website by printing your logo. Want to go even further? Offer your customers to send in their photos and create truly personal custom boxers to surprise their loved ones.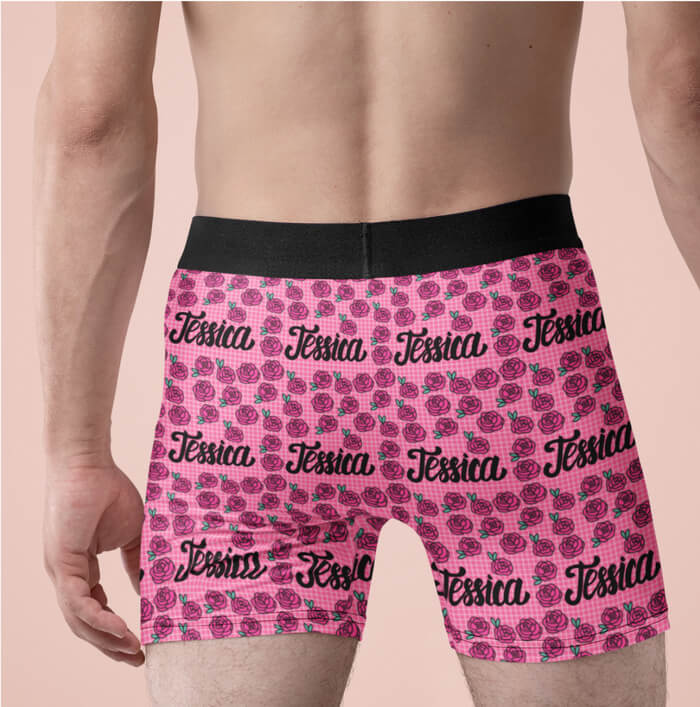 There are many ways our text editor can come in handy while designing your custom underwear. 'Property of_______' shows ownership over a specific bottom. Custom boxers are great gifts for weddings, bachelor parties, birthdays, and other special occasions. Men appreciate personalized funny gifts, so underwear with their sweetheart's or even best bro's name will hit the spot.
If a name seems too vague, face the truth: a printed photo on the front or back of custom boxers is the way to go. 'Personalized boxers with face' is among the most popular search queries regarding novelty gifts – actors, musicians, politicians, and other celebrities are a gold mine for this product to surprise a husband, brother, or co-worker.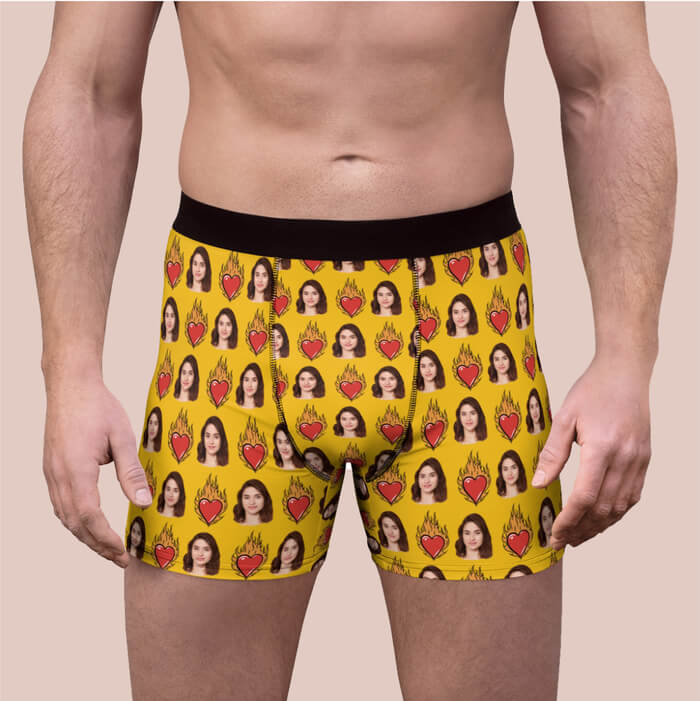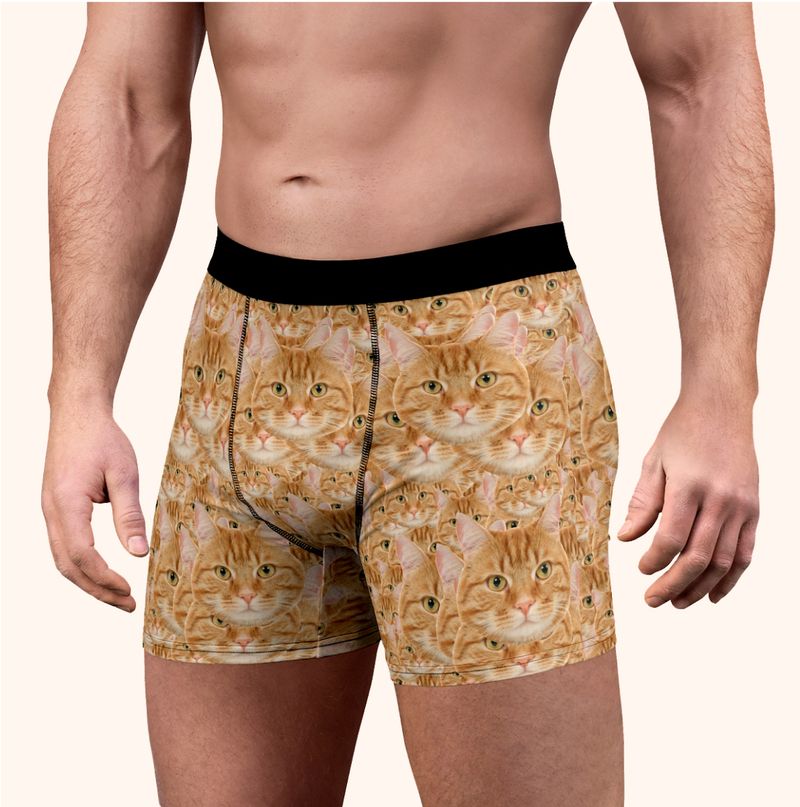 Custom Boxers with Pictures
Offer your customers to have their photos printed on a pair of personalized boxers: pets, hobbies, favorite travel destinations, and more for a truly personal and memorable present. Our mockup generator allows you to play around with up to five layers, guaranteeing a unique outcome every time.
Valentine's Day is the day of personalized boxers. For him, it's the perfect gift: practical, funny, a gift from someone he loves (even if it's his best bro). Shape this special day – customize our briefs all over (except the waistband) with sweet or sexy designs, from adorable heart motifs to sexy words and funny quotes to adding a photo all over the garment.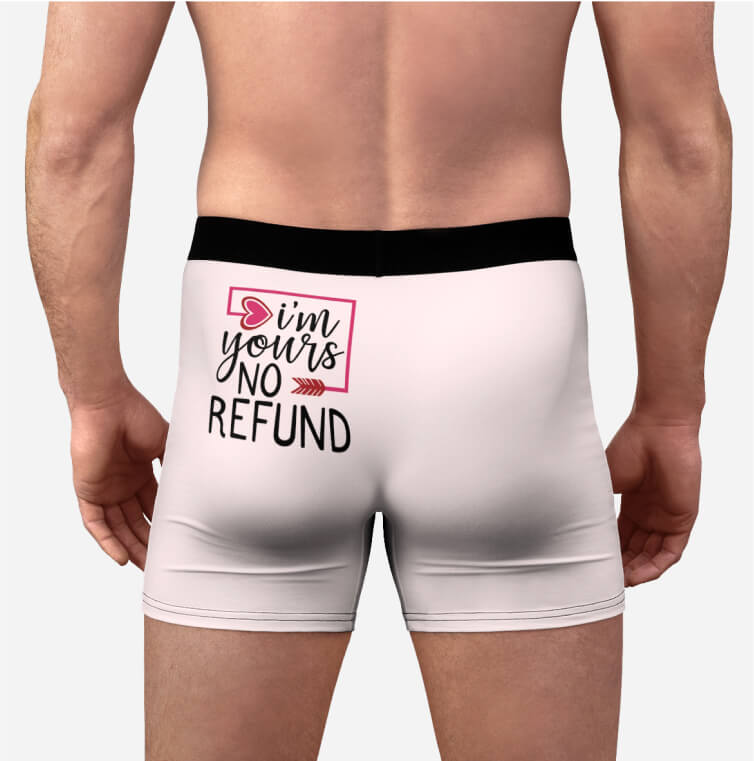 Start Selling Custom Boxers Online!
Here's What You Need To Keep In Mind: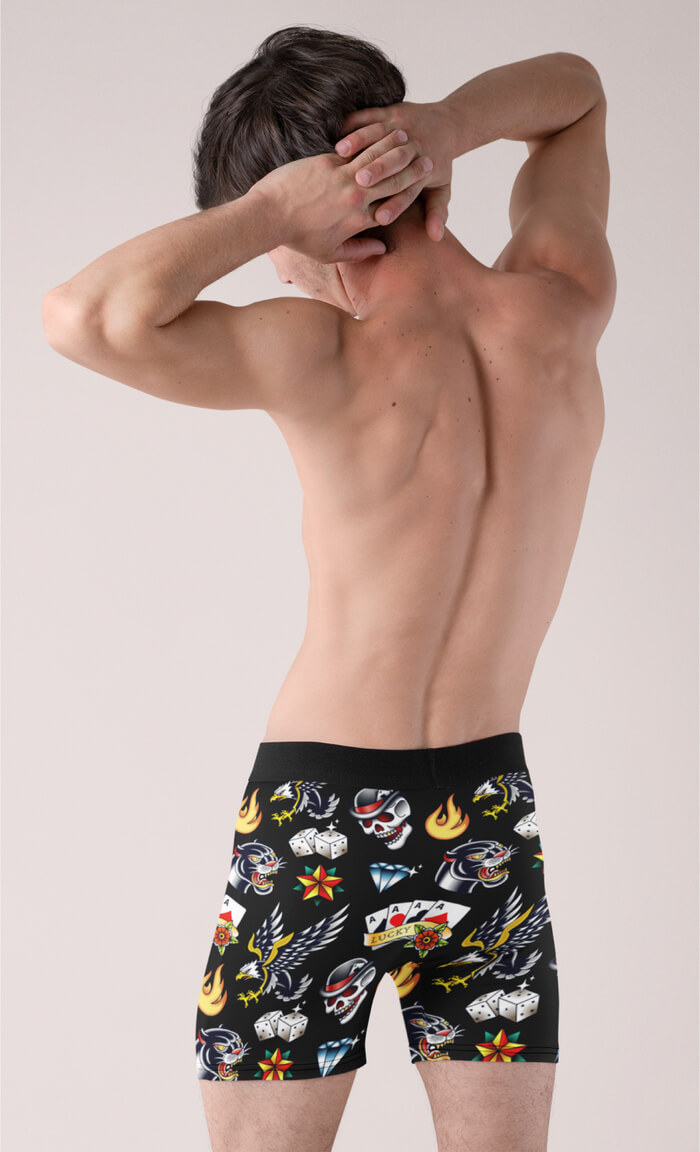 Frequently Asked Questions About Custom Boxers
A Fully Functional Personalized Boxer Business – in Minutes
Starting a boxer shorts business takes less than an hour to set everything up, thanks to our smooth integrations with the biggest eCommerce platforms and marketplaces. When you have your designs ready, uploading and then adjusting them on a virtual product model in Printify's Mockup Generator takes just minutes.
There are virtually no upfront costs. POD is a booming industry because every year more people seek unique items over mass-produced ones. People are becoming increasingly eco-conscious (POD means no overproduction, no waste; your goods are only printed when a sale is made), and like to stand out from the crowd. Unique is cool. Unique is profitable.
When you team up with Printify for your printed boxers business, we've got your back every step of the way. Not only do we produce, package and ship the end product to your customers, but we also provide 24/7 merchant support should any issue arise. 
So roll up those sleeves and start designing a line of custom boxers for the modern man (or woman).