Personalized Business Card Holders
Network in style with our personalized business card holders. These sleek, pocket-sized holders will come in handy when you want to represent your brand like a pro!
Create and Sell Custom Card Holders Online
Why Design and Sell Personalized Business Card Holders?
Even in this digital day and age, nothing beats the power of a good business card. The business card represents the brand. And not only does it convey important contact information, but it is often also the first exposure to the overall image of the business. Selling personalized business card holders online lets you show off the brand in style. Made of high-quality polished metal with a luxurious glossy finish, our card holders are designed with a snap closure and velvet inside to protect the business cards from wear and tear. The cover is fully customizable with your logo, text, image, or artwork for a unique card case that will get you and your business remembered.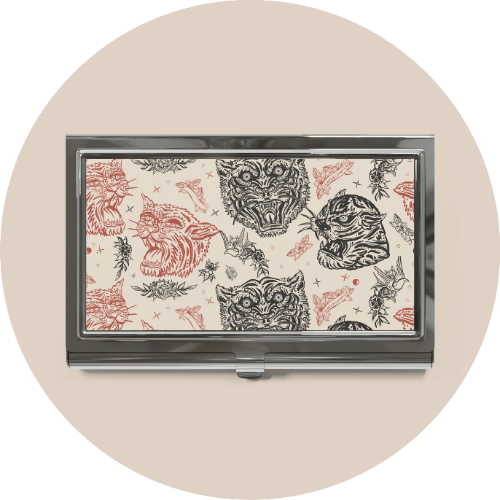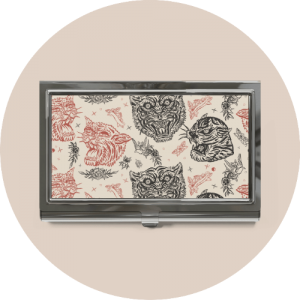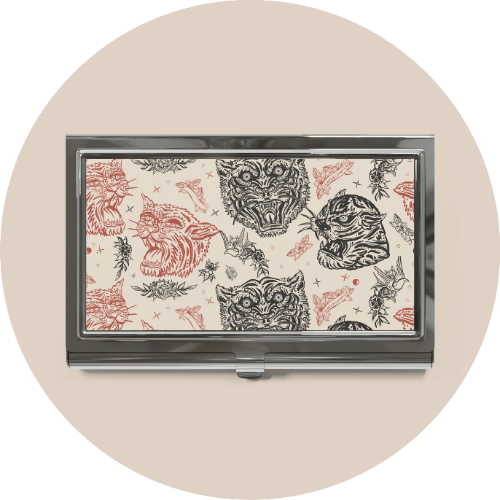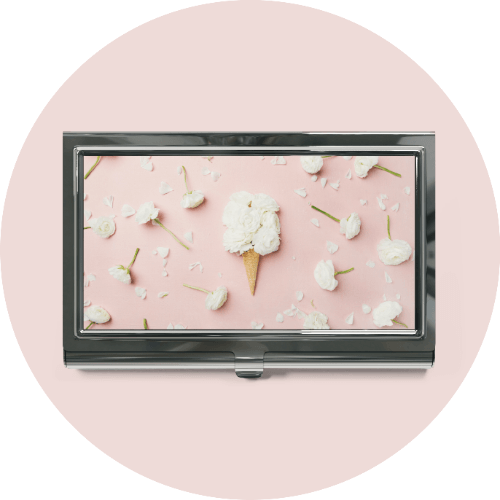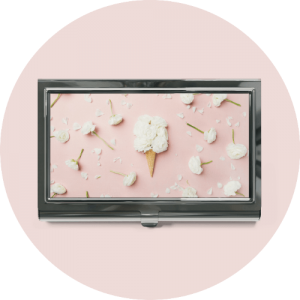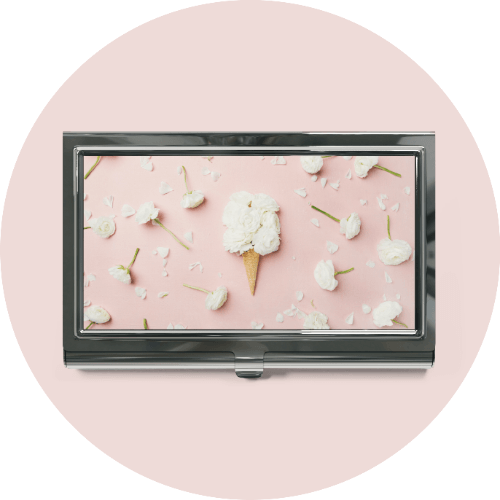 Business Card Holders Make for Great Personalized Gifts
Business card holders are essential if you are a marketer, a graphic designer, or an entrepreneur. With our card holder, you can hold 20 business cards to hand out to let people know about your business. Also, a card holder doubles as an organizer – if you don't have your own business card, store the cards of the businesses you love, plus keep them away from damage.
Even if you do not need a business card holder for yourself, you can get them as personalized gifts for others. Choose from a simple card holder design that works for all kinds of businesses to a design that showcases the unique traits of the person receiving the holder. Personalized gifts come in many shapes and sizes and this time, they come in sleek 3.5 x 2.0 inches.
Ideas for Business Card Holder Designs
Business card holders are not necessarily supposed to be bland and unexciting. Stand out from the crowd with eye-catching designs, and it's so easy and fun: opt for marble or watercolor patterns, logos, geometric patterns, names, or even pictures of cute animals. Go for a more personal approach and offer your customers a fully personalized experience by adding their first and last names to the design as a cherry on the top. 
Business Card Holder for Men
In the case of card cases, there usually is a clear distinction between masculine and feminine card holder designs. While women typically opt for delicate watercolor or marble designs, men often prefer their card cases minimalistic and simple, yet masculine. Think sleek black front, camo, or geometric patterns, or their business logo. Of course, let's not forget our more playful male audience – they love geometric animal shapes like cats and deer and wolves, for example.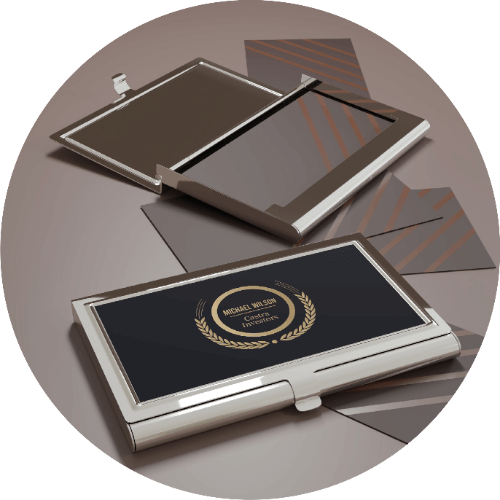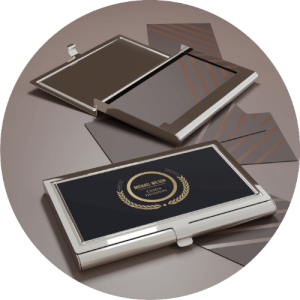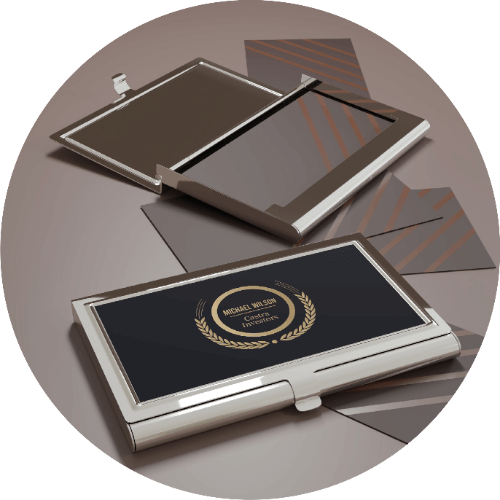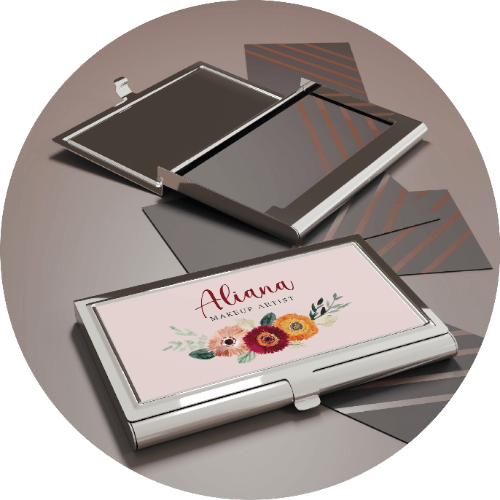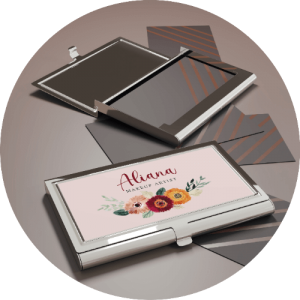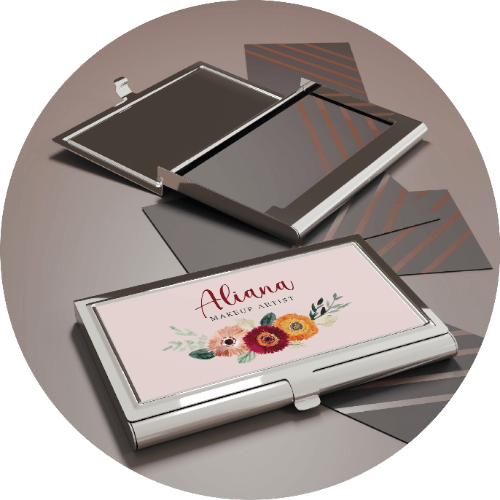 Business Card Holder for Women
When researching what women prefer regarding their personalized business card holders, the results vary: from distinctly feminine designs like marble, watercolor, or floral patterns to animal prints to initials in beautiful lettering. Let your creativity shine and add a whole line of business card holders for women to your online store!
Create Your Personalized Business Card Holders
Create Personalized Business Card Holders With Our Free Mockup Generator
Design stunning card holders in mere minutes. Our easy-to-use free Mockup Generator will take you through the process step by step. Because our personalized card holders are custom printed, you can get as creative as you like: wild and bold colors or minimalist approach – it's up to you.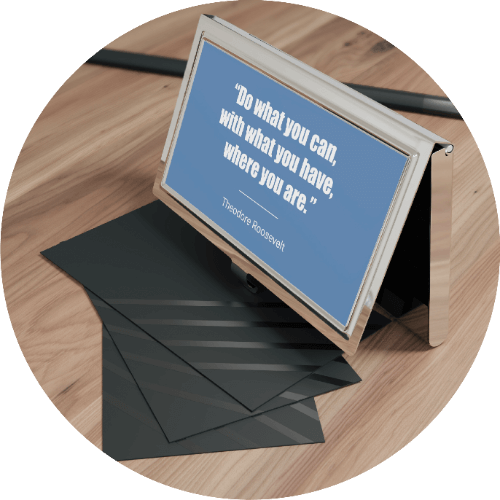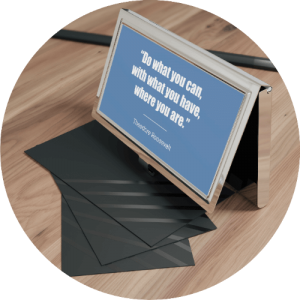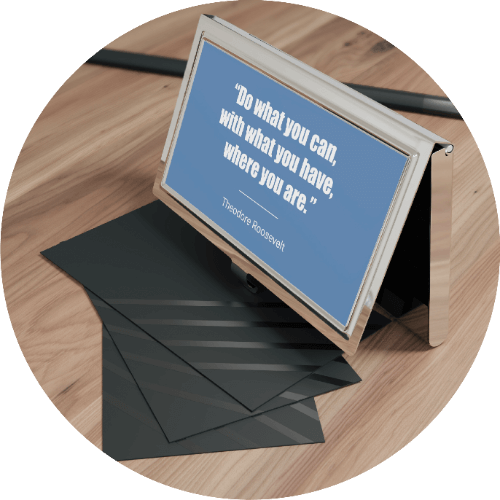 How to Get Started Selling Custom Business Card Holders?
When you have a Printify account, you get access to our easy-to-use free merch maker that is made to navigate with ease even if you have zero designing background. When we talk about customizing or designing online, we often think of complex software that costs a lot of money and takes years of experience to use correctly. With the Printify free merch maker, you can start designing your custom card holders with just a few clicks – if you can drag & drop, you can design with Printify!
FAQ About Personalized Business Card Holders
Design Your Own Personalized Business Card Holders
Custom card cases are easy to design and sell – it's a great niche for anyone looking to increase their side income through dropshipping. Printify now offers more than 300 different blank products for you to design and sell. Start your print-on-demand business journey today!
Create Your Personalized Business Card Holders