Personalized Aprons: The Versatile Item Missing in Your Online Store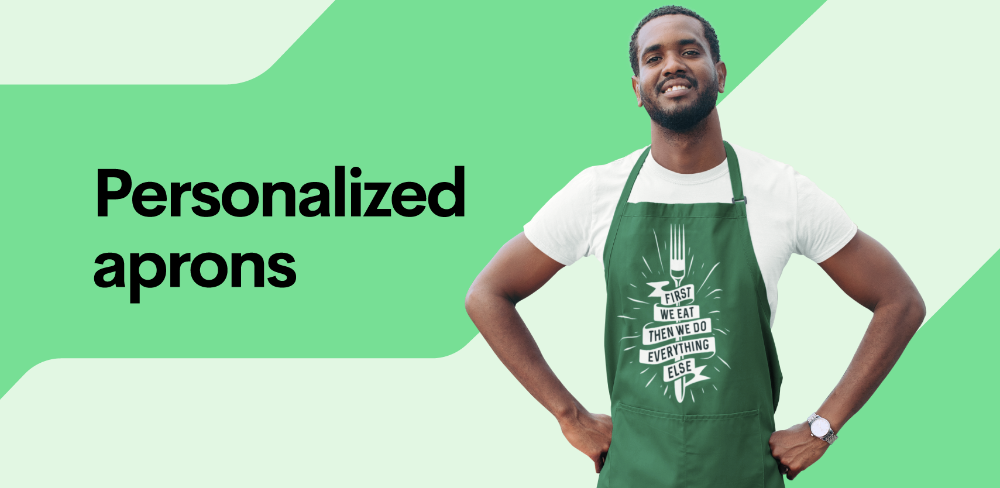 Today's retail marketplace can feel noisy and oversaturated for some consumers. Perhaps that's one of the reasons behind the rise of personalized products. One particular SKU trying to join the party is customized aprons.
The truth is printed aprons have always been a unique type of gift. With newfound time at home equals more time in the kitchen for 46% of consumers — no wonder over 12,000 Etsy stores alone list aprons on their stores.
At Printify, we work with dozens of blank merch suppliers. Our poly twill customized apron is the perfect accessory to add to your online store. It's lightweight, stylish and durable, making it ideal for all sorts of occasions.
Here's What Makes Our Aprons the Best Ones Out There:
Why You Should Start Selling Personalized Aprons
Aprons are one of the most versatile pieces you can carry. They're a traditional kitchen staple. But, printed aprons have a place on so many special occasions: Mother's Day, Father's Day, Christmas, birthdays – the list goes on. 
Besides, it's no secret that customers want customization. According to the YouGov report 26% of US consumers have customized a product before. Moreover, 46% of this group say they are ready to pay more for a personalized product.
The 2020 pandemic accelerated the rise of customized products. With people working remotely, companies hosting online events and families spending time apart, personalized products gave them a sense of belonging.
Personalized Apron Design Ideas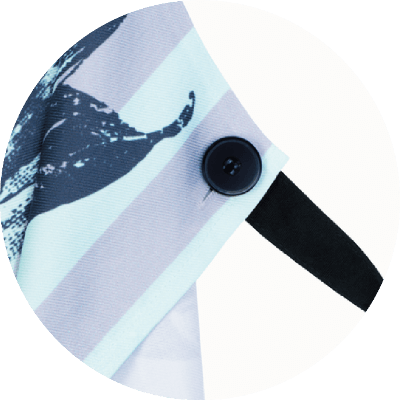 While most people associate aprons with kitchens, they're protective garments that keep your clothes in check while you do so many things. Aprons are a must-have at hair salons, restaurants, coffee shops and bars.
How about when painting, doing pottery or trying messy crafts? Aprons are excellent garments to have for all those occasions. Not to mention, they make for adorable gifts. 
Customized aprons have a more personal touch to what's already a timeless accessory in our lives.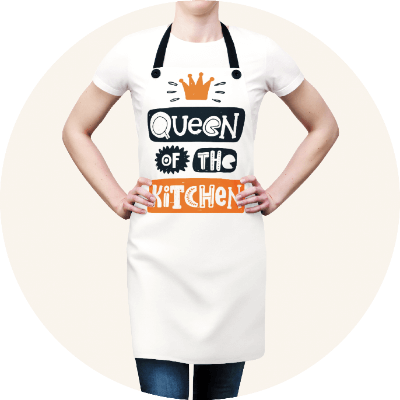 Aprons are like chameleons. They adapt to their owners. With your designs and your offerings, you can design aprons as gifts. Whether you add a custom message or upload their photo as art, a printed apron can make for a unique gift idea.
Personalized Aprons for Him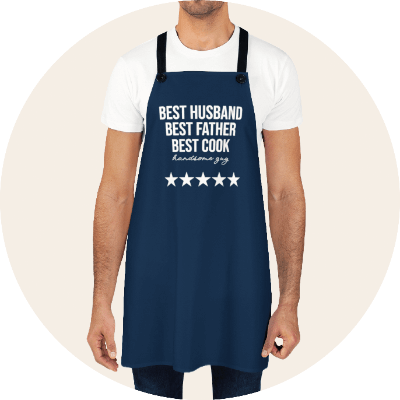 Think of fun quotes and design personalized aprons for the guy that's continuously firing up the barbecue at parties. Maybe there's a chef who needs to elevate its kitchen fashion game. Printed aprons can be really fun to give out on Valentine's Day, Father's Day, or really, on any occasion.
Personalized Aprons for Her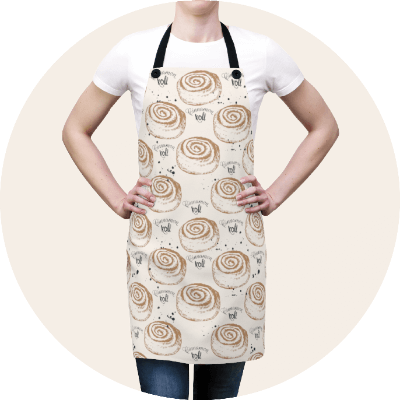 Whether she's a baker, an avid cooker, or a wannabe sourdough expert, every woman will appreciate having a cute customized apron to protect her clothes from all kitchen accidents. Let your creativity run wild and think of the millions of designs you can create with our personalized cooking aprons.
Customized Aprons With Logos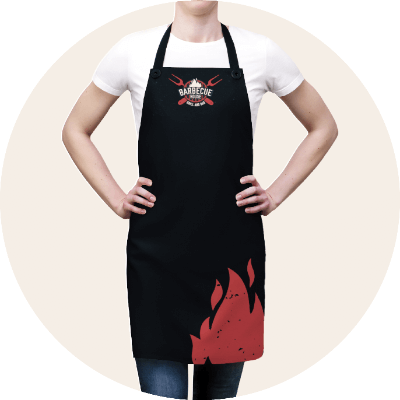 Now, aprons don't just belong in our homes. Restaurants, catering businesses, coffee shops, tattoo parlors and more use aprons daily. But why should they have to settle for dull-looking aprons when you could design a showstopper customized apron that showcases their brand and business personality? Let your customers upload a company logo, brand slogans and images so they can create unique styles. After all, with Printify, there are no minimum orders – but we'll get to that in a bit.
Personalized Aprons for the Family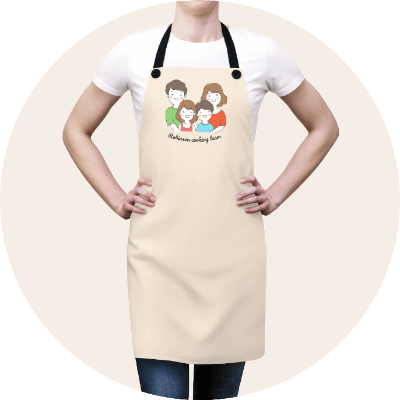 With more families spending more time in the kitchen, designing personalized aprons as family sets seem just about right. Picture cute illustrations of the families, everyone's names paired with different colors and prints, or everyone's favorite characters. The options are endless, so everyone can heavy the design that speaks to them.
How to Start Selling Personalized Aprons?
You can start selling aprons in just a few clicks. First, sign up to Printify and create an account. In a few steps, you'll go from idea to final product. Here are some tips to help you sell personalized aprons.
Use the design ideas above and decide what route you want to take. This will help you create your first designs. As you get to know your audience better, you can change designs, add new ones and become more creative with your choices.
Use the Mockup Generator to start designing your new printed aprons. You can choose logos, quotes, full-size images and more designs. Just pay attention to any image quality warnings and preview your product before publishing to make sure it's ready to print.
Once you're happy with your design, it's time to publish your personalized aprons. Printify connects with many e-commerce platforms, so you don't have to worry about the tedious parts. You can order a sample of your custom apron to see it in real life and make sure you're happy with how it looks.
Create Your Custom Apron for Free!
Why Choose Printify as Your Trusted Supplier?
With Printify on-demand printing solutions, designing and selling personalized aprons is incredibly easy. 
The best part about choosing this business method is that there are no upfront costs involved. On-demand printing means you don't need to count on an extensive inventory of aprons to start selling products. Once a customer places an order, we'll begin creating the product and ship it directly to their doorstep: no inventory, no hassle, no worries involved. 
Printify counts with suppliers worldwide that meet our quality standards so that you can guarantee high-quality aprons to your customers every time. Our Print Provider ranking can help you find the best printing provider for your business. 
But what really makes us the best service out there is our free Mockup Generator tool. The mockup generator features a user-friendly interface that everyone can navigate. With the mockup generator, you can start designing your customized aprons with a few clicks. 
Once you're sure your design looks like you had envisioned it and passes our requirements for a high-quality print, you can see it. You can preview your final apron print and how it will look in real life.
Then, you can use the images created by our mockup generator to publish your designs to your store or start promoting your new products on social media. All without having to deal with inventory and samples. 
We're trusted by over 300k merchants that are designing custom products worldwide. Plus, we have high standards for quality, so you can rest assured you and your customers will love the product.
Ready to Start Designing Personalized Aprons?
If you're ready to take your store to the next level or you want to explore designing printed aprons, opening an online shop with personalized products is easier than ever. For anyone who has a nag for entrepreneurship and creating, this is a genuinely gratifying endeavor. 
Don't you worry, with Printify's on-demand printing services, designing printed aprons is a breeze. Our all-in-one solution helps you find high-quality blank merch ready to be customized—no need to worry about spending a fortune on inventory, restocking or finding a warehouse.
Ready to Start?
Sign up to Printify and Start Designing.
Share the article
Topics