The 4th of July is America's most popular summer holiday, celebrated with friends, family, and the community. Consider jumping on the bandwagon and adding breathtaking Independence Day shirts for their get-togethers.
Why Make and Sell 4th of July Shirts
Most Americans plan to spend Independence Day at social events – a family cookout or other community gatherings. Wearing a 4th of July shirt shows your holiday spirit and gives you a sense of belonging.
Looking at consumer behavior, we see a solid interest in purchasing patriotic merchandise. More than 80% of Americans celebrate the 4th of July each year. A third of them were planning to purchase patriotic merch last year – that's a massive target group.
Custom 4th of July Shirt Types
We mainly look at different shirt cuts when speaking of the variety of shirt types. Going through our offers, we've assembled examples of some of the best shirts for your 4th of July collection. You probably already have a favorite shirt cut, and maybe it's even included in this list. Still, we hope our suggestions spark some additional ideas for great Independence Day designs.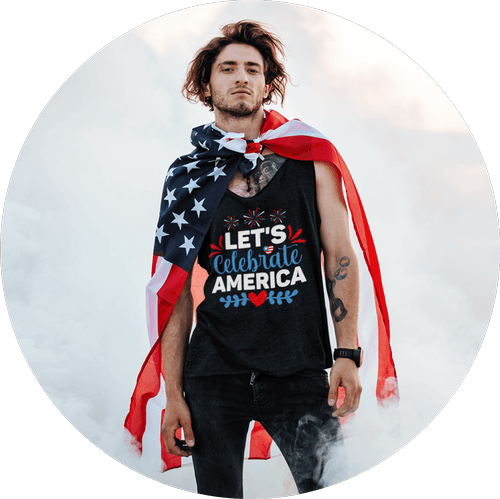 If you're tired of restricted movements and sleeves, tank tops are the product you've been looking for. They're mostly made from 100% cotton but have some color variants mixed with polyester and rayon. They fit perfectly, are comfortable, durable, and even offer various tank top cuts. The most important point is that these tank tops offer excellent direct to garment print quality. They're the perfect canvas for showcasing your designs on a hot day.
Next up is the classic t-shirt. There's a reason it's been around for so long – the t-shaped cut works. This combination gives you the comfort of cotton, the durability of polyester, and the fluid draping of rayon – what more could you want? These will offer a classic, loose or relaxed fit for your Independence Day shirts. As the shirt type that started custom shirt printing, it offers excellent direct to garment prints.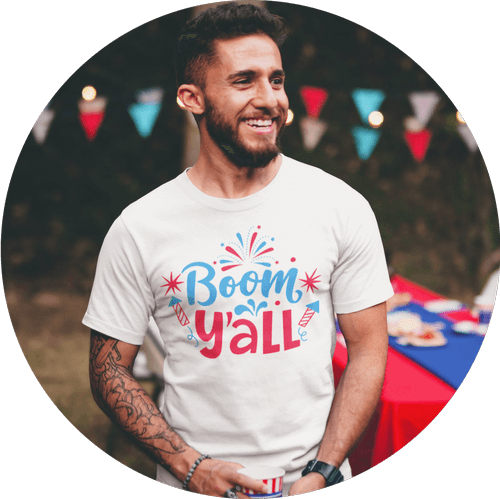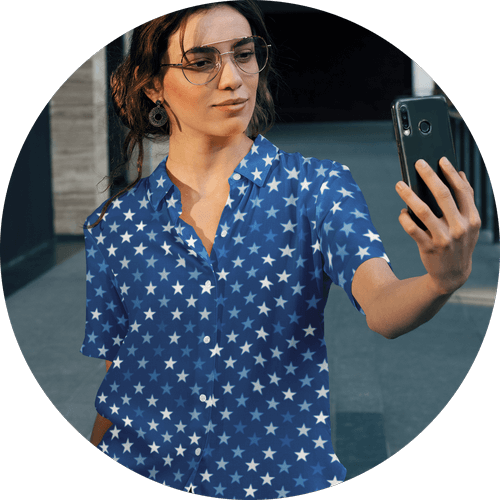 4th of July Button-Up Shirt
This cut is less casual than the average tee, but it's worth the trouble of fastening buttons. These shirts are mostly made from 100% polyester, except for the Men's Hawaiian Shirt, which is 95% polyester and 5% spandex. Aside from just looking classy, polyester shirts also have a soft and comfortable feel. Still, the main selling point is that these are all over print products, which means that your outstanding designs can step out of the standard print area limitations and cover the entire product.
4th of July Sublimation Shirts
Here are some more informal all over print shirts that are perfect for this occasion. Most of these are made from 100% polyester, except for the Unisex AOP Cut & Sew T-Shirt, which is 95% polyester and 5% spandex. They're described as lightweight and highly breathable, so you shouldn't worry much about wearing polyester all day. These shirts come in all colors – this is a trick statement – your design will cover the whole garment!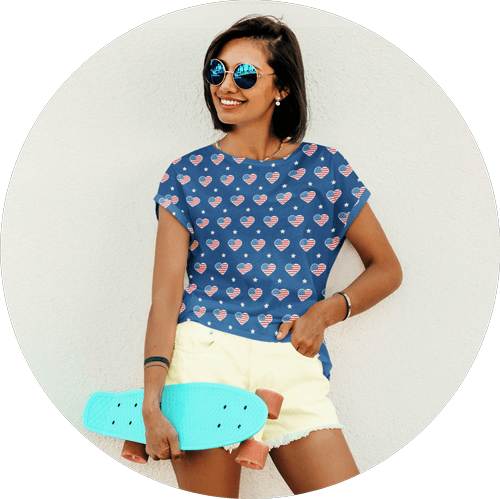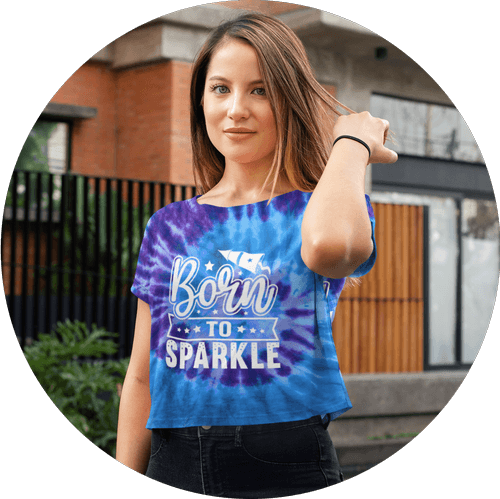 Tie-Dye 4th of July Shirts
The groovy tie-dye shirts are back and won't disappear soon, especially since they're so easy to make in the somewhat-automated 21st century. They're all made from 100% pre-shrunk cotton, aside from the Women's Tie-Dye Crop Tee, which is 60% cotton and 40% polyester. These shirts will offer a laid-back, cool look that's like a breath of fresh air.
Make Your Own Custom 4th of July Shirts
Why You Should Choose Printify
Consider Printify if you're interested in becoming an eCommerce entrepreneur and earning profit on the side or even full-time. We offer all of the services and advice necessary for you to succeed. We love seeing that we've helped entrepreneurs turn into true rockstars.
How to Make Custom 4th of July Shirts
Frequently Asked Questions
Make Your Own Custom 4th of July Shirts