The State of
Print-On-Demand: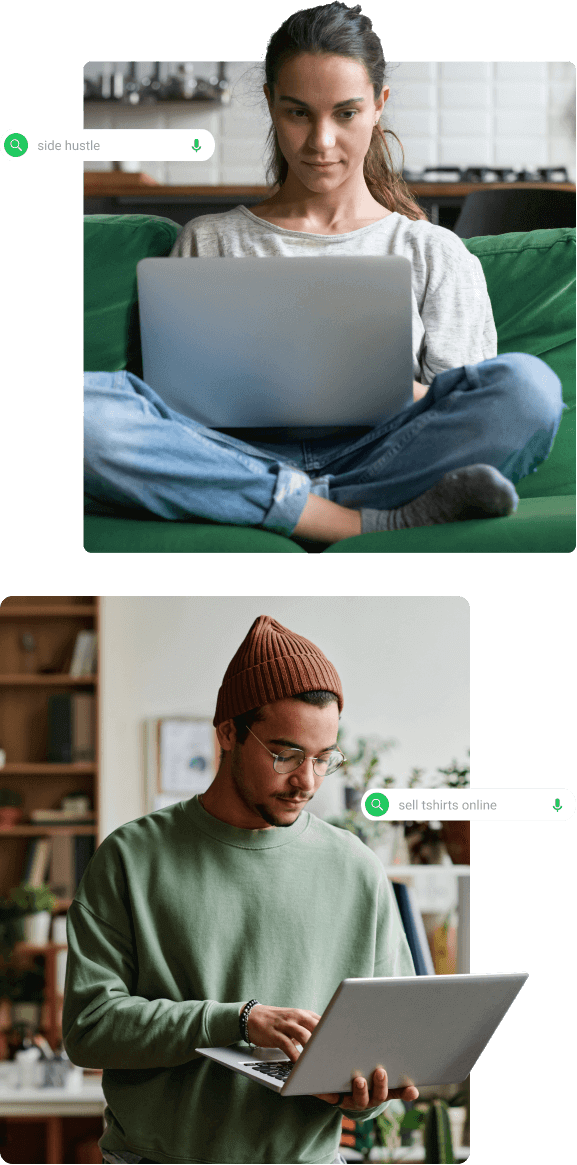 What Is This Report About?
The pandemic, changing attitudes to work, the Great Resignation, quiet quitting, lay-offs, downsizing, and fuel prices have led millions of people searching 'side hustle' on Google.  
Most of these people inevitably found out about Print-On-Demand.
Armed with the twin promise of financial freedom and passive income, the POD world has taken off. With a market size that's almost doubled since 2016, this is no longer a trend or fad but a living, breathing industry.
since 2016 the market size has
But where is the industry heading? Who's in it, and what are they selling? What works now, and what will work tomorrow?
To determine the course of this exciting new industry, we look at print-on-demand market statistics, insights, and looming trends, as well as check out the stories of some of those who've turned the tidiest profits thanks to POD.
The print-on-demand market is steadily growing due to the promise of passive income, flexible working hours, and the opportunity to be your own boss. More and more people are trying out POD as a risk-free side hustle option.
With online and mobile shopping taking the lead over physical retail, progressively more unique products enter the market with the option to customize them in every way imaginable. And with Gen-Z and millennial consumers demanding more and more personalization in their shopping experiences, the POD industry is headed only one way – up.
The age range, gender, and demographic diversity in high-performing sellers reinforce the fact that the print-on-demand model can and does work for anyone.
of internet users consider personalisation critical to a brand's longevity
Sellers who test out different designs to match market and seasonal trends perform best. 

Top sellers find a niche audience who love their designs and stay there. 

The classics are still the best
Time-honored bestsellers like t-shirts, sweatshirts, posters, stickers, and mugs are still top of the sales charts.

Passive income isn't a myth
Printify data shows that successful sellers spend less time managing their stores daily than those starting out. Success has to be worked at in the beginning, but once a successful formula is found, sellers really do end up working less. 
The POD Market – Where Is It Heading?
Increasing eCommerce sales fuel the global print-on-demand market, resulting in rapid growth in the US and worldwide. Valued at
$4.9 billion
in 2021, it is one of the top-earning business models in the eCommerce industry, with the US responsible for almost a third of it.
Why Print-On-Demand in the First Place?
The stats and market reports all agree that Print-On-Demand is a bonafide industry that's here to stay. But what are the factors behind its bursting onto the eCommerce scene?
Covid Accelerated the Online Revolution
Online sales of products have been steadily increasing for two decades, but with the global pandemic, a move to online retail became unavoidable for many. According to Statista, in 2019, only 13.8% of global retail sales were online. By the end of 2021, the number had increased to 19.6%. 
Meaning that global eCommerce sales reached $870 billion. 
With lockdown restrictions in place, consumers shifted to online shopping and have since stayed.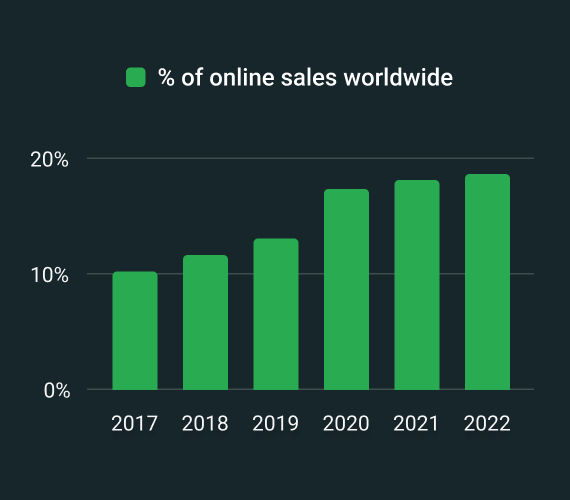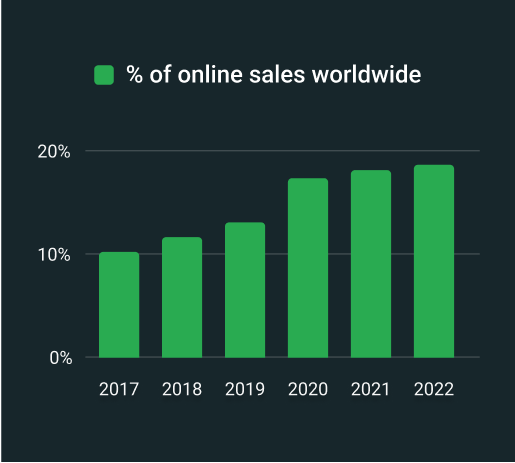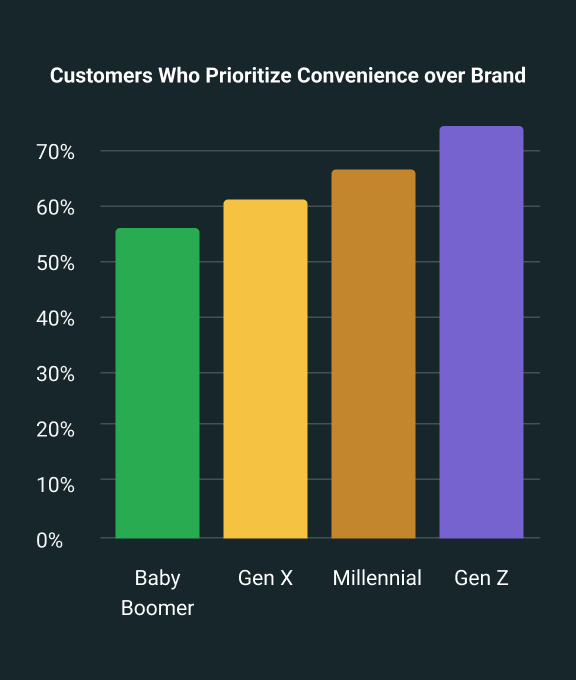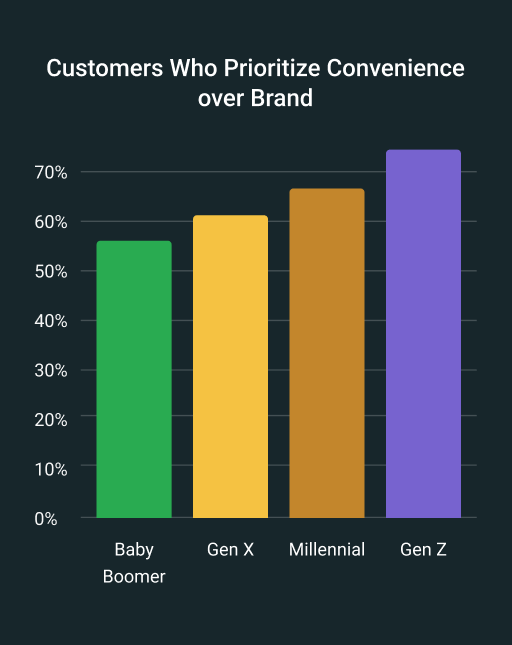 For Young People, It's Personal
Millennials and Zoomers make up the majority of online buyers, and they, more than the generations, want their consumer experiences to be personal. An IBM study saw that 75% of respondents across both age groups believe personalization is critical to a brand's success. 
The biggest names in apparel have made no secret that the future lies in making products, designs, and experiences as personal as possible. Just last year, Nike acquired data integration platform Datalogue to help drive a vision of 'personalization at scale.'
Print-On-Demand platforms and marketplaces like Etsy allowed niche products to exist and sell.
"We see thousands of new brands spring up every year. In no time, stores go from zero sales to $1000 or more monthly. And when you look at these stores, they sell products that appeal to passionate niches. Like moms who like scuba diving, fans of obscure 90s pop songs, or t-shirts with phrases that only people from Philadelphia say – we've seen all these and more emerge on the Printify platform."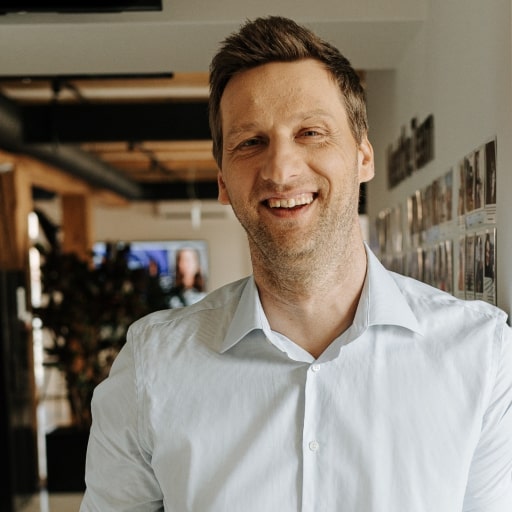 Lauris Lietavietis,
Head of Sales and Partnerships, Printify
Fast Fashion Is NOT Sustainable
For years, the fashion industry managed to stay off the radar when it came to public perception on which businesses are causing harm to our planet. Those days are over, and the rise of disposable fashion has changed people's awareness of the damage done by changing outfits so often. 
The Ellen MacArthur Foundation estimates that every second, the equivalent of a garbage truck load of clothes is burnt or buried in a landfill. This is largely because, every year, retailers order too much stock. It's why sales seasons exist – even with new technology, the biggest stores can't predict demand. 
This phenomenon worsened during the pandemic, with one UK Real Estate agency reporting inquiries for approximately 6 million square feet of space to store unsold goods.
Print-On-Demand combats this problem by only producing an item once a consumer has purchased it, making the unsold stock a potential problem of the past.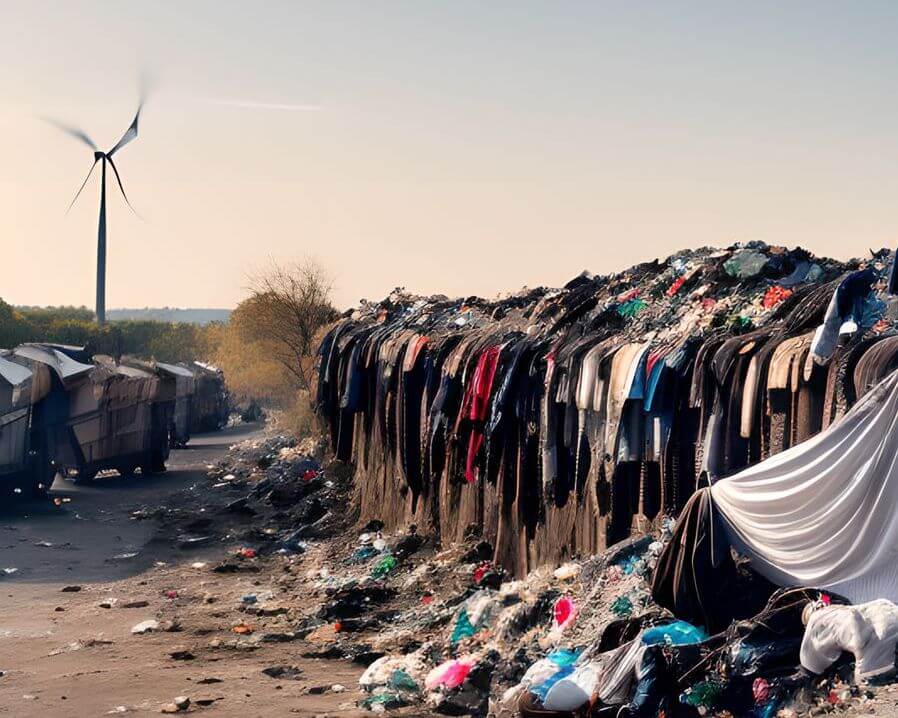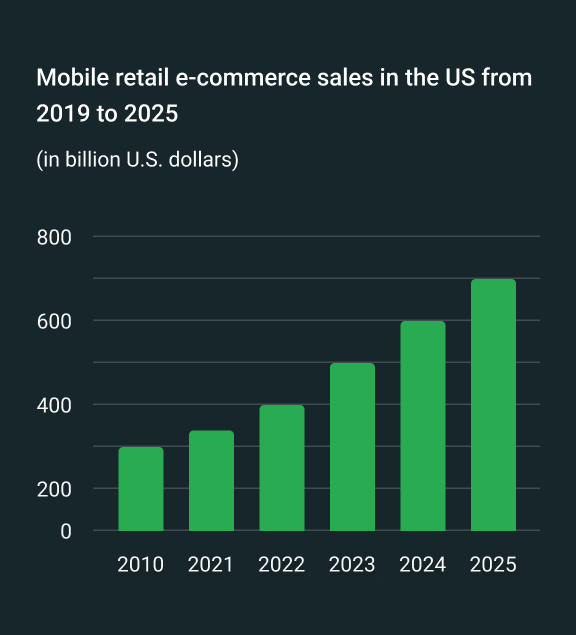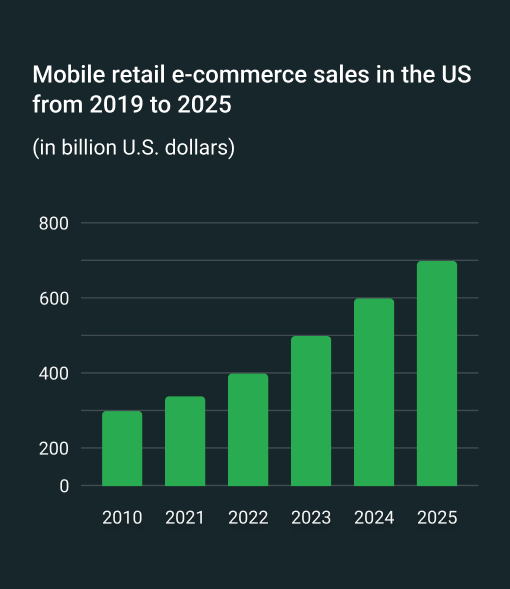 People Have More Money and Spend It Faster
The average disposable income is slowly increasing, allowing people to spend more money shopping. 
On top of that, with more and more people using smartphones for daily activities and conveniences, mobile shopping has significantly improved online retail. With the opportunity to browse and shop on the go, consumers are motivated to engage in the online shopping experience more often. 
Integrations with social networks like Instagram mean shoppers can buy without leaving their favorite apps, increasing online sales.
The Future of Print-On-Demand
Taking into consideration the statistics mentioned above and trends increasing print-on-demand sales, it's safe to say that POD is only headed one way, up. The industry is expected to reach a 26.1% annual growth rate by 2030, leaving merchants plenty of space for profits.  
The future of eCommerce and POD is bright, especially with increasing search interest in "side hustle" during intense global inflation. But this is still a fast-moving industry, and it's important to prepare online stores for upcoming challenges and fluctuations. Below are some of the most significant emerging trends and how they could shape the landscape of POD.
Compound Annual Growth Rate
POD Trends – An Insight Into Online Shopping
Let's look at the print-on-demand online business model. Who is it for, what sells well, and what are the strong points that convince customers to purchase?
In short – anyone, anywhere, but particularly people with a touch of creativity.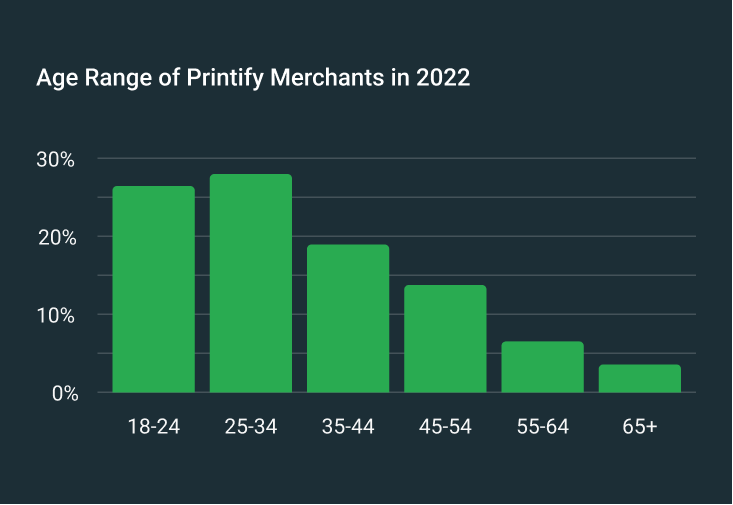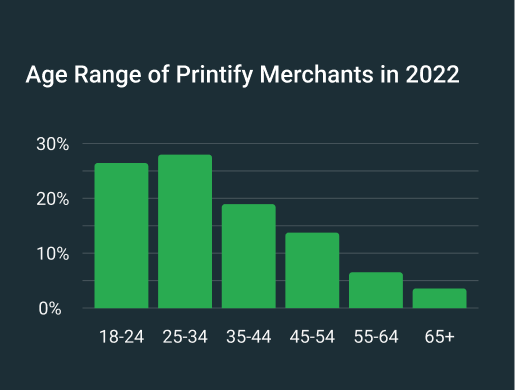 Printify data shows that our merchants range in age from 18 to 65+. While most POD entrepreneurs are between 18-35, the overall age range proves that everyone can try their hand and succeed at print-on-demand with the right tools, strategy, and approach.
The most active POD players are from the US, the UK, and Canada. While the rest of the world follows shortly with high-volume online stores in Australia, Germany, Vietnam, Turkey, Netherlands, and more.
If we look at the states that have a high concentration of POD entrepreneurs, the usual suspects like New York and California are there along with the likes of Ohio and Georgia.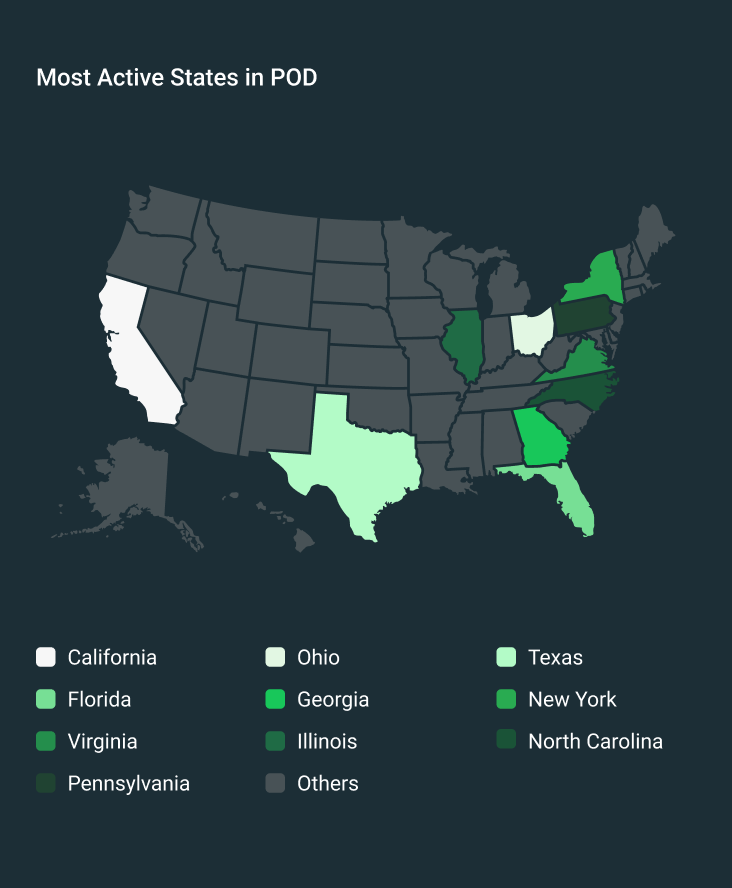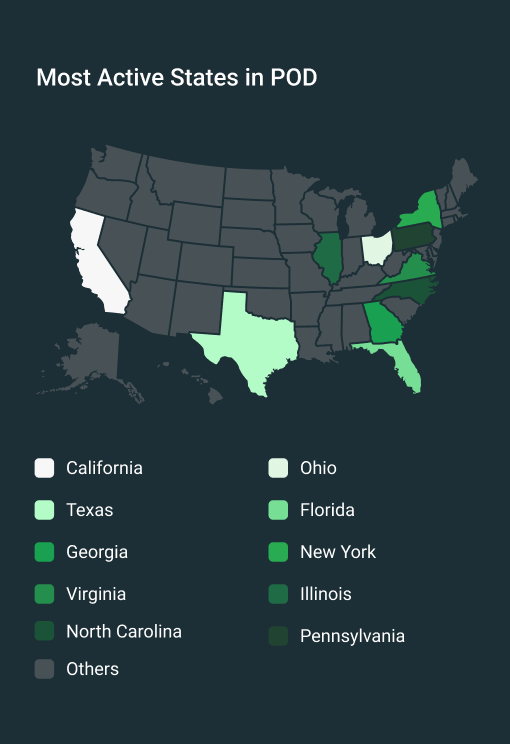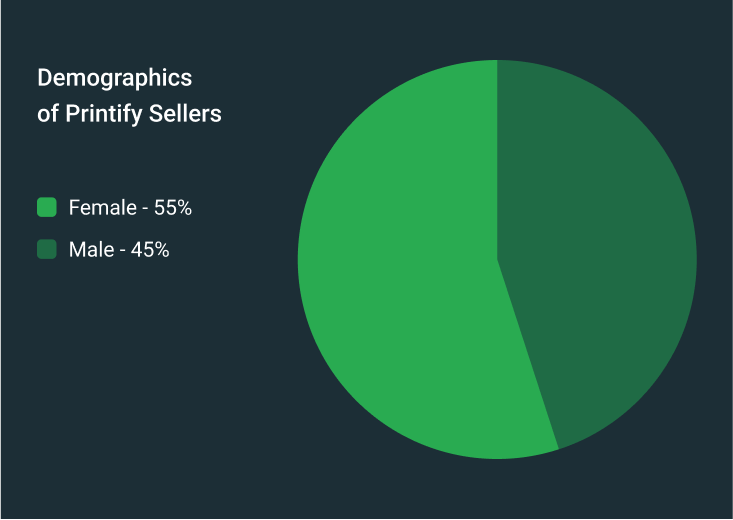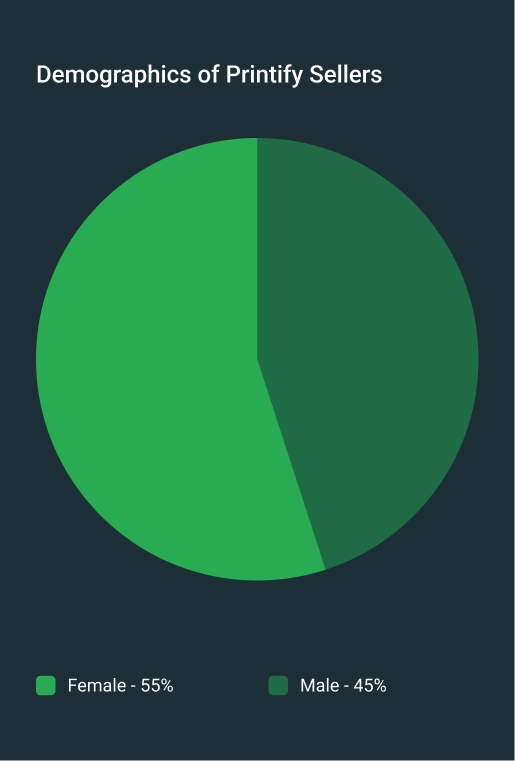 A quick look at the demographics of Printify data shows that POD really is for anyone with an entrepreneurial spirit. For example, the split between male and female genders is very even.*
*based on available data.
When it comes to POD, product diversity is key. With nearly everything being customizable, sellers pick their products according to their target customers, ensuring that what they sell speaks to the niches their customers belong to.
On a global scale, apparel takes the top spot in POD sales. Followed closely by home decor and drinkware. This leaves plenty of opportunities to pick a niche and product scope in each category. From the evergreen t-shirt to candles and custom water bottles. The sky's the limit.
The Riches Are in the Niches
A niche is a specific market segment that appeals to a small section of the population. And picking a great one is one of the most important steps in POD.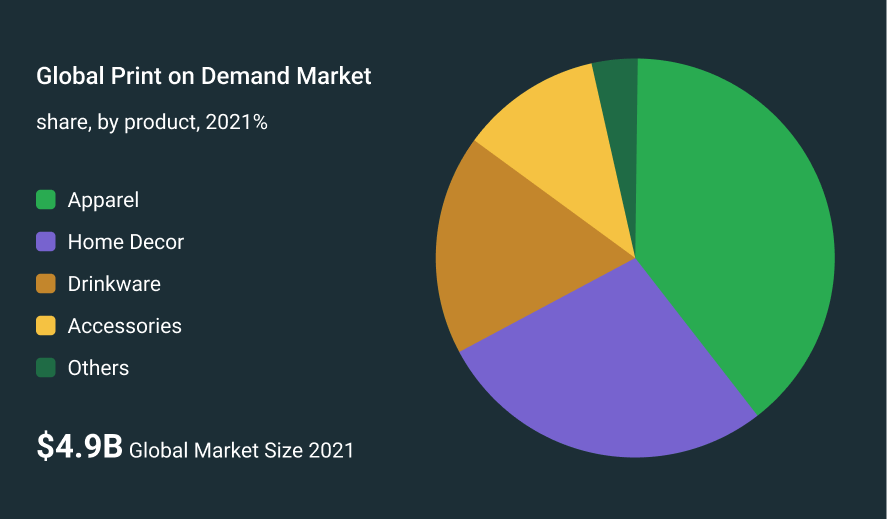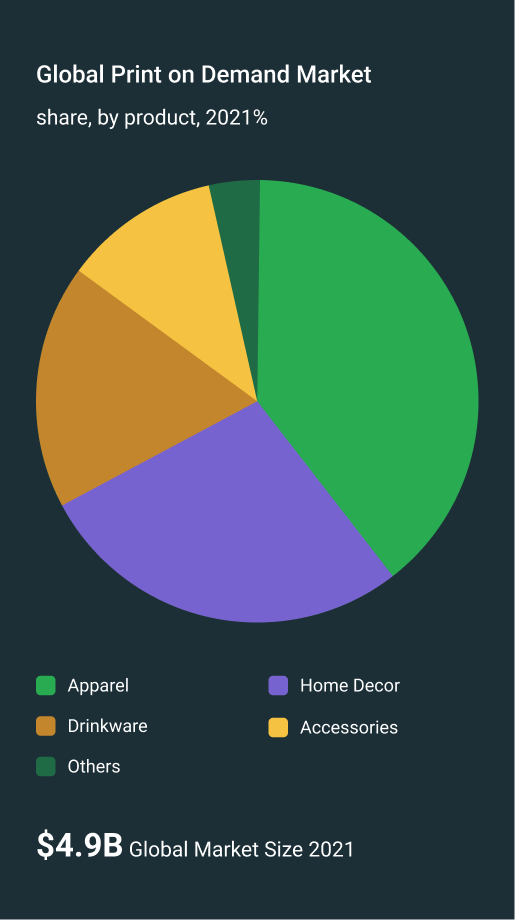 "Product types are not niches! A niche is something a group of people has a shared interest in. Activewear is not a niche. Dancing, baseball, fishing – those are niches. A niche is the ONLY reason why people buy your products. It gets them interested in what you're selling."

Don't Be Afraid to Experiment
Our data shows that mid and high-volume sellers like to experiment more with their listings. (Providing over 90 product designs in their mid-volume stores and over 1000 in high-performing stores). Don't be afraid to try out different styles and designs. Present your customers with a variety too good to pass. 
POD Strong Points – What Motivates Consumer Behavior?
There are many factors affecting customer behavior and choice to buy online. But some are more important than others. Based on our feedback and research, we've established three major strong points to consider when dealing with POD.
Customers want their merchandise as soon as possible from the moment of purchase. With that in mind, 2-5 day deliveries for local (country-wide) orders should be your goal. The faster the order fulfillment, the more satisfied the customer. 
 should be your goal for local (country-wide) orders
Looking at the Printify data, we see that mid and high-volume sellers maintain a  profit margin between 40-45%. This is a good starting point. Though it will change from product to product.
One of the main decision-making factors for online shoppers. Price your products too low and lose all credibility in yourself and your product. Price them too high and watch competitors take all the glory. 
While local sales will generate a decent profit, you need to offer your products worldwide to truly thrive in POD. Choose global printing partners and fulfill orders around the globe, expanding your brand and reach.
Our data shows that high-performing sellers choose to sell and ship their products to multiple countries. (Eight locations on average for mid-volume sellers and 16 for high-volume stores).
All of those factors improve customer experience and expectations and help merchants establish customer loyalty through quality service and fulfillment. To improve first impressions and build lasting customer relationships, choose a POD platform that offers all three – Printify.
Rising Trends in eCommerce
In 2021, nearly one-third of the US population owned at least one smart speaker, with 41% using them mainly for shopping purposes. People utilize voice search to look up products, make a purchase, track orders, leave feedback, and contact support.
of smart speaker owners use voice search for shopping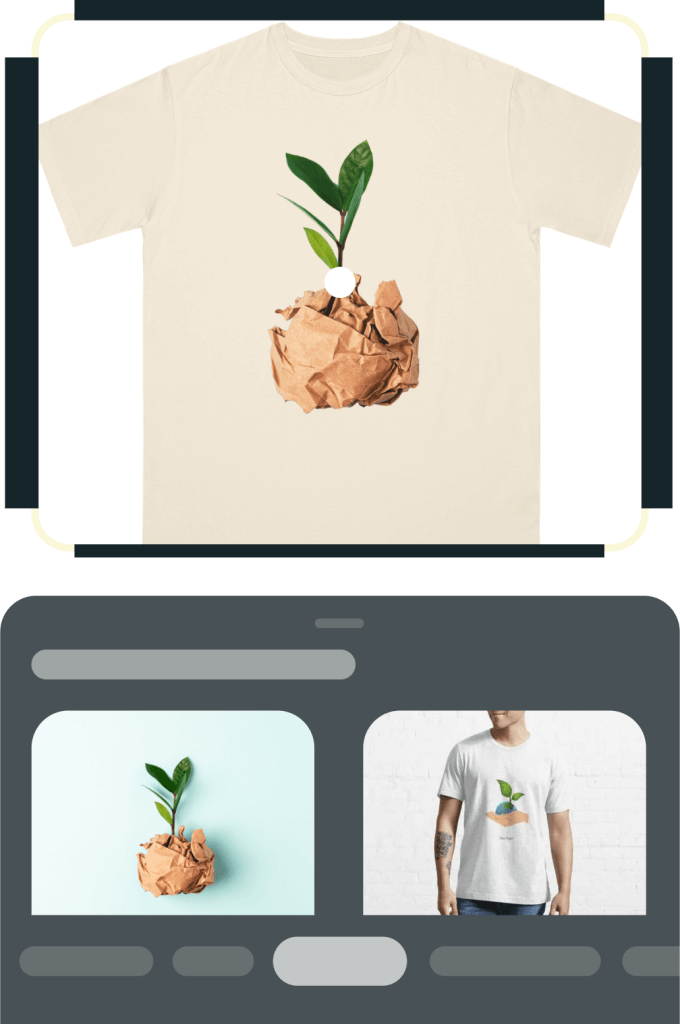 With global warming in full swing, people are getting more conscious about their purchasing habits and the footprint left on the environment. Consumers will spend more on organic, sustainable, and eco-friendly products.
The rise of visual search is taking the world by storm. Users can now choose tools like Google Lens and upload a picture to see visual matches on the search engine. From similar products to descriptions and useful information, such as – where to buy a specific product or its relatives.
The growth of social media platforms not only fuels but strengthens the POD industry. Merchants can market their products in unique and creative ways, with the ability to send consumers over to their stores with just a click or a swipe.
If you're interested in starting a POD store, there are some key points to keep in mind for a better setup process and results. Every POD journey starts with a quality store. If it is set up right, you'll spend less time managing it while sales will roll in on auto-pilot.
Picking a niche is a crucial part of starting a POD business. It helps you decide what to sell, your target market, and how to adjust designs accordingly. A specific niche narrows down all the choices regarding your store and products, saving you time and effort to sell everything to everyone.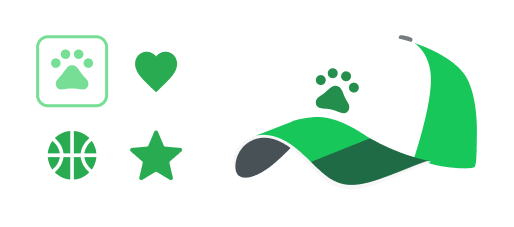 Find a Niche and Stay In It
Our data shows that mid and high-volume sellers stay in their niche, having no more than three different product categories. They know their audience and product well, experimenting mostly with the design.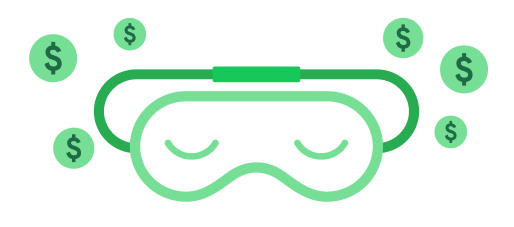 Passive Income: Reality, not a Myth
Printify data shows that high-volume sellers spend less time on their virtual stores (approximately an hour per week, total) than regular sellers do (three hours on average per week, total). In this case, making the promise of passive income real. Set up your store right and spend less time on it later, focusing more on growing your business and brand.
Determine Your Target Audience
Research the consumer base within your niche. Who are the main shoppers (based on age, location, income, lifestyle, and other important criteria)? Who needs your products? What problems or demands do they have that you can solve with your offers? Pinpoint their needs and design products to match them.

Customers appreciate a personalized shopping experience, and correct targeting will help you achieve it.
Determine what products to sell within your niche from the vast selection online. That's where your niche comes in handy. 
If you decide to sell shirts – choose ones appropriate for your niche and target audience. From sleeve types and printing techniques to age groups and more.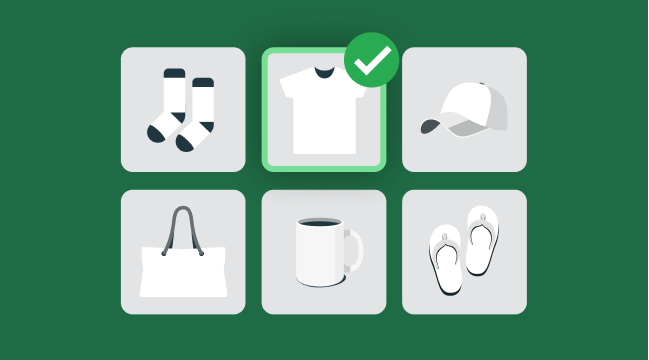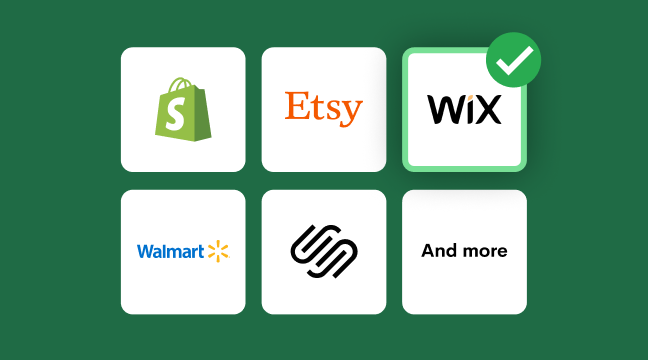 Select an eCommerce Platform
Once your products are ready, it's time to pick a sales channel from a wide selection of online marketplaces and platforms. Pick the option that appeals to you the most, based on your skills, preferences, and other important criteria.
Pros
Cons
Marketplace

Free traffic from a built-in audience
Secure and confident payment methods
Friendlier global shipping solutions
Language options
Beginner-friendly setup process
Mobile apps
Easy to manage with automated processes

No loyal customer base
Highlighted competition
Listing and sales fees
It's not your own store
No customer database
Little to no personalization

Stand-Alone Store

Loyal customer base
Direct relationship with the customers
Higher profit with no sales and listing fees
Personalization
Flexibility to manage your store and sales on your terms
Full control of your inventory 24/7

Hosting fees
Some prior knowledge or tech-savvy skills are needed
Product, store, and order management takes up too much time
Less confident payment methods
Marketplace
Stand-Alone Store
Marketplace
Stand-Alone Store
Excel in Digital Marketing
Use the power of SEO, advanced technology, and content marketing to advertise your store and products creatively. Reach millions of users on different social media channels for free, like TikTok, Facebook, and Instagram. Or indulge in paid ads and increase your traffic and customer reach worldwide. 
Monetize your content with trending hashtags, click-worthy titles, and relative keywords, and let the people come to you.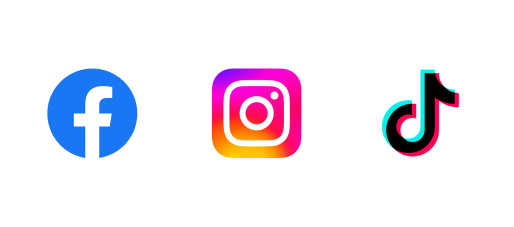 Sell on Multiple Sales Channels
It's best to list your products on several eCommerce platforms and marketplaces, increasing the chance of higher traffic and exposure. Printify data shows that mid and high-volume sellers have multiple online stores in at least two different sales channels.

Spending money on paid ads can be intimidating for any eCommerce newbie. But is it even the right thing to do? Brittany Lewis, an expert in the top 1% of Etsy sellers, doesn't believe in investing in paid ads or even social media when starting out.

"I definitely don't suggest that new sellers try to drive traffic from social media when they're starting out. I think leveraging the organic Etsy traffic is enough to sustain a full-time business without needing to get extra from social media or advertising. I've found 90% of my own sales through organic traffic."

Brittany Lewis,
Print On Demand & Etsy Coach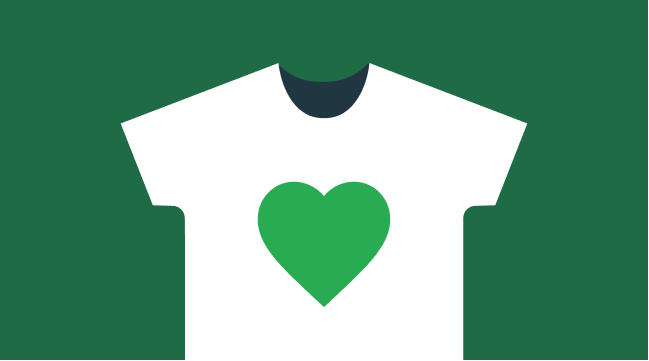 Get Ready for the Holidays
Printify data shows that top POD sellers see an almost 10% surge in sales before seasonal events. Of course, everyone expects to see more sales in Q4 around Christmas. However, our data suggests that successful sellers can also drive sales during smaller holidays like Mother's or Father's Day, The Fourth of July, and Valentine's Day. Experienced PODer Megan Engle urges eCommerce store owners to prepare early.
Play the Long Game and Build a Brand
The cost and effectiveness of paid advertising on digital channels are dropping. The average cost per click of ads went up by 15% from Q2 to Q3 in 2021 alone. Meanwhile, channels are losing reach. Instagram lost 15-20% of its audience in Europe in 2021. While ads can gain you a quick traction boost, they're unlikely to create lasting returning customers without considerable investment. Counter this by building a brand that your customers love and providing them with a buying experience that they love.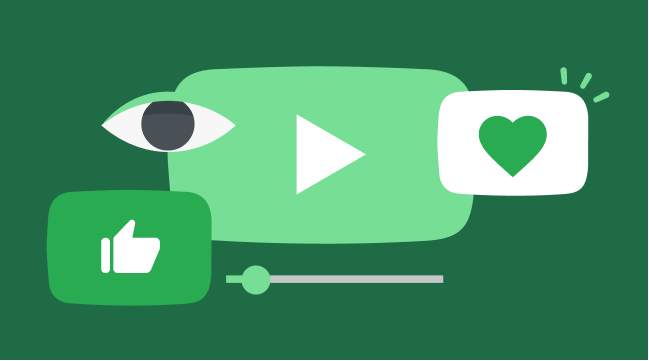 "I'd also tell sellers to have their listings up and running at least three months in advance. I've had people buying Christmas sweaters and ornaments in October. Even if you don't plan to sell masses of products during the holiday sale season, it's important to freshen up your inventory."

Megan Engle,
Print On Demand Expert
From Rags to Riches – Reaching Success With POD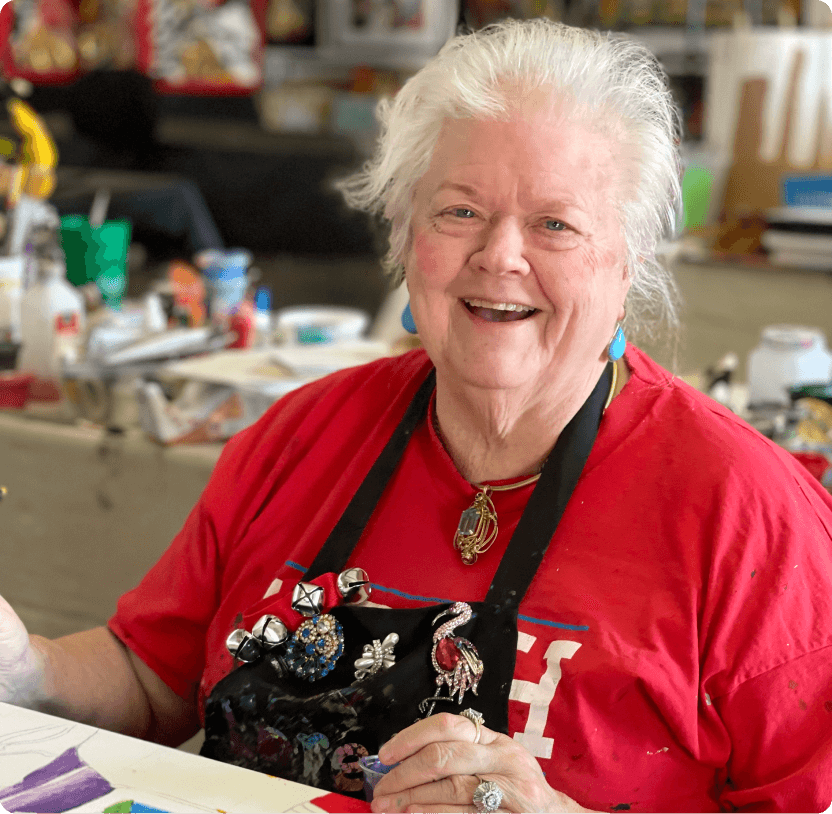 From a Self-Proclaimed 'Tech Dinosaur' to Selling Art at 72
Name: Miss Loretta
Location: Louisiana, US
Before POD: Feed and farming supply store owner.
Why POD: "It allows the average person to run a business from their apartment or even while living in a van. You can sell straight to consumers with zero stock. Being able to hook everything up to Etsy and create a passive income is a game-changer."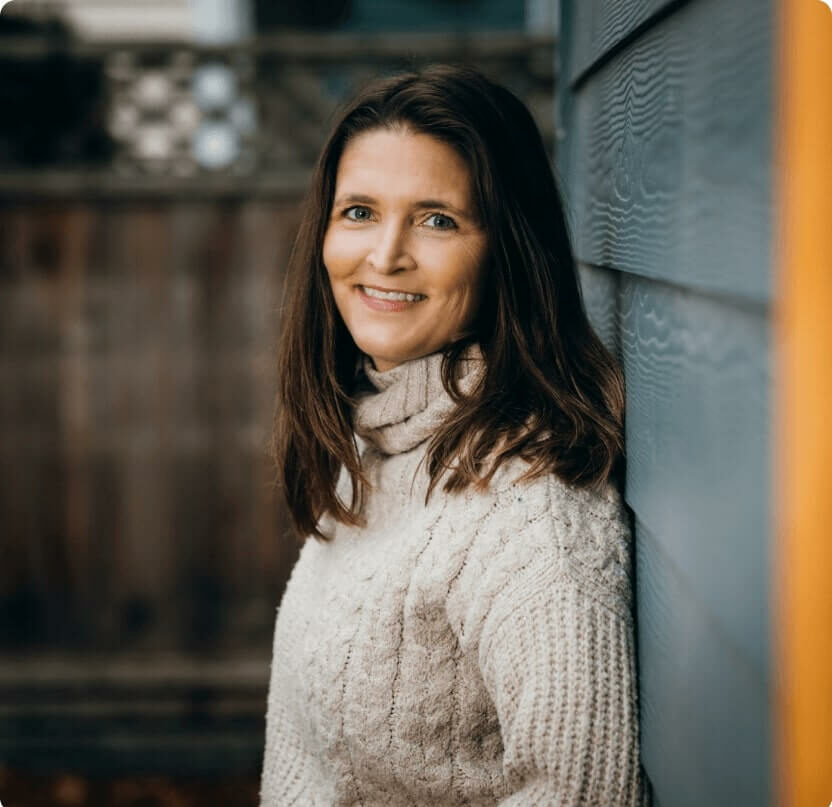 From Losing a Business to Royalties Wearing Her Brand
Name: Lindsey
Location: Washington, US
Before POD: Corporate event production business – went out of business due to the pandemic.
Why POD: "I love how easy it is to make designs, place them on products, and push to Etsy with everything but the customer service fully automated."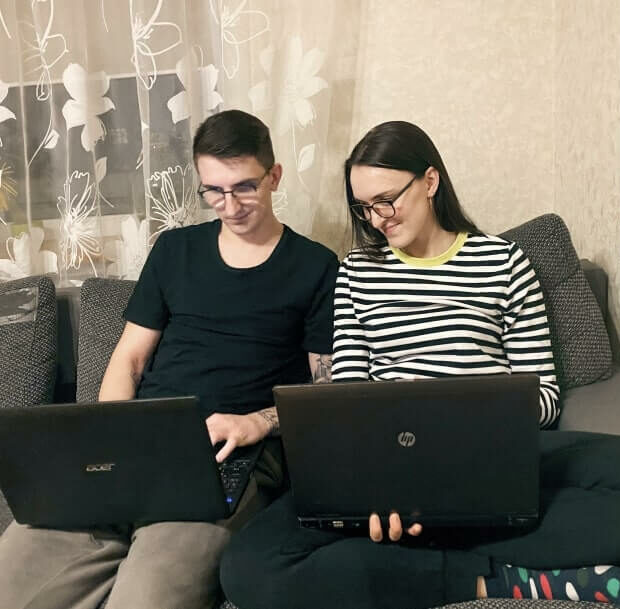 From a Struggling Business to POD Success
Name: Aiste and Karolis
Location: Lithuania
Before POD: A full-time job and studies, making t-shirts and mugs at home on the side.
Why POD: "We had worked in the business long enough, so we knew how to design. But now, the process is much faster, automated, and more accessible, and we have so much free time."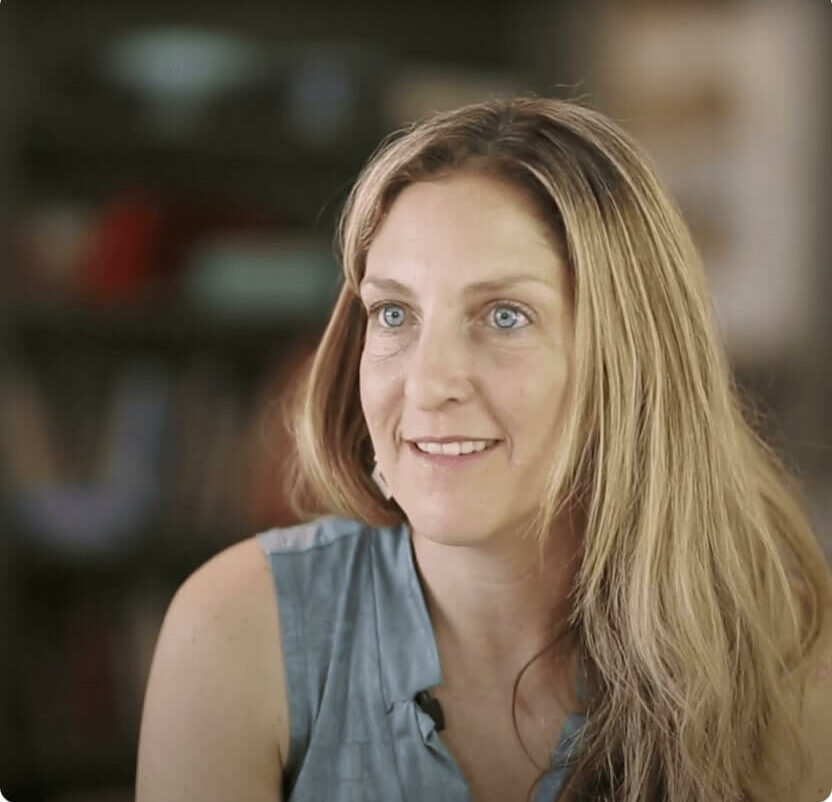 From a Busy Mom to a Successful POD Store Owner
Name: Liora
Location: Israel
Before POD: Vacation rental owner.
Why POD: "Time is a valuable resource, especially for a mom of four kids who already has a day job. POD enables me to create designs effortlessly."