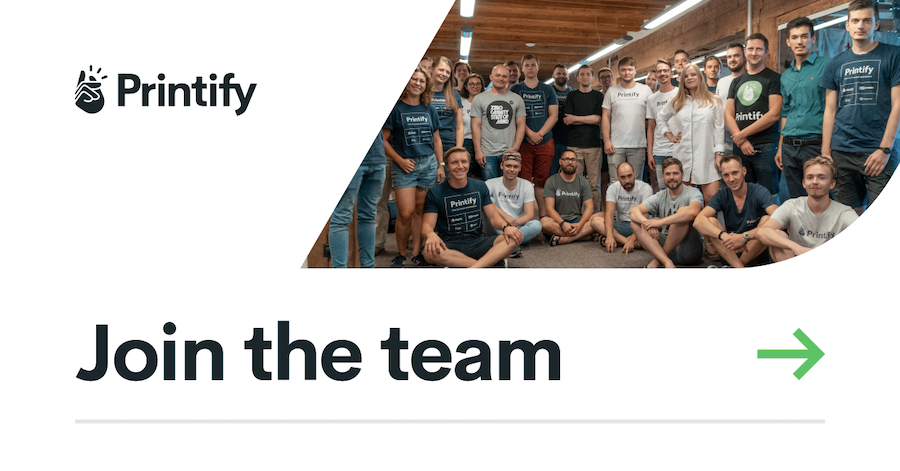 We're looking for a Product Operations Coach.
In Printify we believe in people, we believe that anyone can make great things happen. We believe that our products are serving that and make the lives of people easy, fun, and enjoyable.
In product operations, we believe in our people. We know that our product teams can deliver such products for people like you.
For that, we have our mission: To enable Printify cross-functional product teams to operate at their maximum efficiency, via a set of processes & tools.
We are achieving our mission through:
– Providing data transparency and support to help product teams make better-informed decisions for process improvements and product delivery.
– Developing standardized business processes to streamline product development process with training and coaching support
– Managing the many tools (for road-mapping, product tracking, team efficiency, etc.) the product team uses.
– Developing a continuing education program – putting together onboarding and training programs, good practices, and support resources
Those are our responsibility areas, we like to think that we are behind-the-scenes heroes responsible for a Systematic Approach to Product and Process Excellence.
We're looking for a Product minded Lean-Agile passionate person who wants to take the next step. Do you want to prove that Individuals and interactions over processes and tools are not just words, but actually works on the whole organization level where tools and processes are there to serve people and not vice versa? Or finally to make your hands dirty with killing the real waste in Product development processes, so that Product leads can focus more on innovations, discoveries, and user pain points to deliver the next class products and be less on the operational level? Prove that inspect & adapt cycle works at its best when strong data-driven decisions are brought in instead of speaking only about what went well and not so well? Or to see that your training/mentoring programs and coaching support works and gives added value already on the very next day?
We're looking for individuals who share this mission – and are willing to go the extra mile in order to achieve it.
At least a few years of past experience working as Coach in Agile and/or Lean domain, or in a role of Scrum Master, or being responsible for product and/or process excellence:

– Have experience in different companies and with different teams;

– Certifications are not the most important, we would like to hear your achievements and failures.

You understand and can explain with your hands-on examples the difference between some product development practices/frameworks as well as techniques used for product discovery.
You have a wide range of experience in product development support tools and at least in 3 of them, you have been an advanced user or administrator.
You have delivered at least 10 training and some online workshops.
You can name at least 3 books from the product development world and tell how they changed your working approach.
You are an analytically minded person and can prove why a data-driven working approach is needed.
You take ownership of the actions and items entrusted, by getting those to the done state in an efficient way.
You have great people skills, discipline, and the ability to find common ground with a large number of different personalities.
You are a team player and before taking on the next task, you always ask "can I help somebody?"
About the Product Operations team
We're honest. We communicate with each other clearly and honestly. We also have a no-blame culture – and our goal is to succeed as a team, rather than as individuals. We are not afraid of failures as we know how to learn from them.
We're dedicated & committed. We don't give up on the first try and iterate until we get it right.
We're human. While we aim to always give the best we can, we understand we are humans, and each of us has ups and downs both personally and professionally, for that we are supporting each other and we pair up on work tasks.
Stock options; the chance to own a share of the Printify company
Health insurance and in-office gym to promote well-being
Career development and personal growth through special events, conferences, and mentorships
A modern office, located in the center of Riga
The opportunity to work remotely
Flexible work scheduling
Breakfast and snacks daily with a bonus team lunch on Fridays
Interesting facts about Printify
24th fastest-growing, American-based company, 2019 (Inc. 5000)
15th America's Fastest-Growing Companies 2020 (Financial Times)
281st America's Best Startup Employer, 2019 (Forbes)
Our awesome team has grown to over 300
Join Printify as Product Operations Coach