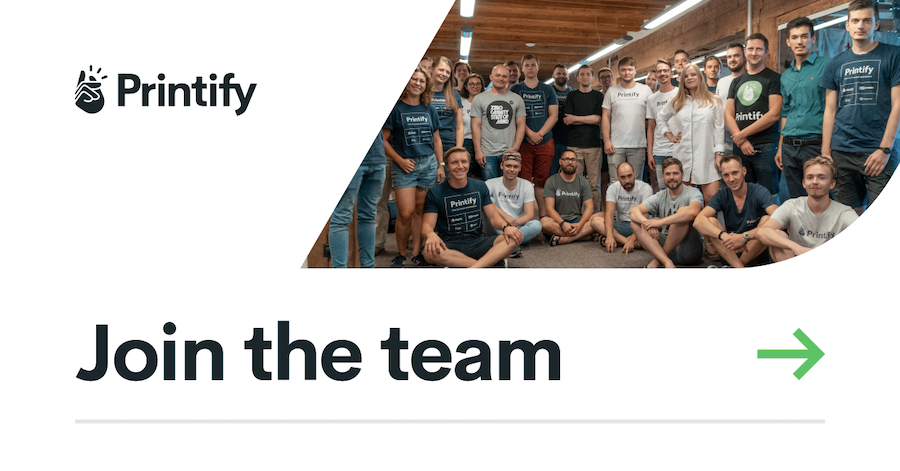 Printify is a high-growth print-on-demand platform that connects e-commerce merchants and print-on-demand manufacturers. We work in a fast-paced, ever-developing industry with endless growth opportunities. We are a remote first company with an international team and headquarters in Riga.
At Printify, we believe that anyone can make great things happen. The mission of the product operations team is to enable cross-functional operation at maximum efficiency – all via a set of continually improving processes, tools, and personnel.
We're looking for a Product Coach with a passion for Lean-Agile ready to take the next step in their career. As we scale, we need to improve processes on an organizational level. As such, you will be directly involved with product development processes, helping product leads to focus on innovation, discovery, and user pain points. There, you will make strong, data-driven decisions that solve problems and coach the whole product organisation – for added value to Printify and its merchants.
3+ years of experience as Coach in Agile/Lean domain, Scrum Master, or have been responsible for product/process excellence in IT product development

– Experience working in different companies and with different teams.

Expertise in implementing and applying different product development practices, frameworks, and techniques used for product discovery and delivery
Expertise in at least 3 product development support tools
An analytical mind
Ownership of actions and items
Great people skills
A team-player attitude
Running online and physical workshops and trainings
Knowledge of product-development literature
Industry related certifications
About the Product Operations team
We're honest. We communicate with each other clearly and honestly. We also have a no-blame culture – and our goal is to succeed as a team, rather than as individuals. We are not afraid of failures as we know how to learn from them.
We're dedicated & committed. We don't give up on the first try and iterate until we get it right.
We're human. While we aim to always give the best we can, we understand we are humans, and each of us has ups and downs both personally and professionally, for that we are supporting each other and we pair up on work tasks.
Career development opportunities – mentorship, internal meetups & hackathons
Learning budget as a % of your annual salary
Stock options so you own a part of Printify
Flexible work schedule, start your workday between 7AM and 11AM
Health insurance to support your well-being (in Latvia and Estonia)
A budget for health insurance and gym membership for remote employees
Remote work is possible and encouraged from anywhere across Europe
International relocation support for international candidates who wish to work in Riga or Tallinn
Modern & ergonomic office space in Printify House in Riga
Access to the gym in Printify House
Free food in Printify House: breakfast, snacks, and Friday lunch
Interesting facts about Printify
24th fastest-growing, American-based company, 2019 (Inc. 5000)
15th America's Fastest-Growing Companies 2020 (Financial Times)
281st America's Best Startup Employer, 2019 (Forbes)
Our awesome team has grown to over 400
Join Printify as Product Operations Coach