Product Marketing Copywriter
Marketing & Communications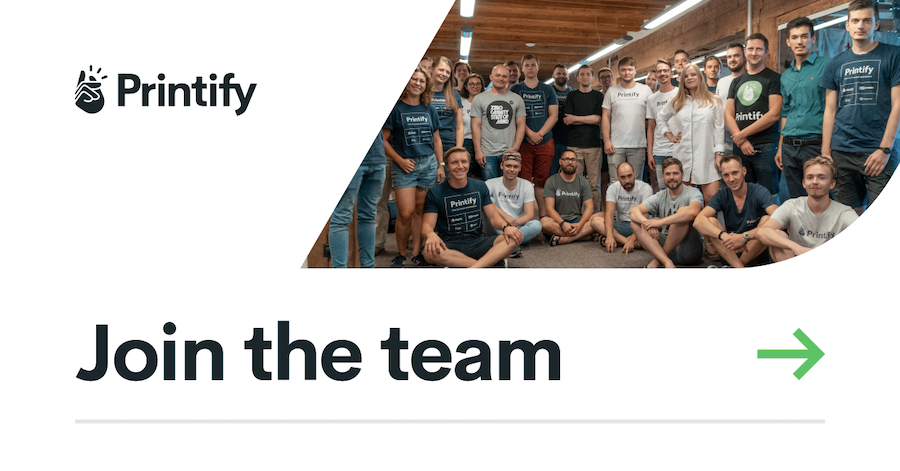 Printify is a high-growth, print on demand platform that connects eCommerce merchants and print on demand manufacturers. We work in a fast-paced and ever-developing industry with exciting growth opportunities.
Printify is a remote-friendly company with headquarters in Riga.
As Product Marketing Copywriter, you'll work on researching and writing about Printify business, product, and general print on demand industry to drive customer engagement.
Write clear and compelling copy that reflects the company's voice and drives important business metrics for various mediums (email campaigns, in-product announcements, blog articles, etc.)
Edit and proofread content
Work with internal and external stakeholders and resources to collect the necessary information and produce relevant content for our audience
Create surveys and lead customer interviews for specific content pieces
Employ effective writing practices and principles to maximize copy's reach
Stay informed on the trends in the industry
2+ years of experience in business and marketing content writing
Excellent American English writing and proofreading skills
Ability to communicate complex product concepts and features in an easy-to-understand format
Ability to write sales content that is not too "salesy"
Good time management skills, including prioritizing, scheduling, and adapting as necessary
Interest in understanding and learning more about the print on demand industry, marketing, and online business; previous experience with eCommerce tools is a plus
Proactive mindset with a get-things-done attitude
Career development opportunities – mentorship, internal meetups & hackathons
Learning budget as a % of your annual salary
Stock options so you own a part of Printify
Flexible work schedule, start your workday between 7AM and 11AM
Health insurance to support your well-being (in Latvia and Estonia)
A budget for health insurance and gym membership for remote employees
Remote work is possible and encouraged from anywhere across Europe
International relocation support for international candidates who wish to work in Riga or Tallinn
Modern & ergonomic office space in Printify House in Riga
Access to the gym in Printify House
Free food in Printify House: breakfast, snacks, and Friday lunch
Printifyers come from more than 20 countries
Our team has grown to more than 400 team members (and growing!)
We are the 15th America's fastest-growing company in 2020 (Financial Times)
Join Printify as Product Marketing Copywriter