What Is Custom Merchandise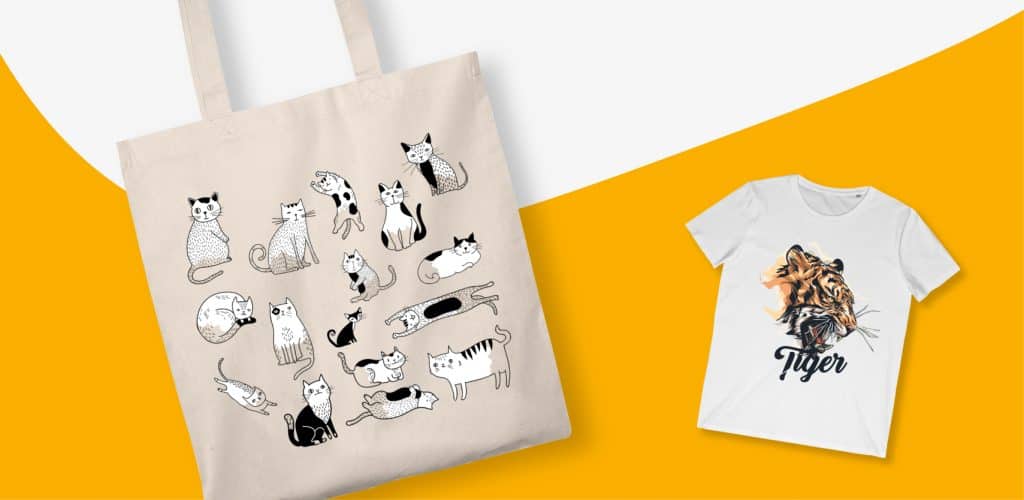 What is custom merchandise? It's products that can be customized by a third party for sale. Whether you are a YouTuber an Instagramer or clothing brand and are just trying to experiment a bit with your clothing line, merch printing and print-on-demand of custom merchandise will help to take you to new heights online with your products.

Custom Merchandise Can Be: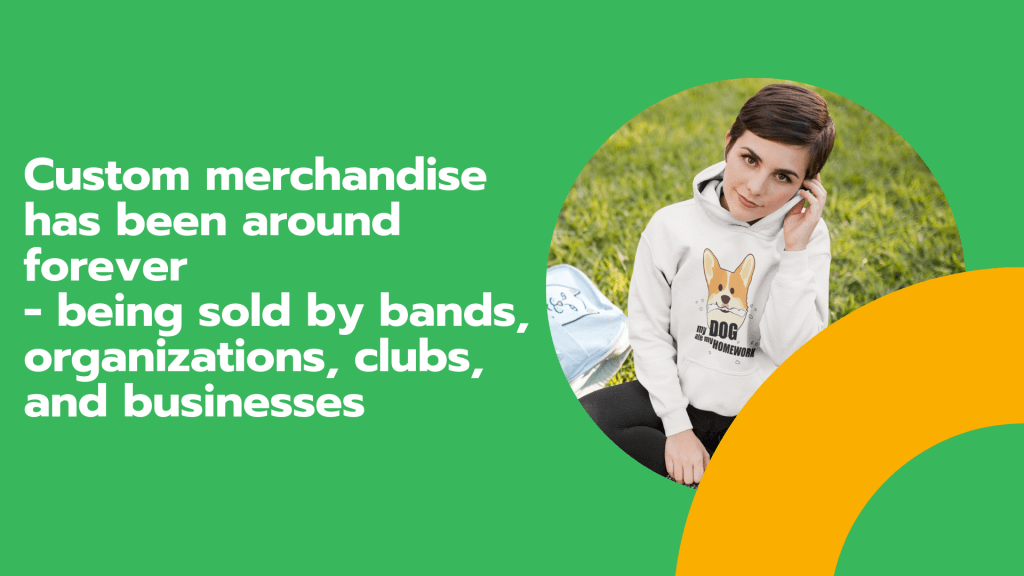 Custom merchandise has been around forever – being sold by bands, organizations, clubs, and businesses. There's a wide variety of options with custom merchandise, and we'll go over some of the basics in this chapter – so you'll be armed with the knowledge of what you're getting into before you get into it!
First, let's talk about the lay of the land. Then we'll talk about who is operating in the landscape, the product journey of the merchandise product, and finally, we'll talk about how to choose a distributor for your products.
Custom Merchandise Tech Advances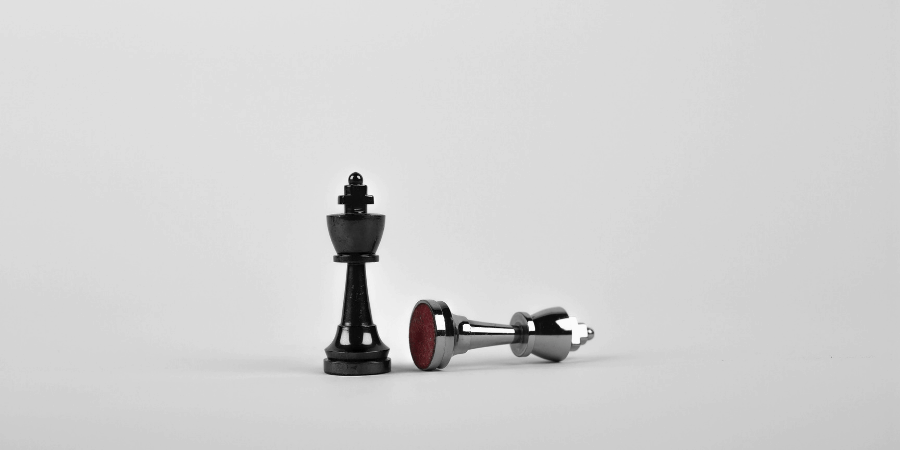 There have been a lot of advances in the technological world of fashion and what's called "print on demand" merchandise. We'll get into the ins and outs of print on demand later in the guide, but for now, we can think of this as "products that can be sold by anyone". But – not just any products – amazing, cool, and interesting products created by you and for your audience! We know that these are exactly the types of products you hope to make and that's exactly why we're in this business, to bring your vision to life and to help you to be as successful as you know that you can be.

Lay of the Custom Merchandise Land
In a bit, we'll talk about the types of products that you can sell and what's widely sold online by people just like yourself. What's the landscape of the custom merchandise market?

We Have:
Clothing lines
Distributors
Printing companies
Sole proprietors
Clothing lines or clothing companies, or even merch or accessory manufacturers – make "blanks". A company like American Apparel will have a store and sell directly to the public, but also make their clothing available for printing or printers. These "blank" clothes become the basis for printed products that can show up in stores or on websites of influencers. These blank products are just that – ready to be printed on and to

Other large companies may even manufacture a separate brand of clothing – marketed differently and under a different name – to supply for the print and custom merchandise market. These clothing lines aren't necessarily of poor quality – a lot of times they can be just as good as many of the designer brands that you find in stores! Accessories can also be high quality and don't have to be knocked off or dollar store level products. Of course, large clothing lines are not the only ones in the custom merchandise field. There are also many accessories and product manufacturers outside of clothing that is also very active in the industry.

The Custom Merchandise Journey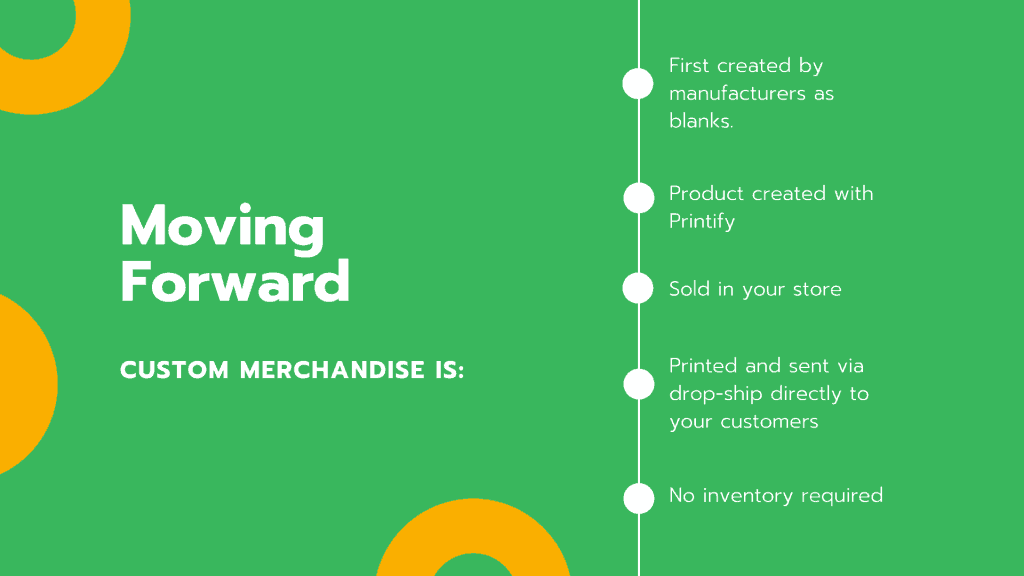 Custom Merchandise Is:
First created by manufacturers as blanks.
Go to a distributor that will stock the item for sale.
This distributor will sell to other print companies, retail organizations and stores
In some cases, distributors will also be engaged in printing onto the products
Sold in your store
Printed and sent via drop-ship directly to your customers
No inventory required
Custom Merchandise at Distribution:
These distributors can be:
a specialty such as sports or fitness
a supplier of a large range of clothing garments and merchandising products.
A designer brand's other line
In the past, only large orders were possible through distributors because the methods used were expensive. This method was called screen-printing and only made sense if there was a decent volume of the product that is sold.

Now, because of the custom merchandise revolution, small quantities of even 1 can be sold directly to customers via web portals such as Etsy eBay Shopify or even websites that have shop sections but are not dedicated e-commerce websites.

Custom merchandise is bought and sold shipped from the distributor to your customer and there is no inventory for you to hold. This has brought about a revolution in merchandise sales. It is benefiting influencers, causes, and organizations, and the casual to very serious online entrepreneurs trying to make a little bit extra or their entire income online.

Choosing a Custom Merchandise Distributor
For this reason, it pays to investigate the type of custom merchandise distributor you'd like to work with. Shipping times lead times and inventory are some of the biggest concerns for custom merchandise sellers, and this can all be heavily influenced by your choice of distributor. If your band is just starting in Austin, it may be wise to choose a distributor located to Austin simply because your initial range of customers will be there, though you may end up selling to the entire world!

Choosing a distributor, consider:
your customer base
availability of product at the distributor
quality
cost
With Printify, you can always easily change this later. If you can only find the type of custom merchandise distributor of the product or products you want to sell far away from where your customer base is then you must include this information when selling the items.

It does not do any good to choose a distributor based on cost alone when many other factors can influence your business's profitability. From the type of products sold to the shipping time the reputation of the distributor and also the price there are many factors to consider when choosing which distributors to work with.

Summing Up
Custom merchandise has been around for a long time. There are many manufacturers, even well-known and famous manufacturers, that are involved in the custom merchandise manufacturing game. Manufacturers ship their products to Distributors who stocking inventory products and sometimes print on these products themselves.
Good job learning! How do you make custom merchandise? Go to the next section.