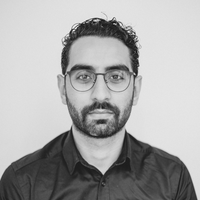 A professional graphic designer who helps in creating branding designs and website development. I provide fresh, eye-catching designs to ensure it is never boring. I'm reliable and efficient. My goal is to create the perfect design solution for my clients! I help clients create their own world, their own art of living and provide them with creative and innovative solutions that are tailored specifically to their needs. I also create quick design tutorials in Adobe Photoshop and Illustrator and post them on my TikTok account with more than 365K followers. Proudly!
Hussein was fast, took clear direction and executed exactly what I needed.
He was fast to respond, great quality, great price. No complaints - would recommend.
Hussein has been so supportive throughout the process. He's very talented and just from a phone call and a few emails he brought my whole vision to life on my designs. I would recommend him to anyone!
Super quick and more than capable! I will be keeping the contact for future works. 10/10. Thank you very very much.
Hussein was a joy to work with. He provided feedback and great care when designing the images for my site. The product was delivered quickly and to my specifications. I would use Hussein again and certainly recommend him for your design needs!
Hussein exceeded all of my expectations. He was east to communicate, very clear on the drains and he added his creative touch that I could've never imagined. I love his work, returned to him for additional designs and have already referred him to a friend that's been in the search for a trusted designer. Also appreciate the images being customized to my specific products. I'm a very happy customer!!
Hussein is a very professional person to deal with.He is helping me start my dream of creating ideas that I have encountered it my 50 years in the Automotive business .He gets things done quickly and is very good designing what I ask him.
Hussein was great to work with. He got the task done in no time, was efficient and produced high quality work. Would definitely recommend him and would work with him again if needed in the future!
Very easy to work with and very professional. Got the task done in a very short time frame. Will use again if needed.
Being that this is my first attempt at making a T-Shirt, Hussein was able to tale my rough idea and make it come to life. I am forever grateful. I will definitely use Hussein for all upcoming projects!
He created a beautiful design with unexpected details that inspire me. Thank you!
Trini-T Ministries
July 30, 2022
Quality work delivered quickly!
Mr Deeb was very good as he used his own initiative in all aspects of his work. I was very pleased
Was fast, accurate, and easy to work with.
He is such an amazing person and helpful did the work perfectly.
Write Your Thoughts About Working With Hussein!
Join Our Experts Program!
Supply information about your expertise using the contact form, we will review it and get back you. We look forward to hearing from you!