As soon as the concept of Capri leggings first appeared in our collective consciousness, we all knew this alternative to pants was here to stay. Yes, they did disappear for a brief moment in the late 90s (a lot of stuff did), but now Capri leggings are back, and they're here to stay.
Design Your Custom Capri Leggings
Our Custom Capri Leggings
Our comfortable capris are made from high-quality synthetic fiber that is light and soft to the touch. In addition to the exceptional comfort, the All Over Print on these leggings will ensure that you look stylish wherever you go – gym, park, bar, sofa.
Create a unique style with your perfect Capri leggings – they'll look great whether you wear them at the gym or while watching a movie from your living room couch. Each pair stops right at the knee and is made with a stretchy fabric for a figure-complimenting fit. These capris also come with a mid-waist fit, giving you those extra style points.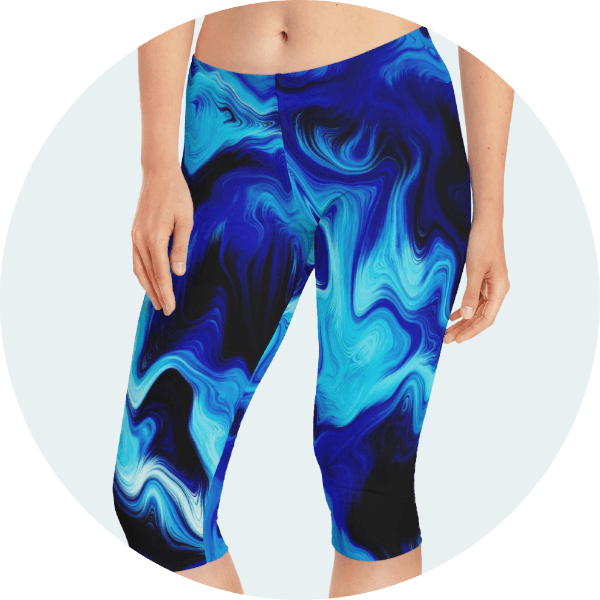 Start Selling Custom Capri Leggings Today!
How to Start Selling Custom Capri Leggings With Printify?
Printify simplifies and automates the process of sourcing and creating print-on-demand products at the best prices on the market. We're here to guide you through your journey to becoming an entrepreneur by starting your print-on-demand business.
Printify Is Trusted by More Than Two Million Merchants Worldwide With More Joining Every Day
I don't have to invest the money I can't lose into my business. With Printify, I only pay the fulfillment fees, and the rest is all profit.
I really appreciate working with Printify on my brand. Afro Unicorn was only supposed to be my design on a white shirt. It is so much more. Printify allows me the time to run the business and not work in the business.
Printify helped me start a completely hands-off revenue stream. When you spot a niche that you want to enter quickly, you don't have to worry about buying stock or equipment.
Printify Premium has helped my profit margins tremendously, and spending $20 a month has probably saved me over $200 a month.
Using Printify saved our struggling business of 6 years and gave us more time with our family.
I like Printify products because they tie in with our organisation's message.
I love the Printify Mockup Generator. It keeps everything consistent and allows me to keep my brand looking sharp and professional.
Capri Leggings Are Trendy
Whether you love or hate them, Capri length leggings and pants have started replacing more traditional ankle-length styles in the past few years. Why? Well, these pieces of clothing are key to a stylish outfit on both a humid July morning and a crisp September afternoon.

A quick internet search will show that many women frequently combine Capri leggings with matching socks and shoes. If you have a great idea but can't find the right sock or shoe for your Capri leggings – consider making your own! Be sure to check out the Printify Catalog for that perfect product combination.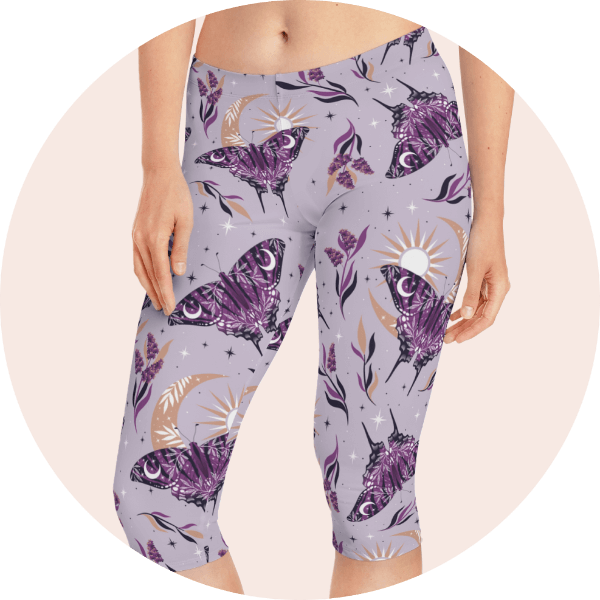 This is just the right time to create a Printify account and start designing your very own selection of comfortable Capri leggings. Remember that with Printify, there are no payments upfront and no stress from keeping your products in stock! So, sit back and relax in your new pair of leggings as you watch your orders come rolling in.
Start Selling Custom Capri Leggings Today!