Top 12 Squarespace Templates to Use in 2024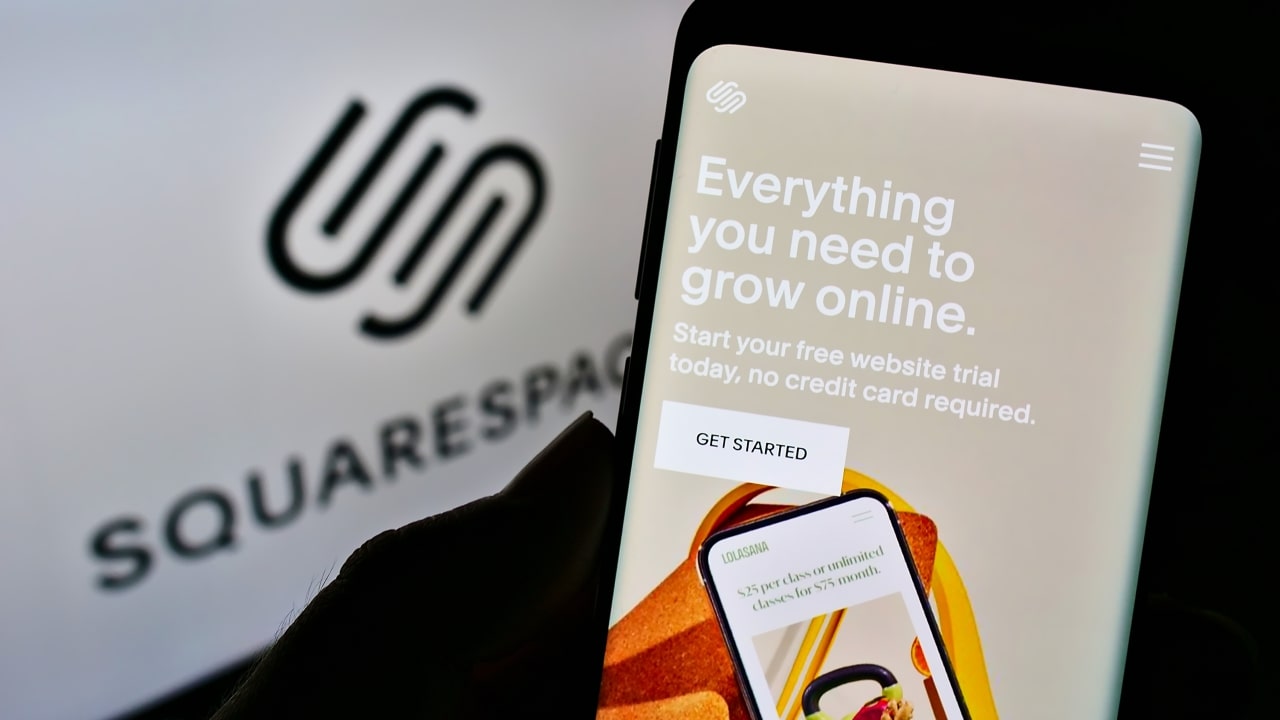 When building an eCommerce store, leaving a good first impression can be crucial for your business. 88% of visitors are less likely to return to a website after a bad experience.
So, how can you ensure that your website design and user experience align with your customer's needs?
Squarespace offers various templates to help you bring your ideas to life and ensure your website has everything it needs to attract your potential customer's attention.
In this article, we'll go through our top picks and give you in-depth information about the best Squarespace templates to help you grow your business successfully.
Squarespace is an online platform that can help creative minds and online entrepreneurs build and design their websites. There is no coding involved when building your online presence on Squarespace. The tool is easy to use and has many features that can help you bring your ideas to life.
This platform is an excellent choice for artists, photographers, and anyone who likes to play around with their design ideas on their websites. It also comes with a range of eCommerce tools, which is helpful for everyone starting their online shop.
Squarespace is used by over 3.79 million people worldwide, and it's affordable compared to other similar options. Their subscription comes with a 14-day free trial, allowing users to test if this platform fits their needs.
12 Best Squarespace Themes to Use for Your Online Business
Squarespace features a large collection of website templates that users can customize according to their needs. Most of them come with professional designs that can easily suit any kind of website. 
You can find more than a hundred free options on the Squarespace template shop. They all have a high standard of design and usability. 
There is also an option to purchase other premium Squarespace templates from third parties and customize your website based on that. The templates come with different pricing kits, most of which are for both Squarespace 7.0 and Squarespace 7.1 versions.
Choosing the right templates can be vital for your business. To ensure that you're going in the right direction, we have prepared a list of the top 12 free and premium templates to help you decide. 
Let's have a look.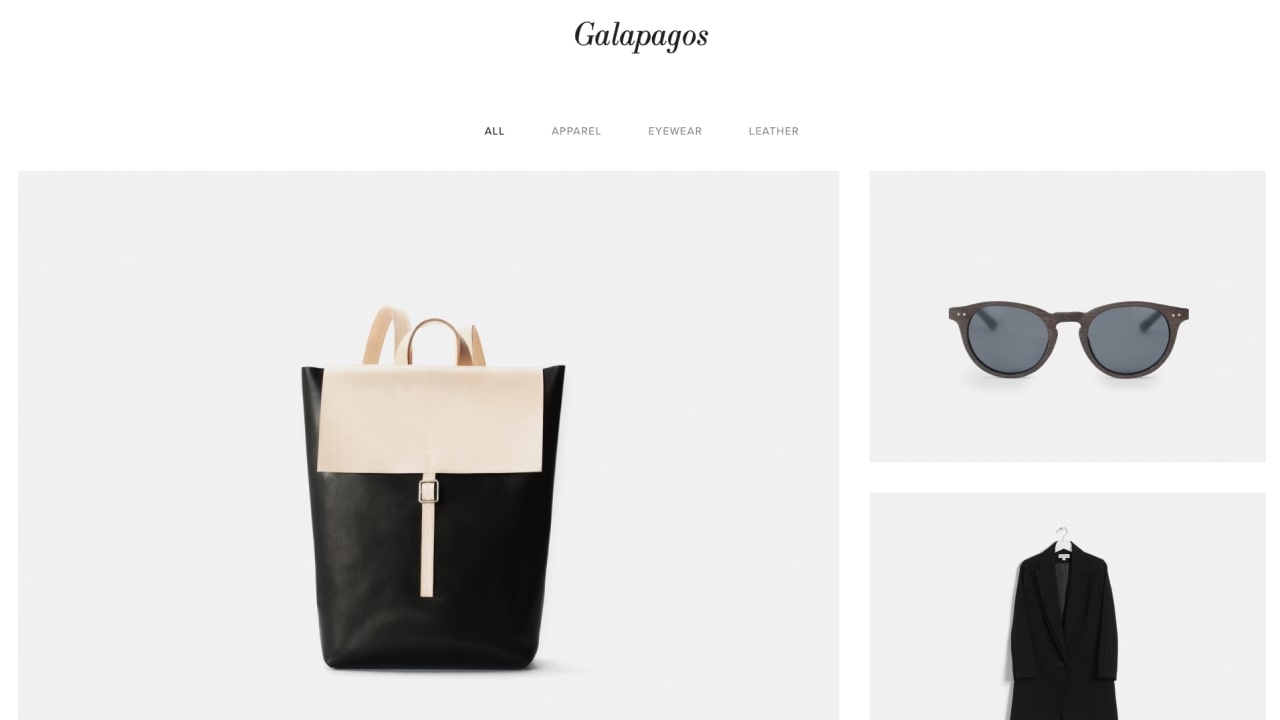 The Galapagos Squarespace template is an excellent option for anyone who wants to build an eCommerce store with a minimalist design on their website. The layout can guide you to create an elegant design with a good user experience.
These templates come with various product layouts and hovering photo options that can give your customers an interactive experience while visiting your website. 
Other than that, Galapagos has a Quick-view feature that brings convenience to your online shop. It allows your potential customers to view product details directly from the current page they have opened.  
It also includes a Sqaurespece shopping cart system and secure payment processing features.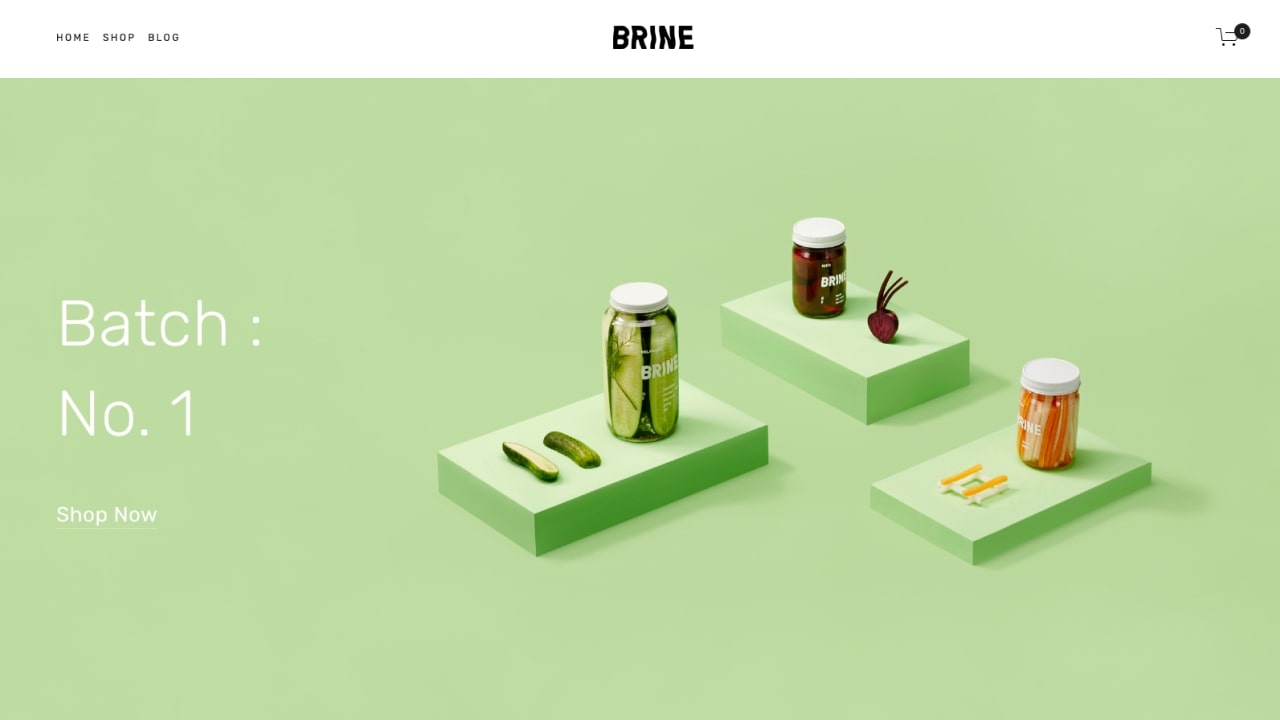 Brine is another great option for anyone looking to start an eCommerce business using Squarespace. This premium template can help you create modern-looking store pages aligned to your business needs. 
If you plan to sell a small variety of products in your online store, this template is for you. It has amazing flexibility and useful functionality. For example, you can add a blog to your website, which is a great way to grow organic traffic. 
Other than that, this template comes with various features. You can add different blocks on the top banner, allowing you to add texts, videos, or images to impress site visitors and get their attention.  
The Brine template is also very easily customizable for mobile devices.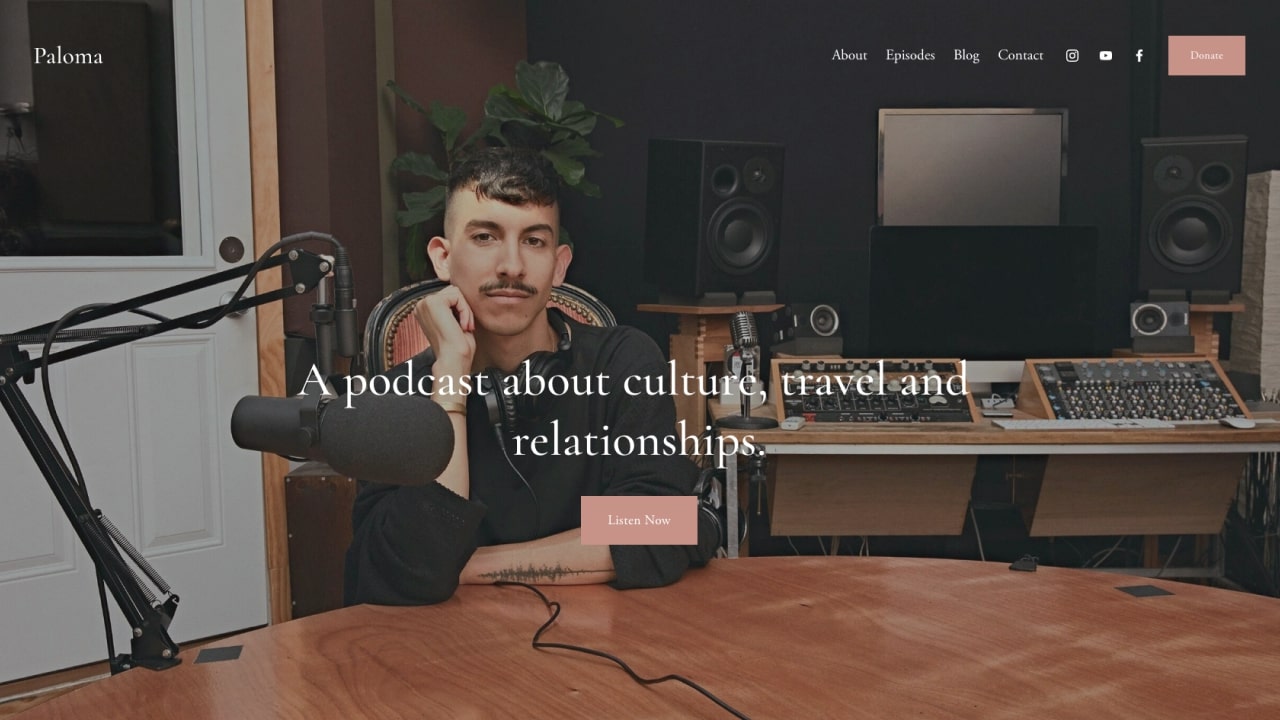 If you have a podcast and want to make a new site to show off your awesome project, then the Paloma Squarespace template is perfect for you.  
This template comes with a simple design that can help you push visitors to check out your podcast episodes and find out more about you. You can also add a blog section to the website, which is a great way to promote your podcast and increase the number of listeners.
Paloma includes a built-in player on the landing page, where you can feature your show's latest and most exciting episodes. You can also add the donate button to accept donations from your online community and get more revenue. 
Course creators can also benefit from such features.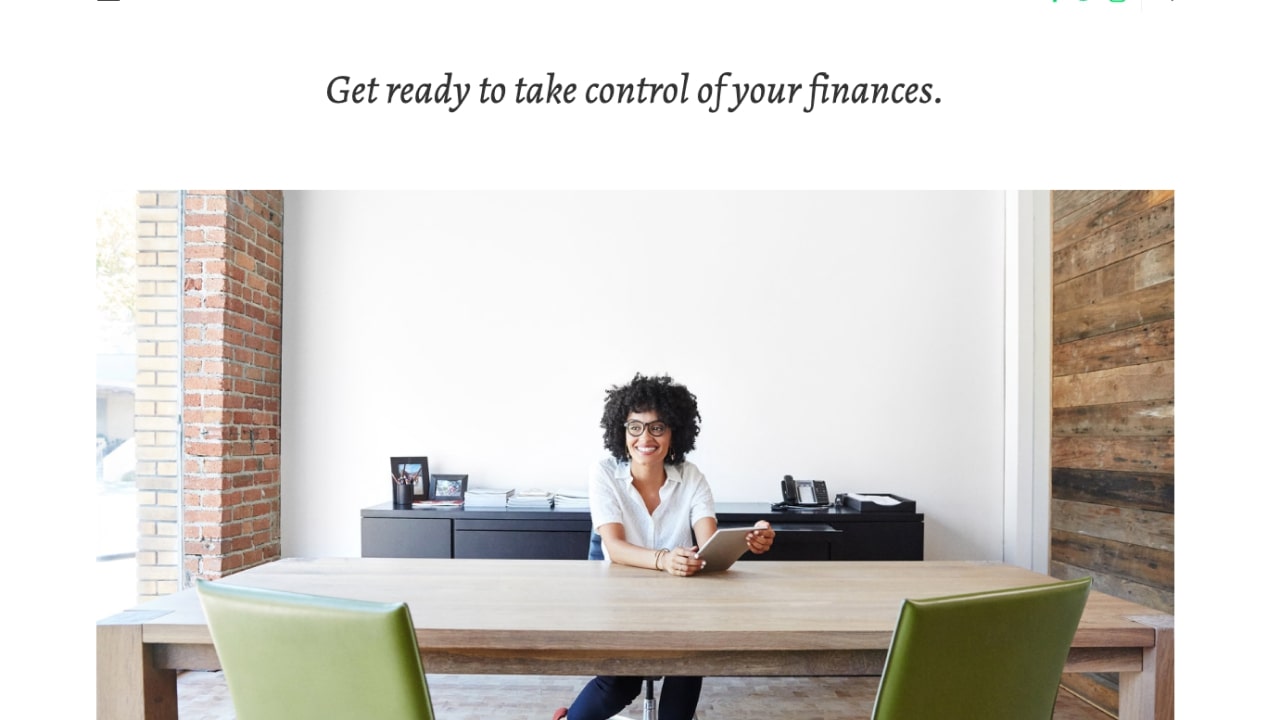 The Ready Squarespace template is designed specifically for coaches, consultants, or graphic designers. It has a minimal and elegant layout that can help you showcase your work in the best way possible.
This template has built-in contact functions that allow your potential clients to reach out to you whenever they need your help. It's perfect for professionals who offer their services on-demand. 
Ready also includes a CTA button, which you can add to your sales page. This allows your visitors to book a call or schedule an appointment with you. You can set this up by using a built-in scheduling system from Squarespace.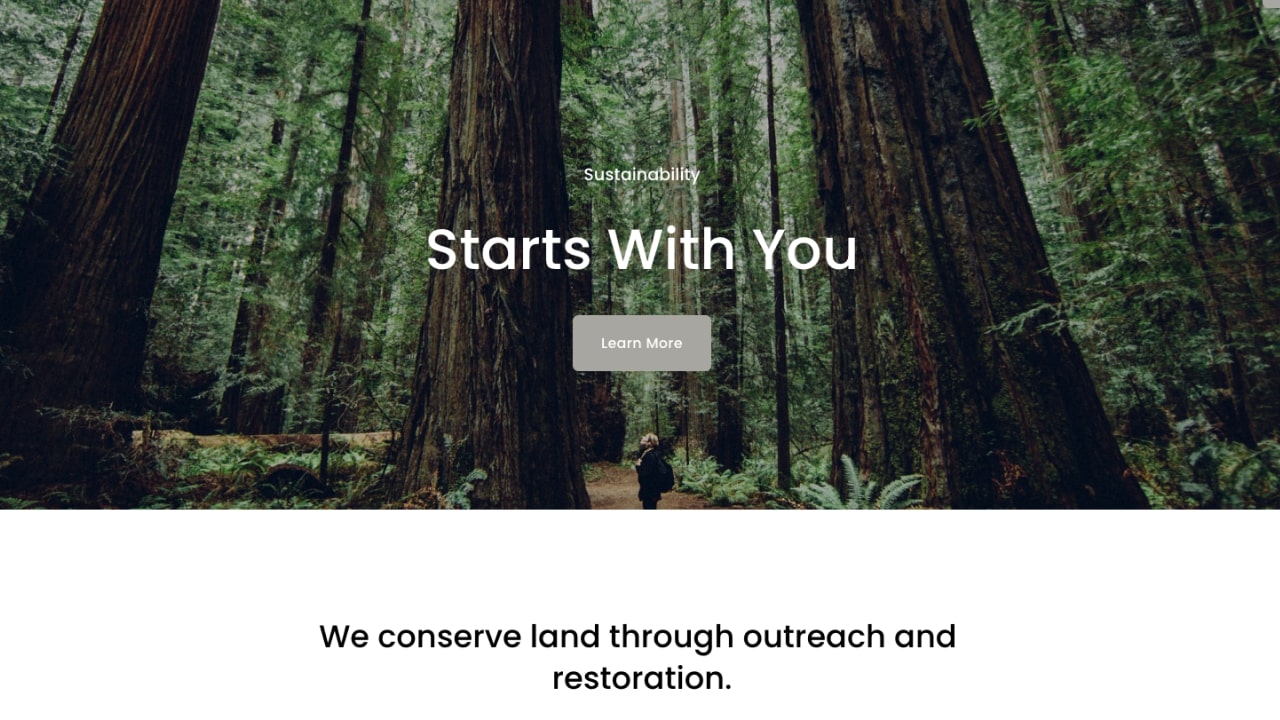 The Bailard Squarespace template is among the most popular choices for non-profits and community organizations. It has a clean design and pushes visitors to take a particular action by having two CTA buttons on the main page, letting you create a beautiful site for your business. 
This unique Squarespace template includes various sections such as Home Page, News, About, Read Me, and more. A full-screen image comes along on the start screen, followed by other beautifully designed sections.  
Bailard also includes adding a shopping cart option, which can help website owners add eCommerce features to their Squarespace website. Other than that, this is one of the premium Squarespace templates for creating a blog and sharing your thoughts. 
There are many beautiful social media templates available for this option.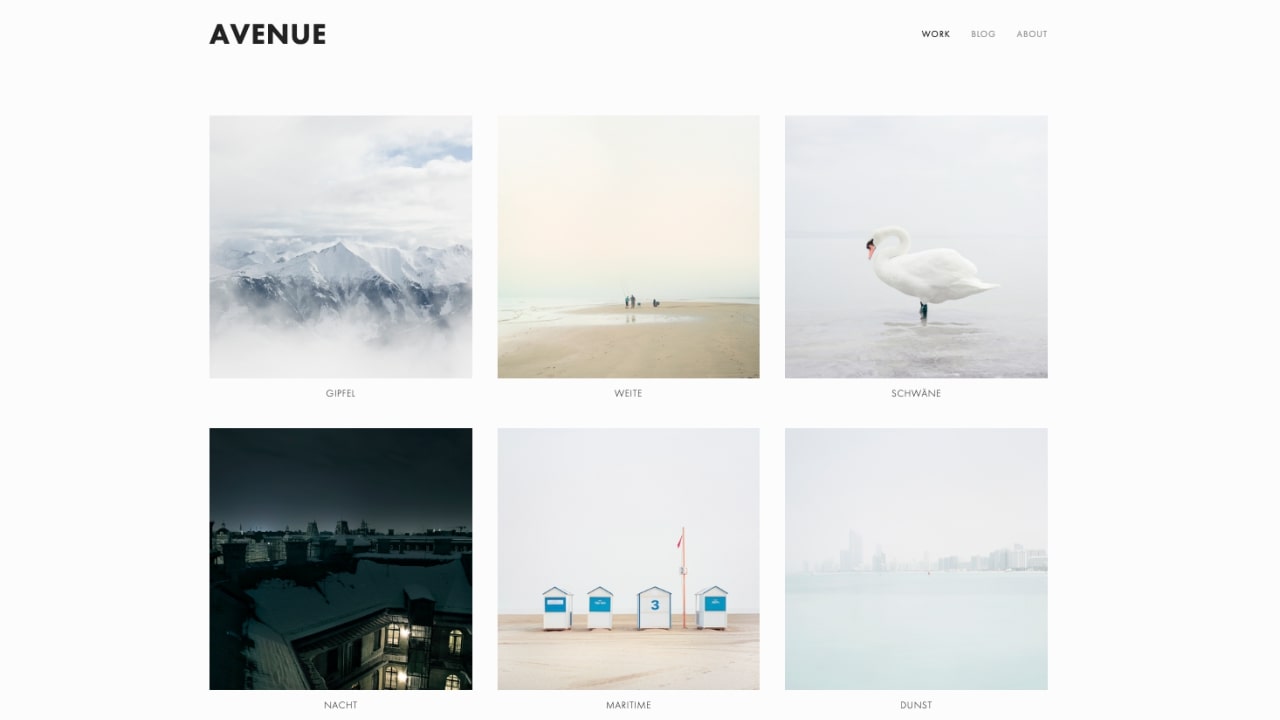 Another great template to use for creating a portfolio website with a detailed gallery and showing your work is Avenue. It's a simple and minimalist template that creative entrepreneurs can use to build their proper portfolio page. 
It all starts with the homepage, which has a grid-based layout. This is where you can include examples of your work. Whenever someone clicks on one of the examples, they will be directed to a page where they can see more information about that particular project.  
This template has a grid-based index that allows you to organize your projects easily. Avenue is one of the most useful Squarespace templates for creating your portfolio as a designer or a photographer.
Using these kinds of Squarespace templates can be a great start for freelancers and course creators to build a professional website and sell their services more effectively.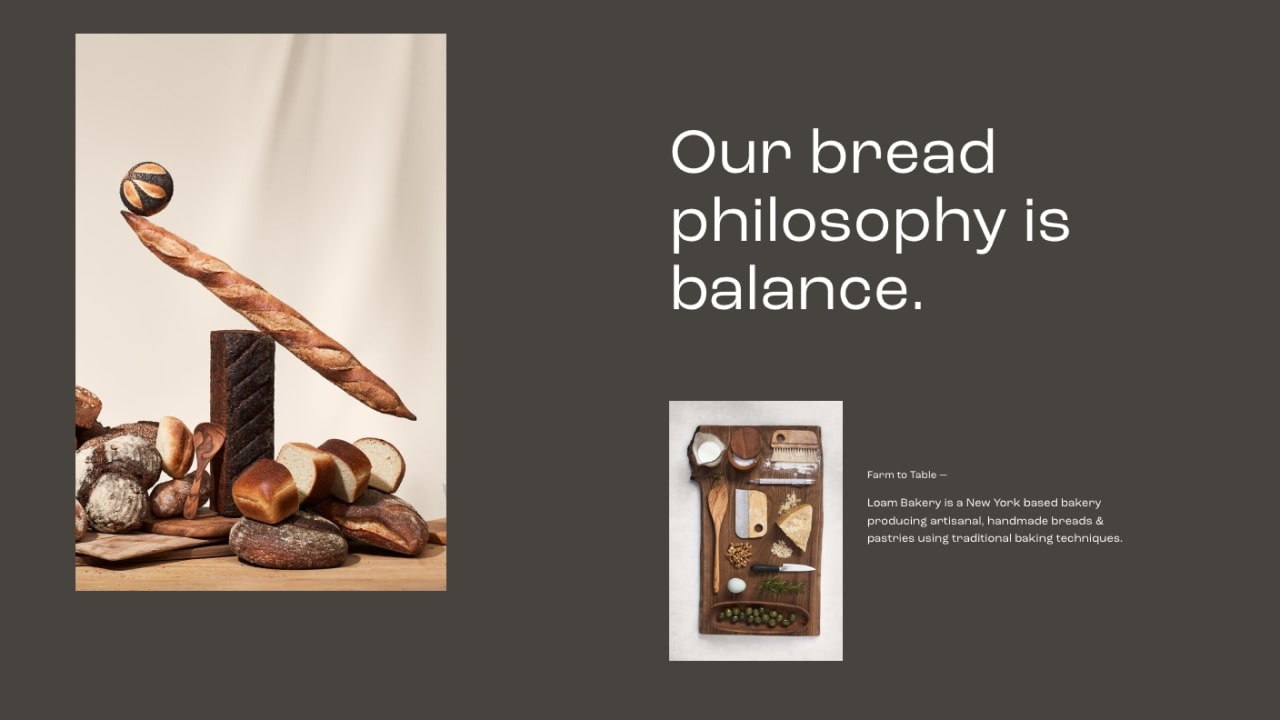 Loam Bakery is an excellent choice for anyone running a local business operating in the food service industry. In this premium template, you can include food menus, articles, product pages, and more. There are also many beautifully designed layouts to choose from.
Another great detail about this template is that you can include an eCommerce store on your existing site, so your visitors have the opportunity to order products online. This can help you easily convert visitors into loyal customers. 
There are lots of features that come with the Loam Bakery template. You create product pages with a responsive design, accept local delivery orders, write blogs, and post step-by-step videos that can help you endorse your brand.
Templates with the Loam Bakery style are a fantastic option for service-based businesses.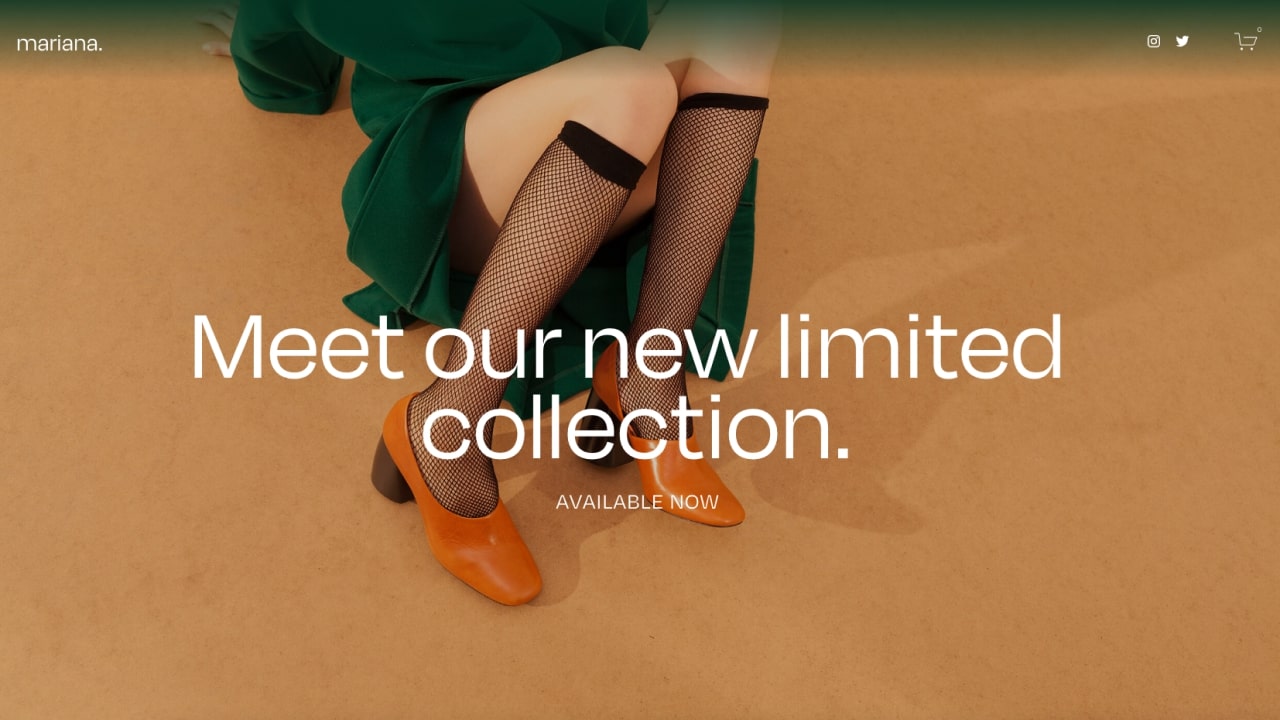 Mariana is one of the best templates for building a website operating in the fashion industry. It has everything you need for showcasing your design kits and latest collection to its fullest. 
This template has an eCommerce integration, letting you sell your products online. The experience starts with a full-screen home page showing the latest collection with the Add to Cart option in the top right corner.  
Mariana has simple navigation and great segmentation, making it easy for potential customers to choose their favorite products in the simplest way possible. Additionally, this template also includes a separate Contact page.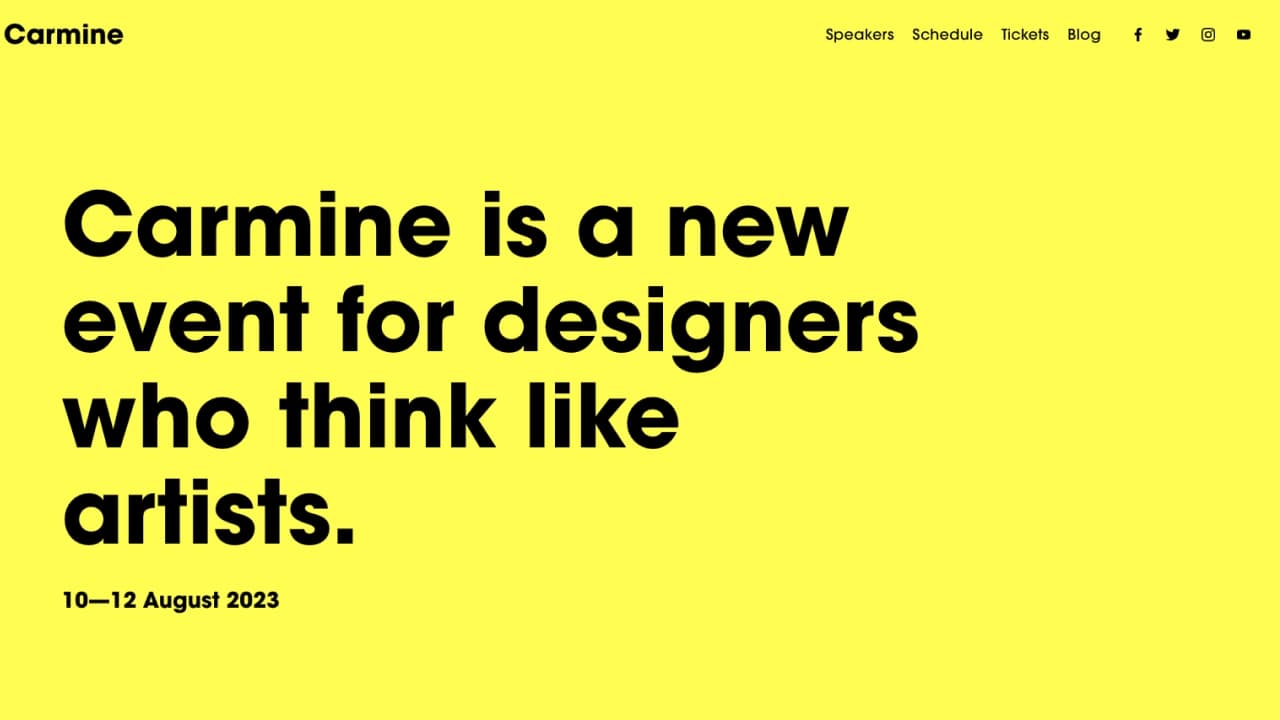 Are you an event organizer? Do you want to reach a massive audience and tell them about your work? Using the Carmine template might be the best option for you. 
This is one of the premium templates designed for anyone who wants to create an effective landing page to promote their event. It's full of different sections that allow you to include information about tickets, schedules, speakers, blogs, and more. 
Squarespace websites made with Carmine templates are known for their clean and minimalist design. 
For example, the speaker's section has space for short descriptions and subtitles. You can also integrate the eCommerce functionality into your website to sell tickets directly from your website.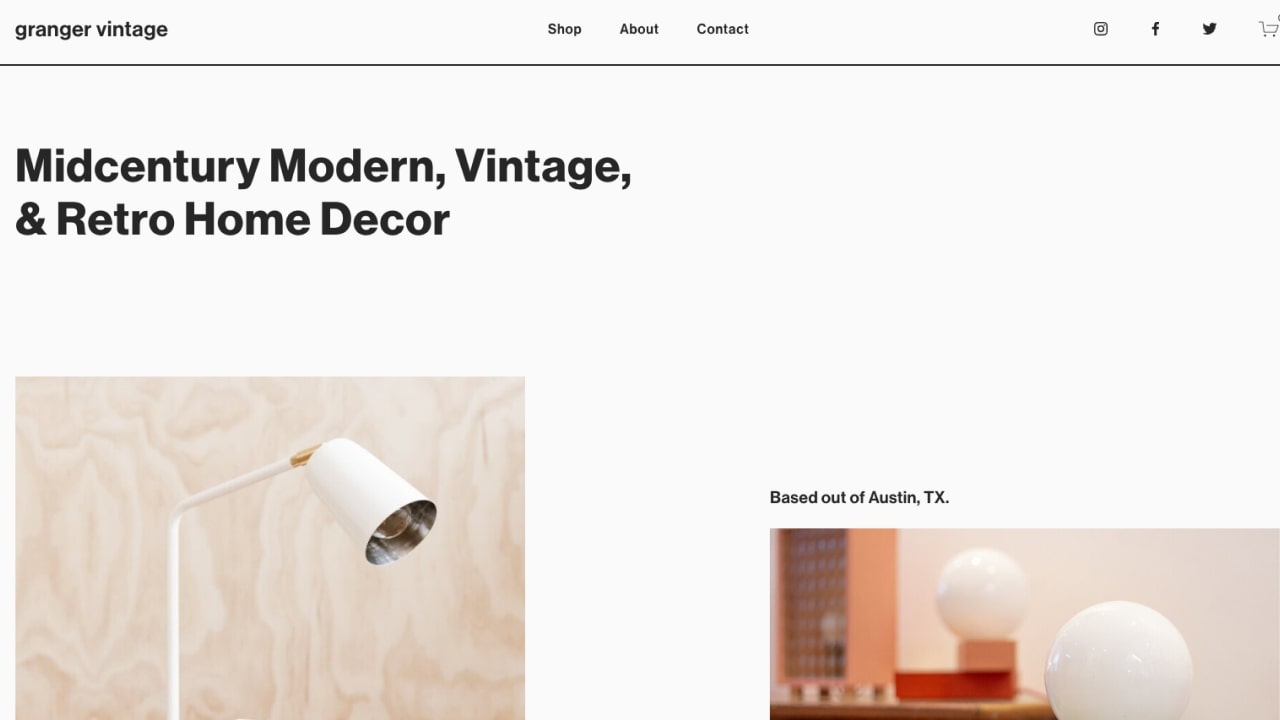 The Granger Vintage template is the perfect choice for businesses dealing with home decor. It has simple navigation and a minimalistic design. The menu placed on top includes Shop, About, and Contact pages.  
This template also includes a social media button that makes it easier for customers to share their favorite products with their online connections, giving you more visibility and brand authority in front of your audience.  
There is also a one-click checkout option with a shopping cart included. This makes the whole buying process easier for your customers.  
Granger Vintage is one of the best Squarespace templates for interior designers and Squarespace users alike to showcase their work.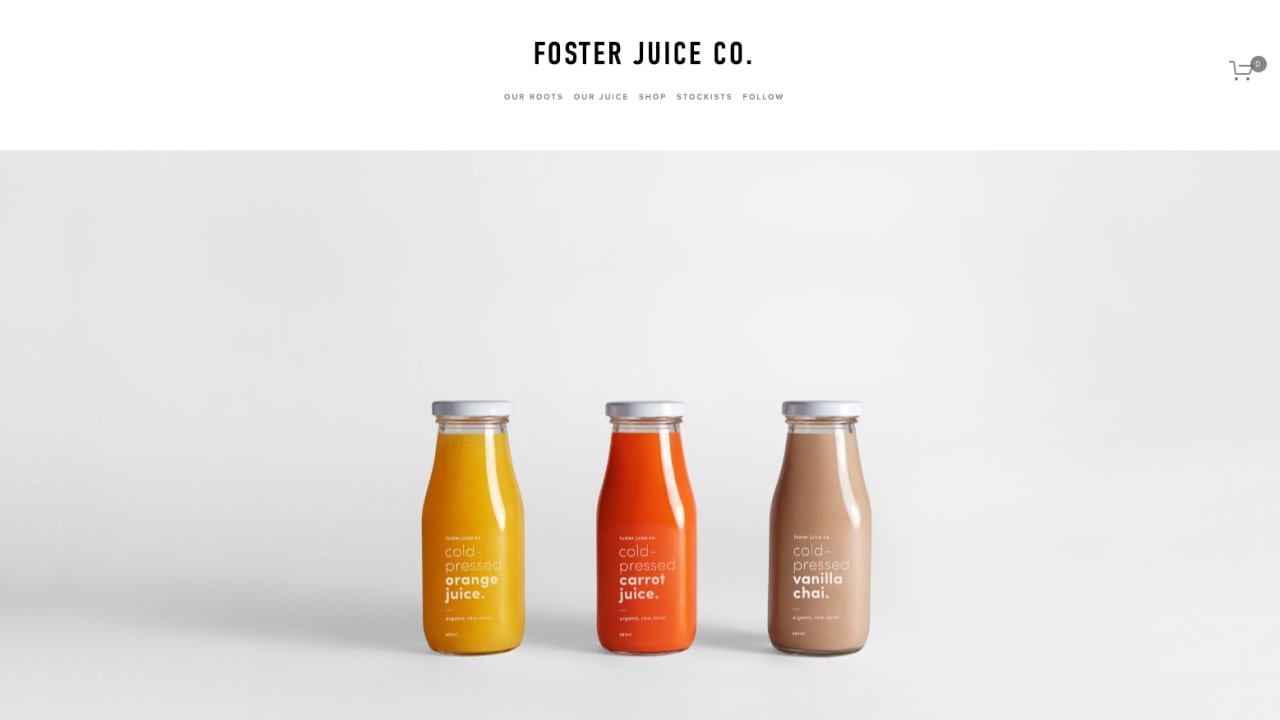 If you're running a food and beverages business and want to build a website for your brand, the Forster Juice Co template is an ideal option for you. The design is easily customizable and comes with a clean layout.   
This template lets you showcase your most delicious products and sell them online directly to your customers, as it has built-in eCommerce and shopping cart features.
Forster Juice Co also features Contact, FAQ, and Blog sections where you can answer every question your customers might have.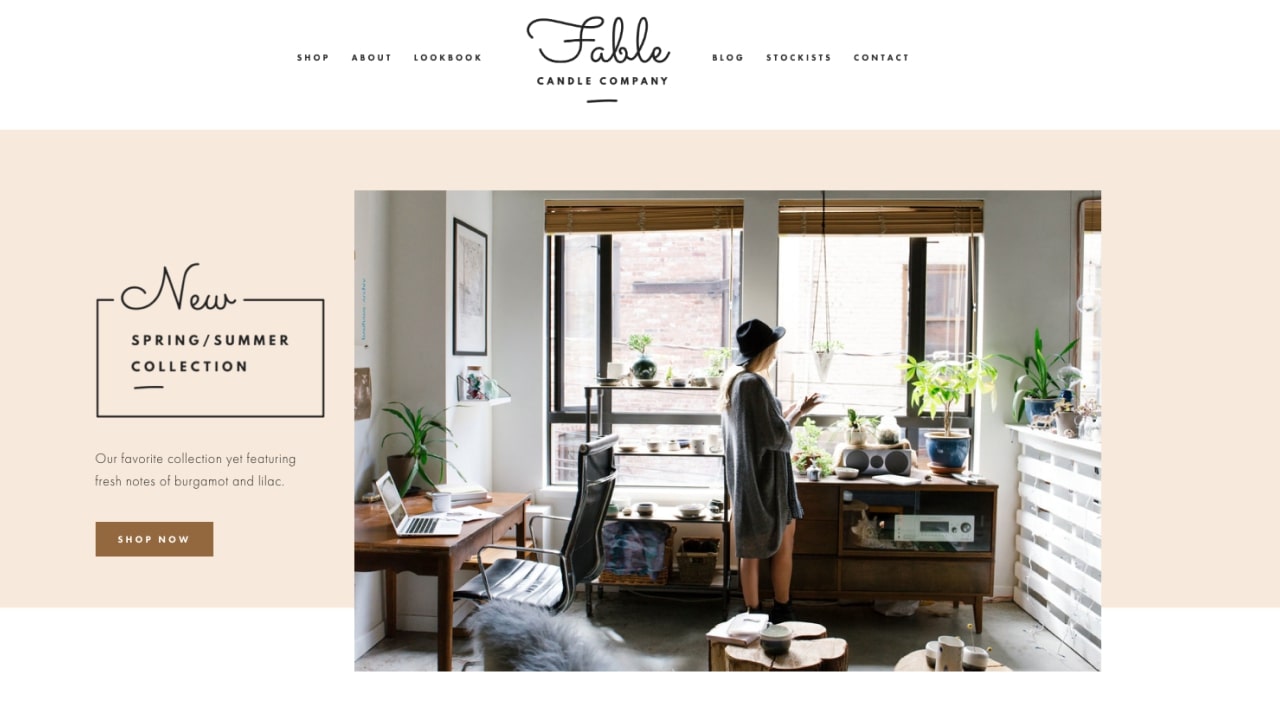 Fable is one of the premium Squarespace templates you can use for selling home accessories and decorations. It helps you use blog content and pictures to push the product in front of your target audience.
Besides that, it also offers social media integration, making it easy to connect all your promotional channels and establish your brand. 
This template makes it easy to customize the fonts and colors and match them with your brand vision. Fable also comes with eCommerce integration, so you can start making sales from your website immediately.
Start Your Online Business With Squarespace
If you're looking for ways to start your online business, Squarespace could be the perfect choice for you. Many beautifully designed templates can help you build your Squarespace site and attract new customers. 
Alongside many other options, you can start an eCommerce store and sell products to your customers worldwide. Thanks to their beautifully designed templates, it only takes a few hours to build a demo site and get started on Squarespace. 
However, choosing a reliable supplier is vital to successful online selling. This is where we can help.
Printify is a print-on-demand platform that has seamless integration with Squarespace. You can sell your personalized products to a massive audience using our platform. After making a sale, we ensure that every other detail in the process is taken care of – printing, inventory, and shipping. 
Look at our step-by-step guide on integrating the Printify platform into your Squarespace account and start your print-on-demand journey.
Squarespace is a wonderful tool for anyone who wants to create a website for their business and showcase their products or services to customers. After signing up, you get immediate access to 100+ templates with countless design kits that can help you attract your visitors.
The process of choosing your template kits is simple too. You only need to enter their creative market, choose the templates you like most, and start designing your website. 
Which ones are your favorite Squarespace templates? Would you add any other templates to our list? Let us know in the comments below.
Start Your Own Print On Demand Business Today!
Share the article
Topics