How to Change Etsy Shop Name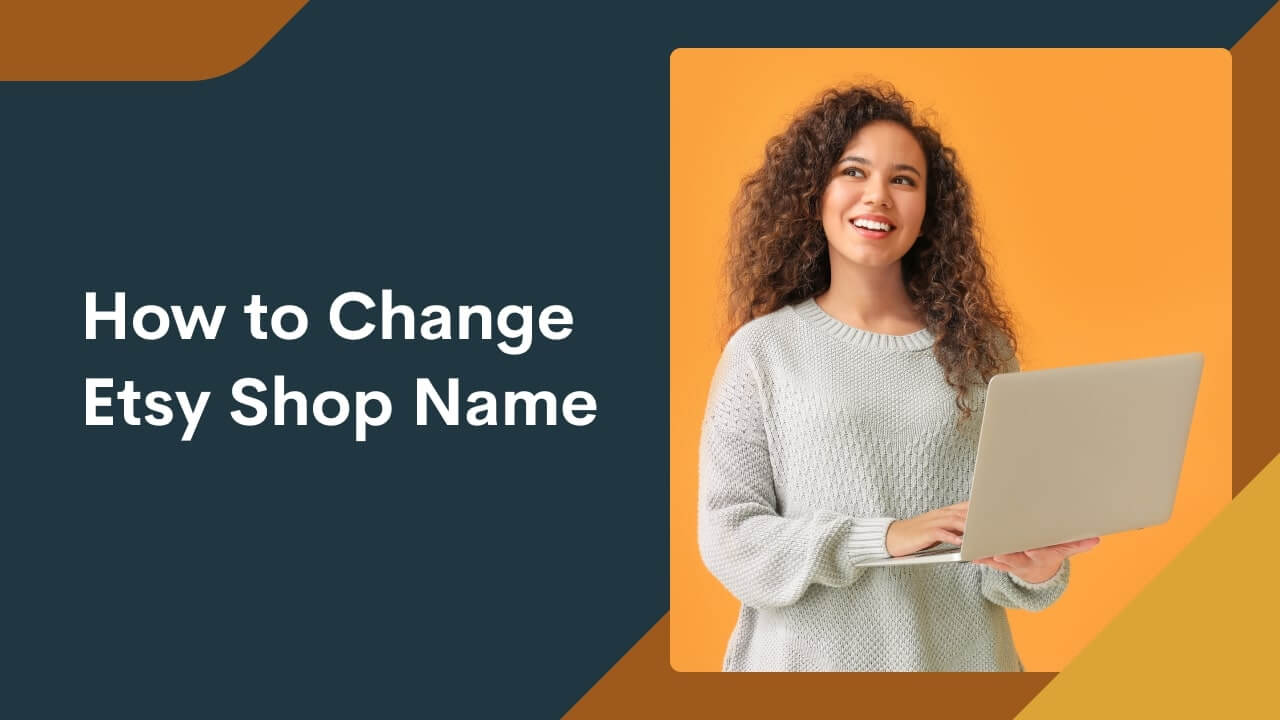 Want to change your Etsy shop name to distinguish it from other sellers? Maybe a new store name would align better with your shop's purpose, or it just sounds better?
Learn the steps on how to change your Etsy shop name in just a few clicks. Replace your previous shop name to distinguish a brand early and create a user-friendly Etsy profile. 
Find title gold and remember to hold intellectual property rights for a permanent brand that's fresh and unique.
How to Change Your Shop Name on Etsy?
If you already have a creative name idea, log into your Etsy account and take the three following steps:
1. Go to your Shop Manager and navigate to the Settings page.
2. Choose Info & Appearance and click Shop Name.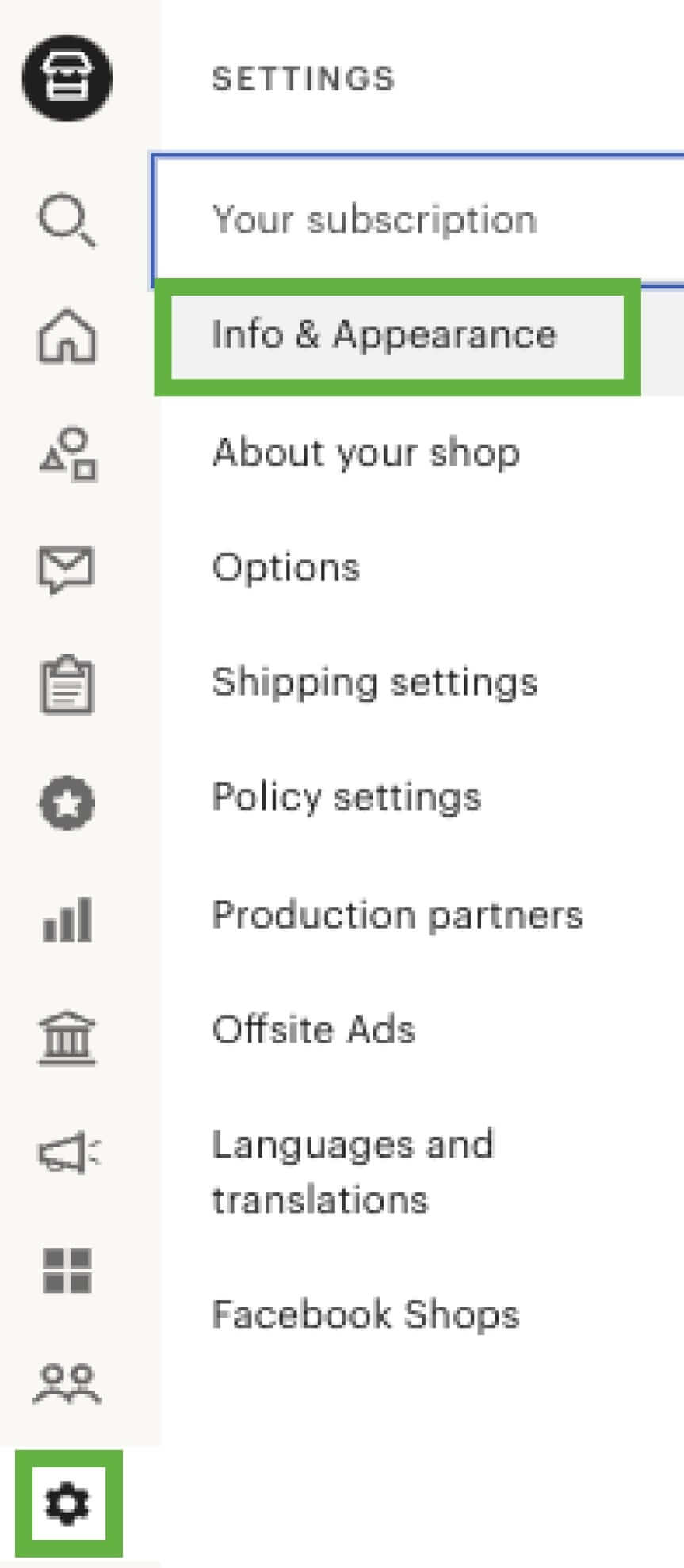 3. Enter your new shop name, and remember to click Save.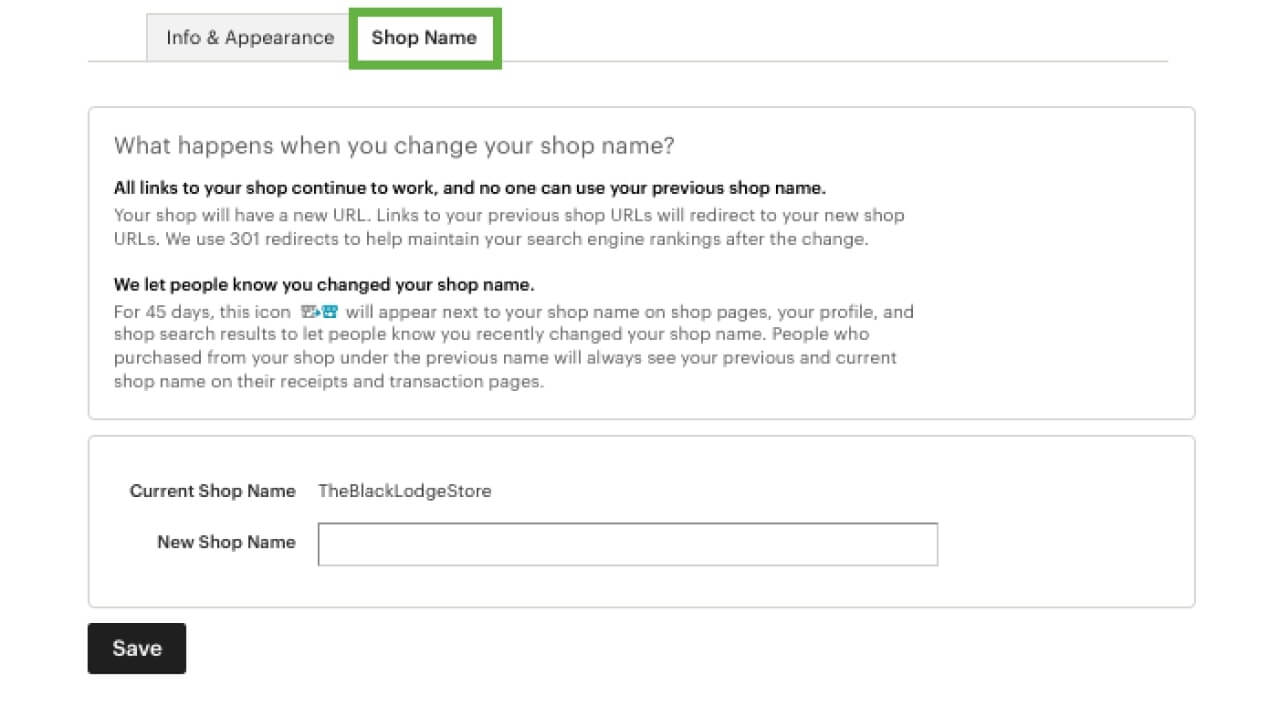 Change an Etsy shop name as many times as you want. If the chosen shop name is already taken by another store owner – it can't be used again due to intellectual property rights. You can always contact Etsy support and check the Help Center for additional tips and information.
What Are the Requirements for Etsy Shop Names?
What Happens After an Etsy Store Name Change?
Once you've made a change request for a new Etsy shop name: 
The new Etsy store name will be

reflected in the shop URL

. Old links to all previous shop names will

automatically redirect

to the new one.

Other sellers will be prevented

from using

the current and previous shop names.

Your Etsy shop's profile will receive a

display icon

to notify customers of the name change. The icon

lasts 45 days

after the change in all relevant search results.
Tips for Choosing a Catchy Etsy Shop Name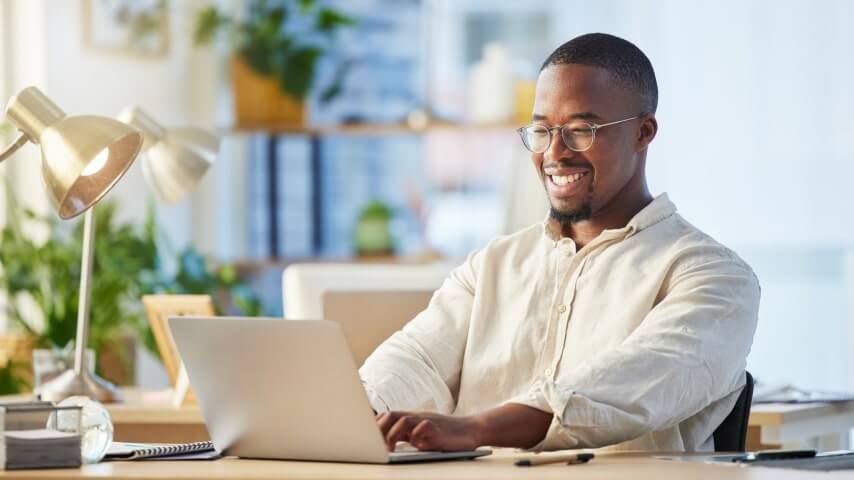 Here are three naming ideas to help you brainstorm a good Etsy shop name:
Names that express a feeling and describe the theme or contents of the store. 
For example, if a store wants to sell stationery, an Etsy seller might reflect it with a stationery-related name, i.e., "Elegant Calligraphy", "Draftworks", "Stencil Station", etc.
Rare names that are unique and make a lasting impression. 
Some tips for abstract names – don't use common English nouns, create unique combinations of words, experiment with words from different languages, and make sure the new words have phonetic and readable syllables.
Use your name or business title to establish a strong brand identity – use personal names in the same form or a play on specific syllables or roots. 
Note that shops likened to your name will always remain unique and are unlikely to be taken by other sellers.
Test out your new Etsy name before submitting.
Check Etsy listings.

Search within the Etsy site for similar business names.

Research on Google.

Test search engine results. The name might be too saturated.

Collect keywords.

Consider using popular keywords and phrases to increase traffic.

Ask for social feedback.

Do a focus group test with your audience and friends.

Follow copyright rules.

Do not infringe on trademark laws, like using the names of cartoon characters.

Make it international.

Research if your name has any negative connotations in different languages.
Try additional best practices before you open shop.
Capitalize letters in your shop name to distinguish separate words. Take the time to check all your product listings and update them where necessary. 
Finally, use the Meta Tag Analyzer to check if the URL is readable in search results.
What Is the Difference Between Username, Shop Name, and Preferred Name on Etsy?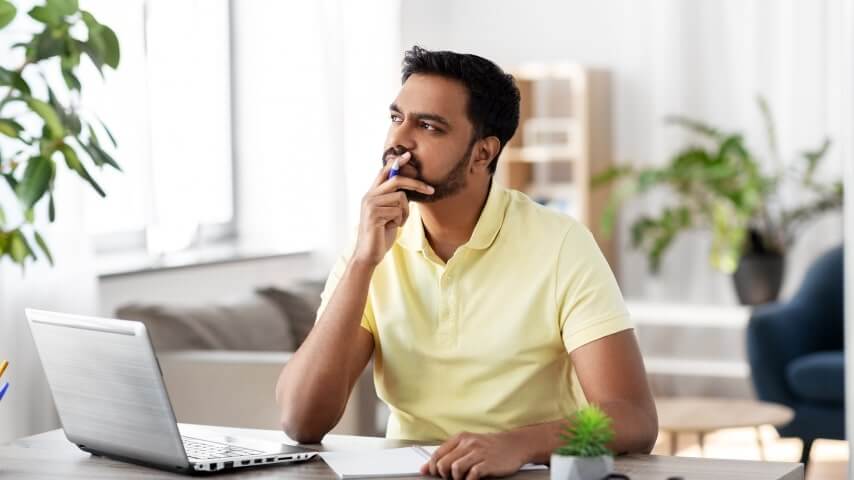 Your shop name is different from your Etsy username and preferred name.
Represents the online business as part of your buyer account. The Etsy shop name is used in your web address (URL). You can't use a shop name to log in to Etsy.
The name your account is registered on and used to log in. Usernames appear in the web address that redirects to a personal profile. Etsy account usernames can't be changed.
Add a preferred name to your Etsy profile to let users know how to refer to you directly. This is also useful to let friends know who you are, be it a nickname, your full name, or a chosen name.
How to Change Your Name on Etsy?
Change your preferred Etsy name in the shop manager settings:
1. In Account Settings, Navigate to the Your Profile section and click Public Profile.
2. Find Your Name and click Change or Remove to edit or add a new name.
3. Select Save Changes.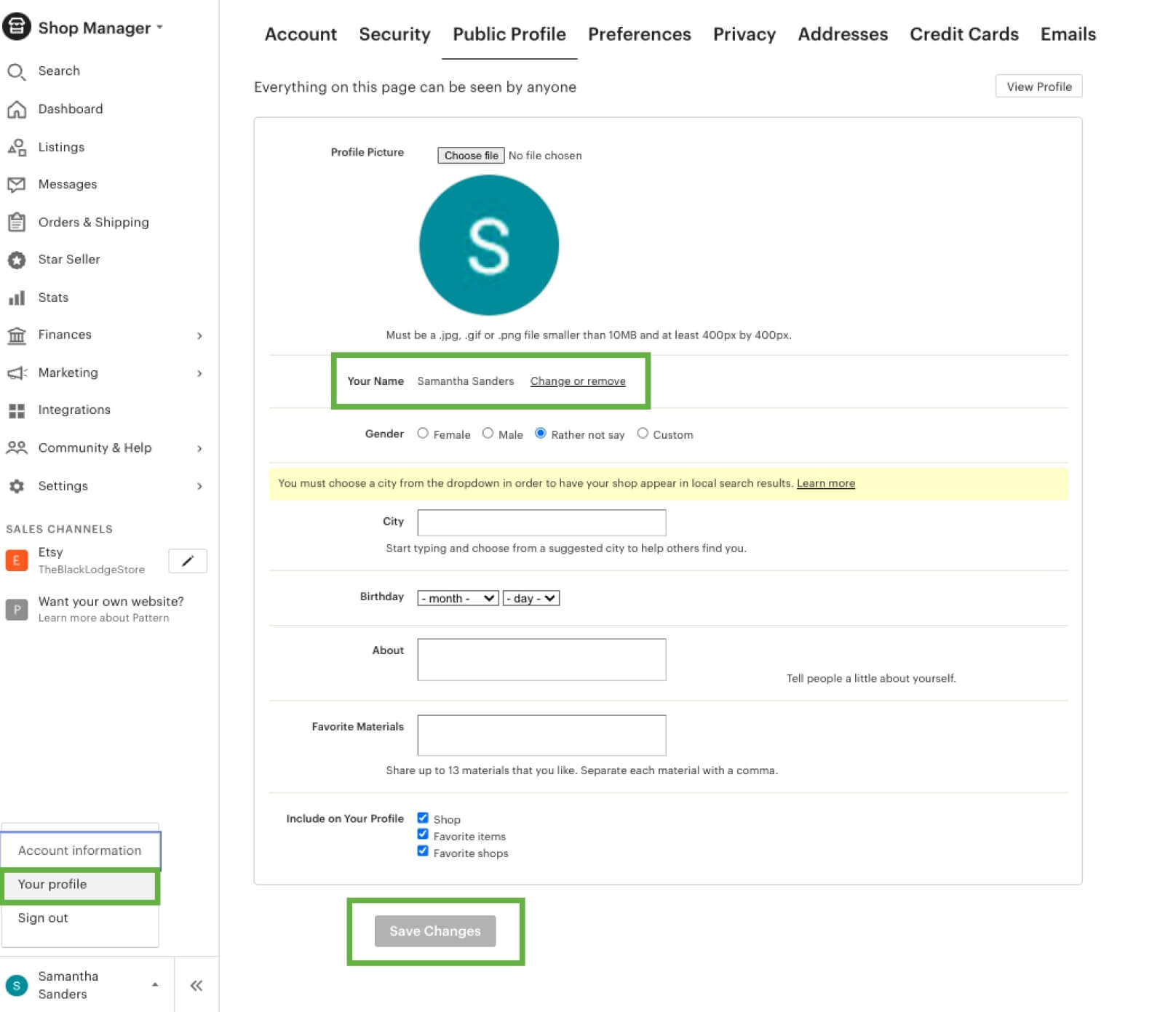 You don't need a new account to change an Etsy shop name. Follow our instructions above to customize your Etsy store profile with full freedom.
Want to upgrade your Etsy sales channels with custom-made merchandise? Check out the Printify x Etsy integration to boost your product offers at no additional cost.
FAQ: How to Change Etsy Shop Name
You can't reopen a new shop using the old shop name or email. Instead, use Etsy's vacation mode to create a closed store temporarily and start over with a clean slate.
Two options: contact the shop owner to resolve the issue personally. Alternatively, file a notice of intellectual property infringement through legal government channels.
As an Etsy shop manager, log in to your Printify account. Click on your store name in the upper left corner and select Manage my stores from the drop-down menu. Click the gear icon to edit your store name.
Note: This does not change your Etsy business name – only the name in your Printify merchant profile.
Share the article
Topics