Guide to Etsy Vacation Mode + Free Announcement and Message Templates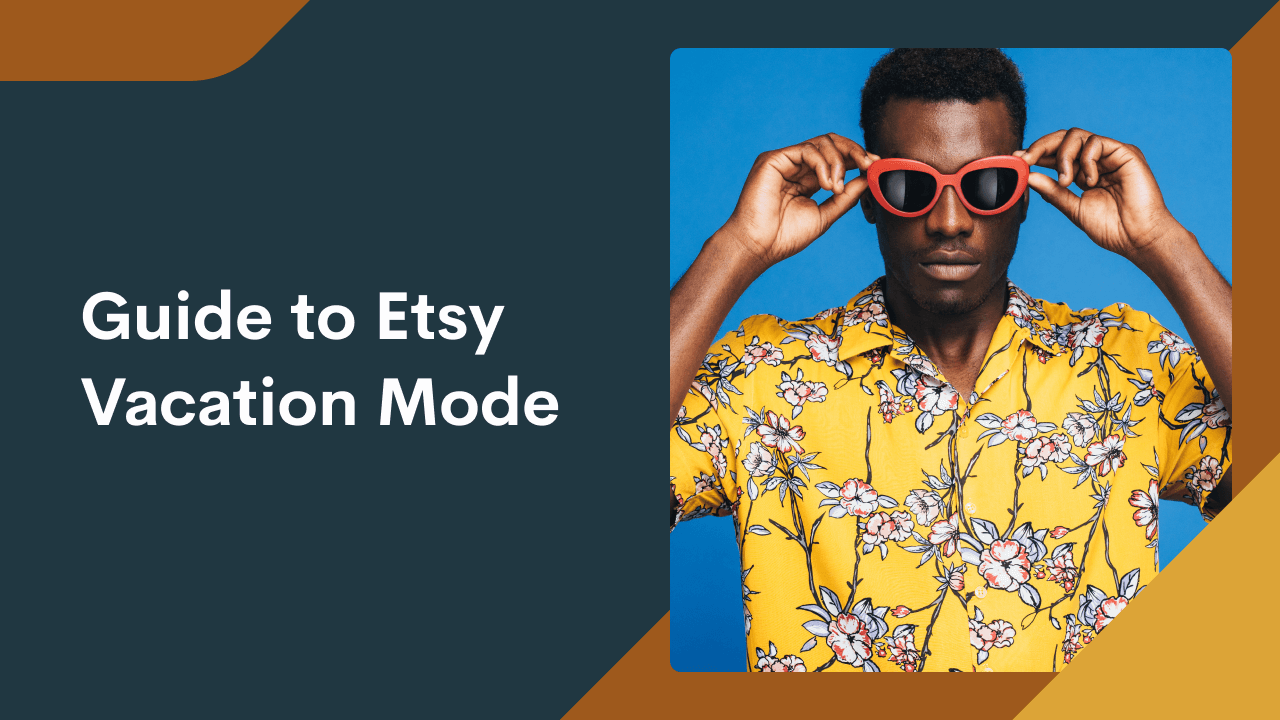 Every Etsy seller knows the dedication it takes to run a successful shop. While this journey is fulfilling, there are moments when taking a break is necessary. Etsy Vacation Mode makes sure that your absence doesn't impact your store's reputation. 
Many sellers contemplate using Etsy Vacation Mode, especially when they need a short break. But how does Etsy Vacation Mode affect their shop's performance and visibility in Etsy search results? 
Delve deep into this useful feature, understanding every nuance and how it can be beneficial for your Etsy business.
What Is Etsy Vacation Mode?
At its core, Etsy Vacation Mode is a digital Pause button for your store. It's designed for moments when an Etsy shop owner needs a break. 
Instead of closing the shop entirely or leaving it running and potentially neglecting customers, sellers can activate Etsy Vacation Mode, making sure the shop's integrity remains intact.
What Happens While Your Shop Is on Vacation Mode?
As many shop owners will confirm, the decision to step away, even briefly, can be anxiety-inducing. The Etsy platform recognizes the diverse needs of its sellers and provides features to guarantee a smooth temporary transition without causing alarm to your loyal shoppers. 
Vacation Mode is one such feature designed to maintain a shop's presence while giving sellers a much-needed break. Let's examine the impact of activating this mode on different aspects of an Etsy shop.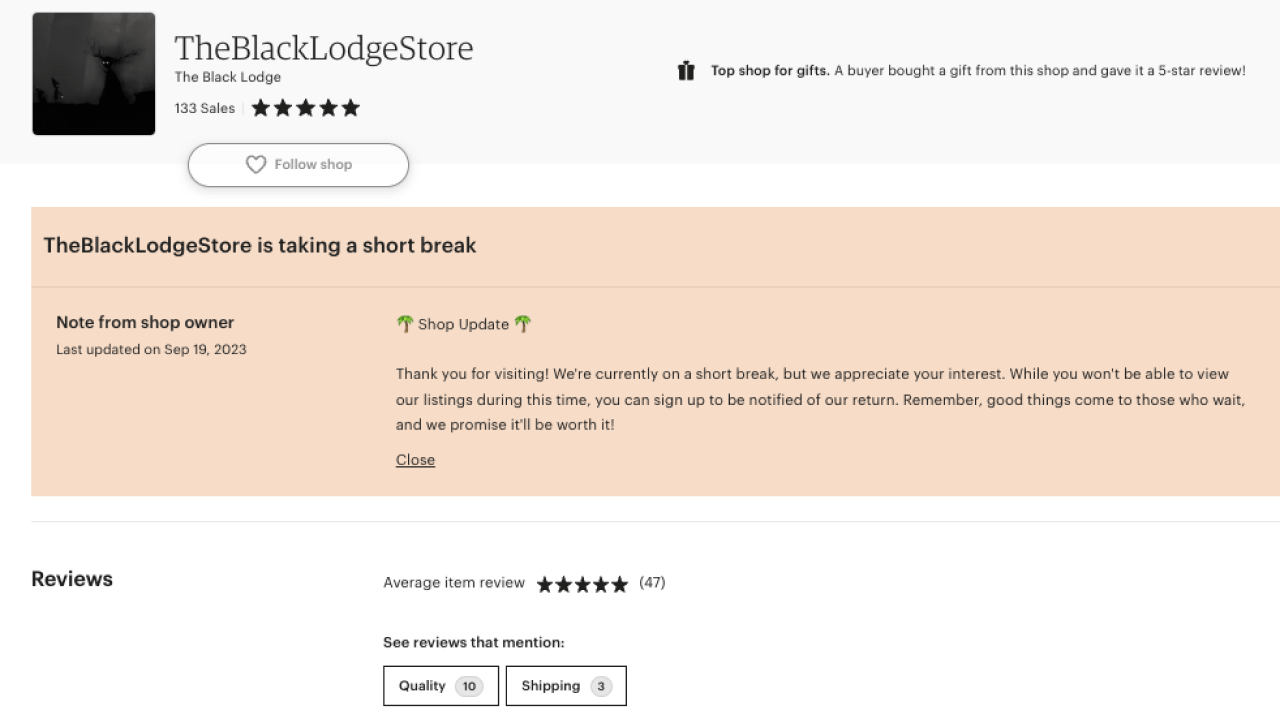 Upon activating Vacation Mode, your Etsy shop will remain visible to the public. Nevertheless, a banner or notification will be prominently displayed across your shop page, informing visitors of your temporary absence. When someone searches for your shop, it will appear, but the banner will indicate your current status.
While in Vacation Mode, your ability to manage essential shop tasks remains intact. You can issue refunds, cancel orders, print Etsy shipping labels, access orders, handle cases, and respond to messages.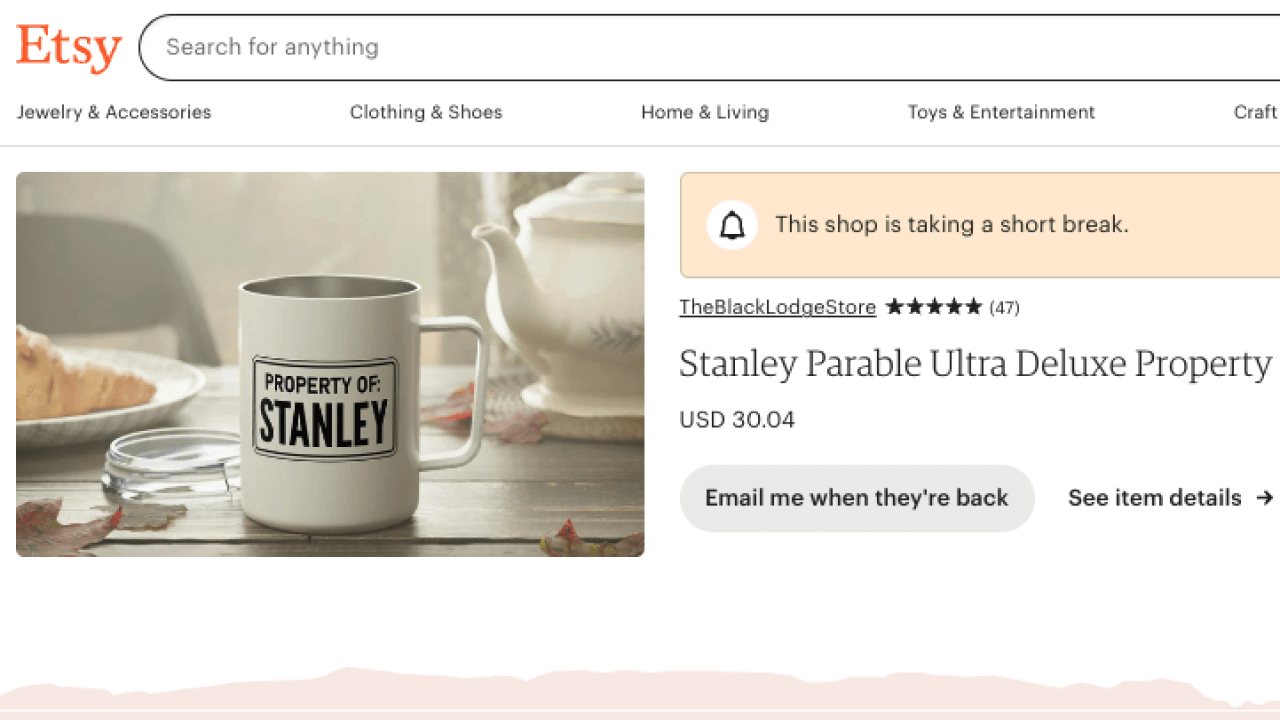 One of the main adjustments you'll notice when in Vacation Mode concerns your product listings. Your listings won't appear in Etsy search or your merchant's shop page in this mode. 
This makes sure new customers don't accidentally place orders expecting immediate fulfillment.
However, it's important to know that you can still edit these listings or create new ones as drafts during this period.
Please be aware that listings set to auto-renew will still incur renewal fees, even while in Vacation Mode.

If you've invested in Etsy Ads, activating Vacation Mode pauses any active advertising campaigns. This is a crucial feature to make sure you're not paying for clicks or impressions that can't lead to immediate sales. 
Once you're back, you can restart your campaigns with ease.
Sellers subscribed to Etsy Plus will continue to receive their subscription benefits. However, some features tied directly to active sales or listing promotions might be inactive. For instance, restocking requests won't be sent out as your listings aren't active.
Please be aware that subscription fees for Etsy Plus will continue to be charged regardless of the status of individual features or listings.
Another aspect to consider is the Star Seller badge. Star Seller eligibility requires consistent performance, and while being on Vacation Mode might impact the frequency of sales, it doesn't directly affect your status as a Star Seller.

For sellers who've branched out with a customized website using Etsy's Pattern, their site will continue to be live and functional. However, similar to the main Etsy platform, a banner or notice will inform visitors about the shop's vacation status. This guarantees that customers are kept in the loop even on external websites.
Please note that subscription fees for Pattern will continue to be charged during this period, regardless of your shop's status.
How to Turn On Vacation Mode on Etsy?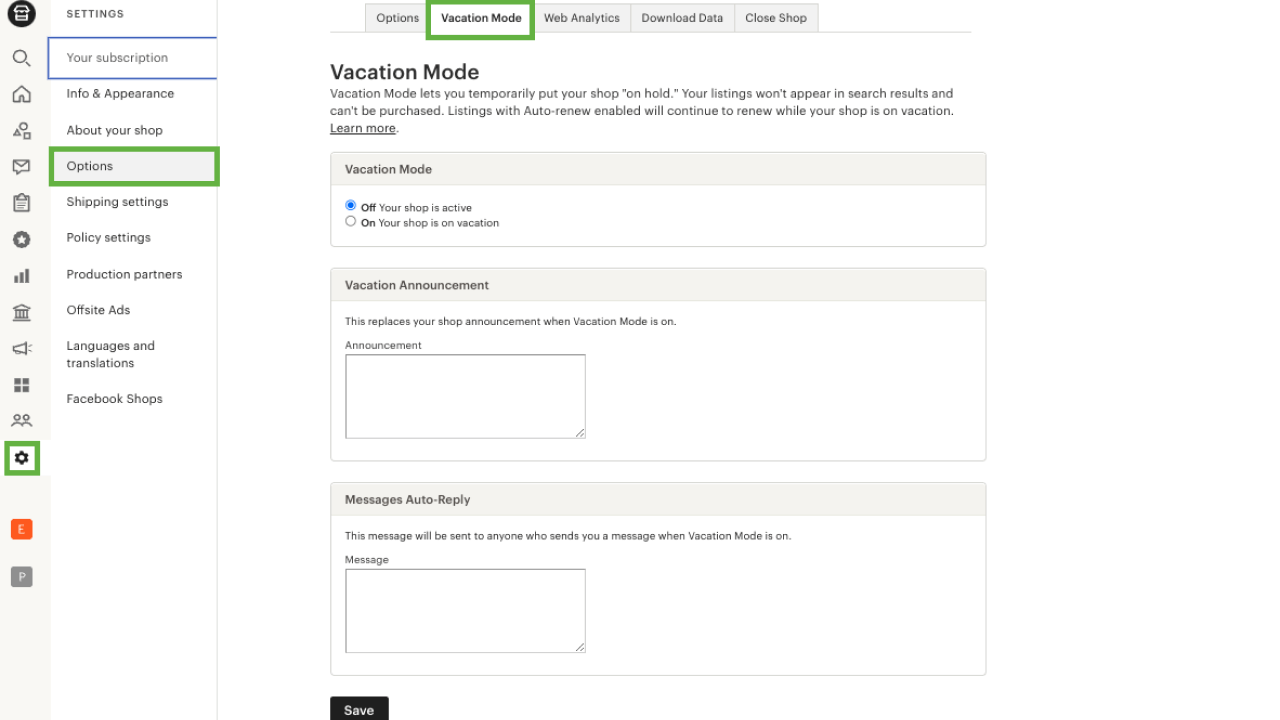 Putting your Etsy store on Vacation Mode is a simple process, so here's a complete step-by-step guide to help you seamlessly transition your shop into Vacation Mode.
In the top-right corner of your screen, click on the Shop Manager option.
Within the Shop Manager, you'll find several options listed on the left side. Locate and click Settings. There, you'll see various subsections. Click Options and find a tab labeled Vacation Mode.
Once you're in the Vacation Mode settings, you'll find an option to change it to On to activate Vacation Mode.
This is a short message visible to anyone visiting your shop while in Vacation Mode. It's a great place to briefly inform visitors about the duration of your absence, when you'll be back, etc. Keep on reading, we'll provide announcement templates below.
Configure Auto-Reply for Conversations
To maintain excellent customer service even while you're away, you can set up an automatic response for any messages or inquiries you receive during your absence. This lets customers know you've received their message and will address it upon return.
Once you've made all necessary adjustments and configurations, make sure to click the Save button.
How to Turn Off Vacation Mode on Etsy?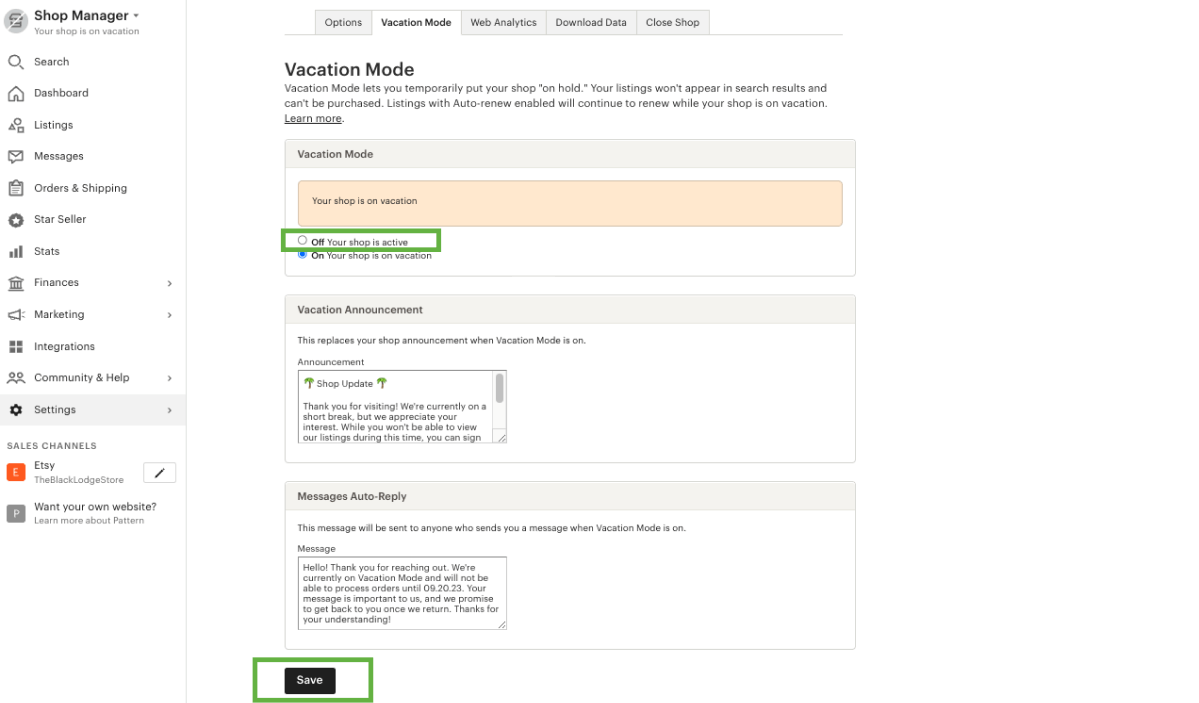 When you decide to come back, turning off Vacation Mode is straightforward. Head to the shop settings, and within the Vacation Mode tab, you can switch it off. Your shop's listings will return to their pre-vacation mode levels in search.
A few tips for a smooth transition back:
Update and edit listings if needed.

Run Etsy Ads to boost visibility.

Make sure you can print Etsy shipping labels seamlessly to handle new orders.

Review any auto-renew settings for listings.
Etsy Shop Vacation Mode – When to Use It
Managing an Etsy shop requires dedication. Yet, during life's unexpected events or planned breaks, Etsy Vacation Mode helps maintain professionalism and consideration for your customers.
Planned Vacations or Holidays.

If you're going on a vacation or taking an extended holiday break, it's beneficial to use Vacation Mode. This way, customers won't be left waiting excessively for their orders or wondering why you're not responding to their messages.

Unforeseen Emergencies.

Life happens. Whether it's a personal emergency, a health issue, or a family matter, there might be times when you need to step away from your shop abruptly. Vacation Mode allows you to take that necessary break without disrupting the shopping experience for your customers.

Inventory Management.

If you're running low on stock or need time to replenish, assess, or reorganize your inventory, turning on Etsy Vacation Mode can provide the required breathing room. It makes sure no new orders come in while you're in the process of restocking.

High Order Volumes.

During peak shopping seasons or promotional periods, you might receive more orders than you can handle. If you feel overwhelmed and need time to catch up, Etsy Vacation Mode can provide a temporary pause, allowing you to process current orders without new ones piling up.

Mental and Physical Well-Being.

Running a shop can be stressful, and burnout is real. If you feel you need a break for your mental and physical well-being, don't hesitate to use Vacation Mode. It's essential to prioritize self-care to guarantee long-term success and passion for your business.
What Are the Alternatives to Vacation Mode?
Vacation Mode is handy, but other strategies could better suit certain situations.
Use Print on Demand for Automatic Order Fulfillment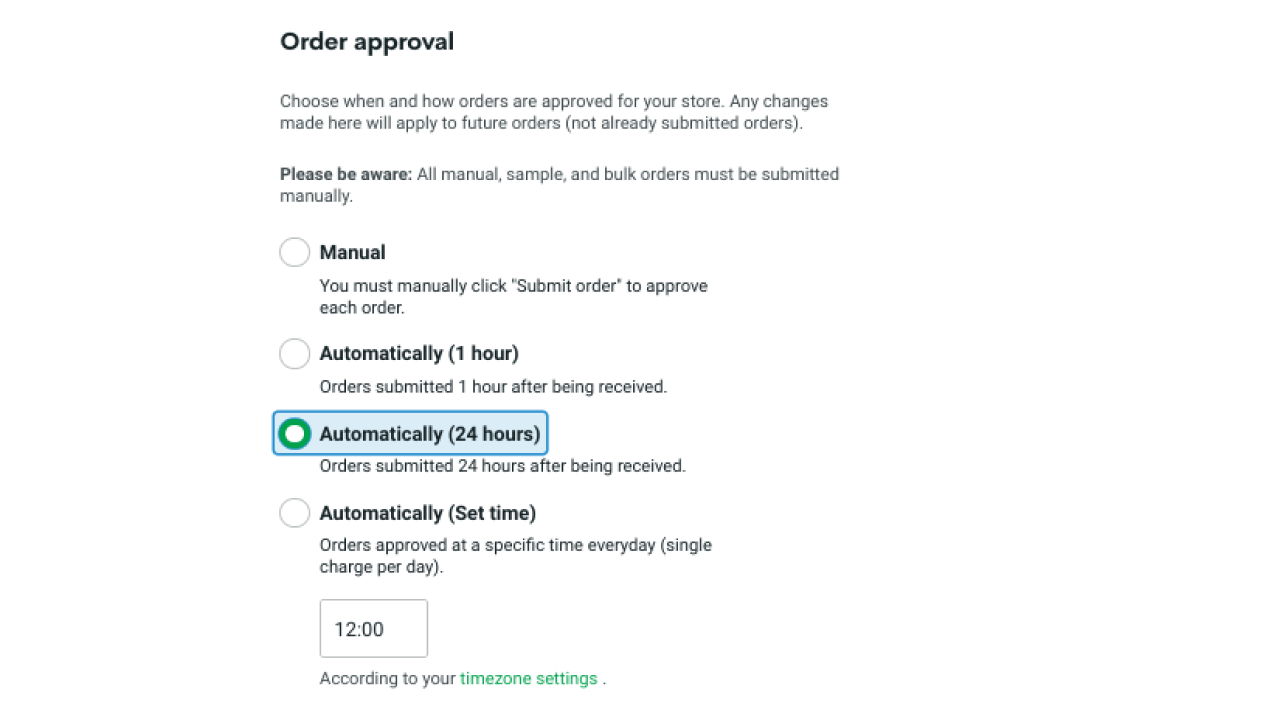 Platforms like Printify offer an automated solution to most sales processes, making them an excellent option for those looking for semi-absentee management. 
Leveraging print-on-demand services can effectively address challenges associated with inventory management and handling high order volumes.
A transparent approach. Offer discounts and inform customers of potential delivery delays.
Temporarily Deactivate Popular Listings
A tactical move. Limit the number of orders by making only certain listings available.
Hire Someone to Manage Orders for You
Consider temporarily hiring an assistant or delegating tasks.
Etsy Vacation Mode Message Templates
Temporary Shop Announcement Templates
Craft a precise Vacation Mode message to keep your clientele informed. This can include details like your return date and any potential delays in processing time.
"🌴 Shop Update 🌴
Thank you for visiting [Shop Name]! We're currently on a short break, but we appreciate your interest. While you won't be able to view our listings during this time, you can sign up to be notified of our return. Remember, good things come to those who wait, and we promise it'll be worth it!"
"🛍 Taking a Pause 🛍
Thanks for dropping by. We're temporarily pausing our shop to restock and bring new and exciting products. Mark your calendars, as we'll be back on [Date]. We're excited to serve you soon with even more fantastic finds!"
Auto-Reply Message Templates
For immediate responses, setting up an auto-reply makes sure that no customer query goes unanswered. A message auto-reply is particularly useful if you're the only person managing your shop and can't attend to queries right away.
"Hello! Thank you for reaching out. We're currently on Vacation Mode and will not be able to process orders until [Date]. Your message is important to us, and we promise to get back to you once we return. Thanks for your understanding!"
"Greetings from [Shop Name]!
We're on a temporary hiatus, but wanted to acknowledge your message. While you can't view our listings at the moment, you can sign up for updates and be the first to know when we're back!
For any urgent issues related to previous orders or other inquiries, rest assured, we're still here to help. Please bear with us during this period, and we'll attend to your concerns as soon as possible."
Enhance Your Etsy Business With Printify
In the ever-evolving world of eCommerce, savvy Etsy shop owners are always looking for efficient ways to scale and optimize their businesses. Enter Printify, a game-changer in the print-on-demand sector.
Printify manages everything from printing to shipping, allowing you to focus on the creative aspects of your business.
With Printify, diversifying your product range is a breeze. Whether it's apparel, home decor, or accessories, in our Catalog, you have over 900 goodies to choose from, offering an excellent opportunity to test and expand your product line.
Printify offers seamless integration with Etsy, guaranteeing a great experience for both you and your customers. The sync feature updates product details, descriptions, and pricing directly, saving you time and reducing the risk of errors.
Stand out in the Etsy marketplace with customized branding options. From packing slips to custom neck labels, Printify lets you add a personal touch that resonates with your brand identity.
Why limit yourself to local customers? With Printify's global Print Provider network, you can cater to an international audience, expanding your shop's reach and potential for sales.
Printify offers eco-friendly products and printing methods. As more consumers lean towards sustainable shopping, this can be a significant advantage for Etsy sellers like you.
For those eager to integrate Printify with their Etsy shop, this comprehensive guide on how to sell on Etsy with Printify is the perfect starting point. Dive in to explore the synergy between two powerful platforms and set your Etsy store on the path of exponential growth.
FAQ: How to Put Etsy Shop on Vacation Mode
Turning on Etsy Vacation Mode means to have a break, not a break-up. While visibility reduces, it's temporary and won't harm your long-term reputation or your Etsy shop SEO efforts.
Etsy allows unlimited Vacation Mode duration. However, a clear Vacation Mode message or temporary shop announcement is recommended for transparency. You can still access the shop manager dashboard during this period.
Yes, Etsy offers temporary shop closure, making it invisible to Etsy shoppers. Unlike Vacation Mode's shop announcement, a closed shop displays no message. If considering this, make sure to cancel orders and stop running Etsy Ads.
Whether you're an Etsy veteran or a novice, understanding the platform's tools, like Vacation Mode, is imperative. While Etsy shop Vacation Mode offers a brilliant way to pause operations without disappearing, it's crucial to understand its effects fully. 
This helps in managing customer expectations and makes sure that, upon return, the transition back to business as usual is smooth. After all, keeping your shop running efficiently and maintaining loyal returning customers is the ultimate goal.
Share the article
Topics