7 Amazing POD Beginner Tips Shared in Our Success Stories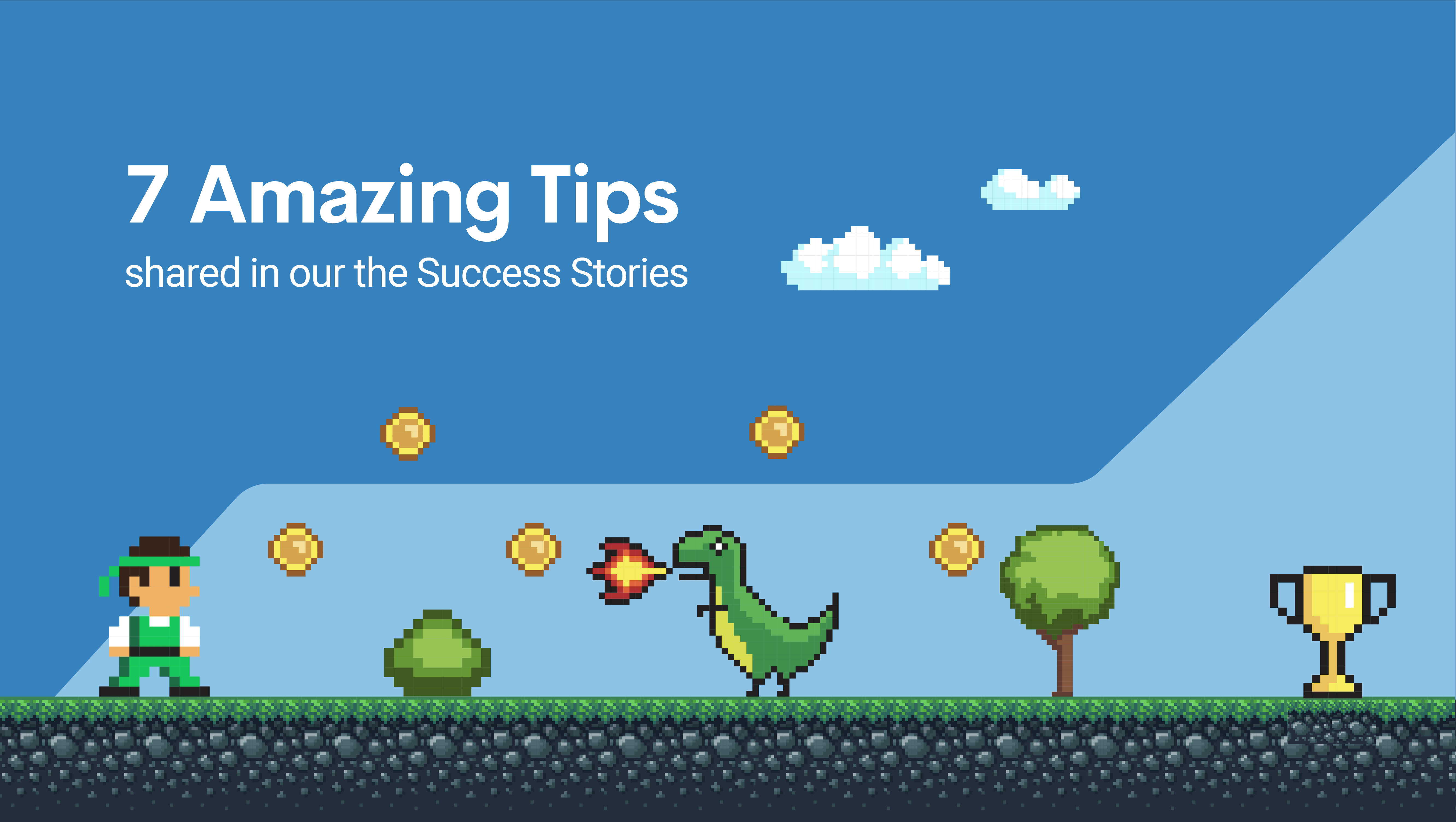 There are many misconceptions about what it takes to start a print-on-demand business, and even experienced entrepreneurs can often underestimate the time, energy, and skill it takes to succeed in a competitive marketplace. So we compiled 7 amazing POD beginner tips to help with just that.
In this article, we're going to take a look back at our Success Stories series and uncover some of the most critical and easily actionable beginner tips for print on demand. These are straight from the mouths of e-commerce veterans – business owners who are already well established in their respective niches.
Let's hear what they have to say:
1. Adopting the Right Mindset
Adopting a positive mindset is a crucial and often overlooked part of the journey towards online success.
Every year, thousands of newcomers decide to start an online business, with aspirations of breaking a million dollars in sales or making passive income while they sip cocktails on the beach.
There's absolutely nothing wrong with dreaming big. In fact, it's an integral part of the entrepreneurial process. The problem is that at some point, you need to stop dreaming and actually take action!
Unfortunately, many print-on-demand beginners find it difficult to summon the courage to turn their ideas into reality, feeling that they lack the skill or originality to succeed in such a competitive marketplace.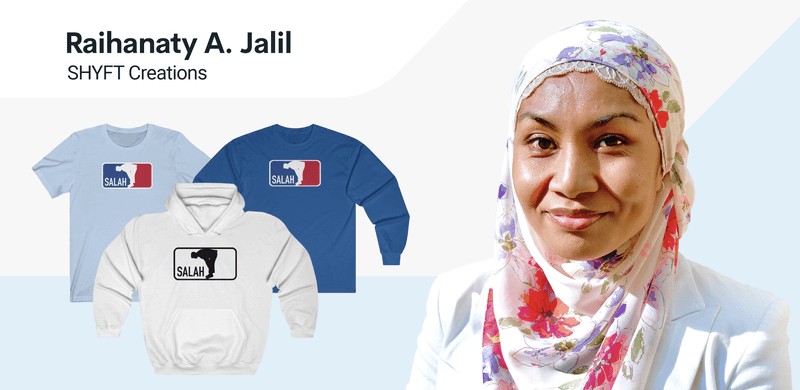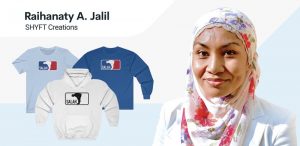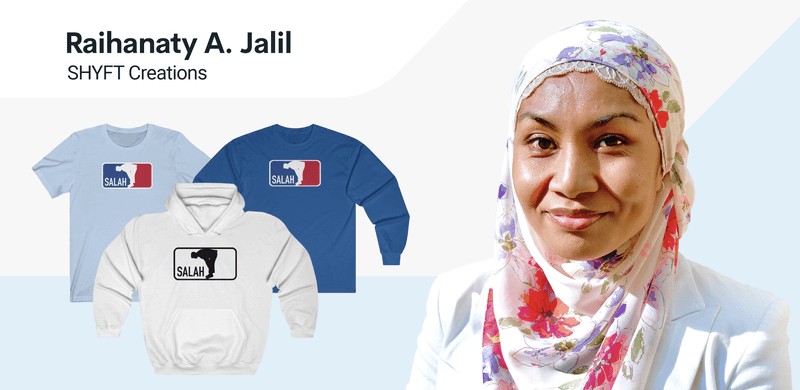 "Tai teaches students that there's no right or wrong way of doing things; everything is an experiment. He's constantly testing his ideas and encourages people to try multiple angles. I knew that I was going to succeed because I wasn't focused on the business itself, but on the process of constant experimentation."
SHYFT Creations is now an established business, making consistent sales for Raihanaty. The Australian entrepreneur's unique clothing designs are a big part of her success. Still, her ability to emotionally detach from her business and treat the project as an experiment has also helped her to succeed:
"I decided to set up a bare-bones website and see if my idea worked. If I failed, I figured it was all a learning process, and I could simply apply it to a new experiment."
The lesson? Even the most successful online entrepreneurs have seen their fair share of failures. Enjoy the process and treat everything you do as a learning experience.
2. Picking a Profitable Niche
There will come a time in every print-on-demand beginner's journey when the word "niche" will crop up so regularly that it will start to feel like a cliche.
But here's the thing: Niche selection is one of the essential skills to master if you want to stand out from the crowd and compete in an increasingly crowded market.
So what exactly is a niche, and how can a new print-on-demand seller go about selecting one?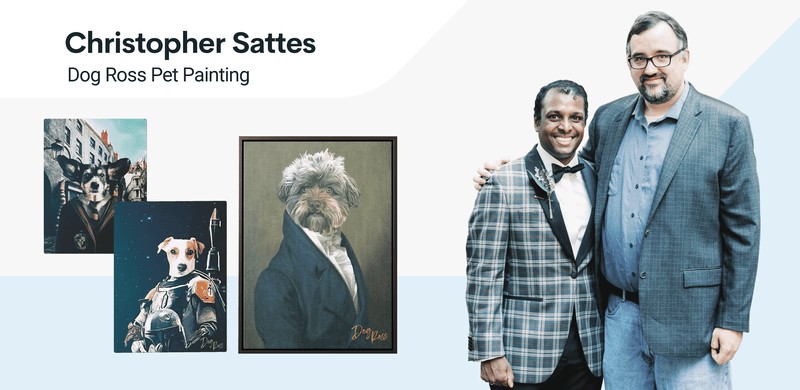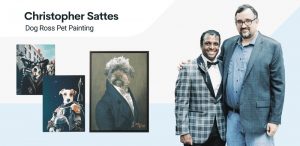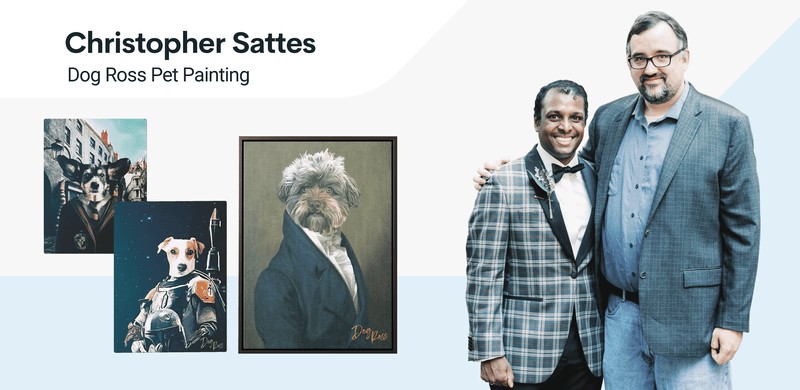 To explain the concept, we'll hand it over to Christopher Sattes, owner of a weird and wonderful Etsy store known as "Dog Ross Pet Painting":
"Everyone is selling t-shirts with graphics or sayings on them, and you often see the same ideas and designs repeatedly. If you do the same thing as everyone else, you end up being a small fish in a massive pond, so you end up relying on luck to make a sale."
Chris goes on to point out that when you try to compete with generic clothing stores, you need a huge marketing budget to stand any chance of getting found. If you're laser-targeted in what you offer, you'll reduce your audience size but also stand out from the crowd:
"If you sell "Video Game Clothing," for example, you're beginning to separate yourself from all of those generic clothing stores. If you go even deeper and offer "Xbox Video Game Clothing," you're setting yourself apart and carving out a niche where there's less competition."
You could go deep with your research, but sometimes, print on demand beginners are better at relying on direct experience for inspiration, as SHYFT's Raihanaty found out:
"I was hunting for a t-shirt design. It was a gift idea, and when I couldn't find what I was searching for, I tried designing and printing it myself."
I'd put so much effort into the shirt that I decided to see if anyone else wanted one. After a couple of months sitting on eBay, I eventually received an email telling me that my design had sold.
After a third sale, I figured I should start an online business and take the process more seriously."
Finding a unique niche isn't always easy for print-on-demand beginners, but Raihanaty is proof that inspiration can come from the places you least expect. 
3. Choosing a Sales Platform
OK, so you're excited to start selling online, and you've discovered a killer niche where you can build a unique and memorable brand.
Now you need to choose a platform to list and sell your products. But which one should you pick?
For the most part, you have two very different paths that you could choose to take:
Sign up to a marketplace like Amazon or Etsy

Build your own website using a platform like Shopify or WooCommerce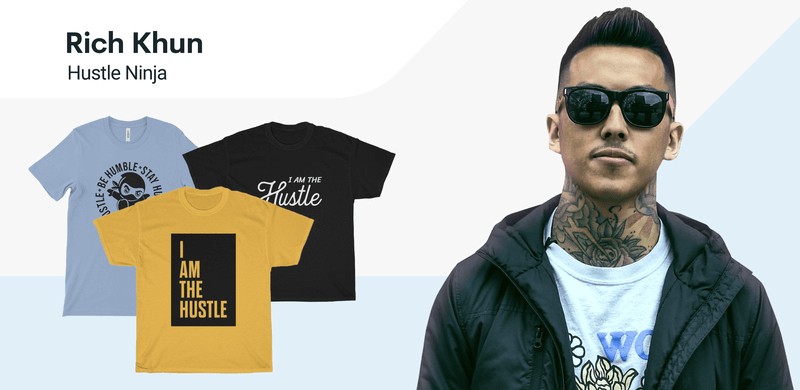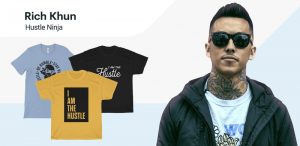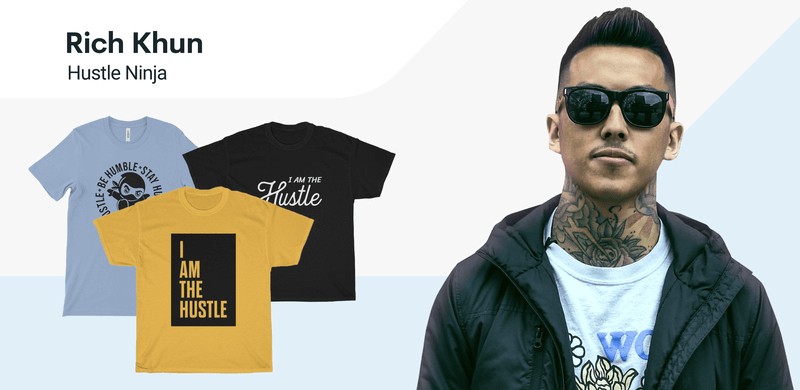 There are pros and cons to either approach, but when we interviewed serial entrepreneur and self-styled Hustle Ninja, Rich Khun, he was pretty insistent that there was a definite path to success:
"As a general rule, I wouldn't advise simply throwing together some t-shirt designs and building a Shopify store as an experiment. It's best to figure out how to maneuver on one of the big platforms like Etsy, then once you're getting orders, transfer the successful designs over to your store."
With a successful YouTube channel teaching beginners how to sell printed clothing and a history of bringing in over $200,000 per year in revenue, we're inclined to trust Rich's advice on this one!
Rich prefers the big, established platforms because they're so heavily trafficked, offering the perfect environment to learn the ropes and figure out what's selling well:
"For me, my Shopify store only works because I first had an Etsy and Amazon presence. I rely on big marketplaces like Amazon and Etsy to see where the traffic is coming from and what keywords people are searching for."
Let's be clear here: Rich isn't suggesting that you ditch the idea of a website. He's just keen to help newcomers make their first sale and learn the ropes.
Once you've had a little success on Etsy or Amazon, you can find out more about building your own online store using our very own Shopify vs. WooCommerce comparison. 
4. Finding Design Inspiration
You've decided on your niche, and you're beginning to think about the platforms on which you'd like to list your products. Now all you need to do is design them!
Depending upon your mindset or level of skill, this can be one of the most complex parts of your journey.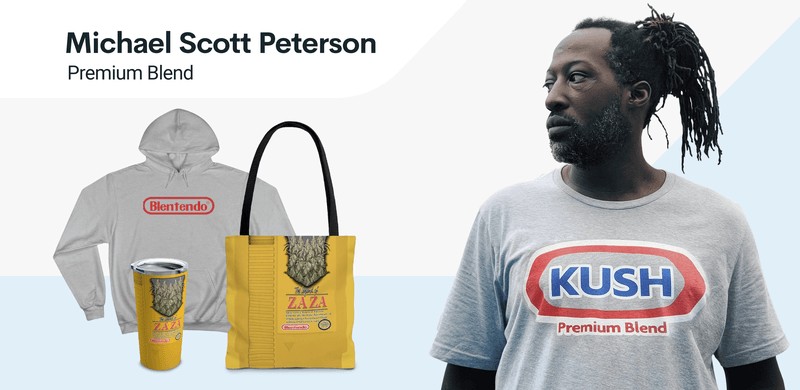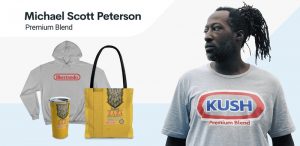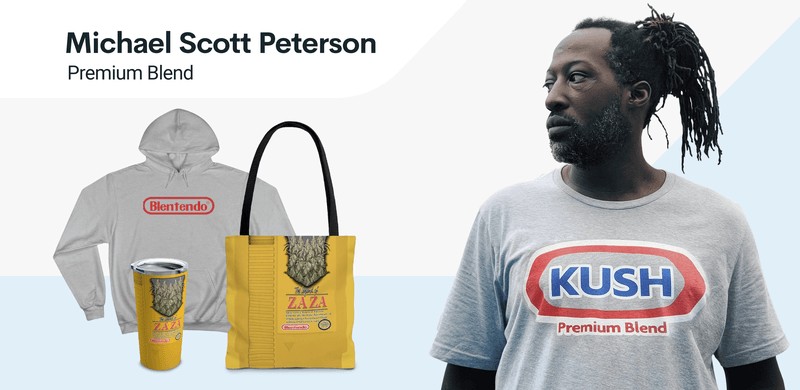 There are no hard or fast rules when it comes to design: Some entrepreneurs are ready to outsource the heavy lifting to freelancers on sites like Fiverr, while for others, product creation is the most important and enjoyable part of the process – as Michael Scott Peterson, a Florida based designer and owner of clothing label "Premium Blend" explains:
"I'm interested in how big brands build their identity. Everything from Google to Nissan and Frank's Red Hot Sauce. I love paying attention to stuff like that and keeping on top of the latest design trends."
"I get my inspiration from pretty much everything. I look at random and mundane things like burger chains or coffee shops, for example. I try to make a kind of "compare and contrast" type of design that makes people take a second glance or pokes fun at the company I'm parodying."
Michael is highly passionate about developing his brand. Rich Khun, on the other hand, prefers to separate art from profit, using complex data to determine his designs:
"Because I'm focused on selling shirts using keywords for general terms like birthdays and holidays, it's relatively easy to resonate with my audience. I use tools like Sale Samurai and Google Trends to give an analytical view of what people are into, and create designs based off of that data."
So there you have it: Two very different approaches to product design and creation, proving that print on demand can work for all kinds of niches and business styles.
5. Marketing Your Store and Products
Marketing is an important skill to master no matter what you're selling online, and it starts with a strong visual identity for your store or brand. 
E-commerce is a highly visual business, and potential customers are likely to abandon a website or sales page if it's jarring or poorly designed.
Chris Sattes, the artist known as "Dog Ross," is the perfect person to tell us more about the necessity of a strong brand:
"I think a successful business needs a unique identity. Branding and style are essential. For example, my logo for "Dog Ross Pet Painting" is a Golden Retriever that looks like Bob Ross, the famous TV painter. People instantly understand the concept that I'm an animal painter, as it kind of goes hand-in-hand."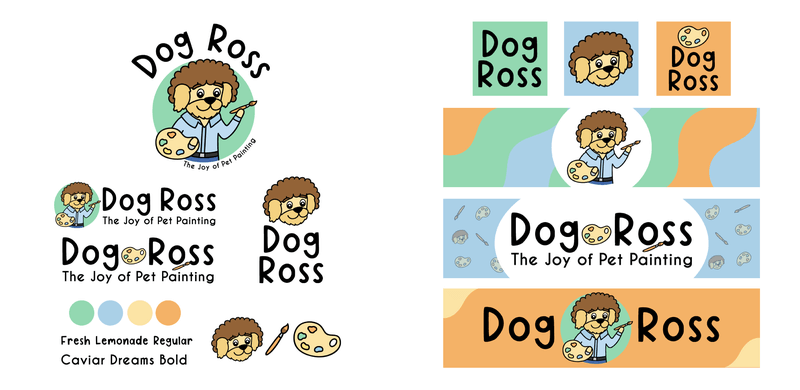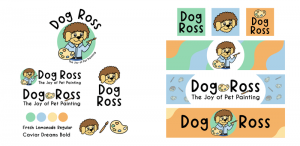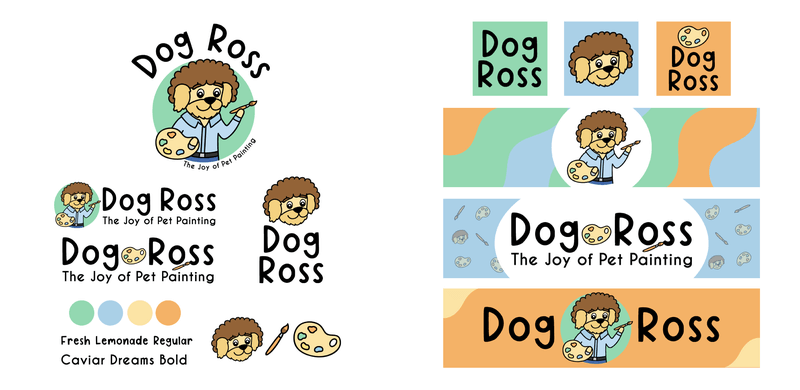 Christopher's Etsy store might sound a little whacky, but make no mistake: This painter of puppy portraits is a shrewd marketer who knows exactly how to make a strong impression.
"I used some of my initial profits to hire a professional to create a logo and identity for my brand. I use the same branding across Facebook, Pinterest, and Instagram. Once you have a cute and memorable brand, you're able to attract more customers and stand out from the crowd."
Chris goes on to explain that good branding isn't just about logos – it's important to create a unified identity that resonates with your particular audience:
"I'm selling art on Etsy, and the demographic that gravitates to my store is female and aged between 18 and 35 years. I'm selling tongue-in-cheek items, so I need to be cute, whimsical, and funny with my product titles and descriptions."
Michael from Premium Blend, on the other hand, prefers to take an old school approach:
"I'm really into the idea of wearing my own designs. I think that designers should be creating things that they'd be happy to wear themselves. I'm always keen to promote my designs in the real world. I often carry around a few samples when I'm out, as I've had people approach me and ask where I got my shirt from."
So how should print-on-demand beginners focus their time when it comes to branding and marketing? There's no right or wrong answer, but your choices should be based on a deep understanding of your niche and audience.
6. Why Customer Service Matters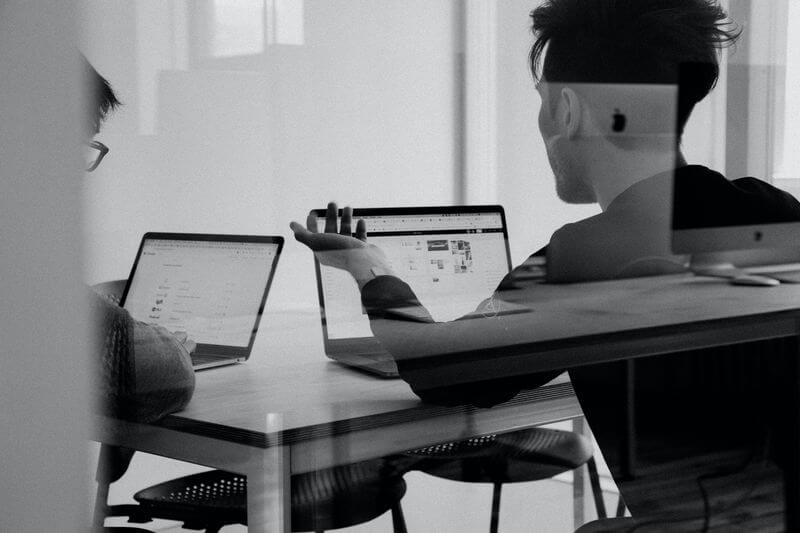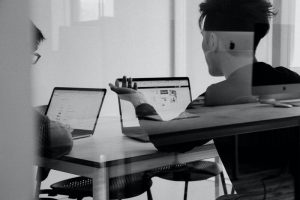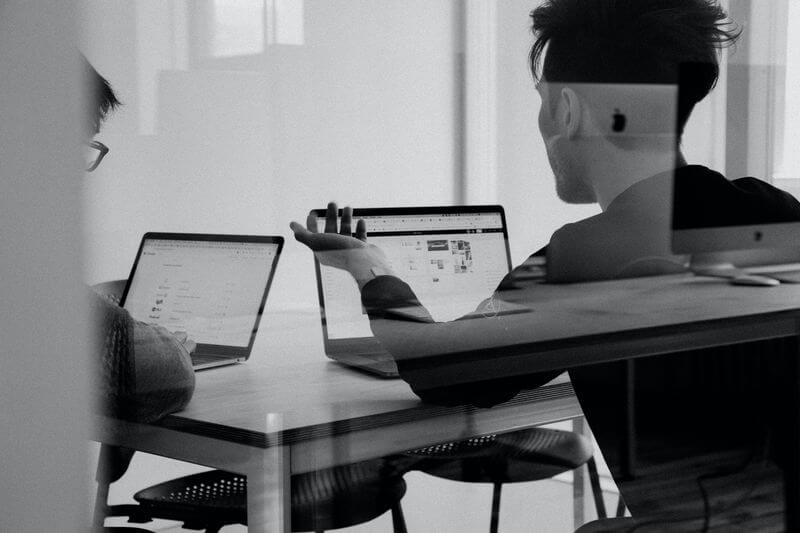 Marketing and branding are essential for attracting new customers to your site, but fantastic customer service can help you effortlessly profit from return sales.
Raihanaty gives us her take:
"Working for Apple taught me all about customer service: The key is to acknowledge what a customer is feeling, offer a solution to their problem, and show your commitment to helping them realize that solution."
Rai's diligent customer service has proved highly worthwhile for the growth of her brand SHYFT Creations: 
"A few of my customers reached out and commented that they loved my designs but weren't into the color schemes. That led me to branch out and create separate collections, proving how important it is to listen to your audience."
Building a successful online business is about paying close attention to your customers and providing a positive and memorable experience. Get it right, and your buyers will quickly become repeat customers, spreading the word far and wide.
7. Staying Focused and Enjoying the Journey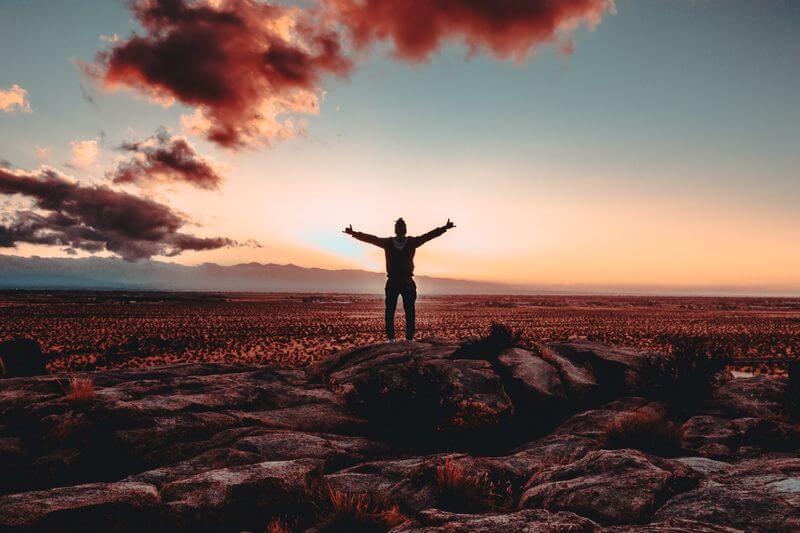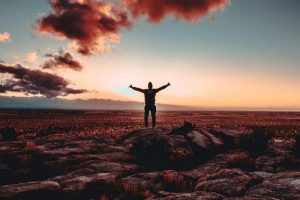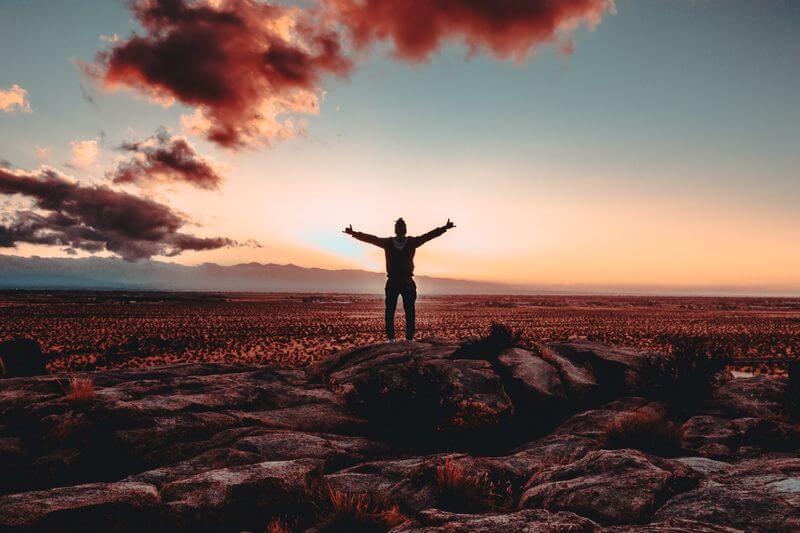 We hope that our Success Story experts' beginner tips for print on demand have been valuable and inspirational for aspiring online entrepreneurs.
Building and running a successful print-on-demand business isn't just about the profits. You'll learn a wealth of new skills on your journey, improving your confidence along the way: 
"Everything is a trial and error process when you're an online seller. This journey has taught me that I don't necessarily have any of the answers myself, but I can learn to use tools that will help me."  – Raihanaty A. Jalil 
We'll leave you with Hustle Ninja Rich Kuhn's closing comments on the importance of staying focused: 
"It's important to be consistent and remember that success takes time. Be patient, trust the process and keep putting in the same amount of hard work each day."
Share the article
Topics