Product trends indicate the overall direction of a market and how certain asset's prices and popularity change over time.
Trending products sell like hotcakes. And there's a good reason for this: they allow consumers to feel good and brag about their new purchase. Not to mention, many trending products are equipped with a unique feature or technology that helps them stand out in the marketplace. The question now is: how do you identify product trends and capitalize on them before your competitors?
How to Identify Product Trends
Here are the steps you can take to identify product trends: 
1. Listen in on Social Media Conversations
Social media conversations can be a goldmine for trend-hunters because they give you insights into what the target customer is thinking right now. All you have to do is to browse through the comments and sub-sections of popular social media networks. Some platforms we recommend include: 
Reddit is one of the first places you should visit, and it has many sub-groups (called subreddits) where people discuss trending products. Joining these subreddits will give you access to active conversations people are having about any given topic. The discussions happening in these subreddits can help you identify and design up-and-coming product lists that can make waves in consumer circles.  
Pinterest is one of the fastest-growing social media platforms out there, with all things pretty and fancy. Make sure you take a scroll through Pinterest's popular section to see which products customers are more excited about right now. If you cannot find anything on Pinterest, expand your browsing session to Fancy. Fancy describes itself as a part-magazine and part-ecommerce store. It is full of product trends you can copy and sell in your business. 
The quickest way to identify trends nowadays is through Instagram. The first thing you can do is to search hashtags on Instagram about relevant topics. If you are selling women's winter items, you can search with #womenwinterwardrobe or #womenfashion to see some recommendations. Keep an eye out for influencers in your niche and see which items they endorse. With their social clout and style, you can catch the latest trends to capitalize on.  
2. Keep Tabs on Product Review Websites
Did you know that there are specific websites and magazines aimed at helping people find trending products to sell?
Whether data-packed posts or images, these websites are a good starting point for those looking to expand their product line. Here is a list of some product review websites you can check out on a daily or weekly basis:
Another resource you can utilize is trend publications. These websites help you understand where buying is headed on a larger scale and give you a good idea of products.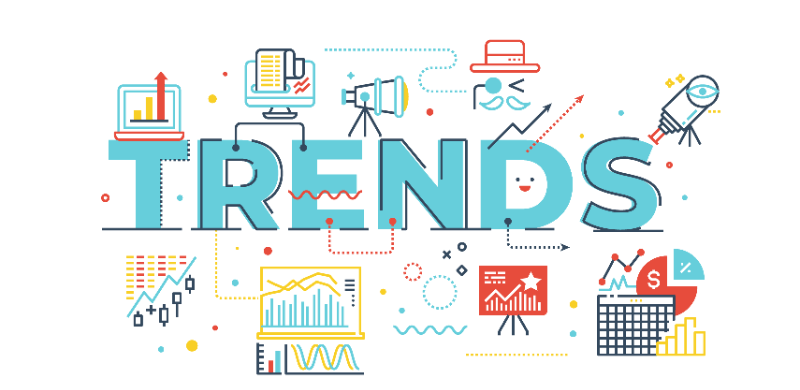 YouTube is just as big a search engine as Google, so do not miss it out of your list. Search with keywords such as 'best (your niche) products' or something similar to see what people are searching for nowadays. There are several videos on fitness-related items. Watching some of them will give you a fresh perspective on products to consider. 
Do not forget to factor in the number of views for any given videos and comments under those videos. Use YouTube's search filter to see if you can get to the latest videos on any topic. Products in these videos will be trending only if you select the latest date and time. 
4. Visit Online Marketplaces
Product marketplaces are one of the best sources to refer to when it comes to finding out trending items. We will mention marketplaces you should visit to find the trendiest items and get an idea of how to market these items. Here are some popular marketplaces you can start searching:
Amazon: Amazon is one of the world's largest ecommerce companies, making it an ideal resource for doing your research. Here are some sections you can explore on this marketplace:
Another resource you can utilize is trend publications. These websites help you understand where buying is headed on a larger scale and give you a good idea of products.  
eBay: eBay is another big marketplace that contains many products that are popular with customers. Here are some tools you should use to find all hidden gems:
AliExpress: AliExpress is a database of products manufactured by the Chinese market. You can go through the popular section of AliExpress to get a good idea of trending items. AliExpress also allows you to order products in small quantities. 
Etsy: Etsy is a home of unique, handmade items that are loved by customers worldwide. It is also a great resource to see which products interest customers the most. You can browse through Etsy's trending section to see items that are a big hit with customers. 
Kickstarter: Do you know that a community of folks work to bring exciting projects to life? It's called Kickstarter. It is the perfect place to discover products entrepreneurs are working on and find fresh new ideas. The discover page gives you a list of top listed items filtered by staff.
5. Search via Google Trends
Google Trends is a great tool for seeing the potential demand of a product. Go to trends.google.com, mention the type of product you want to research, and hit Enter. In just a few minutes, the tool will show you whether the demand for a product is increasing or decreasing.
You can compare a product's demand over time. For instance, you can see how much people are demanding it today compared to last year. Google Trends lets you gauge demand in various countries. Overall, it's an excellent tool for discovering trending products to sell online.