A product display is a custom fixture in your store that is used to attract and entice customers. The look of the fixture relies heavily on the visual merchandising strategy you adopt for your brand.
What Is a Product Display?
A product display is a custom fixture in your store that is used to attract and entice customers. The look of the fixture relies heavily on the visual merchandising strategy you adopt for your brand. A product display may also showcase details about a specific product. Details like size, price, color, customer reviews, shipping information can sometimes be housed in this fixture. Product displays are the lifeblood of a retail store.
What Is Ecommerce Product Display?
If you shop online, you must have undergone the process of viewing a product catalog and then moved to a page with details about a product you liked. When you click on a product from the catalog, the new page opens. The purpose of this page is to inform you about anything and everything you should know before buying. This is the product display page which also contains an 'Add to Cart' button somewhere. 
Why Are Product Display Pages So Important?
A well-designed product display page is an important element of your brand's marketing strategy. It is the page that makes the first impression on the visitors. Therefore, you must put up all the product details with high-quality visuals on this page.
 The lack of such pages will make customers more skeptical about your product and brand in general. It may even turn people away from the checkout or the homepage. Accurate product display and description are critical for minimizing customer complaints and returns.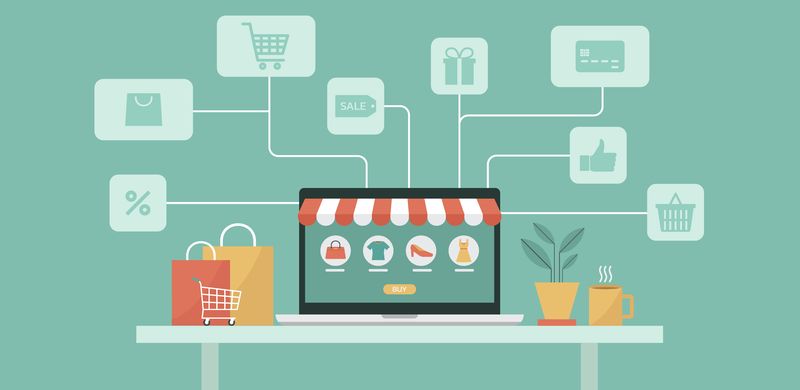 Ecommerce Product Display: Crucial Elements
Now that you have understood the importance of a product display page for each product you are selling, let's learn some best practices to keep in mind during page design.
Firstly, you need to design pages in a way that motivates shoppers to stay on the page for as long as possible. Be it with the help of a long product description or product videos; the goal is to convince the visitor to make a purchase. Here are some ecommerce product display best practices:
 There are some elements without which you cannot design a product display page. Each one of these elements should be a part of your page. The placement of these elements will also make a huge difference. Here are the general elements and their importance in getting more conversions:
The menu is an important navigational tool for buyers to be able to navigate their way through an online shop. The menu offers quick links to important pages of the shop, including the homepage, and helps visitors land on a particular page of their choice. 
In web terms, a breadcrumb is a path a user takes to arrive on the product page. It shows all the pages the user visited before settling on the product page. For example, if you are looking for an air conditioning unit on Amazon, you will see that the page shows the path as Home > Shopping > Kitchen & Home > Air Conditioning > Portable AC Units.
The product title should be the biggest and easiest to read text on a page. The product title reveals the item's name, make, and model, so make sure it's clearly visible on your product display page.
While the description need doesn't need to be lengthy, it should be comprehensive enough to describe the product accurately. It should also list the possible concerns and objections anyone can have with the product. For example, when selling portable AC units, try and address popular concerns like power consumption before the customer has to reach you through customer service and ask.  
You need to put high-quality images of your product so your customers can get a good look at the product they will receive. The goal is to make the visual merchandising clear any doubts about shape and size that the customer can have. You want to make people feel like they are looking at the product in person. Digital shoppers expect to see more than one product photo on a display page, so at least 5-6 photos will do the job. If you are collaborating with a creator for photos, do not forget to give them credit.
This is probably the most important element on the product display page. The price of your product should be clearly written on the page. You also have the opportunity to show discounts or price reductions alongside to tempt prospective buyers. An anchoring like this mostly works: $29.99 $39.99
The price should be placed beside the Buy or Add to Cart buttons so that it fits the natural flow of the page. This specific placement helps people go from viewing the price to adding the item to their basket.
This is the most exciting element on the page and one you can experiment with a lot. Call-to-Action urges people to take that buying action immediately. It is a short, quick, and simple nudge that helps people go to the next step. Typically, the product display CTA is to make people buy or add to the cart.
Social proof can prove to be the best element on your product display page. Nothing convinces a prospective buyer to take action like social proof. Hearing that other people had a good experience on the page will be enough proof to go ahead. Social proof can come in various ways, like 4-star ratings or customer testimonials. You can also embed the Instagram profile on your page to show how people are using the product in real life. 
Showing that an item is low in stock or has many people viewing it in real-time creates a sense of urgency in the user's mind. People will flock to the checkout cart to get their hands on the last piece when they know they will miss out on a good deal. It speeds up the process of buying and earns you a better conversion rate from a product page. 
If the user is on a product page, the chances are that they are thinking of making a purchase or wishlist. You need to make the most out of this factor and use cross-selling or upselling practices to add more value to their purchase. It also convinces the buyer that they got a better deal out of your brand. 
Trust badges are easy and quick ways to stop any reluctance from the potential customer. Showing on your website that it is secure will make people feel a lot more comfortable about your brand. When the customer feels secure, they will buy and recommend others to buy from you. Trust badges are like a safety net for many people and a competitive advantage for ecommerce shops.
You can also add some disclaimers or policies on each product display page. This will highlight the extent of your brand's liability with your product offerings. You also explain your return or refund policies to the customer. A return policy allows buyers to feel easier about the whole affair and adds more flexibility to their purchase decisions. Privacy policy and terms of use are also important components to save you from a legal issue. Also, make sure you list all warranties and guarantees.
You can't have as much control over shipping as you can over the price of your products. The same thing goes for sales tax according to each state. Shipping charges have to be calculated regarding a buyer's location, where they want to send the parcel, and what postal service they wish to use. The cost of delivery plays a big role in buying decisions. A lot of people abandon their baskets due to shipping charges. So it is best to inform them beforehand and do not launch any surprises on them at checkout. Also, tell them about any other fees that apply, so they do not feel frustrated in the checkout process.  
Product Display Design Checklist
Here is a quick list you can follow to ensure your product pages have all they need to make people convert:
Optimized title pages

High-quality images, videos, and 360-degree photos

Clear and eye-catching CTAs

Social proof and ratings

Urgency signals to promote quick buying decisions

Space to cross-sell effectively and get more profit out of each sale

Any awards won by your brand 

Return policy and all the elements involved in the return or refund process

Any warranties

Every detail about shipping, time, and added fees. List these details before the checkout process