Logistics is the process of managing the inflow and outflow of goods, including their storage and transportation. 
What Is Ecommerce Logistics?
Logistics is the process of managing the inflow and outflow of goods, including their storage and transportation. The process of storing and shipping inventory for an online store is called ecommerce inventory. It includes inventory management and picking, packing, and shipping online orders. Thousands of packages are moving around a country on any given day, so it is essential to put systems in place that keep things on track and make sure each package is delivered on time.
Ecommerce logistics involves moving inventory from a manufacturer until it ends up at the customer's doorstep. Fulfillment is a key aspect of ecommerce logistics, and it includes everything from warehouse management to order fulfillment.
The components of fulfillment are a world within themselves, and keeping all of them running is a big task for any ecommerce company. For example, it's important to ensure that you have adequate stock levels in a distribution center close to your customer's location.
If the business is outsourcing fulfillment, the 3PL should fulfill orders quickly, even during holidays and peak hours. Any miscommunication or execution within your retail supply chain will have a negative impact on your customer experience.
20-30 years ago, there was a straight line between suppliers and retailers. Ever since ecommerce grew and became a worldwide channel, the inbound and outbound logistics processes have become much more complex. There are more moving parts in the logistics process and many middlemen to help ensure that each product reaches its destination.
Here are the parties involved in the logistics chain:
The people who have inventory ready to ship out to a business destination are known as suppliers. Suppliers manufacture the products and send them to a fulfillment or logistics center when a purchase order is placed. 
Fulfillment centers are large spaces where inventory is secured, close to the end customer. Each order is picked, packed, and sent as soon as the order is placed. Fulfillment centers can be owned or leased by the business itself or by a third-party logistics supplier (3PL). A 3PL is a professional retail fulfillment company that partners with many brands. 
Large ecommerce companies have distribution sorted in multiple locations around the world for direct-to-consumer (DTC) or B2B orders. Keeping your inventory in one location will lead to longer waiting times and expensive shipping costs. Splitting the inventory allows a business to ensure quick shipping and meeting customer expectations better.
You can choose to have a separate facility for B2B orders, which have a different fulfillment process than DTC orders. The differences are present in packaging, warehousing needs, and the destination of the customer.
Facilities that sort items are usually for large-scale businesses that move bulk quantities of a large product range. 
Shipping carriers take care of all the transportation of orders to their destination—for example, US carriers like FedEx, UPS, and DHL transport orders through trucks and planes.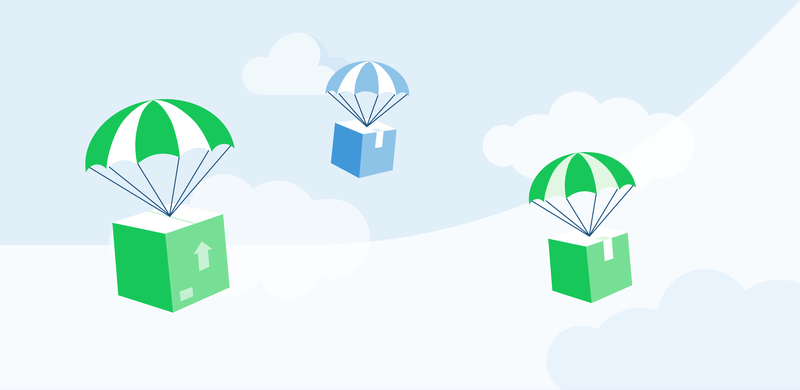 Finding a Shipping Partner
Faster shipping leads to more sales for an ecommerce business. However, every brand does not have a logistics network to perform this task by themselves. This is why many ecommerce businesses look for a partner to handle logistics for them, just like a 3PL. But orders can also get delayed because of intermediaries or if one link in the supply chain gets broken.
With a reliable 3PL partner, you can:
Your supplier can send items directly to the fulfillment centers of your logistics partner. Then you can fulfill the order from the center, and the order will reach its destination as soon as it is placed.
Difference Between Ecommerce and Brick and Mortar Logistics
Ecommerce logistics and brick and mortar store operations aren't alike. While ecommerce logistics concentrate on getting the order to the customer's house, brick and mortar are more about getting items in stores.
Shipments sent to brick and mortar stores can contain hundreds of items. The items are sent to the destination on pallets through freight. Ecommerce stores ship orders that contain anywhere from one item to several items sent via parcel to different customers.
Ecommerce businesses can ship their orders to thousands of customers around the world. But brick and mortar businesses are more concerned about distribution from and to wholesalers or stores.
Established brick and mortar businesses like Target are now moving towards using their stores as fulfillment centers. Retail locations also offer more flexibility to customers in the form of in-store pickup. Ecommerce logistics provide the most convenience by delivering straight to the customer. 
Top 3 Ecommerce Logistics Trends of 2022
Logistics is the backbone of any ecommerce business, and it keeps evolving rapidly. It helps you differentiate your customer experience from your competitors. Here are three logistics trends to be mindful of this year and beyond:
The expectations of urban millennials led to a rise in same-day deliveries. Today's customer is most likely to make online purchases if the same-day purchase is available. Customers are also willing to pay more for faster delivery. Fast delivery requires a brand to expand its geographic footprint. Otherwise, it is not physically possible to ship from one corner of the country to the other without paying a lot of money upfront. 
An increase in order volume and customer expectations puts additional pressure on the final part of the logistics process, also known as last-mile delivery. Last-mile delivery involves the transportation of a package from the distribution hub to the package's final destination. The goal is to deliver a package as quickly and cost-effectively as possible. The last mile is big business. If logistics fall short in the customer's eyes, it is mostly the last mile. So many factors can trip a delivery in the last lap: like if the recipient is not home or the local courier makes a mistake. 
Covid has changed the way we look at business forever. Things changed overnight, and people started stockpiling essential items. So many consumers were quarantined and were unwilling to leave their homes. More shoppers are looking at ecommerce businesses for fulfilling their essential needs. Some businesses noticed more orders than ever before. Others saw their orders decline. Here are some tips on how you can get creative with logistics during a pandemic:
Businesses can never be prepared for something like this, but they must be creative in responding quickly to the environment.