Customer support is a business strategy where you offer assistance to your customers throughout their buying journey and later.
Customer support is a business strategy where you offer assistance to your customers throughout their buying journey and later. Ecommerce businesses can offer support to their customers with a call center, live chat on the website, and other channels. Companies that invest in their customer support receive more loyalty from the customers in return. Having great customer service gives you a competitive advantage, regardless of the industry you're in.
Reps handling customer support for an ecommerce business have a lot on their plates any given day. They need to answer product-related questions, inform about shipping times, give details about returns & exchanges, and much more. Reps need to rely on their skills, training, and expertise to provide the best service to a customer. For this reason, ecommerce businesses need to hire the most competent support teams to represent their brands.
Ecommerce customer support teams are also responsible for taking care of individual requests and any challenges associated with product use. Their duties include:
Why Is Customer Support Important in Ecommerce?
Giving exceptional customer support means you are helping the customer make good choices on your website. Every ecommerce brand needs to have a plan to deal with the customer's doubts and overcome them. You should be quick to offer answers and interact as if you were assisting the customer in person. 
Ecommerce customer support requires a different kind of knowledge. You need to be aware of the optimal user experience from a visual perspective. Any reps you hire should be knowledgeable, pleasant, and extremely patient to ease a customer's purchase journey.
Customer Support Helps You Stand Out
Customers might forget your products after some time, but the majority of them will remember your service. A customer often sticks to the memory of how the entire buying process felt and whether the team was helpful and you resolved their issues in time. There are so many ecommerce websites selling the same products, but only those with the best customer support truly stand out. 
Customer Support Builds Trust
Brand loyalty is a scarce commodity and one that guarantees ecommerce success. If your business can generate loyal customers, you'll have an advantage over the competitors. As an ecommerce brand, you need to work harder than others to develop a reliable connection with the customers. The market is full of competitors, and if you lose one customer's trust, it can start a chain reaction. Investing in customer support is a surefire way to build trust with them.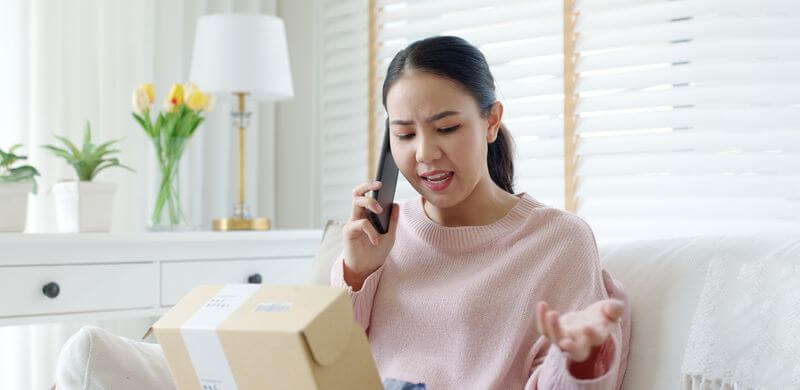 Customer Support Improves Brand Reputation
The evolution of social media and its rising popularity led to more customers sharing their misfortunes with a brand. You do not want to be the business everyone 'hates' because of one bad social media review. Fortunately, customer support caters specifically to this issue by mitigating the damage and making the customer happy. Don't force the customer to erase a bad review; provide support so stellar that they're naturally inclined to share the good experience on review platforms. 
Customer Support Enhances Your Brand's Strength
Suppose that one of your key goals as an ecommerce entity is to build a strong brand image and have a good reputation in the market. High-quality customer service will become your go-to tool to cement your perception as a reputable business. A strong brand cares for its customers, and that is what you should do with the help of customer support initiatives. 
Customer Support Helps With Marketing
A brand's customer-first approach can truly shine through its customer support system. No ecommerce brand should become self-absorbed but showing off your customer support wins is a great marketing move. It will open new doors and help you keep the existing customer base while you expand to new frontiers. Most importantly, you will get more data and feedback from customers to design a new promotional campaign. 
Customer Support Addresses Many Issues
Regardless of how seamless your ecommerce website is or how amazing you are at dealing with orders, some setbacks will happen. There will be episodes where a customer will be too bored, angry, or dissatisfied with your offering. In such cases, excellent customer support can step in and save the day. Customers must believe that at the end of the day, you care. Proactive service will remind customers that your product is great and service is top-notch. 
As you can see, customer support is highly important for an ecommerce business.  It brings several benefits and puts you one step closer to achieving your ultimate goal: to please the customer. You can establish a personal connection with your customers and be with them every step of the way. The more customer-centric you are, the better will be your brand loyalty.