Branding is the process of creating, identifying, and managing assets of a business that shape its perception in a stakeholder's mind.
Branding is the process of creating, identifying, and managing assets of a business that shape its perception in a stakeholder's mind. In the online world, branding is a combination of elements such as mission statement, design, logo, and website theme.
It's important to keep branding consistent across all communication channels as that's what modern consumers expect from today's companies. This means that your brand identity should be the same over your social media pages, website, email, and every other customer touchpoint.
Rebranding your logo? Make sure to change the old design to the new one everywhere, online and offline. Creating a consistent brand is key to winning the heart of the omnichannel customer.
In-store branding is different from online branding as you need to check the positioning of props and products. It's more experiential as consumers can go around and pick the products, while online customers typically see a 2-dimensional view. Of course, elements like the color scheme, logo, and non-digital visuals remain consistent both offline and online.
Why Is Branding Important?
Branding helps companies maintain a consistent theme in all their marketing communications. Effective branding will always keep you a mile ahead of others in the game and differentiate your business from other competitors. In the world of ecommerce, a unique brand can have a huge impact on your bottom line by helping you acquire customers at a low cost. 
Whether you're working hard to build brand identity or completely ignoring this aspect of your business, your company is still a brand. That said, people may view it differently than how you want it to be perceived. By constructing your brand image via visual assets, marketing materials, relationships, and product packaging, you can shape your audience's expectations and develop a bond that makes customers stay around for a long period. 
Marketing is a tactical thing, whereas good branding is strategic. Be clear on your brand objectives, and then you can work on a marketing plan that's focused on meeting your higher goals.
How to Brand Your Ecommerce Business
It's best to develop a brand (or at least a mockup) before launching an online store. Creating a strong brand image will make it easy for customers to relate with you from day one and resonate with target customers. A strong ecommerce brand can also compete well on price because it promises to deliver. 
So how can you brand your ecommerce business? We have summarized the essential steps for you.
To communicate a brand message, you need to know who you are talking to. Understanding your target audience helps in delivering a promise. What do they like? Where do they live? What are their buying habits? Remember, people are attracted to businesses that position themselves according to their behaviors and preferences. 
A brand persona is the personality of your business. Just like an impressive personality attracts others, a strong brand persona attracts target customers and talks to them in the tone they like. Your brand voice, image, and appeal are all part of this persona. 
The conversation ultimately boils down to the promise you make to each customer when asking them to shop from you. How will printed mugs from your shop change their life or relationship? Why are you their best bet at making their loved one happy? This is the time to think and refine this promise. 
Create a Compelling Slogan
The value of brand voice – including the slogan – cannot be understated. Think of a catchy slogan that will strike a chord with your target audience. You can use a slogan generator or take inspiration from company slogans to come up with your own. Essentially, a slogan provides a commitment to the customer while revealing a brand's stance and nature. 
Online customers do not touch or see your products like in a real shop. Your brand's visual assets should step in and make the customer's imagination work. Visual assets are all the front-facing elements. Just like you see the storefront of a brick-and-mortar shop, you see an online store's website, product pages, and language. Having a memorable visual identity increases your chances of creating a good impression on a visitor's mind. 
Create and Refine the Customer Experience
You cannot control how customers feel about your brand, but you can always refine the customer experience through deep learning. Make sure that every interaction of the customer with your brand is aligned with your brand promise. Keep refining elements until they prove to work well with the customers.  
Give Back to the Customer
Your customers are in the center of your brand's universe. Something as simple as a handwritten thank-you note can do wonders for a loyal customer. A strong brand cherishes the customer and constantly comes up with ways to show gratitude. Loyalty programs and custom promo codes are the simplest yet effective ways to thank your customers. And they also help humanize your brand by evoking a friendly feeling in customers. 
These are a few attributes or keywords that reveal that define your brand's positioning. You can use them as a benchmark to check the activities of your brand. Think of them as a simple tool for keeping your brand identity consistent across all your messaging and touchpoints. Ask yourself, do your online store's design, ads, and landing pages represent the essence behind your brand pillar?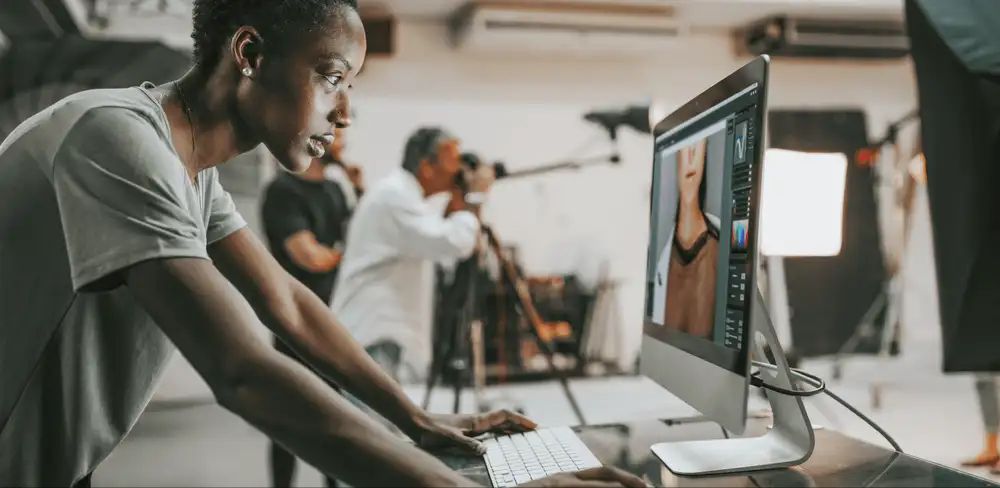 Important Elements for Building Your Ecommerce Brand
There are a few elements you need to consider to create a successful ecommerce brand, including:
Branding a Print on Demand Business
The steps to brand a POD business are the same as you'd follow for branding an ecommerce store. However, there are a few additional things you can brand, like your product designs. Even though print-on-demand mostly uses dropshipping, where the products are sent directly from the printing factory to the customer, you can still brand your items by defining how you want visuals like logo and image + typography to appear on them.
As a thought exercise, let's discuss branding options on a t-shirt. Everyone prints on the usual spots like the chest, but a brand with a unique identity will develop better ways to print on a t-shirt. By coming up with a new t-shirt design, you immediately stand out in the crowd and do some free publicity. 
Here are some creative inspirations to get you into thinking mode:
Hem logos go low and look very nice. They also deviate from that logo-in-your-face effect.

Oversized text printed on a shirt can make the simplest of designs pop.

Small logos in the same color or different locations make a huge impact.

Logos on the sleeve are a nice spot to give a dramatic, cool look.

Logos under the collar and neckline give an artsy vibe.

Pictures on the back of the t-shirt give a sportsman look, and you can customize the layout based on the design the customer requires. 

Static layouts make for more recognizable and cohesive imagery.

Shiny and glow-in-the-dark logos deliver a special message and work well for special events.

Directional logos make a simple yet contrasting effect.

Logos on the pocket patch are a sneaky way of being creative yet unique.
Follow the same exercise for any product you need to print, and the results will amaze you. 
Creating Brand Guidelines
Brand guidelines (or brand style guide) are basically a rule book or instruction manual on how to communicate your brand. They cover all the visual details plus the notes about a business's tone, voice, and messaging. Companies usually create a digital or physical playbook for brand guidelines, featuring the dos and don'ts to follow when discussing their brand.
Brand guidelines cover all the elements that make up a company's brand image, including its:
Creating brand guidelines helps a company ensure its brand identity remains consistent no matter where it ends up. It's the secret to generate reliability and familiarity that unlocks the door to long-term loyalty. 
Quick Tips on Developing Brand Guidelines
Branding is the core of your business and what it stands for. Developing your brand will help define your company's personality, values, and aesthetic. Using the guidelines mentioned above, you'll be able to bring your brand to life and build an identity that accurately portrays who you are to your audience.