A bestseller is an item that's sold more often than anything else in a store owner's catalog. 
Every online store dreams of finding that set of products that sell well consistently. The ones that rake in a high return on investment. Bestsellers are such products.
A bestseller is an item that's sold more often than anything else in a store owner's catalog. Bestsellers can often help offset the lower sales of other products. As it brings a consistent revenue stream, it can make up for the shortfalls created by other items.
However, bestsellers cannot be predicted or planned for. Instead, they must be tracked and planned around. This can be achieved by utilizing many different sets of data available to you.
How Shopify Tracks Bestsellers
The ecommerce platform Shopify offers a simple way to track your bestselling products. The most obvious approach is to sort your products page by the filter "best selling." Once done, Shopify will populate all the products on your store by the number of units sold. Whichever product shows up at the top of the page is your best-selling product. This feature is accessible to all Shopify users, regardless of which subscription plan they have.
Further options are available with Shopify's two higher tiers – "Shopify" and "Advanced Shopify."
Shopify's Products Reports
Shopify's two higher tiers also give users access to a wide array of reports. Under the aptly named "reports" section, users can see data grouped under the following headings:
Most of these will be used for other purposes, but the ones that most help with determining bestsellers are:
These are the reports which will highlight which products are selling the most, and by what means. It sorts individual product sales and product variants (group deals or packs) as separate sales. This means that while some products may be bestsellers as part of a variant, they may not be individual bestsellers.
You can also examine this data according to lifetime statistics. This way, it becomes simple to track the popularity of every product for the entirety of the store's lifespan. Products that only sell highly within a short period can be measured against those which sell a few units regularly over a longer one. The data will allow you to determine which products are your store's bestsellers and which ones are just a flash in the pan.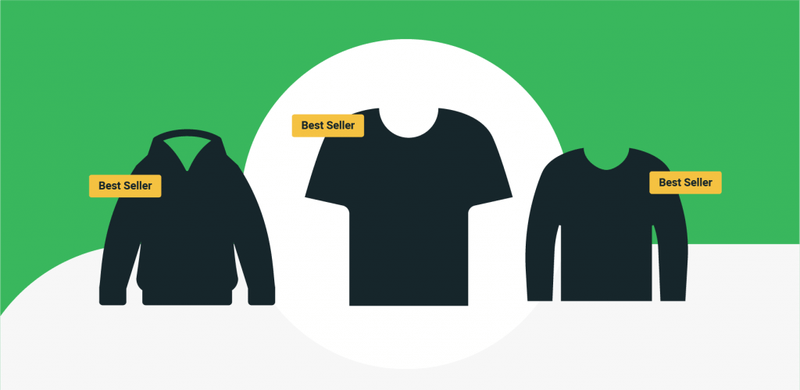 The Process to Get an Accurate Representation of Your Bestsellers on Shopify
The traditional way to do this is to track recent sales and sort collections with the help of Shopify API. However, this tends to take a lot of time and might not be feasible for some businesses. The other option is to use business intelligence software like Google Data Studio (free) or Tableau (paid).
Bringing in BI software means you'll need to use another program to see your data. But that's the sole downside of using business intelligence tools, and they offer many benefits that outweigh the inconvenience. For example, they'll gather your raw data and help you gain actionable, real-time insights on how well your store is performing. You'll get access to graphs, charts, and other elements on a user-friendly dashboard for visual aid.
And after you have all your analytics information consolidated in neatly organized dashboards, identifying information that tells something about your bestsellers is a breeze. Reading the data with caution is critical in creating a better, stronger foundation for your store.
The strategy makes it easier to track your best-selling products on Shopify and allows you to monitor a range of crucial metrics like bounce rate, conversions, number of visitors, sales, abandoned orders, and much more.
Although there are other tools available in the market, the ones we've mentioned are the most adopted. Of course, you'd need a connector to use them with Shopify. Perform a Google search to find the connector for the relevant software.
It's smart to keep track of your bestsellers. In fact, it's one of the things every store owner should do. With modern software, identifying your best-selling products is easier than ever, along with other KPIs that can be equally crucial for making informed decisions about your product strategy. Most business intelligence software works with a range of ecommerce platforms, so even if you're not using Shopify for your store, you should be good.