Affiliate marketing is the process where an online store promotes another company's products on its own website.
What Is Affiliate Marketing?
Affiliate marketing is the process where an online store promotes another company's products on its own website. In return, they get paid a commission per sale made. The concept of this marketing strategy is based on revenue sharing. If you have good traffic and want to earn more, you can promote complementary services of another company that, in turn, pays a commission on your referrals.  
Is Affiliate Marketing Useful to Brands?
It's hard to question the efficacy of affiliate marketing. It is a cost-effective method that you can profit from without much wait. Besides, entrepreneurs take the affiliate marketing route for the following reasons:
In affiliate marketing, you only have to take care of the digital marketing side of the equation. You list and sell the product or service, without worrying about complicated tasks like inventory and order fulfillment. 
Affiliate marketing is also a great way to earn passive income. However, you need to invest time and money in the initial stages. Using techniques like content marketing and CRO, you can build a funnel that delivers you a steady stream of visitors (and commissions). 
Affiliate marketing also offers the potential to scale your income without requiring additional help. Introducing new products to your existing audience and building campaigns for additional items should be your main goal as your previous efforts continue to make income in the background.
 Before you get hyped, know that affiliate marketing happens with trust. There are seemingly endless services and products to promote;  you should pick the ones you would personally use or recommend to others. Even when a product looks interesting to you, marketing it well enough to sell takes loads of work. So always choose carefully.
How Does Affiliate Marketing Work?
The affiliate marketing process is pretty simple: an affiliate lists a third-party product or service on their website, social media profile, or blog. The affiliate earns a commission each time someone purchases through their unique affiliate link. Here is the process, explained in steps.
You (The affiliate) show an ad or a link to the brand's store on their social media profile, website, or blog

A customer clicks on the unique link

The customer goes on to buy something at the store

The affiliate records the transaction

The store confirms the purchase

The affiliate gets the commission
Commission rates depend on the company you work with and the offer you present. On the low ends, you make about 5% commission, and in some arrangements, you can also get 50% commission. Some programs offer a flat rate of commission per sale and not a percentage.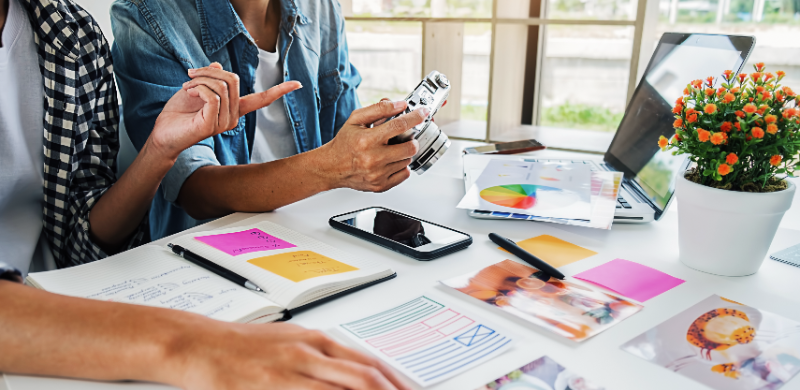 How to Start Affiliate Marketing?
Being a successful affiliate requires effort, hard work, and a lot of discipline. Use this step-by-step guide to start your affiliate marketing journey: 
Pick a Platform and Method
The first step is to choose the platform you will build the audience around. Every affiliate marketer has a different approach. There are many sites you can pick from based on several factors. 
These are websites that review items for a particular audience or compare products with their competitors. This method will require you to develop content related to the review niche and regularly publish reviews to attract visitors. 
Content creators like bloggers, YouTubers, and social media influencers create digital content. They specialize in creating niche content that resonates with their target audience. Their goal is to showcase niche products to their audience and stay with their persona. This type of marketing increases the chances of people buying from you and earns a higher affiliate commission. 
If you are an educator, you can introduce affiliate partnership offers to your events or courses. 
 The route does not matter in affiliate marketing; authenticity and audience building are the two most crucial factors. If you cannot connect with your audience authentically, chances are you will not have success in making affiliate sales. Here are some things to consider when picking a platform or method:
These questions will enable you to decide on a platform that gives you a stronger and more engaged audience. 
Choose Your Affiliate Marketing Niche
When deciding on a niche for affiliate marketing, choose a field that you are passionate about. This will help you design authentic content and become a trusted source of information for customers. It also helps you analyze which products or services you want to promote.
 Let's say that you started a blog related to t-shirts. You also own some cool tees, and you want to help others choose the best t-shirts. You can create a community to educate people first, and when they start trusting you, you can recommend affiliate products to them. So t-shirts become your niche, and you will focus all your efforts around optimizing content to grow your audience.
 The niche you pick for your affiliate platform guides the time and effort required to build it to a point where you start noticing results. SERPs for niches like software, health, and marketing mostly have big blogging sites with even bigger spending budgets. 
The secret is to find areas where competition is not that fierce and get there before others can jump on the opportunity. You can involve affiliate marketing tools like social listening, analytics, and social media insights as you post more. This helps you discover your audience and hear what they like.
 It is important to know your audience so well that you know what they will like to hear. Understand why people follow you in the first place. You are not paid to post anything, and it is a performance-based business. If you know what the audience loves to hear, you can refer the best products to them and get more out of affiliate income.
To earn money as an affiliate marketer, people need to connect with your message. The services or items you promote should be products they genuinely need. If you get this direction wrong, it can hinder your progress and credibility. If you want to work with brands, find a product that you can promote with confidence. 
 You can either join affiliate programs or go to the website of the product/service you like and see if they have an affiliate program. Large companies usually have affiliate programs, like Amazon Affiliates or Shopify's Affiliate Program. But that's not all; you can take a more direct approach and reach out to the owner of a product. 
Ask them if they also have an affiliate program. If they don't, they might be willing to have a chat with you and offer you the unique promo code that you can share with your followers.
 The best deals come in when you are proactive in inquiring and have a relevant distribution channel. Affiliate programs also have terms of service that you need to follow; make sure to read them before listing affiliate products on your website.
As you browse through different platforms, the most important thing to remember is that your product should cater to your target audience or the audience you hope to build. For example, a food blogger will not promote beauty products. So make sure that the product and the platform complement each other. For example, lifestyle and homeware are more suited to Instagram, but if you promote in-depth services like software, a website or blog might be the better choice.