Helping Ukrainians Open a Business
The events in Ukraine have been unsettling for everyone. Millions of Ukrainians are now trying to rebuild their lives. To show support and solidarity, Printify has created a special program to help Ukrainians open their own business and create a source of income.
to cover your first orders and help you get started.
6 Months of Free Printify Premium
which will give you a discount of up to 20% on all our products.
Benefits of Owning a Store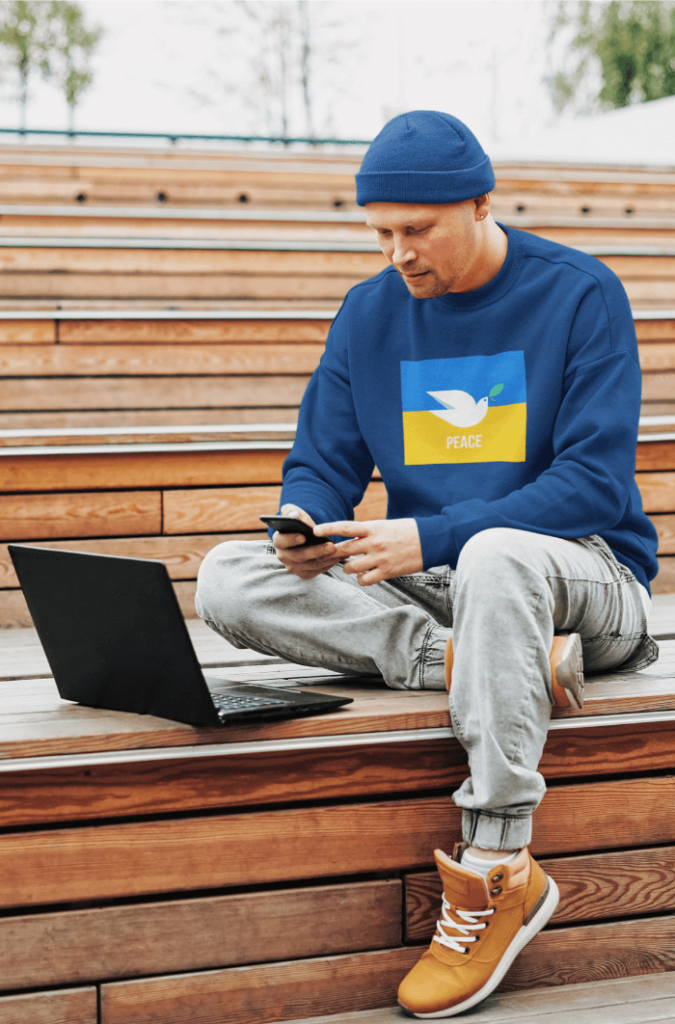 Sign Up and Start Selling Custom Merchandise
Step 1: Sign Up – Create a free Printify account
Click here to sign up. Enter your email address and create a password. After that, go to My account and complete your profile with your personal details. Here's a short tutorial.
Step 2: Explore the catalog and choose the products you want to sell
Go through the 800+ items in the Printify catalog and select the products that you want to sell from the print provider (manufacturer) that fits you best. To help you decide, we recommend checking the print providers' location, pricing, and ranking.
Step 3: Upload your custom designs
Now that you chose the products you want to sell, it's time to make them unique and upload your designs. Check this video to see how to upload a design. If you don't have design skills, you can use designs from Shutterstock and pay a small fee per design, or hire a freelancer to help you (marketplaces like Fiverr and 99 Designs are a great place to start).
Step 4: Integrate your Printify account with a sales platform
Now that you've got your products ready, you just need to put them on sale to the world. The best way to do this is  to create an eCommerce store. Luckily, Printifty easily integrates with some of the world's most popular online marketplaces and eCommerce platforms like Shopify, Etsy, WooCommerce, BigCommerce, and others. See all our integration options here.
To help you get started, we put together  this video on setting up an Etsy store and connecting it to your Printify account. It's a super simple process and requires ZERO financial investment.
Step 5: Publish your products to your store and start making sales
Good job, you're all set! Now you can publish all the products you've created on Etsy and start making your fortune. Once a customer buys from your store, Printify will automatically receive the order request from Etsy. Then, our print providers will print, package, and ship the product directly to your customer.
Step 6: Work on your marketing strategy
All that's left is for you to do is work on your marketing strategy. Check out this video to see our top 10 Etsy SEO tips in 2022. In addition, you may want to check out this prediction video from 10 top Print on Demand experts. 
And if you'd like to connect with likeminded merchants, we highly encourage you to join our official Facebook group.
Printify Is Trusted by More Than Two Million Merchants Worldwide With More Joining Every Day
I don't have to invest the money I can't lose into my business. With Printify, I only pay the fulfillment fees, and the rest is all profit.
I really appreciate working with Printify on my brand. Afro Unicorn was only supposed to be my design on a white shirt. It is so much more. Printify allows me the time to run the business and not work in the business.
Printify helped me start a completely hands-off revenue stream. When you spot a niche that you want to enter quickly, you don't have to worry about buying stock or equipment.
Printify Premium has helped my profit margins tremendously, and spending $20 a month has probably saved me over $200 a month.
Using Printify saved our struggling business of 6 years and gave us more time with our family.
I like Printify products because they tie in with our organisation's message.
I love the Printify Mockup Generator. It keeps everything consistent and allows me to keep my brand looking sharp and professional.
Sign Up and Start Selling Custom Merchandise