"Put that on a t-shirt," a common phrase usually directed as something witty, funny, or is the common man's wisdom. Funny t-shirts have been a closet staple for many around the world and they continue to be as popular even to this day. 
The online t-shirt is booming and has been for decades. This explains why funny t-shirts are always in demand and a way for many online sellers to make lots of money in t-shirt sales. All the more reason to take your funny quotes, everyday sayings, witty quips, and whatever else is fun and put that on a t-shirt.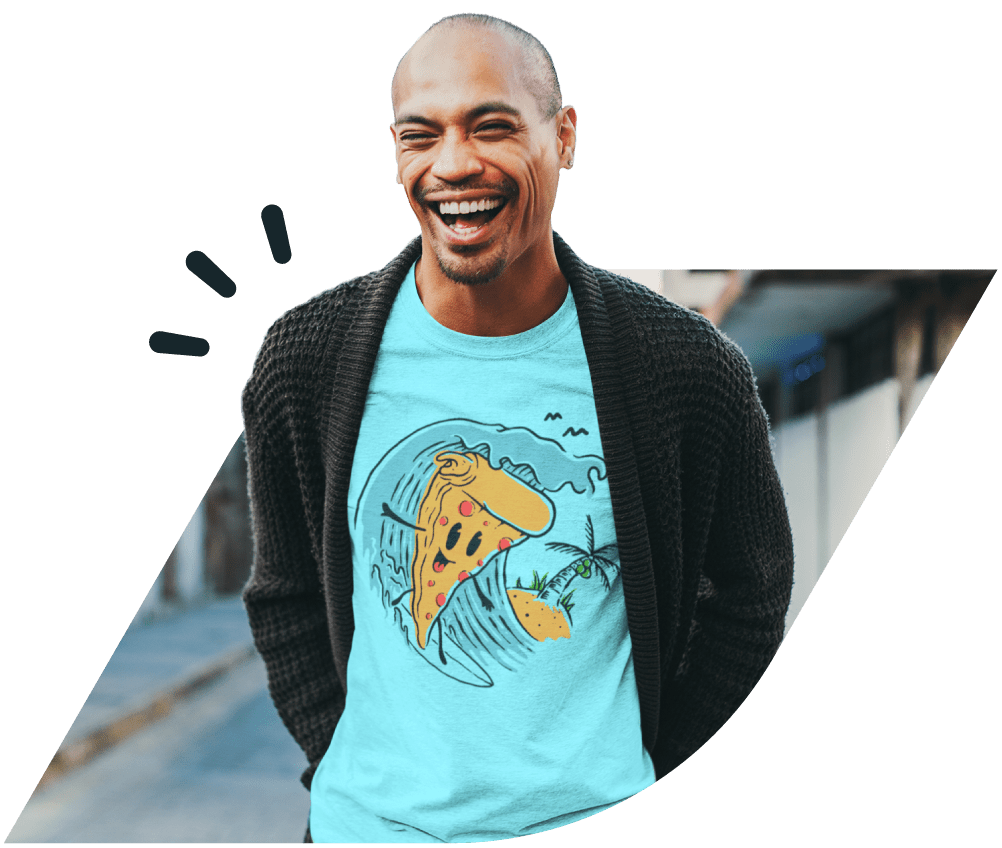 Our t-shirts are made of ring-spun cotton and blends in various weights to fit your needs.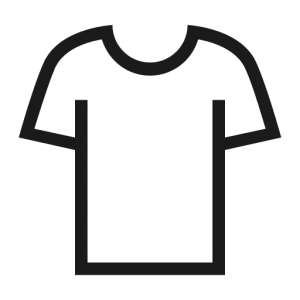 Whether you're looking for a fitted, loose, or boxy fit, we have a t-shirt for every customer.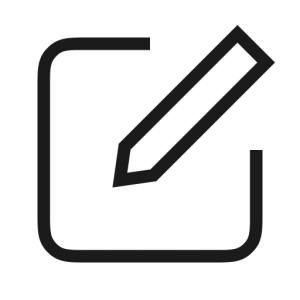 Easy to make your own with multiple print areas, including All Over Prints and tear-away labels.
Why sell funny tees and t-shirts?
T-shirts may be the one item that's present in literally everyone's closet. They are so basic that absolutely no one would turn their nose up to one. T-shirts can be many things in life, everyday staples, pajamas, your uncle's favorite outfit for dinner, there is no limit. Because of how essential they are, people look for ways to make them more personal and fit their style. 
Funny t-shirts are the perfect item to throw on when you want to get more comfortable, adding a dash of casual, relaxed look to your outfit or with the right amount of style, pairing with your favorite denim for a fashionable look. Because t-shirts are always wearable and versatile for any type, they're always on demand all year long. 
T-shirts are still the first item POD enthusiasts seek to customize, making them one of the most popular products for print on demand. Their return on investment is as excellent as a hoodie or sweatshirt, and they are easy to sell.
Design inspiration for funny t-shirts that sell
Finding the right design inspiration for your custom t-shirts can make or break your brand. We made a list of the most popular niches to consider getting into to get you started. It is important to consider the niche you would like to design because it makes your design process more comfortable. Below are three common niches for funny t-shirts.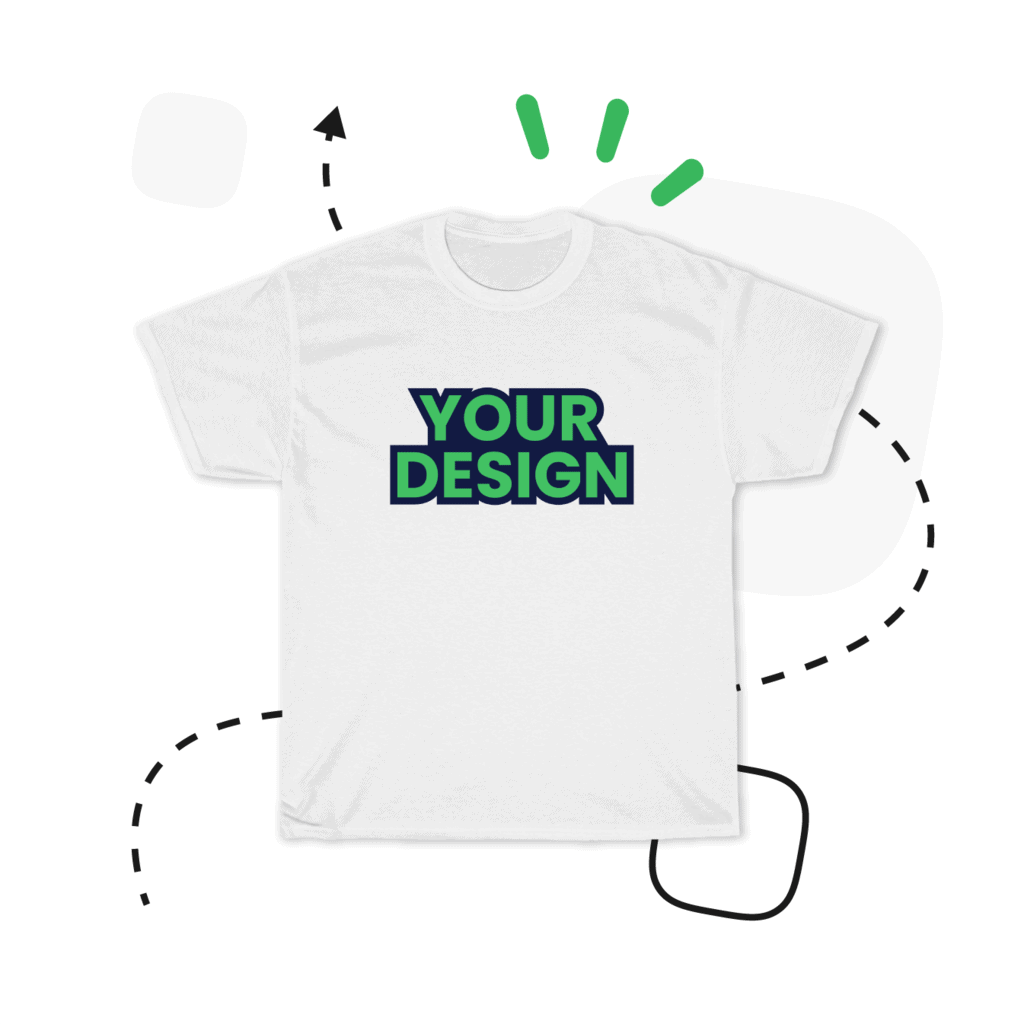 Commentary on everyday happenings and finding the funny in even the craziest times can be the best selling idea. 
For example, take 2020. In the span of just a few months, everyone was experiencing life in ways we never thought of before – a life of new regulations like social distancing, face masks, and other safety measures. While talking directly about this issue on a t-shirt might be a horrible idea, finding the silver lining is genius. 
Many people started online businesses and started making t-shirts with funny statements about the new normal. From reminding people to stay the 6ft apart required in social distancing to "I can't wait till the outside is open again" t-shirts following lockdowns.
It's 2020, and you may not want to classify your customers in their birth-assigned genders in your store. That is where the Unisex heavy cotton tee from Printify that is a short-sleeve bestseller comes in. It has a relaxed fit in classic t-shirt style and a lovely soft cotton feel. It can be designed in the front and back. Its casual elegance will make it an instant favorite in anyone's wardrobe.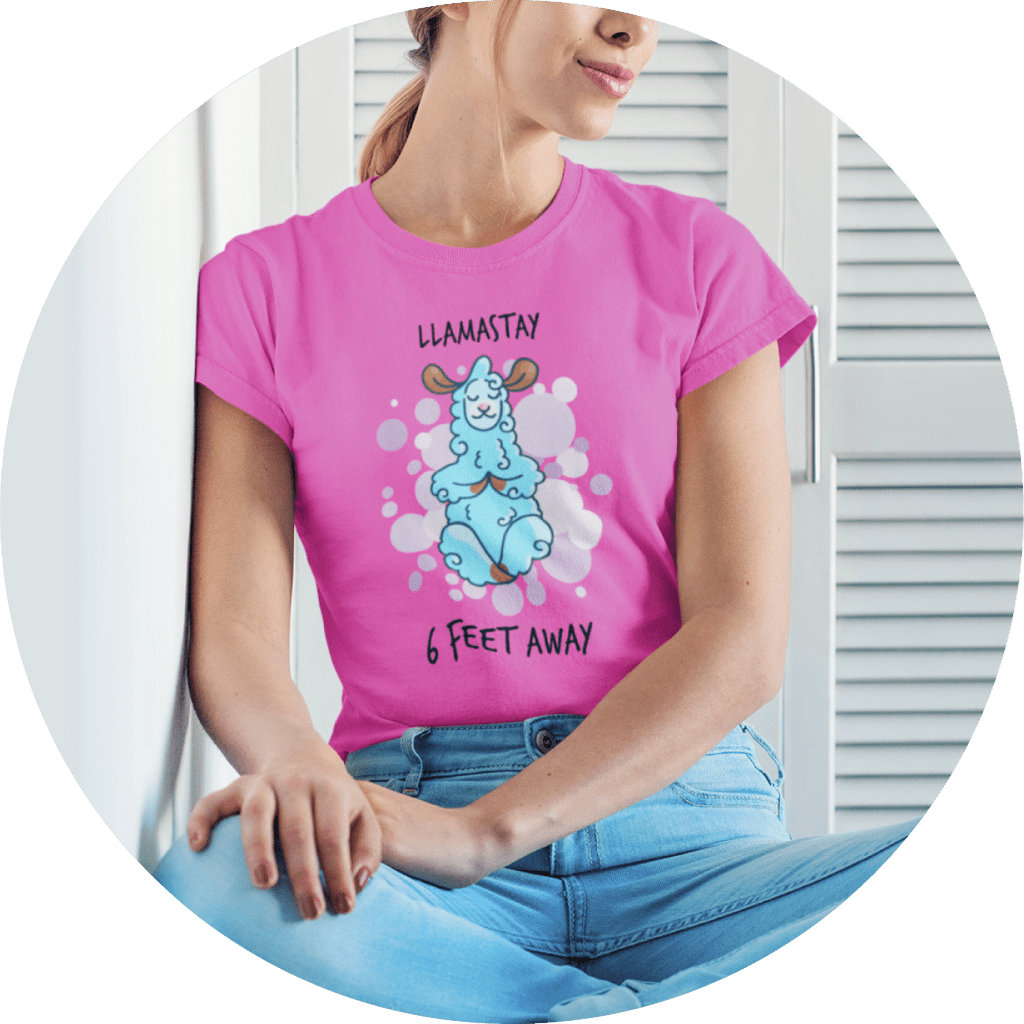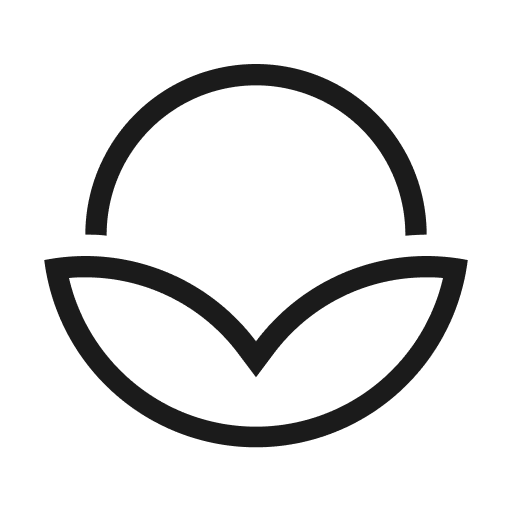 100% cotton (may vary for different colors)

Light fabric (5.3 oz/yd² (180 g/m²))
Commentary t-shirts are versatile as they can always mirror what is going on in society. They can be tailored to current events or even personalities, such as the funny design for introverts that says, "introverts unite, separately." Designing within this niche means you'll never lack what to say, and your funny tees will always be a hit.
Unisex 3/4 Sleeve Baseball Tee
You may be looking for a not so basic t-shirt look. Something elevated and not your run of the mill style but keeps all the features you like from a comfy tee. Then the classic baseball tee is your t-shirt. This fresh outlook on an everyday closet staple features a modern updated look and feel thanks to its super soft material blend. The fabric is also optimized for good quality vibrant prints to make this long sleeve perfect for every person's style.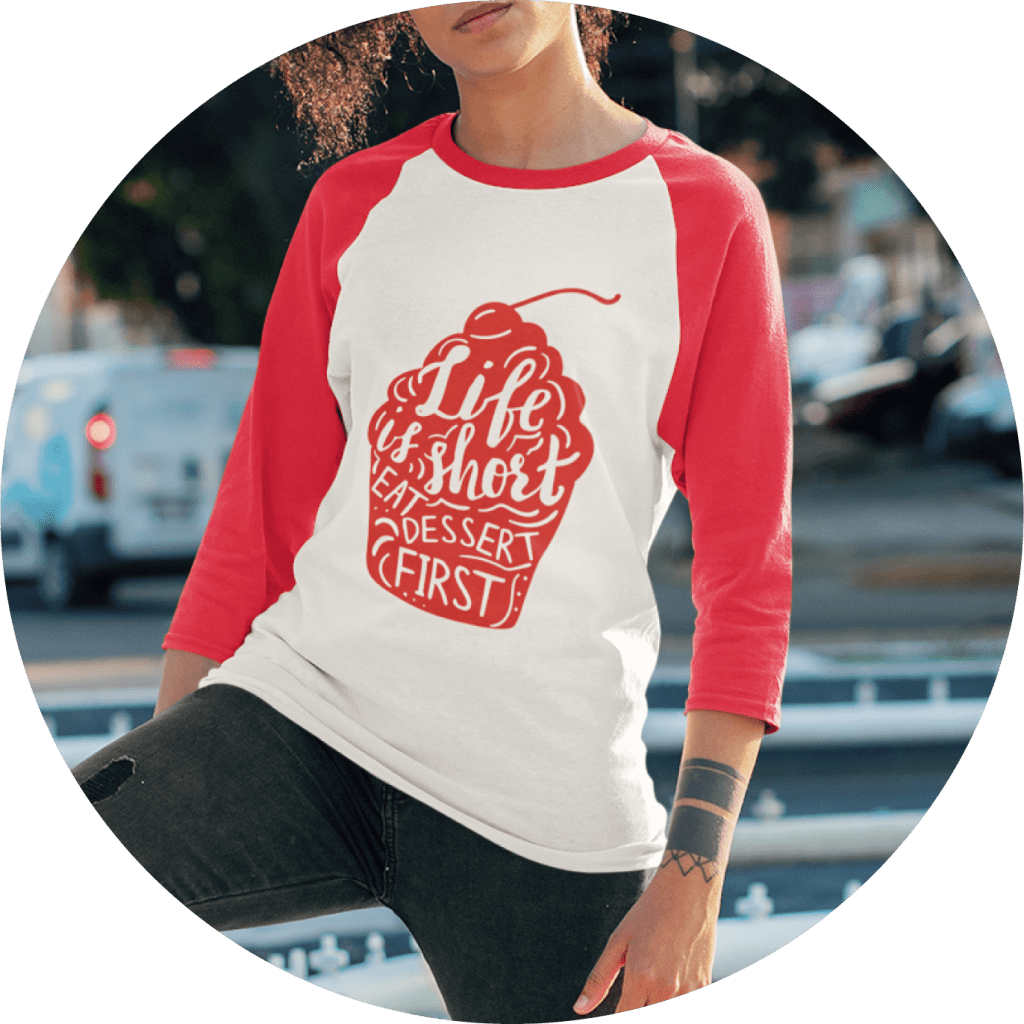 52% Soft cotton; 48% Polyester

Extra Light Fabric (3.6 oz/yd² (122 g/m²))
This is perhaps the most significant niche in the market of funny t-shirts today. It is an art that was established long before print on demand was the online giant it is today. Retro band graphic tees were the one item picked for exclusive offers for every band touring the world. They are still as popular because vintage retro tees never go out of style. 
Today graphic tees come in different shapes and forms. Some are cool nerdy tee for the right "it" customers; some are from cool geeky or popular movies like bigfoot, or since it's cool to be a nerd again, about things that show your intelligence and hobbies. It's also popular to see a T-rex on kid tees.
We didn't forget the little humans. We have the perfect soft-style t-shirt for kids that love to run around in style. It's specially made for everyday ruff and tuff with a select soft-style yarn that keeps this shirt feeling great with every wash and wear. Its high-quality print makes it an irreplaceable item in every youthful kid's wardrobe.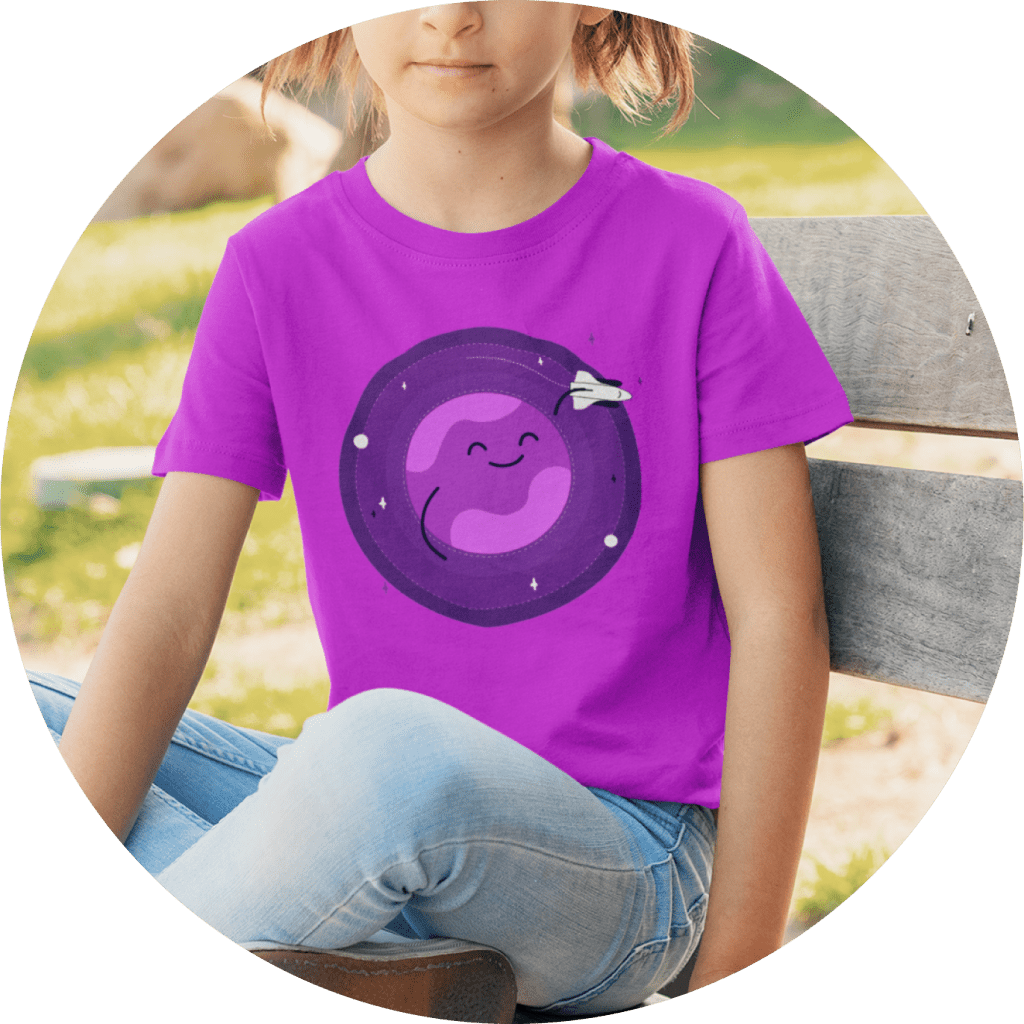 Light fabric (4.4 oz/yd² (150 g/m²))
Want to design the entire t-shirt without print area limitations? We've got your back. Perhaps the most prominent feature of this long-sleeve t-shirt is that it is perfect for designing as a sports jersey. The uniquely textured, thick knit fabric of this high-quality t-shirt helps print quality and is breathable. The fabric pulls sweat quickly away from the skin, drawing it to the surface to dry easily.  It is a stylish long-sleeve woman's or men's t-shirt on the sports field or a country club.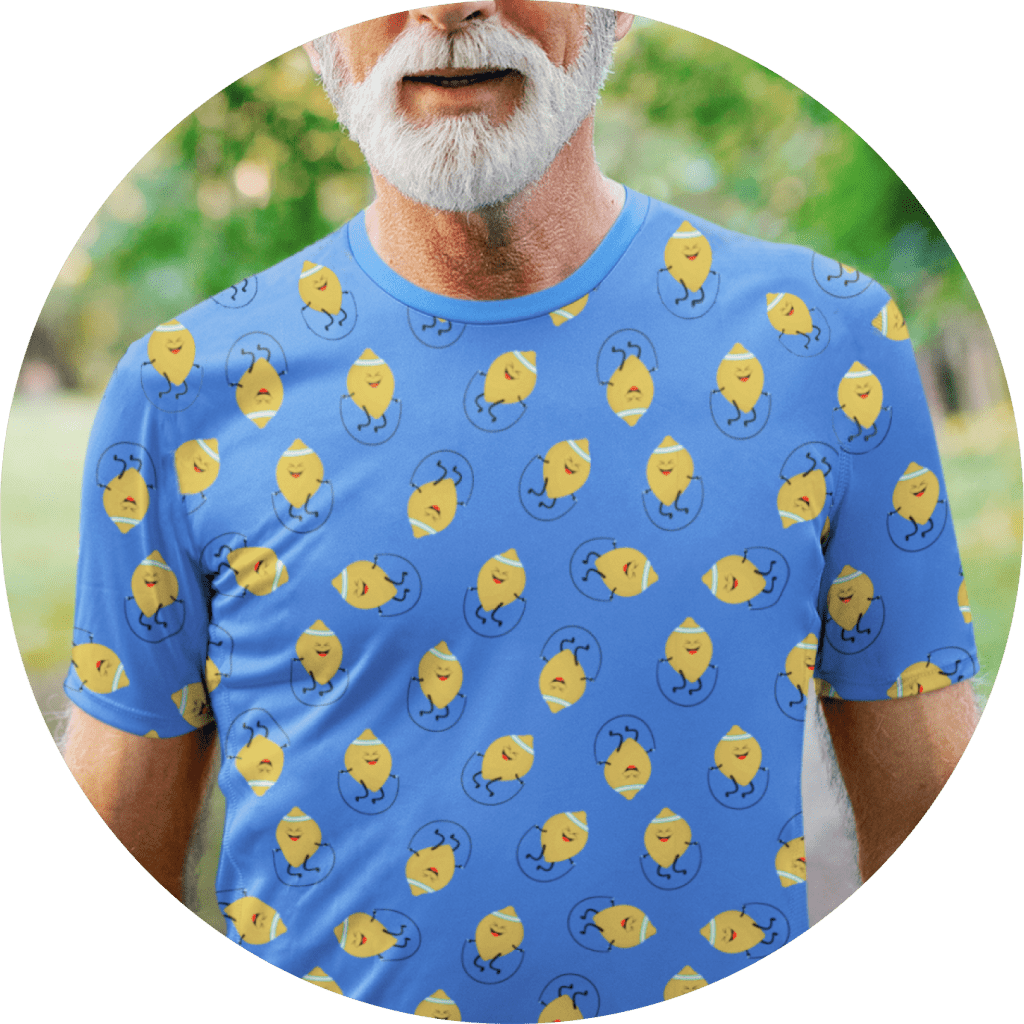 4.0 oz and 6.0 oz fabrics available
Geek tees are not the only graphic tee segment that's currently popular. Other graphic tees can be based on favorite foods like tacos. Some show your allegiance, such as "I am allergic to boredom" and pets because we all love a crazy dog t-shirt. Graphic tees such as Ninja tees that can be flipped are fun or even unicorns. Speaking of unicorns, graphic tees of mythical creatures or Disney characters look-alikes are always a hit. Anything is possible with graphic design.
Unisex Jersey Short Sleeve V-Neck Tee
Are you going for the deep V over the more basic crew neck? Well, you guessed it. This unisex jersey short sleeve v-neck t-shirt looks stunning on anyone. Its soft jersey fabric is comfortable and smooth so that you can wear it all day long. The material on this short-sleeve tee is great and maintains a high-quality print when customized. This women's and men's t-shirt is an instant favorite in every wardrobe.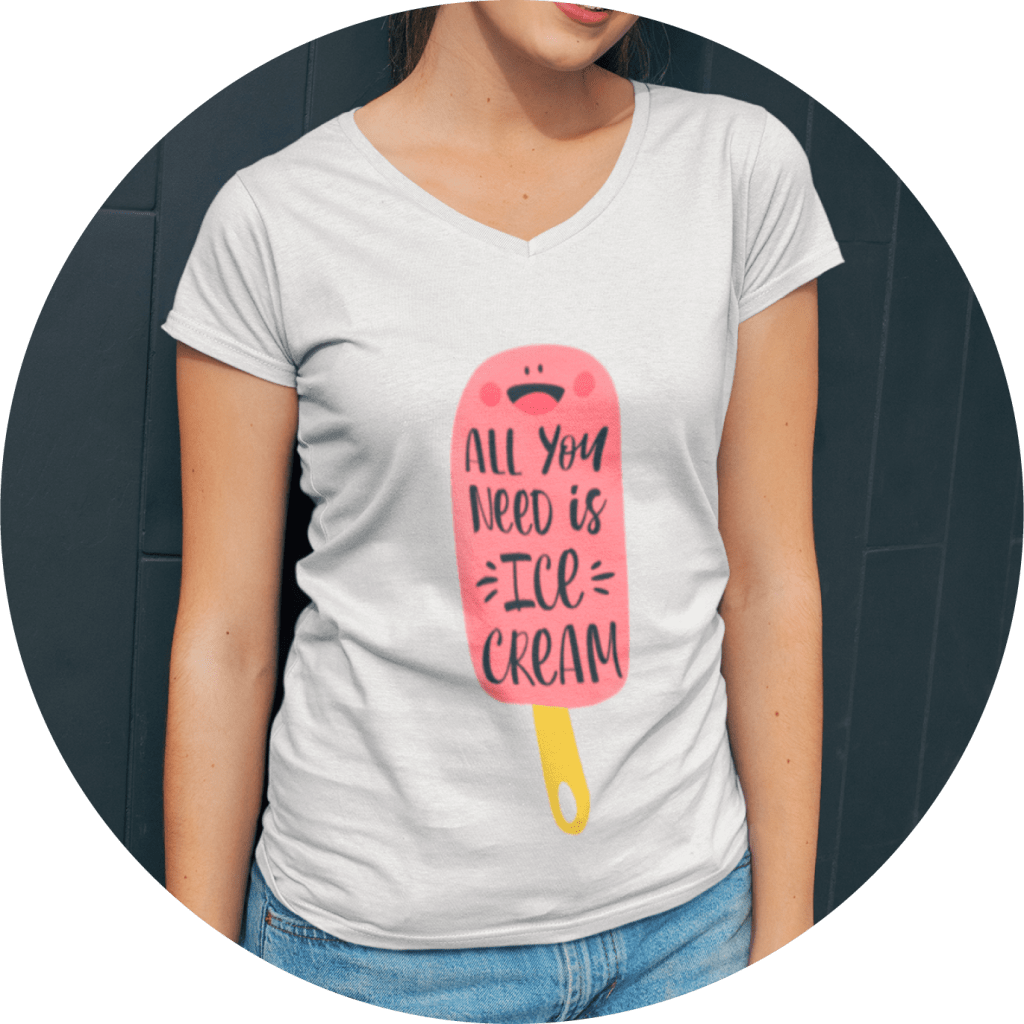 Light fabric (4.2 oz/yd² (142 g/m²))
Every year, seasonal fun events happen with some, like ugly Christmas t-shirts, joining the trends. Halloween and St. Patricks day is also popular costuming seasons when funny tees would be in demand.  
Funny t-shirts can be great gifts for other personal holidays such as Mother's Day or Father's day. Take dad jokes and put them on a t-shirt and you've got something for father's day. After all, we all know the biggest fans of dad jokes are the dads themselves.
Organic Creator T-shirt - Unisex
Get creative without compromising what's important with this 100% organic custom T-shirt. It is made of responsibly sourced, organic cotton that your eco-conscious customers will thank you. This t-shirt features a ribbed neck collar, hemmed set-in sleeves, and bottom hem with a wide double-needle topstitch. Perfect for everyday wear.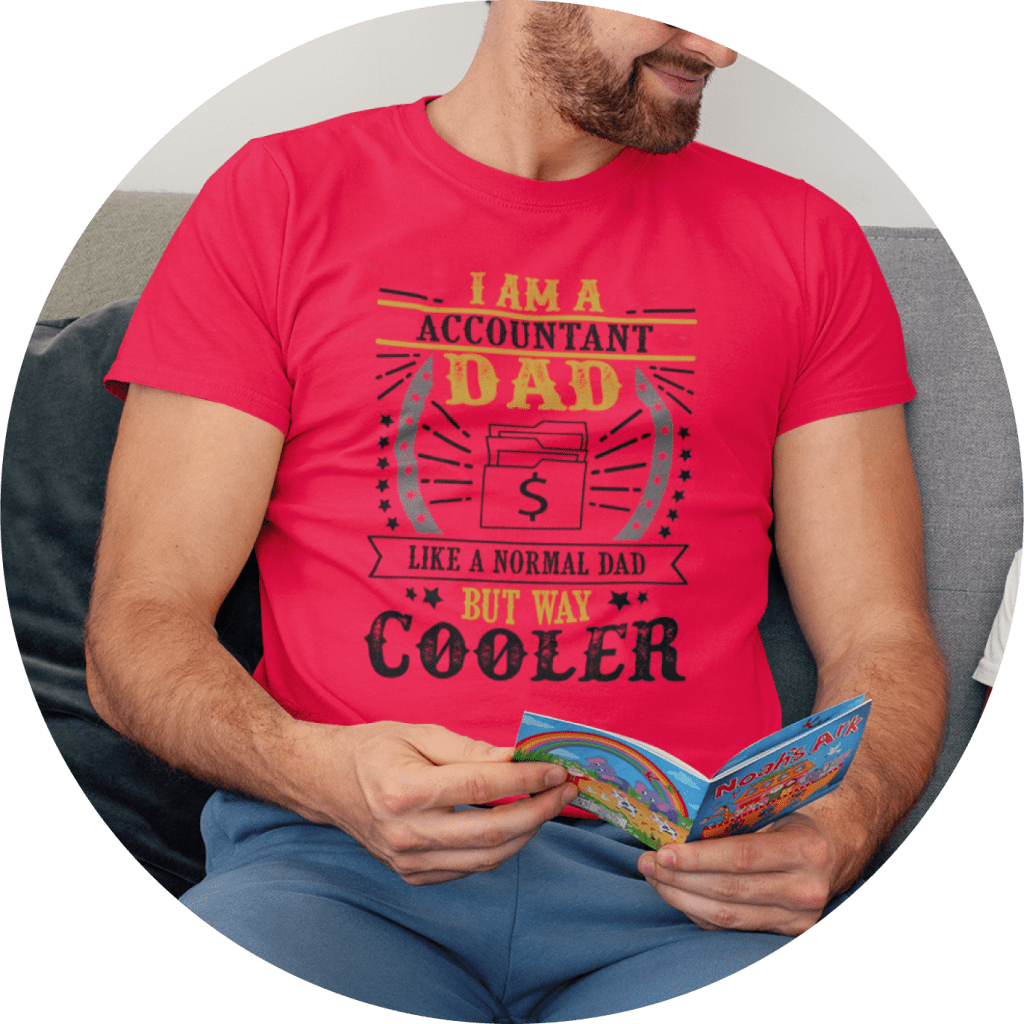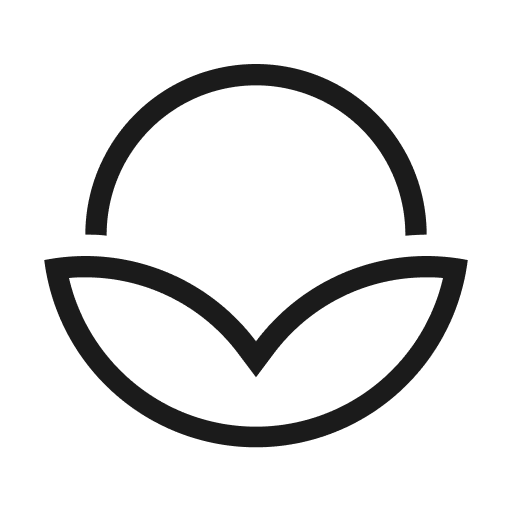 100% organic ring-spun combed cotton

Light fabric (5.3 oz/yd² (180 g/m²))
Seasonal funny tees can also be made for one-time occasions like graduation, bachelor and bachelorette parties, and gifts. You can design funny t-shirts as gifts for him and her when February comes along. Matching 'couple' t-shirts are not unheard of either.
Are you designing for the strong modern woman who loves a comfy but fashionable look? We have her new favorite t-shirt too. This soft cotton short-sleeve tee will be her new go-to tee because it fits beautifully and suits just about anyone who likes a more feminine fit. It is also made of high-quality fabric to make it the most comfortable soft staple anyone will fall in love with it.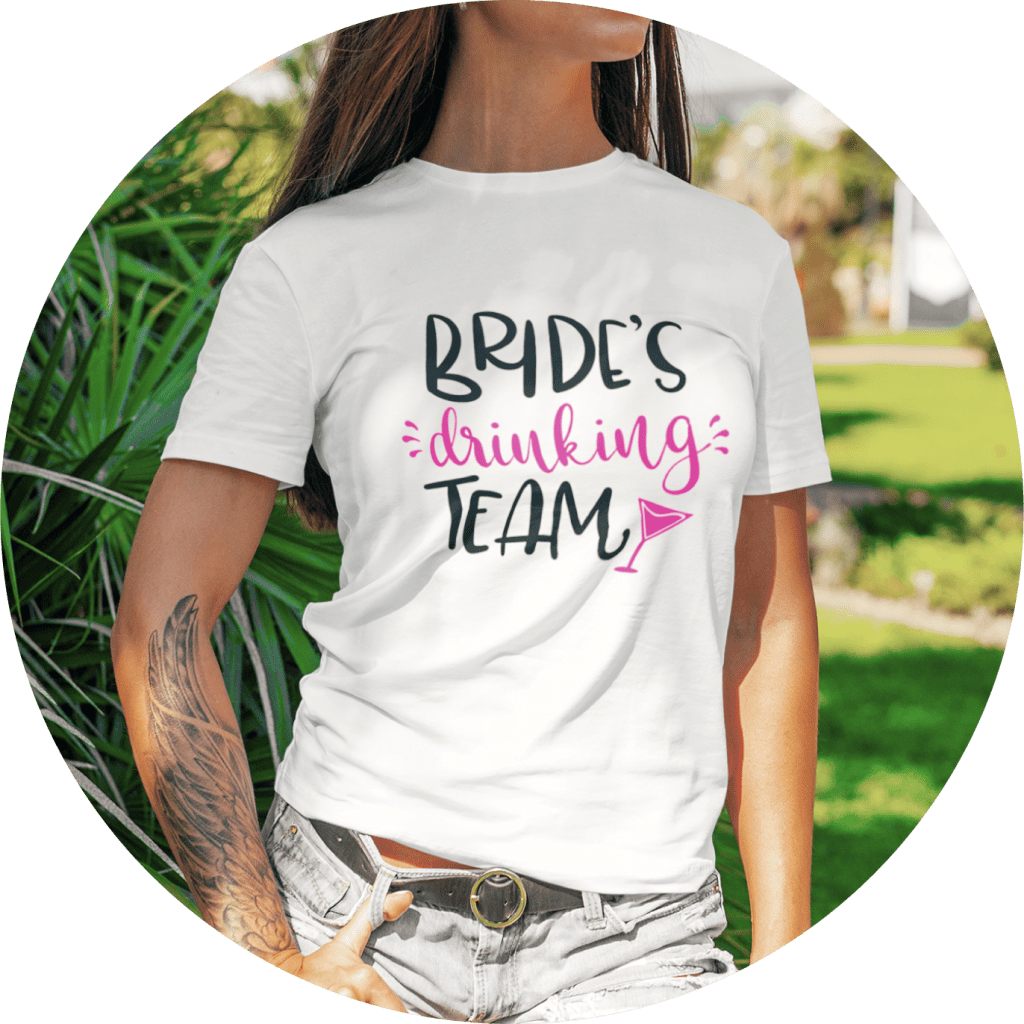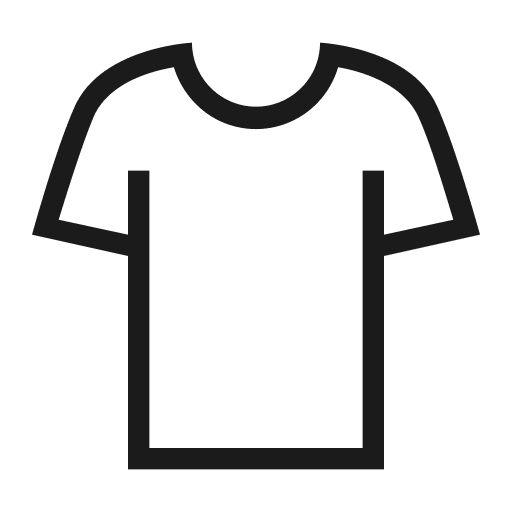 Slim fit with a longer body length

Light fabric (4.2 oz/yd² (142 g/m²))
Don't forget sports jerseys for football, basketball, or any other sport season. Once you have picked your niche, there is a high level of commitment required to set you apart from the rest. Exclusive offers for services like personalized funny tees can help bring in sales.
The all-over print trend and why you should get on it
In the last few years, more unique statements in fashion have been in style. As people become bolder in their fashion choices, they want styles of everyday staples with the edge over the basics. This phenomenon has made All-Over print designs rise in popularity.
All over print t-shirts are a great way to get your brand seen, stamp your identity all over your garments, and stand out from your competitor's stores. Furthermore, they make the perfect themed funny t-shirts, fill them up with tacos, cats, rainbows, or memes and you're on the way to your next bestseller. Design them for events or seasons to please a much broader customer base and make more sales than before. 
More and more customers are looking for stores that can offer personal and unique products. With so many standard products to choose from, all over print t-shirts are the way to go. It is one of the fastest-growing apparel sections in men's t-shirts, as men seek to make bigger and bolder statements for their teams. Menswear and womenswear have picked up the trend, and all over print items can be seen heavily prominent. Today, take your chance and start your very own all-over print sweatshirt brand with our unique and capable All Over Print Unisex t-shirts, sweatshirts, and tank tops.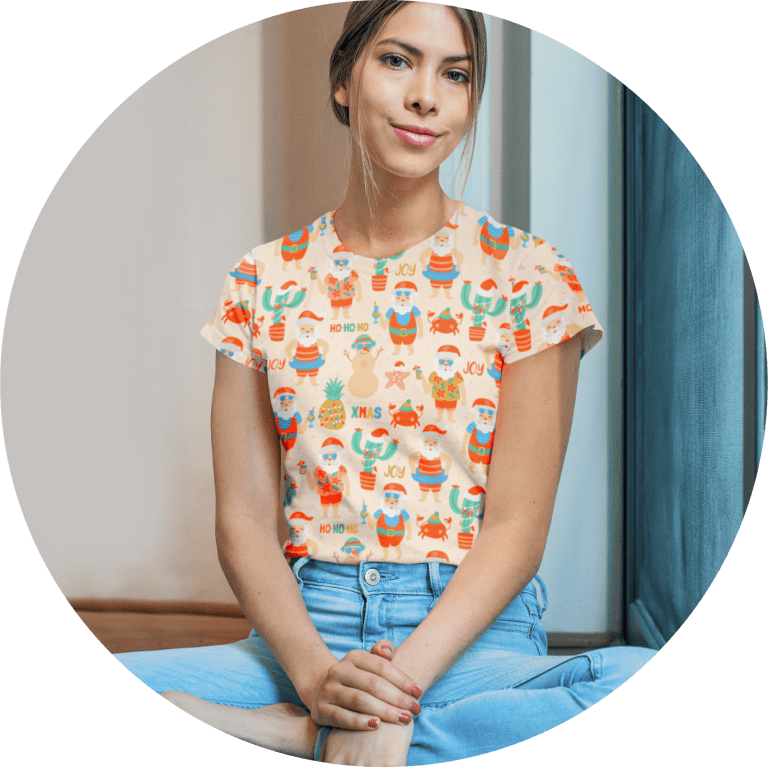 Sell funny custom t-shirts online
If you are new to Print on Demand, it can seem like a foreign concept that is too complicated for you. It's really not. Print on demand is a modern business model for online stores today. In fact, as of 2020, more than 3 million online entrepreneurs have used print on demand to sell over 60 million unique print-on-demand merchandising items every day. This shows that with the right idea and quality designs, you too can sell funny t-shirts online quickly, and as long as you keep the demand high, and make a good profit off it.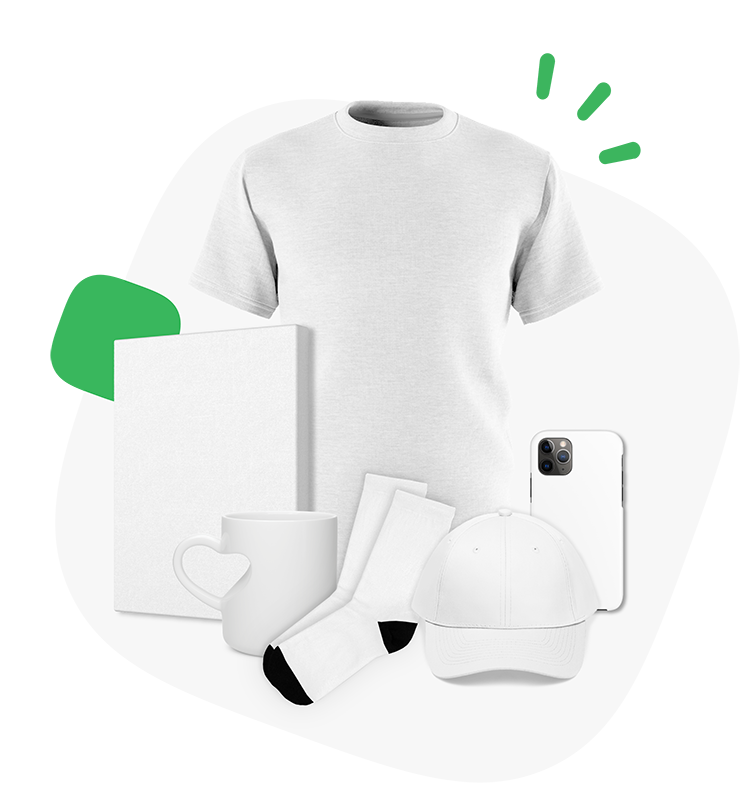 Custom printed funny t-shirts are produced and fulfilled every day with print on demand. The process is simple; once a customer buys your funny tee from your online store, the order goes through a quality check and is then sent to your chosen Print Provider, who begins the process of production. 
After your t-shirts are produced, they are shipped to your customer's doorstep as soon as possible. You, as the business owner, can sit back and relax as your hard work in marketing pays off. 
This business model is ideal for small businesses as it removes the need for storage, inventory, a large sum as capital, or finding your own shipping partners. There's no better way to do business online today than print on demand.
Funny t-shirts with no minimums
Because you pay for every product, you sell separately, and only after you make a sale with print on demand, there is no limit on how many t-shirts you can sell at a time. It also means that you get custom printed t-shirts with no minimum whenever you need them. 
You can order custom t-shirts in bulk, no matter how large your custom printed funny t-shirt business gets. You can rest easy because print-on-demand gives you the peace of mind of knowing you will never run out of stock, regardless of how much you sell. This is especially crucial during high sale seasons, such as December holidays and events. 
Another added advantage of t-shirts with no minimum is you can sell them throughout the year and change your designs to meet the season. You are also free to try selling in bundles. Bundling is a marketing tool used to boost sales by selling multiple items at once as a set. They are a great way to not only meet demand, for instance, in bundles for families but also as exclusive offers to boost seasonal gifting sales for your store. Funny t-shirts with no minimums allow you to generously bundle and sell without worrying about inventory or stock keeping.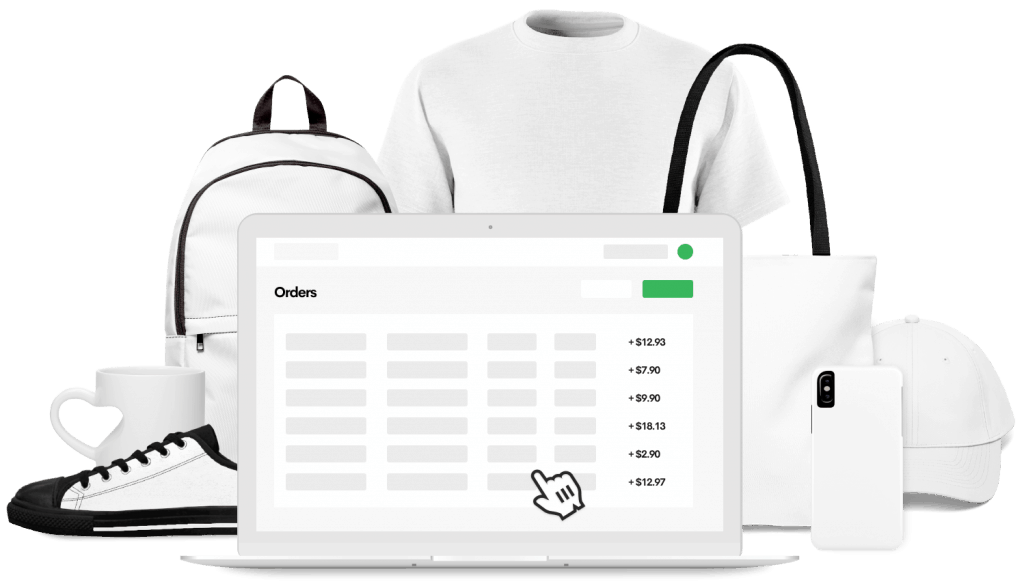 How to use the mockup generator to design funny tees
When you have a Printify account, you get access to a free mockup generator that is made for even the newest designers to navigate easily. Often, when we talk about customizing or designing online, we think of complicated software that costs a lot of money and takes years of experience to use correctly. With the Printify free mockup generator, you can start designing funny t-shirts with just a few clicks of a button.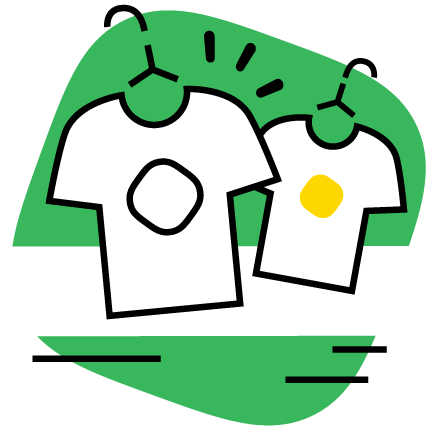 To start designing, all you need to do is pick the blank t-shirt you would like to design from our range in the catalog.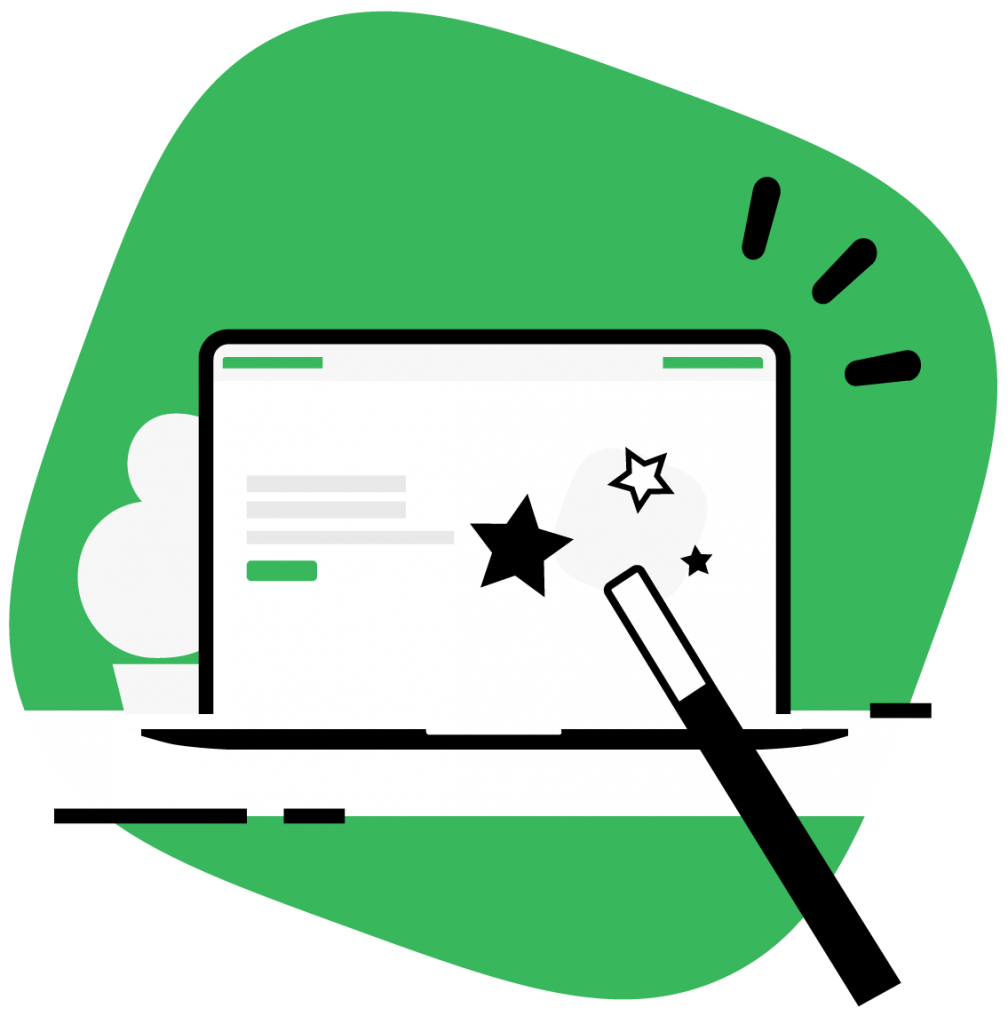 Upload your designs or photos from your computer or select one from your Printify account library.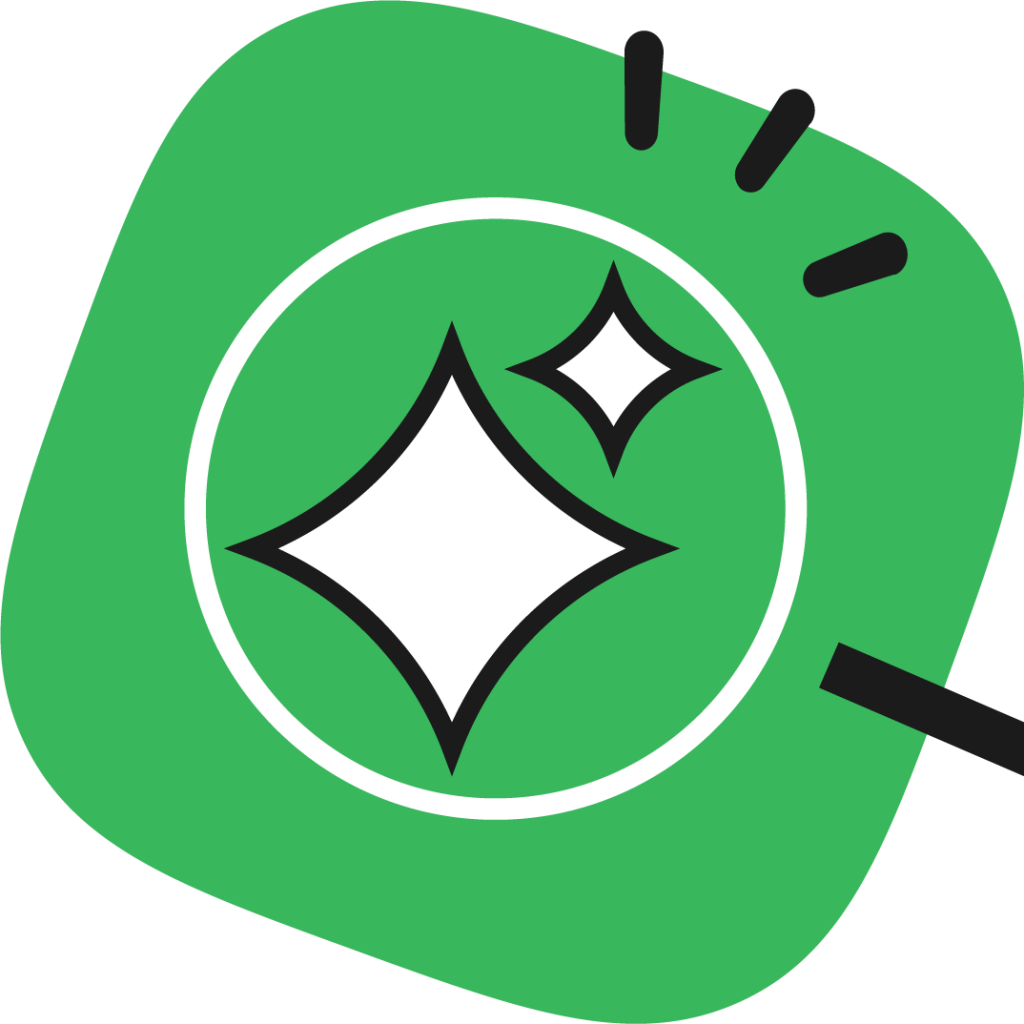 Check your design quality
Make sure that your designs fit the requirements for a high-quality print. Every product on the mockup generator has the size requirements indicated at the bottom right of the user panel. Once you've made sure you've picked the best pixel size for a high-quality print, apply your design on the t-shirt.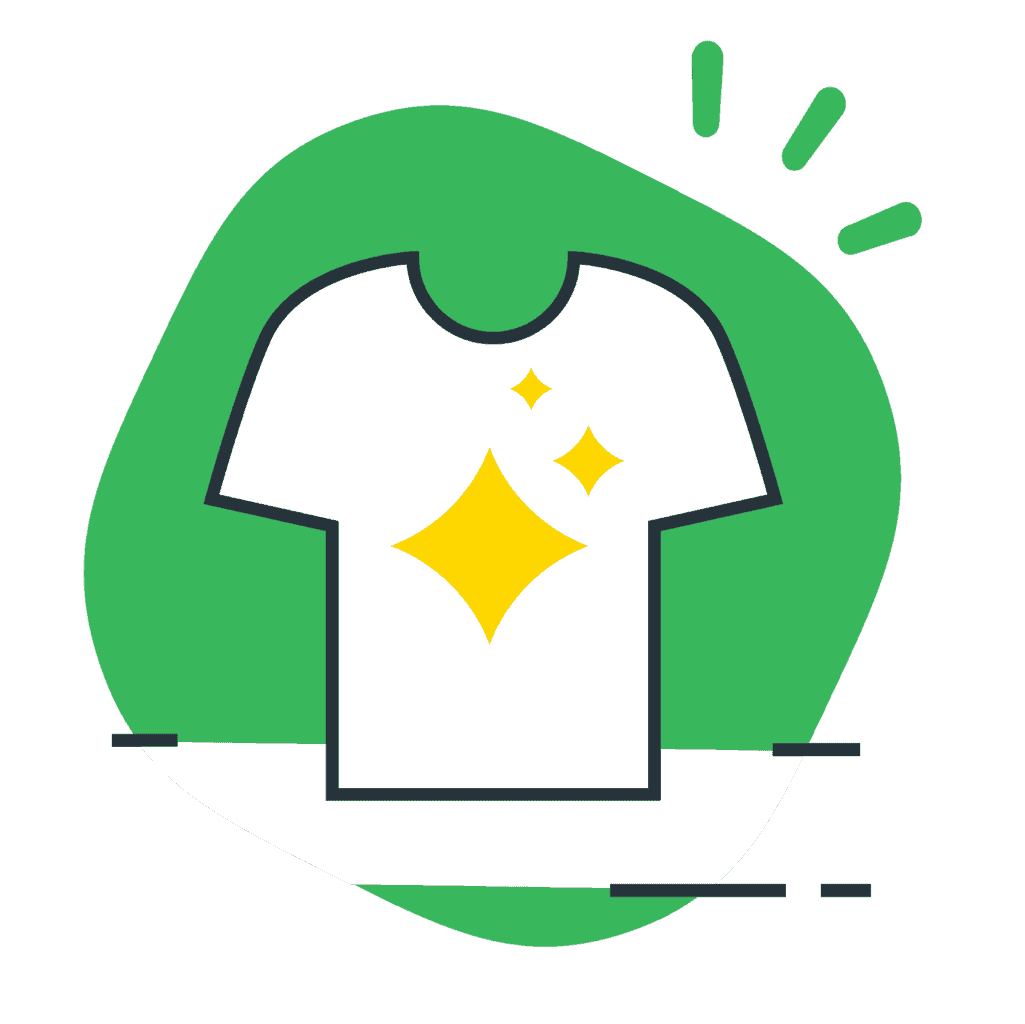 Preview your final funny tee
You can choose to preview your final funny tee print as you go, to check the placement and sizing of your designs.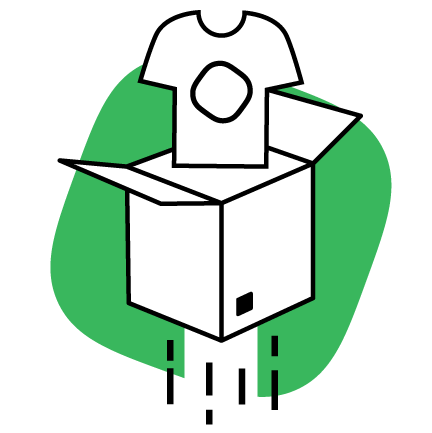 After you've designed your funny t-shirt, publish it to your store and wait for a sale to move it to the production and fulfillment processes.
Printify also goes the extra mile to make sure you have the highest quality, which is why we do quality checks for each of your products, and we will let you know if it does not meet the printing standards. If you would like to check firsthand that your funny t-shirts look great, you can always order a sample before publishing it to your store.
We answer some of the most frequently asked questions about funny t-shirts
Where to sell your funny t-shirts and tees online
After designing your funny t-shirts to sell, the natural next step is finding the best place to sell them. Picking an eCommerce platform to host your online store can be either very hard and refreshingly easy. To make it easy to understand and pick the right one for you, Printify has integrated with many of the leading online store platforms. These platforms offer not just hosting for your online store, but also give you awesome marketing tips that help you sell more and make you more money.
Below is a description of our integrated platforms and the types of sellers who tend to go for them: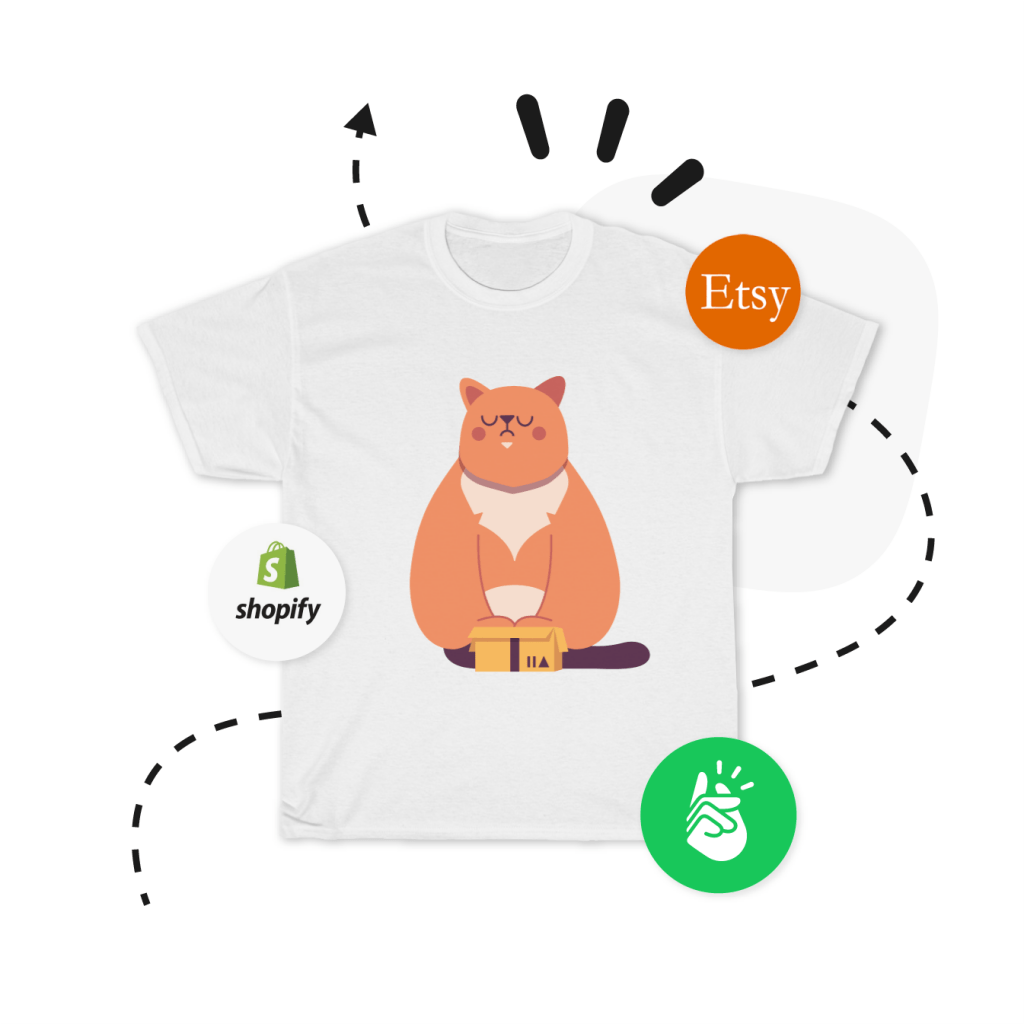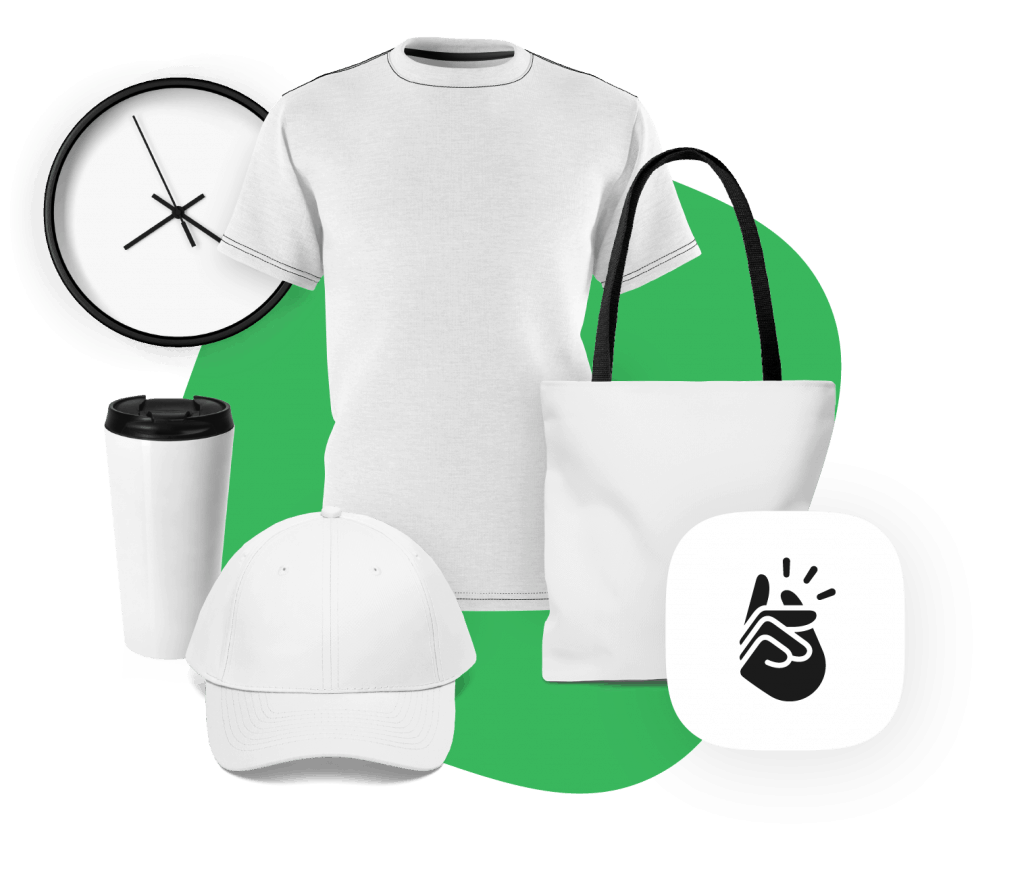 Why choose Printify for your online business
Printify is one of the most preferred print-on-demand platforms in the world. Join the more than 300,000 online sellers who choose Printify to produce and sell thousands of products through print on demand. Printify will open your online business to a global market. We connect you to our network of print providers with over 90 printing factories with the latest printing technology and machines in the US, Europe, and China.
We also have unique products that are available for sale and shipping in both America and Europe. Which means you can quickly expand your American and European customer base. Our catalog has over 300 items ready for you to customize. They include t-shirts in various fits and sizes for your new funny t-shirt business or to add to your existing online store. You get a direct channel to popular online store platforms such as Shopify, Etsy, eBay, Wix, where you can easily access their resources. Your store remains fully integrated to provide ease of use across these platforms. That is why you should choose Printify for your online funny t-shirt business.
Design your first funny t-shirt today
You can start your first print on demand business today. Funny t-shirts are a great business opportunity for anyone, even those new to print on demand. We have design-ready products, including All-over print t-shirts, for you to customize and sell. Follow the steps below to get started.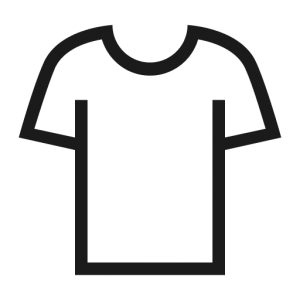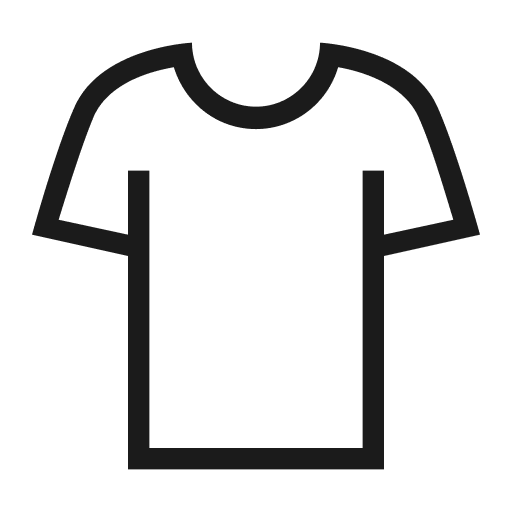 Choose a t-shirt to design
Check out our catalog and pick the custom t-shirt that is right for your customer. We have t-shirts in various sizes, fit, and fabrics for you to choose from them. Simply pick the one that works best for you.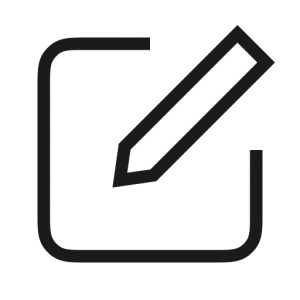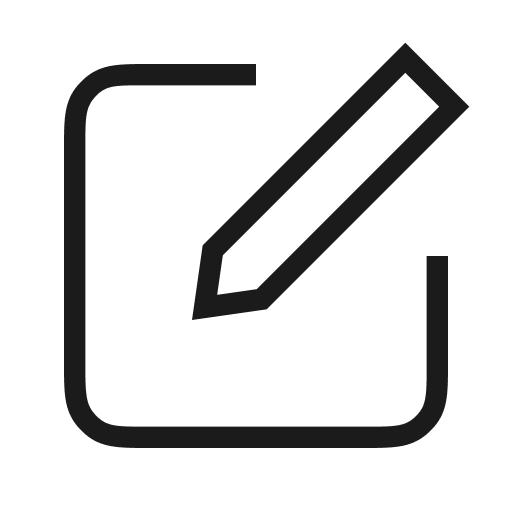 Put your funny design on it
Use our Mockup Generator to design your new custom printed t-shirt. Pay attention to any image quality warnings, and preview your product with your design on it.
Hit publish and wait for a sale. Market your product to sell quicker. When someone buys your funny t-shirt, it will be sent to production. You may order a sample at this point (recommended) before publishing it to your store.
Start selling funny t-shirts today!