Personalized slides, are they even a thing? This isn't doodling on white sneakers or gluing glitter on stilettos. We're talking about custom slides that stand out, are fully functional, attractive to customers, and have a solid profit margin. 
Why Sell Custom Slides Online?
This year's top Summer shoes are slide sandals – an open-toed shoe that, until recently, was worn only before swimming lessons. Today, not only do swimmers wear this type of shoe around the pool, but they are one of the trendiest shoes of 2022. Loved by everyone, slide sandals have reached new horizons – from the beach to the office and sometimes even nightclubs. 
People love unique items that resonate with their soul and personal style. Besides, this year's sandal market looks especially good, since we're allowed to be outside more than in the previous two years. 
If we're talking numbers, we must mention that the whole custom shoe market is growing (and, for that matter, the whole custom apparel market), which means you can design personalized sandals, sneakers, and even boots. 
So, roll up your sleeves and start selling custom slides. Maybe even throw in a matching t-shirt and beach towel for that wow effect.
4 Steps to Design Your Slides and Sell Online
If you want to start selling custom slide shoes online, print on demand is one of the most convenient and effective ways. The best part is that POD dropshipping is available to everyone. It's easy to set up, costs nearly nothing, and you can customize the products you sell, letting your creativity shine and leaving your competition in the dust.
Although POD can seem complicated at first, anyone can achieve success as long as they are driven to put in the time to figure everything out. If you want to learn how to start a print on demand business, follow these four simple steps, and you'll be well on your way in no time.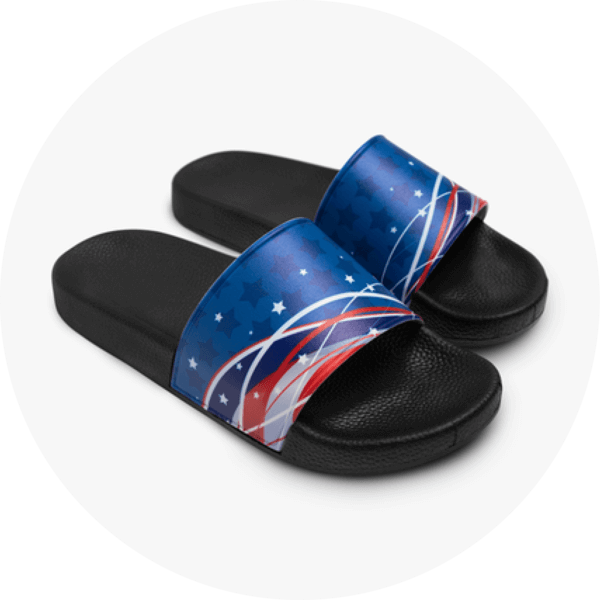 Printify Is Trusted by 2 million+ Merchants Worldwide With More Joining Every Day
I don't have to invest the money I can't lose into my business. With Printify, I only pay the fulfillment fees, and the rest is all profit.
I really appreciate working with Printify on my brand. Afro Unicorn was only supposed to be my design on a white shirt. It is so much more. Printify allows me the time to run the business and not work in the business.
Printify helped me start a completely hands-off revenue stream. When you spot a niche that you want to enter quickly, you don't have to worry about buying stock or equipment.
My experience has been amazing so far. With thousands of sales, there's always going to be obstacles to overcome. But, when something has needed fixing, it has always been amazing.
Printify Premium has helped my profit margins tremendously, and spending $20 a month has probably saved me over $200 a month.
Using Printify saved our struggling business of 6 years and gave us more time with our family.
I like Printify products because they tie in with our organisation's message.
I love the Printify Mockup Generator. It keeps everything consistent and allows me to keep my brand looking sharp and professional.
Create Your Own Custom Slides
Design Ideas for Custom Slides
If you're having a hard time thinking of cool designs to add to the beach sandal, we're here to help. The materials used in our beach slides allow for bold and bright prints, so whatever design you choose, it'll be vibrant.
Old but gold, the beach-themed sandal is a classic. Think palm trees, fun words, surfing, waves, and other classics that inspire you and add your unique twist.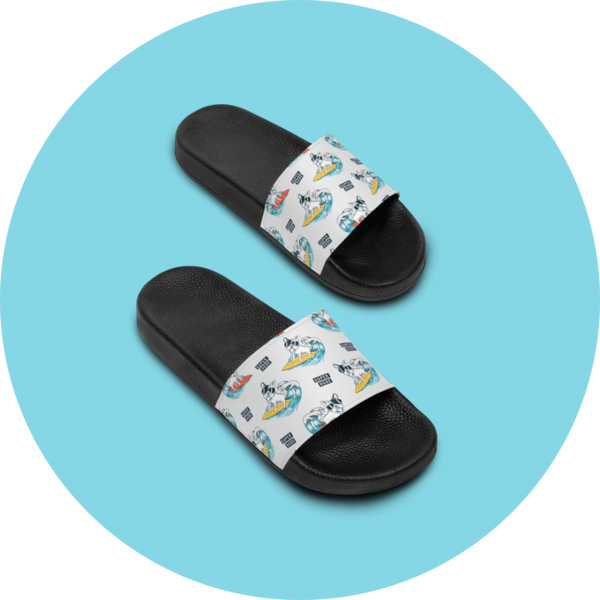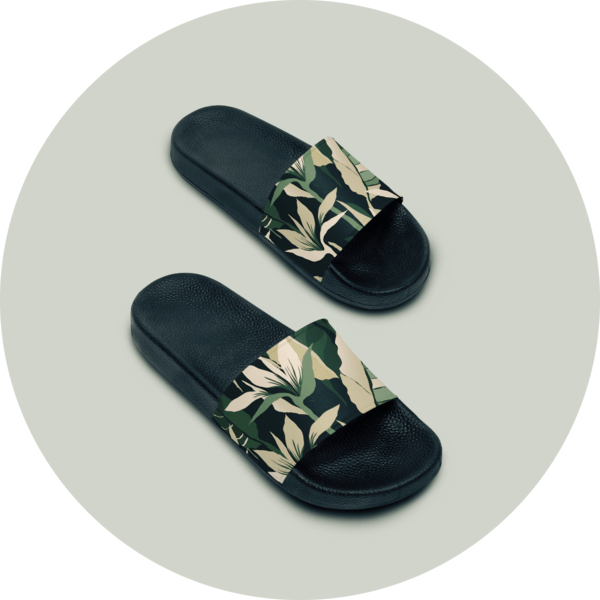 This classic theme encompasses various natural occurrences – flowers, trees, mountains, forests, waterfalls, and more. Go photo-realistic or abstract; add floral patterns or stylized trees – there's no limit.
Appeal to the wine-loving crowd by designing a line of wine-themed custom slide shoes. Let your customers show their love for this drink of gods by adding funny artwork or words like  "Cheers!" on one sandal and a wine glass on the other. This style will go well with Summer bachelorette parties. The ladies, powered by wine and champagne, can have their fun in the sun and take amazing photos together to commemorate the occasion.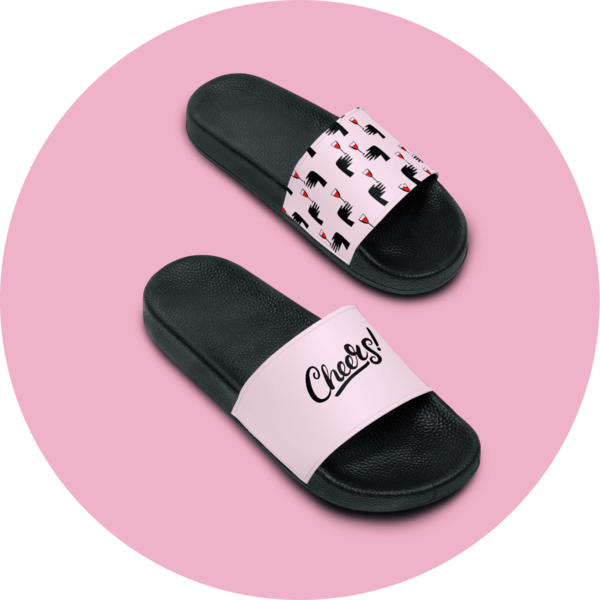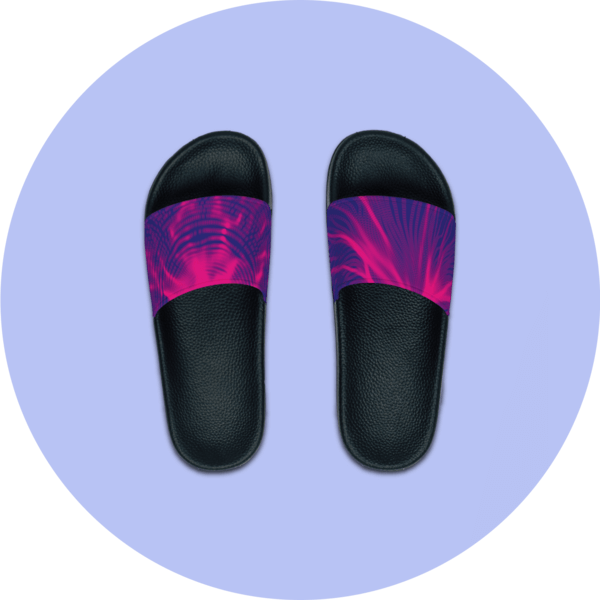 Another wonderful design niche is everything science that all the self-proclaimed nerds and geeks will appreciate. Chemistry, physics, astronomy, mathematics… think formulae, test tubes, telescopes, and clever words.
This Summer, appeal to all the festival-goers by creating a line of music-themed custom slides. Think of relatable words to print or come up with designs that include musical notes, microphones, speakers, or keyboards – anything that melomaniacs would appreciate and wear with pride at the hottest music events.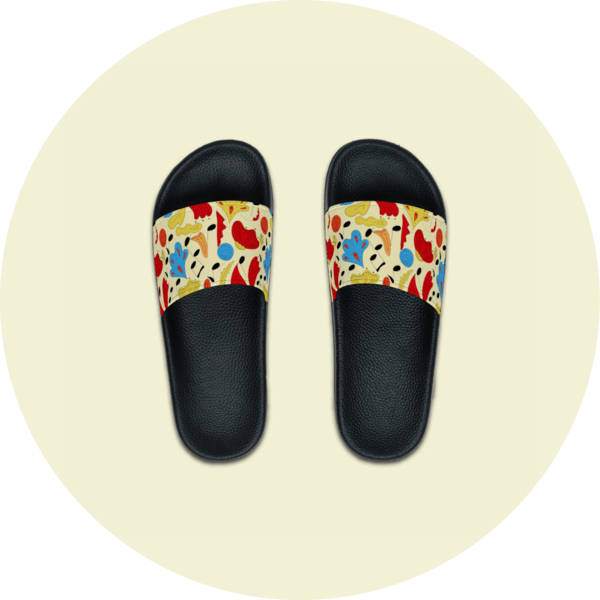 Frequently Asked Questions
In a market where everyone is launching a collection of t-shirts, stand out from the crowd by designing and selling custom slide shoes. Modern customers love personalized items. The custom apparel and accessory market is growing faster than ever, so jump on that train. This Summer, offer your customers fun and trendy sandals to wear on the streets, on the beach, at festivals, and at home.
Working with Printify is profitable, easy, and fun because our mission is to help you earn more. We've done everything to minimize your effort – you only need to think about designs and marketing. We handle the rest – printing, packaging, and shipping to your customer's address.
Creating Personalized Slides Online is Fun and Profitable