Custom neck gaiters scream versatility and fashion to people who love outdoor activities. Come up with an outstanding custom design and sell your neck gaiters online today.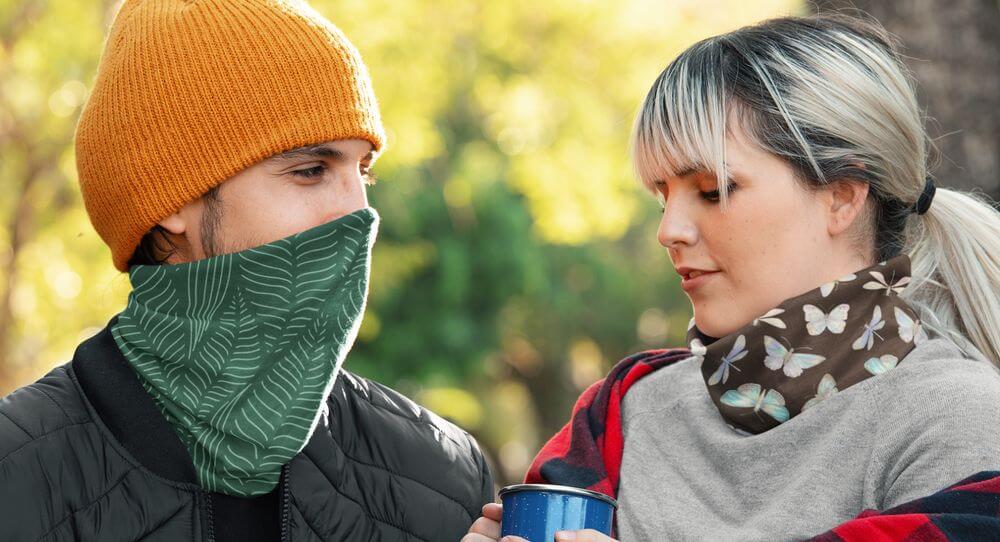 Create Your Own Custom Neck Gaiters!
A neck gaiter, also known as a Buff®, is a fabric sewn together in a tube shape intended to be used as a neck warmer and face covering, but it's so much more.
People love using custom neck gaiters for all types of outdoor activities, like running, skiing, and hiking, or as stylish accessories for everyday wear.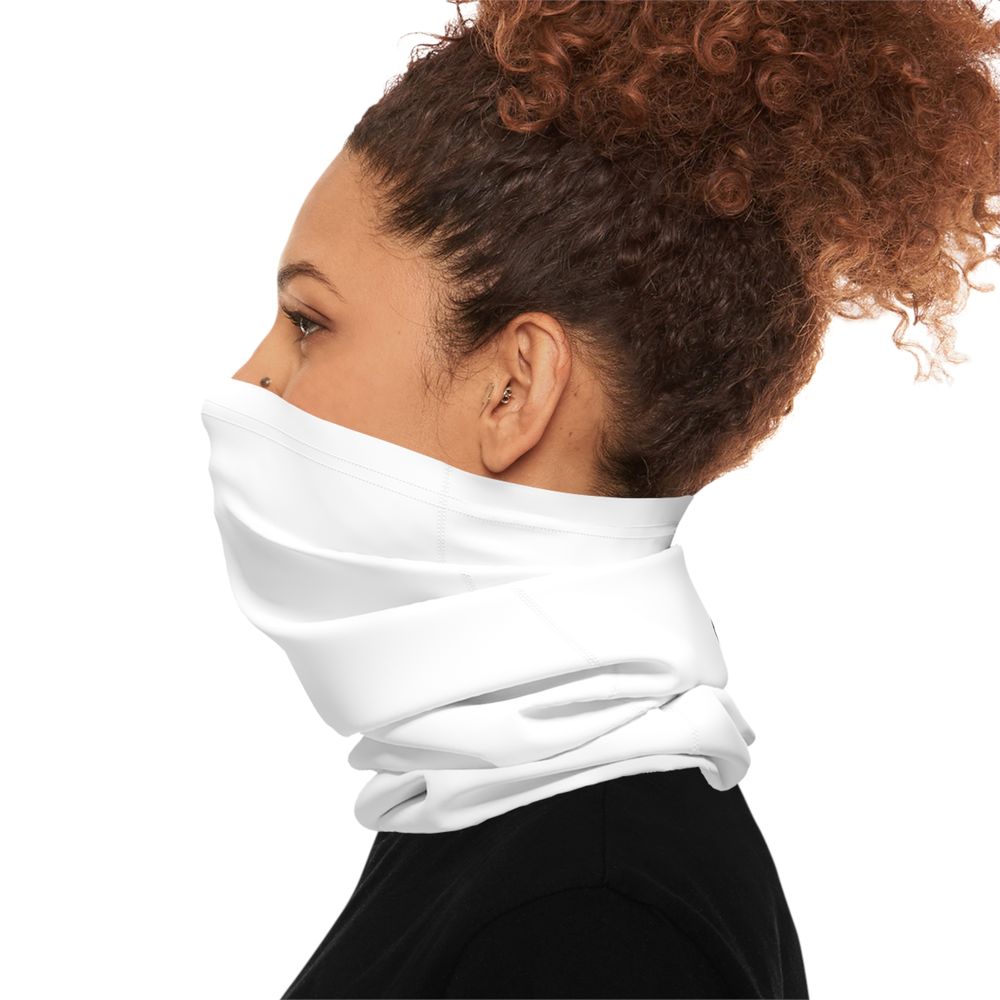 Print-On-Demand Custom Neck Gaiters
We offer different custom neck gaiters for every season, perfect for selling to customers worldwide. Each neck gaiter has multiple functions – sell them as face coverings, headbands, or even beanies.
Our neck gaiters are made from a 100% polyester material or a 90% blend with elastane or spandex to add elasticity. Polyester wicks away moisture to ensure comfort and dryness.
Make beautiful patterns or graphics based on what your customers love. Drag and drop them into our beginner-friendly Mockup Generator and see them come to life on your custom neck gaiter.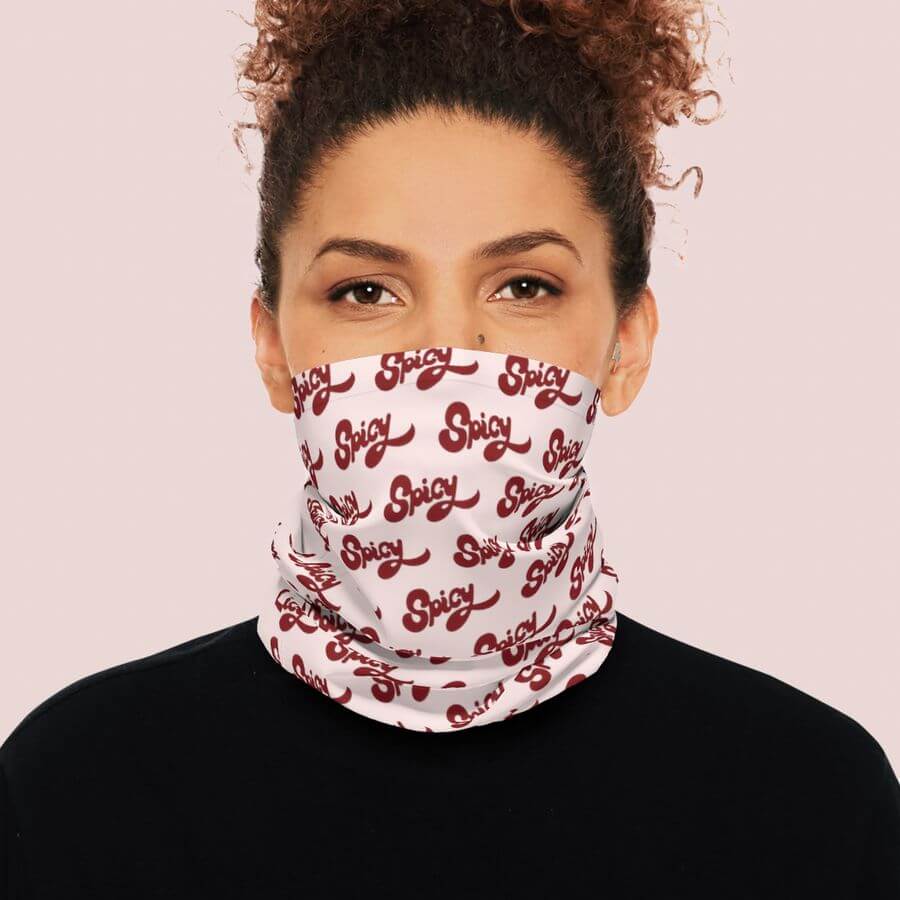 The midweight custom neck gaiters are perfect for adults who love outdoor adventures. The moisture-wicking fabric helps you stay comfortable even if it gets rainy and sweaty.
These gaiters also serve as face and neck protection against harsher elements while remaining breathable and comfortable.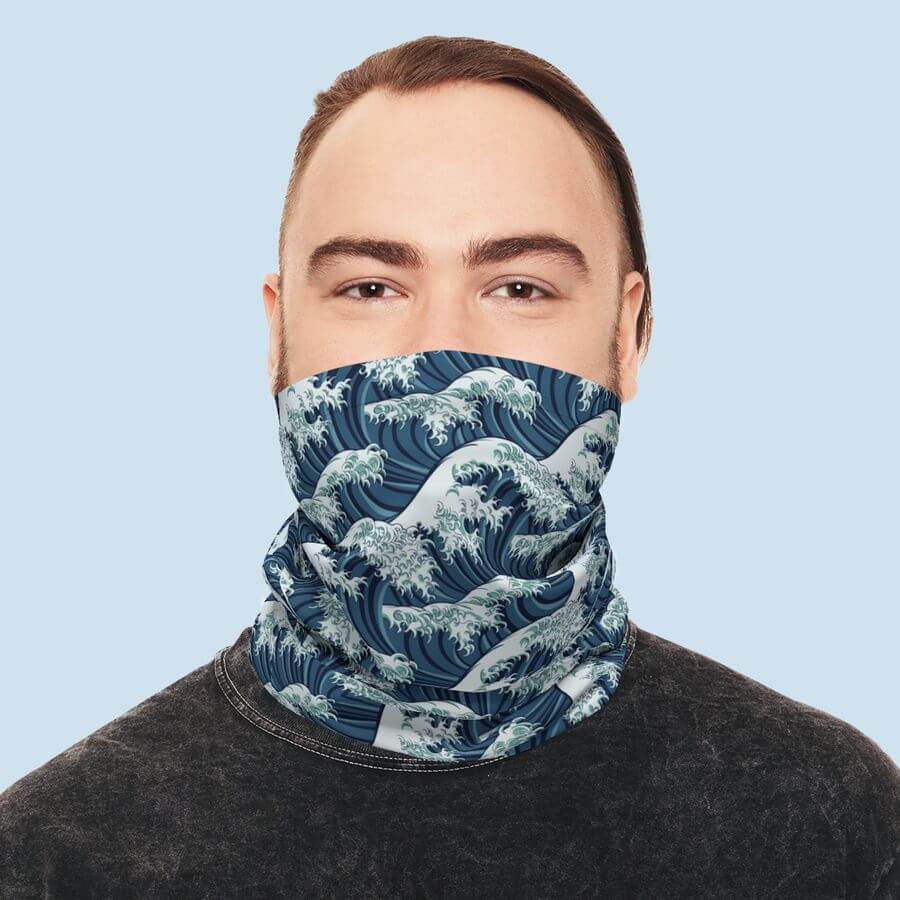 Lightweight neck gaiter, meet durability. This neck gaiter is breathable polyester, perfect for wearing on hot days.
Even though they're lightweight, they still serve the purpose of neck warmers and protect the skin against wind, rain, or sun damage.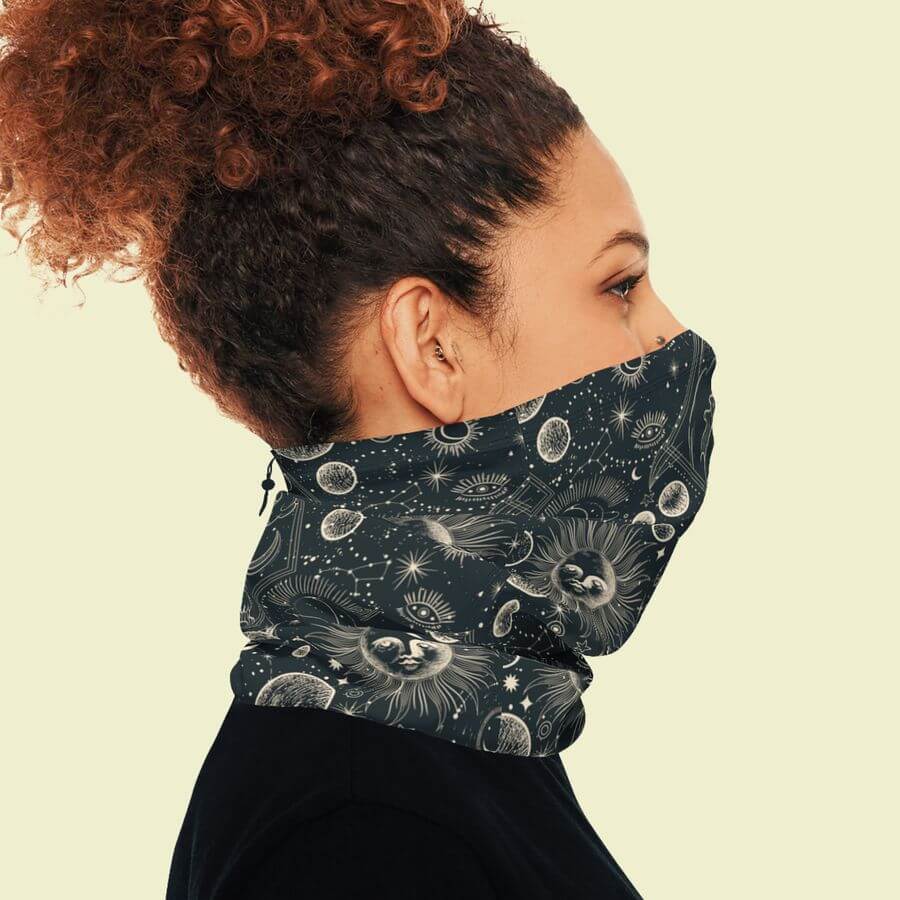 If your customers stay active outdoors during colder months, this neck gaiter will keep them warm and cozy. An adjustable drawstring on the upper seam keeps it in place during active movement. 
Made from a 90% polyester 10% spandex material, the fabric is breathable and perfect for making high-quality prints in multiple colors. Spandex ensures stretchiness for extra comfort. Wash them, tumble dry them – your designs will remain vibrant for years.
This print-on-demand neck gaiter comes in one size (17.5″ × 9.5″) that'll fit most adults.
Create Your Own Custom Neck Gaiters!
How to Wear a Neck Gaiter
A custom neck gaiter is probably the most versatile item anyone can buy for their closet. Share these tips with your buyers to show them why this is a worthy investment.
We always recommend you order a sample neck gaiter before selling to others. This way, you can check the quality yourself. While you're at it, shoot some videos to show shoppers how to wear a gaiter in the following ways.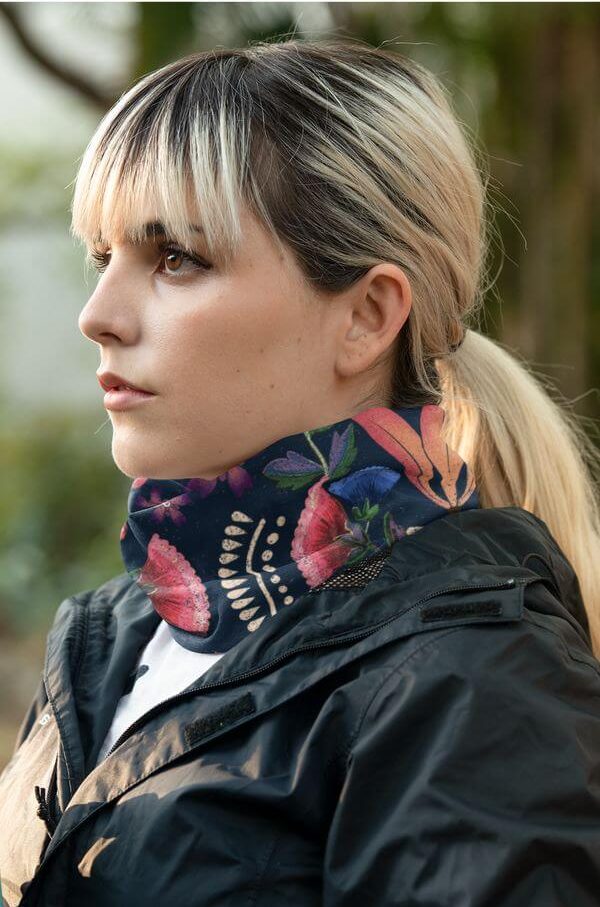 A runner's best friend. Pull the custom neck gaiter over the head and tuck the excess material to make a hat. Another technique is to turn it inside-out, twist it, and pull one side over the other.
Neck gaiters also serve as face coverings to protect against harsh weather, dust, and bugs. Thanks to the breathable fabric, they're still comfortable even if you cover the mouth and nose. Start by wearing it as a regular neck gaiter, then pull the top above your nose.
While their intended purpose is neck protection, custom-printed neck gaiters can be worn to keep hair out of the way. Simply tie it like a regular hair tie, or fold it in a strip to make a headband.
This style is popular among snowboarding, skiing, and cycling enthusiasts. It protects against snow, rain, or strong winds. The moisture-wicking polyester keeps the inside dry and warm. First, pull it over the neck, then the head, to create a hood. Take the fabric below the chin and pull it over the nose.
Durags are excellent for protecting curly hair while sleeping, but people also wear them as accessories to their outfits.
You can make one out of a neck gaiter in seconds – pull one end of the gaiter over the head, so all of the hair is inside the fabric tube.
Wearing a neck gaiter like this brings extra style to sporty outfits. You can match them with other accessories or footwear to make the colors pop. Wrap it around the wrist, just like the hair tie.
Ideas for Personalized Neck Gaiter Designs
Looking for winning-design ideas to get started? We've got you covered.
Custom Neck Gaiters With Nature Motifs
Get inspired by mother nature and create beautiful patterns like waves, camo, treelines, and clouds. Explore a realistic or an abstract style. You can even browse professional stock images with natural landscapes – we'll print them in picture-perfect quality.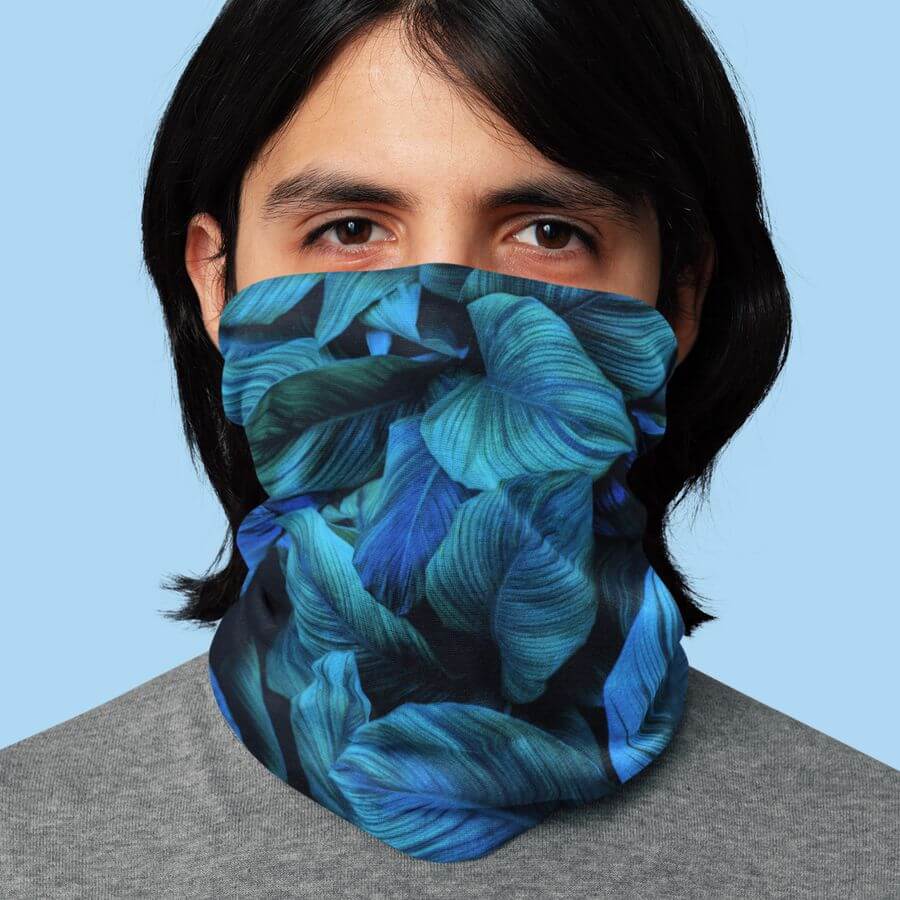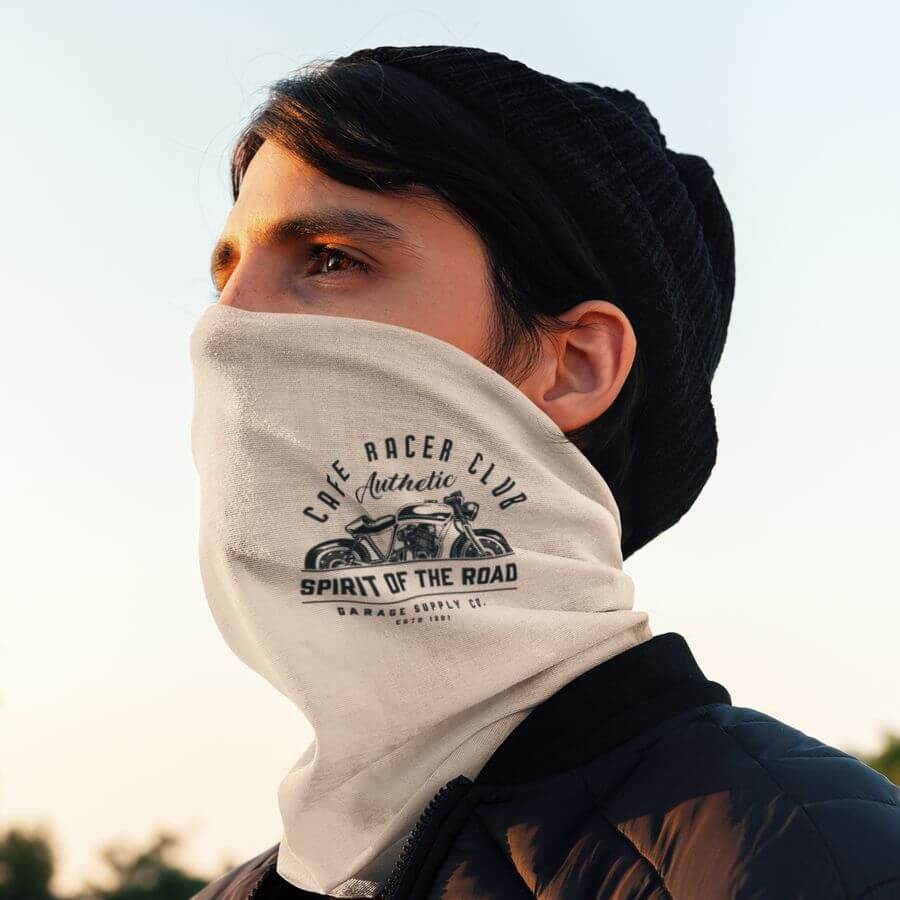 Neck Gaiters With Custom Logo
Another popular design for a neck gaiter – custom logo. They're perfect for employee gifts, team events, and merch for your brand. Position the logo on the front or sides of the neck gaiter to ensure it doesn't disappear in the folds.
Custom Neck Gaiters With Geometric Patterns
People love bright, bold geometric patterns on a custom-printed neck gaiter. These designs look great even when neck gaiters are used in a different style, like a headband or a beanie.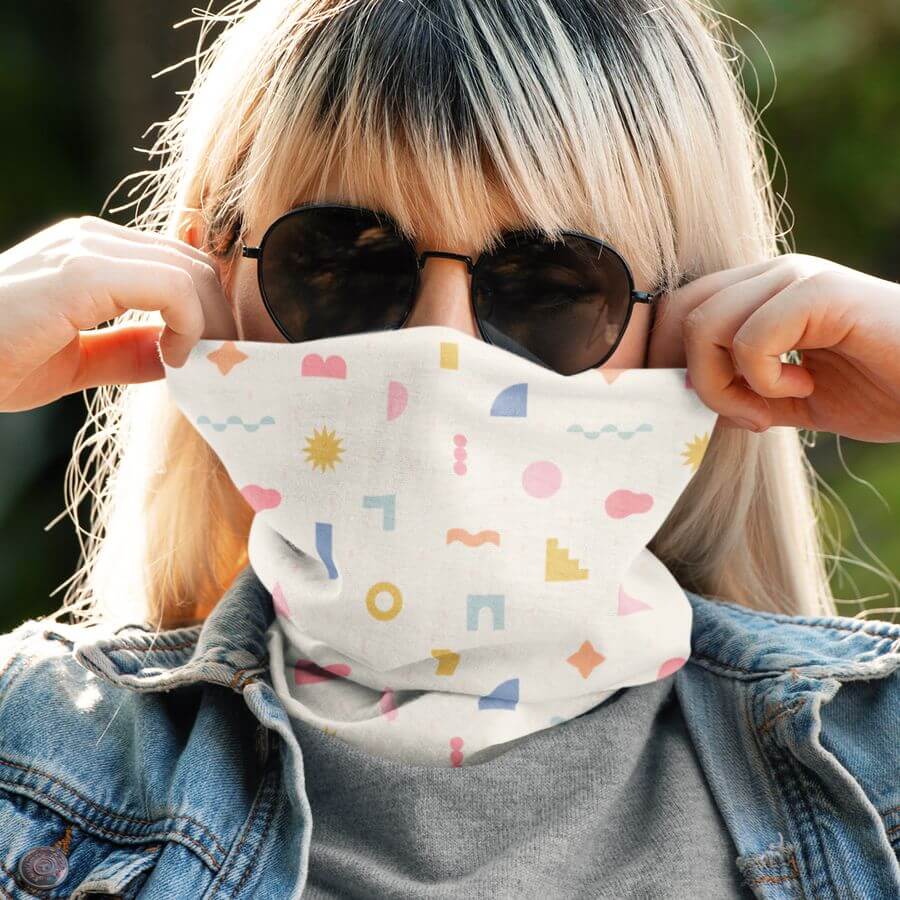 Create Your Own Custom Neck Gaiters!
Design and Sell Your Own Custom Neck Gaiters Online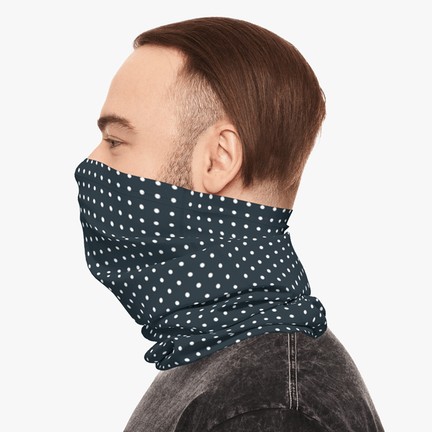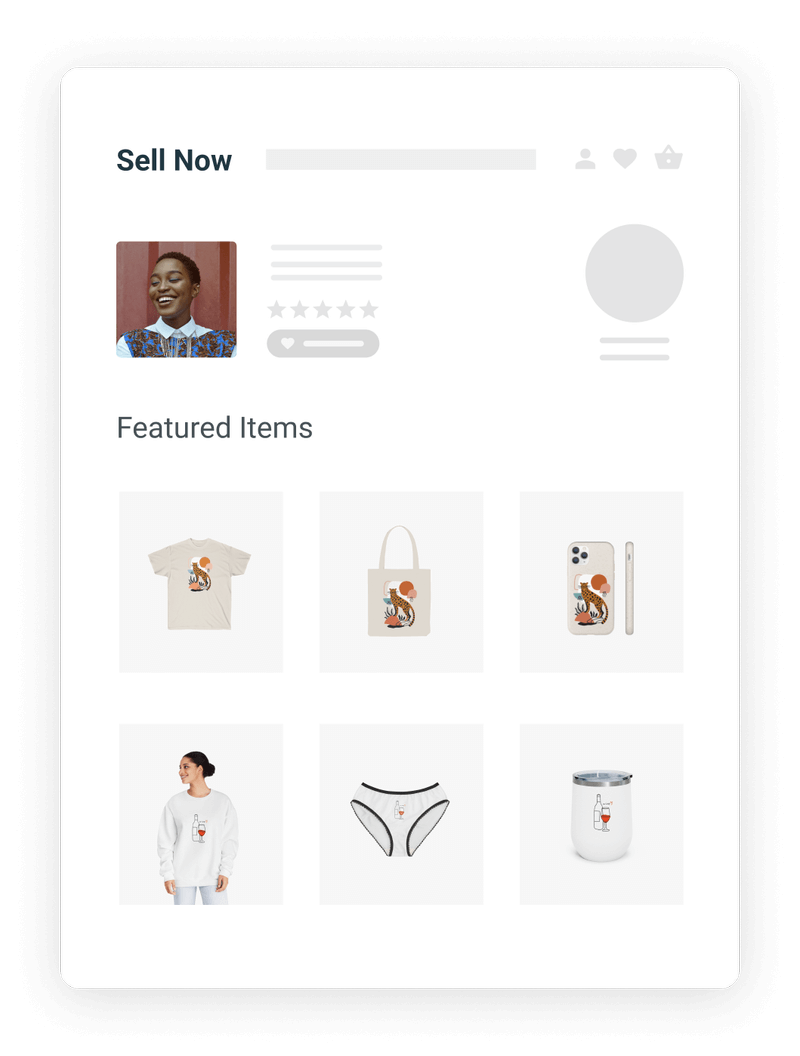 Browse our catalog and choose which style to customize first – a lightweight, midweight, or winter gaiter. While deciding, think about your potential buyers – why they need the neck gaiter, where and when they will use it – in a colder or warmer environment.
Check out the material description, as well as the care and sizing guides under the product descriptions.
Get inspired by the ideas above and create your unique custom neck gaiter artwork. If design software is not your best friend, hire a designer to do it for you or browse stock images.
Adding designs onto neck gaiters is super easy. Upload them to our Mockup Generator, add text if you want, and download realistic mockups for your listings and marketing campaigns.
Publish and Start Selling
Connect your Printify account to an eCommerce site and create listings. Write informative product descriptions to show customers that these custom neck gaiters are breathable, moisture-wicking, washable, and perfect for all seasons.
Once they buy one and the money rolls in, we automatically push the order for printing and fast shipping.
It's time to open a shop – grab your first custom neck gaiter, customize it, sell it, and we'll take care of printing and shipping.
To get started, you'll need a Printify account – it's free, and you can set it up in seconds.