Start Selling Custom Framed Canvases
Transform your art into stunning wall displays with our custom-framed canvas wall art. Vibrant colors, sleek frames, and various sizes make it perfect for personal use or making money online.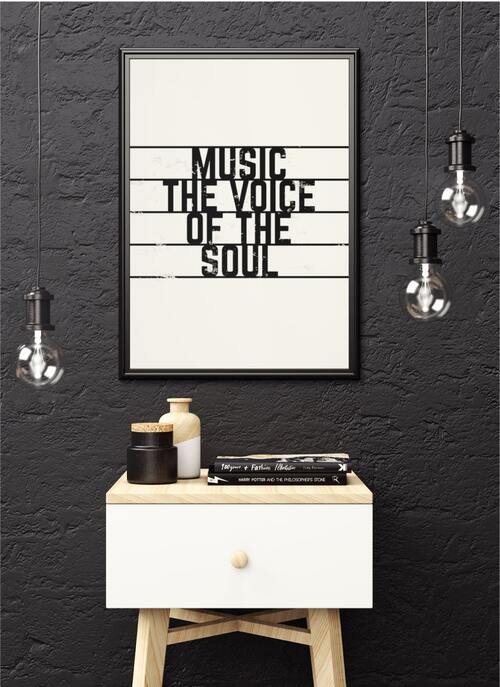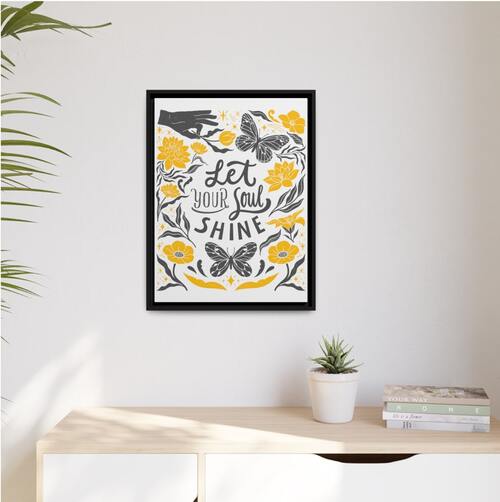 Make Your Own Custom Framed Canvas
Choose a Framed Canvas and Start Designing
Whether you want to sell your images or artwork or add some personality to your home with a custom art gallery, our framed stretched canvas is the perfect solution.
Our canvases are printed on a high-quality, natural white, matte, ultra-smooth 100% cotton canvas and manufactured to ensure outstanding quality. Your wooden framed canvas prints will feature bright and vibrant colors, thanks to our high-end inkjet printing process.
Each framed canvas has a built-in hanger and protective felt bumpers, and the frame is built with a solid face to support the canvas and prevent deformation. Choose between a sleek black or warm walnut finish to complete the look. Start showcasing your vision today with our wood-framed canvas prints.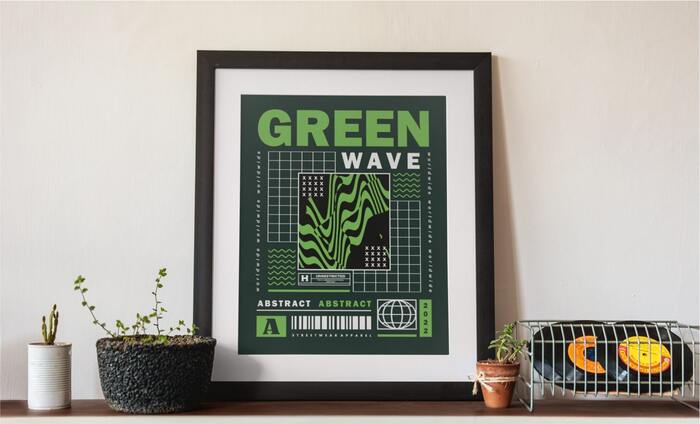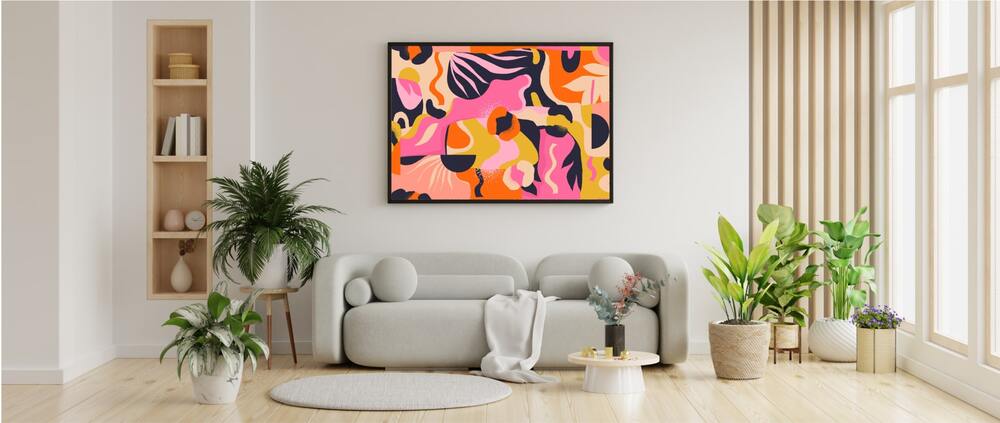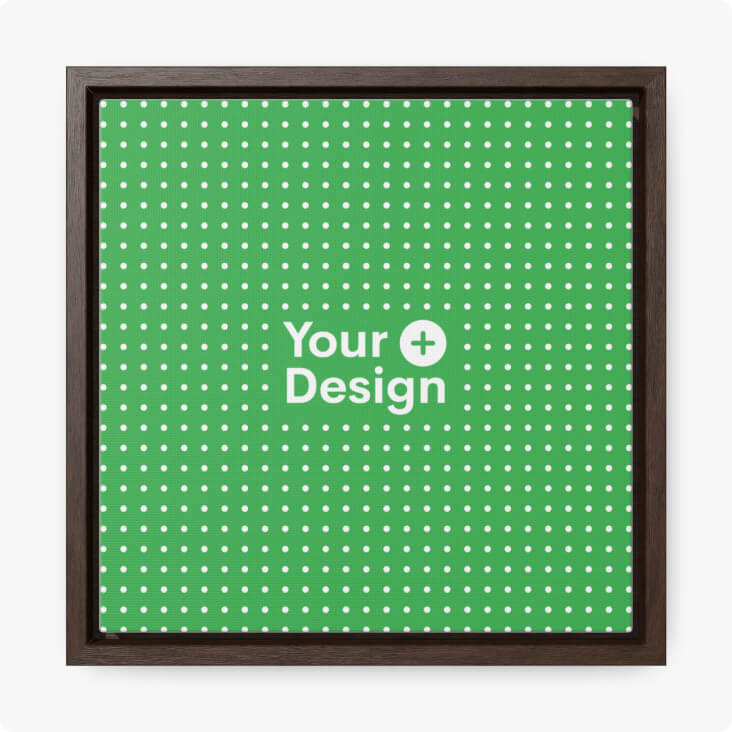 Adorn your walls with a touch of your unique style with our square gallery-wrapped blank framed canvas. The canvas is printed on a high-quality, natural white, matte, ultra-smooth 100% cotton canvas with a 400gsm standard, ensuring your artwork will look vibrant and crisp for generations.
Each canvas has a solid frame built to support the canvas and prevent deformation. Choose between a sleek black or warm walnut frame, depending on your taste and printed art, to complement your framed canvas print. 
The pre-installed hanging hardware and protective felt bumpers are integrated into the frame for added convenience. Sizes: Eight sizes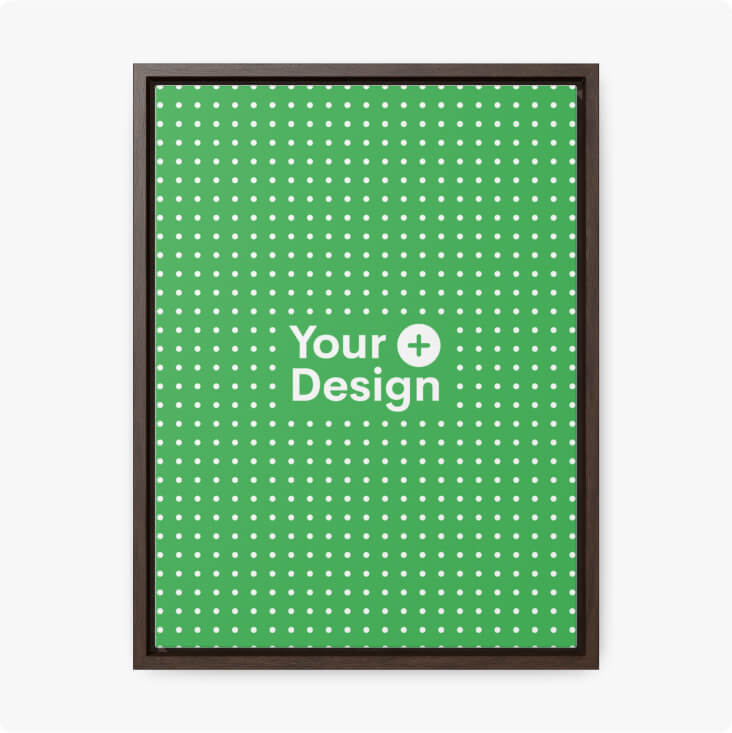 Add a personal touch to any wall with our vertical gallery-wrapped canvas. The high-quality, 100% cotton framed canvas is printed with the latest printing techniques to produce bright and crisp colors that will last a lifetime and cater to independent artists or even kids to display their first works of art.
Each canvas is carefully framed with a solid face to support and prevent your art's deformation. Choose from multiple sizes and a selection of sleek black or warm walnut frame options to achieve a professional result. The hanging hardware and protective felt bumpers are pre-installed into the frame, making it easy for you to hang your masterpiece with confidence.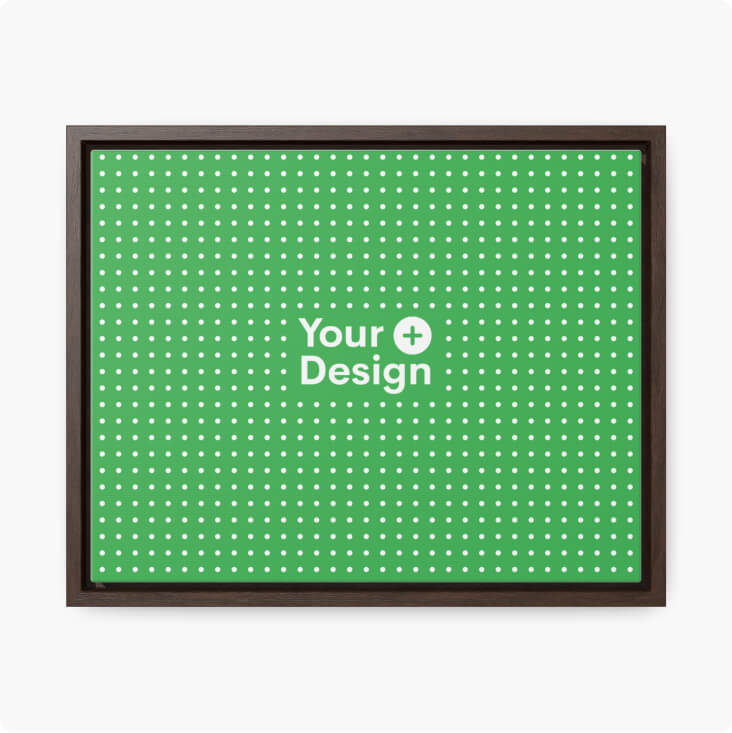 Experience the ultimate expression of your art with our stunning gallery-wrapped framed canvas. This high-quality, horizontal canvas is crafted to last a lifetime, with a solid frame to prevent deformation and ensure a tight, flat look that will never fade. 
Available in a range of sizes, with both walnut and black options, this item features a 100% cotton canvas with a 400gsm standard, providing vivid and crisp colors that will match even your wildest designs.
This canvas comes with pre-installed hanging hardware built into the top of the frame and protective felt bumpers to keep your walls safe. Made for indoor use only, our gallery-wrapped canvas prints are the perfect addition to any home or office decor, providing an eye-catching focal point that will reflect your unique personality.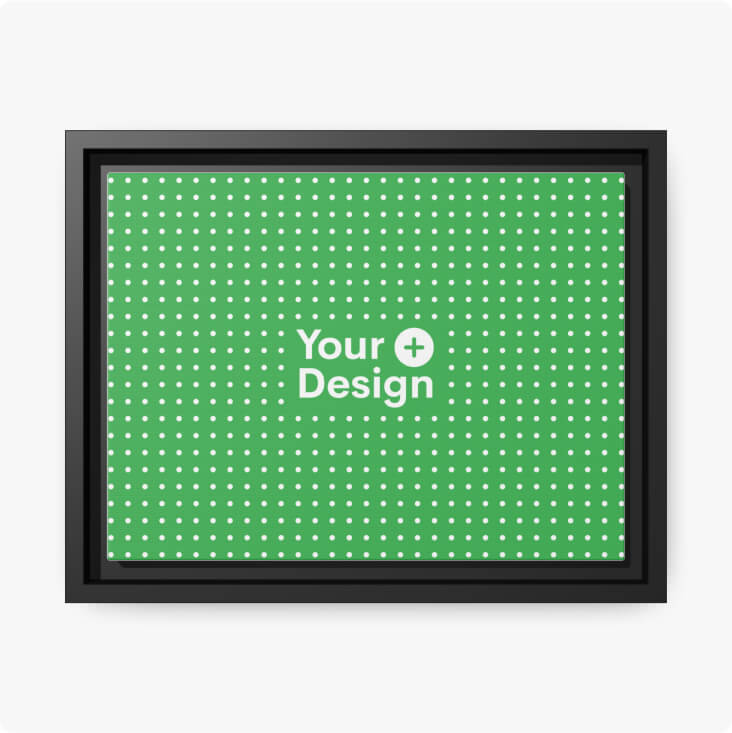 Introducing our matte framed canvas in black – the perfect choice for any interior. Crafted from sustainably sourced materials and Forest Stewardship Council certified, this stunning product is ideal for eco-conscious artists and buyers. 
Our cotton and polyester canvas composite features a special proprietary coating to keep your original designs vibrant for years. 
Available in multiple sizes and complete with sawtooth hanging hardware, our black pinewood frames offer a sleek and beautiful finish that will elevate any space.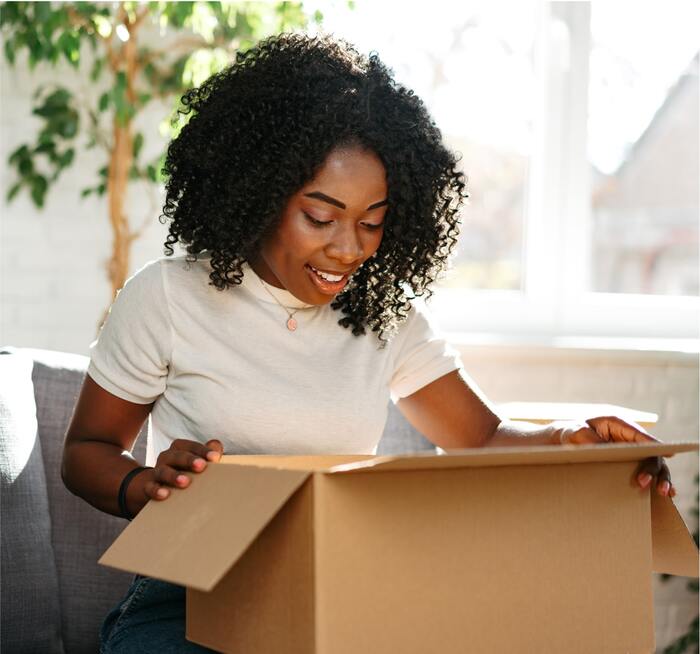 Custom Framed Canvases With No Minimum Order
Create your own custom-framed canvas today with no minimum order. Whether for your home or office or selling your art online, our premium quality canvases are ideal for displaying your unique style and personality. 
With our easy-to-use Mockup Generator, you can upload your designs and photos, choose from a range of sizes and frame options, and see your creation come to life. Don't wait – start creating your own custom-framed canvas now and add a touch of personal flair to any space.
Design Custom Framed Canvases
Design It How You Want It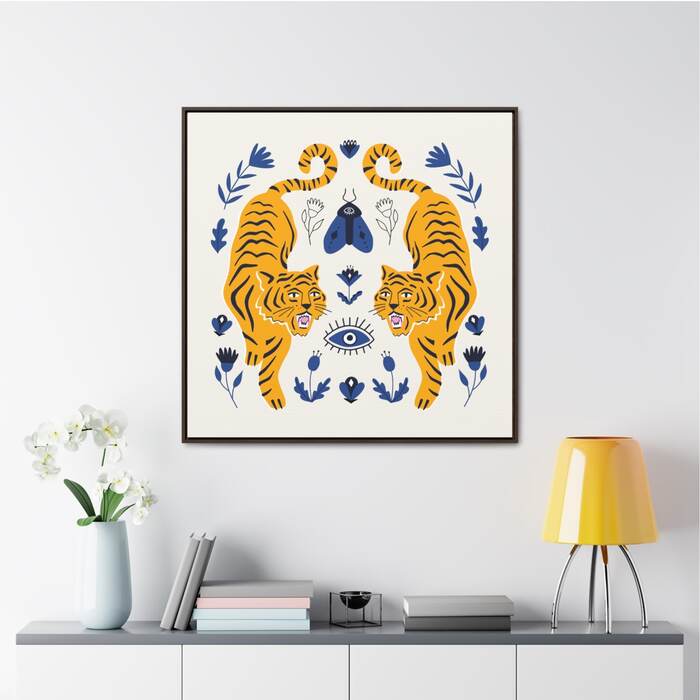 Add a touch of whimsy to your canvas with various illustrations. Upload your own illustrations, choose from various pre-made designs, or use our Shutterstock partnership to make your canvas unique. This type of design can include:
Make a bold statement with abstract graphics. This style allows for a wide range of eye-catching designs to add a touch of modern sophistication: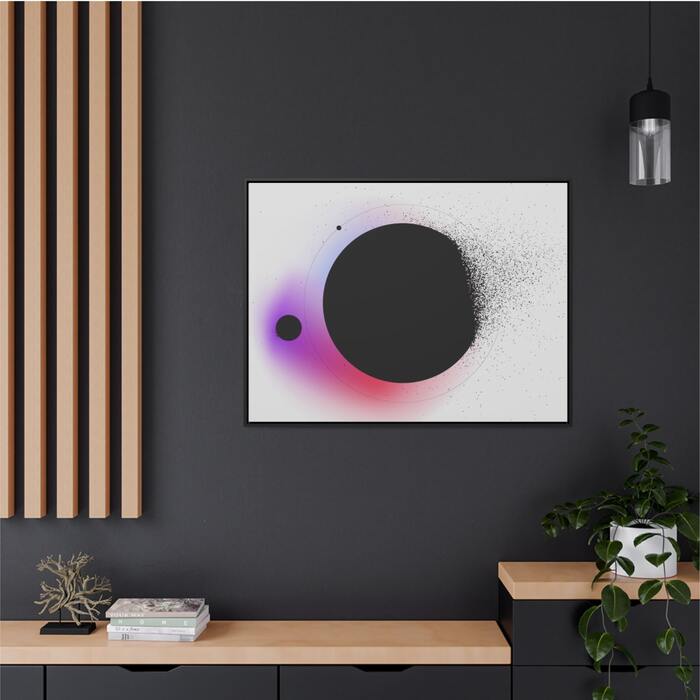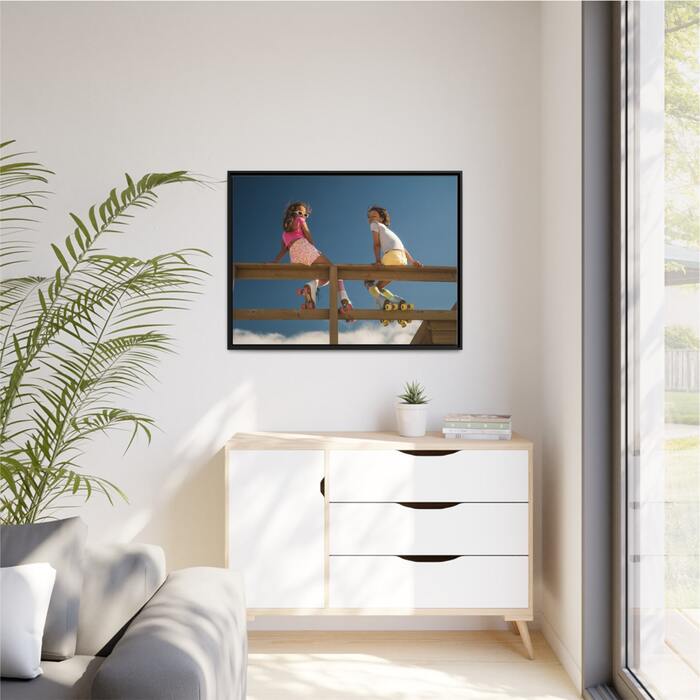 Capture your favorite memories on a custom-framed canvas. Upload your own photos or browse through Shutterstock to create a stunning personalized canvas that your customers will love for years to come.
Sell Custom Framed Canvases With Printify
Are you ready to start your own framed canvas print business? With Printify, it's easy! Here's how to get started in just a few simple steps: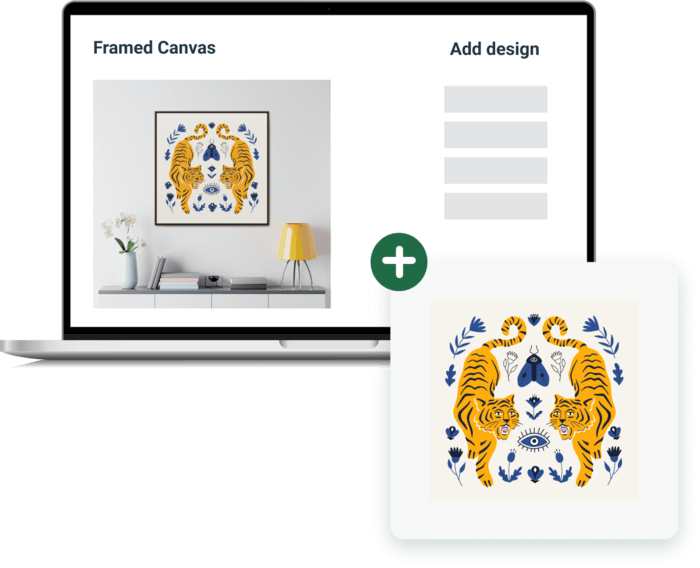 Use our user-friendly design tool to create your own framed canvas painting. Choose from a range of design options, upload your designs or photos, and choose from various sizes and frame options to create a truly unique product. Upload up to ten layers and add text with the text editor to make it picture-perfect.
Once you've created your product, it's time to decide where to sell it. Thanks to our simple integrations, you can sell your custom framed canvas on various eCommerce platforms, including Shopify, Etsy, and Walmart.
Sell and Let Us Do the Rest
Once your products are listed for sale, we take care of the rest. When a customer places an order, we handle the printing, framing, and shipping, and you get paid. It's that easy.
Frequently Asked Questions
Create your Printify account today and start working on your own range of custom-framed canvas prints. Remember, with POD, you pay no money upfront, and you don't have to stress about the delivery of your products, so start selling your art and spread the word!
Sell Custom Framed Canvases Now