Makeup doesn't always stay perfect. Fortunately, there's a perfect, personalized solution ready to solve that problem for modern consumers.

Selling useful, universal products is a smart move. When those items happen to be cute (and shiny), they can quickly become the star of any brand.
Compact Mirrors: Modern Incentives for Modern Consumers
What fits in any purse, enables cosmetic fine-tuning, and makes the perfect gift? A compact mirror. These beauties are far more than just beauty gadgets, they're serious sellers. 
Printify lets you easily design a unique round compact mirror. Use our Mockup Generator to upload your designs or photos for the ideal personalized mirror. 
But will it sell? At our price point, definitely. Starting from just $11, this is one of the best prices on the market. Considering our 2.9-day average fulfillment time, your customers are going to be very happy.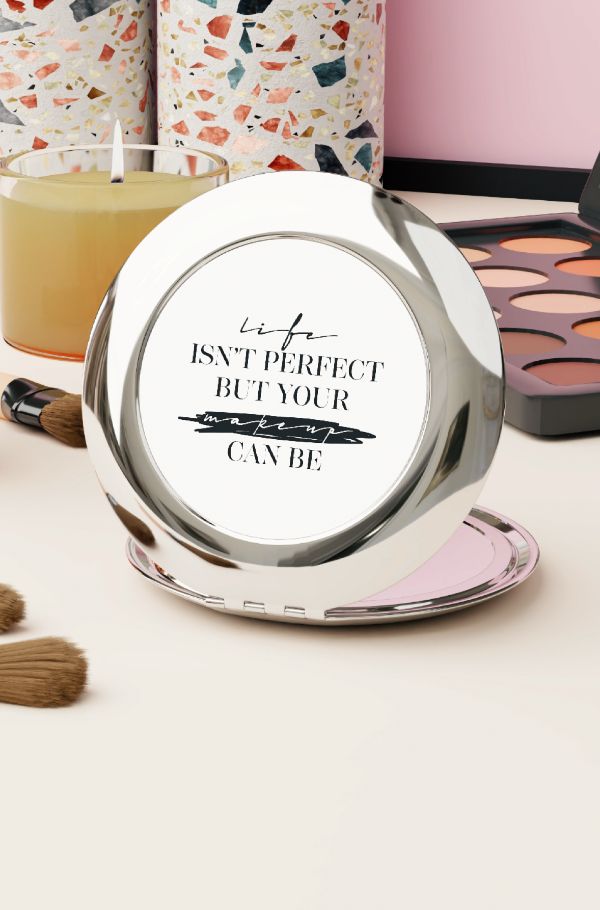 Start Selling Custom Merchandise Today!
Custom Compact Mirror Design Ideas
To spark your imagination, we've gathered a handful of ideas for compact mirrors that the modern customer (and their handbags!) will love.
You can never go wrong with floral styles. Go with abstract or realistic; dark or pastel – it's up to you.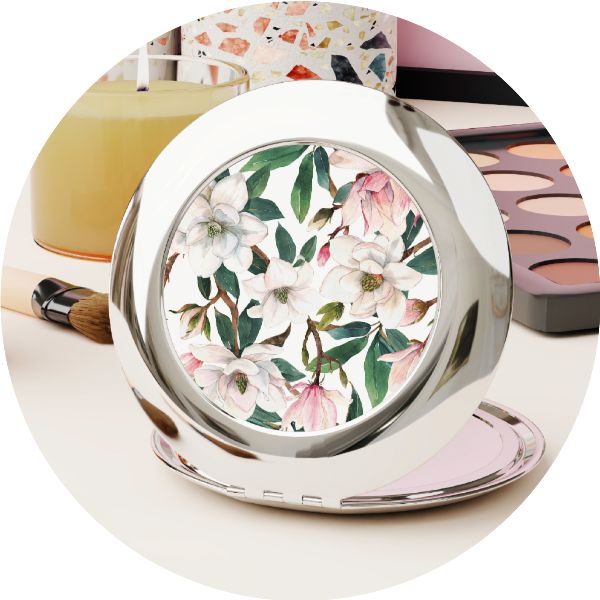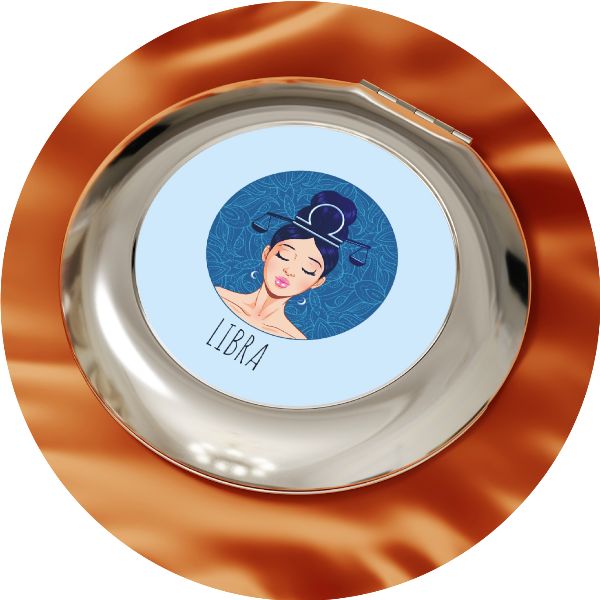 We all know that Libra girl who always looks impeccable. Treat your astrology-loving crowd with zodiac-themed compact mirrors.
… don't break glass! A cute little gadget to pull out of the purse in case of (a beauty) emergency.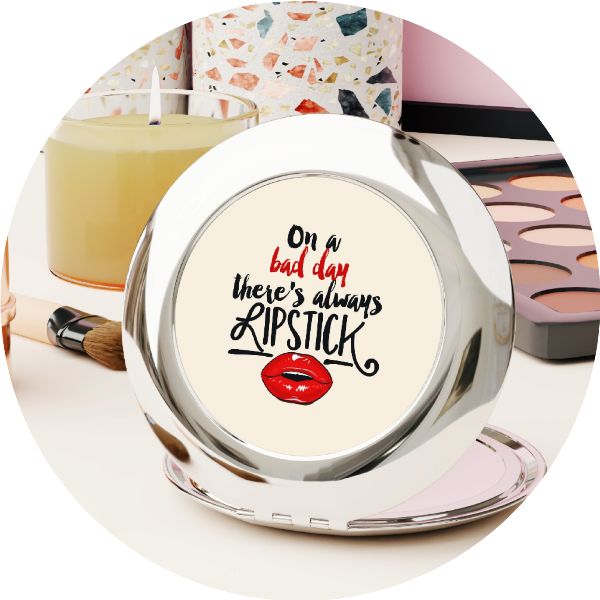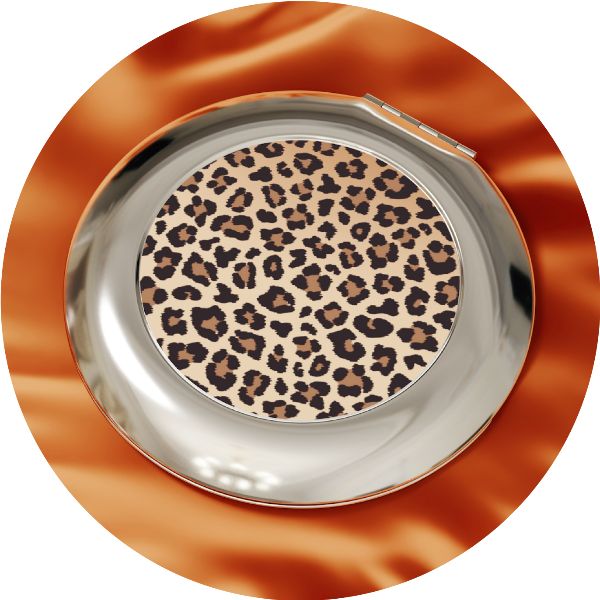 Animal prints are still going strong (especially at a bridal party). Leopard, zebra, tiger, cheetah, snakeskin… you name it, the style exists.
Use our text edit tool to come up with fun and meaningful phrases like 'I woke up like this,' 'Watcha lookin' at?', or something eye and soul-catching.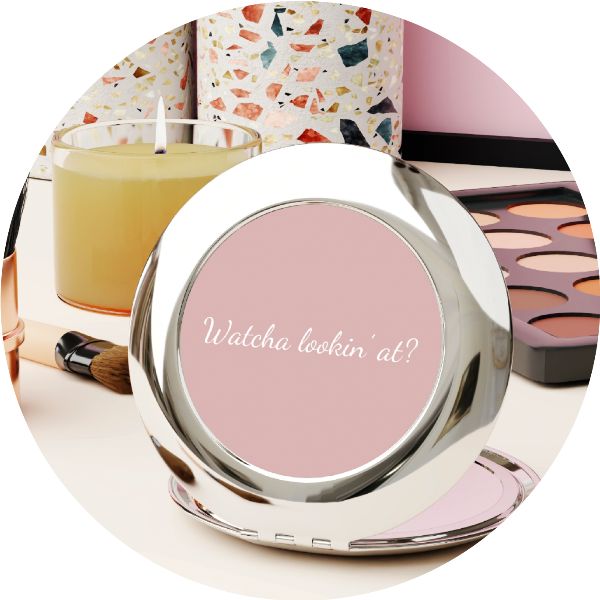 How to Market Compact Mirrors
If you want to maximize currency generation, you are going to need a marketing strategy. There's a lot of competition across all platforms and marketplaces – some with more, some with less – so you want to make sure your compact mirrors stand out.
Why Work with Custom Compact Mirrors on your Site?
Numbers show that the eCommerce sector is doing better than ever. And print on demand is also reaching new heights. More people prefer shopping online and appreciate custom pieces over mass-produced items. It's safe to say that now is the best time to start your own POD dropshipping business.
Having a few custom mirrors on a site is also a good idea because compact mirrors make a great gift for a diverse range of occasions: these round mirrors can be the perfect addition to any bridal party, birthdays, bachelorette parties, and other celebrations.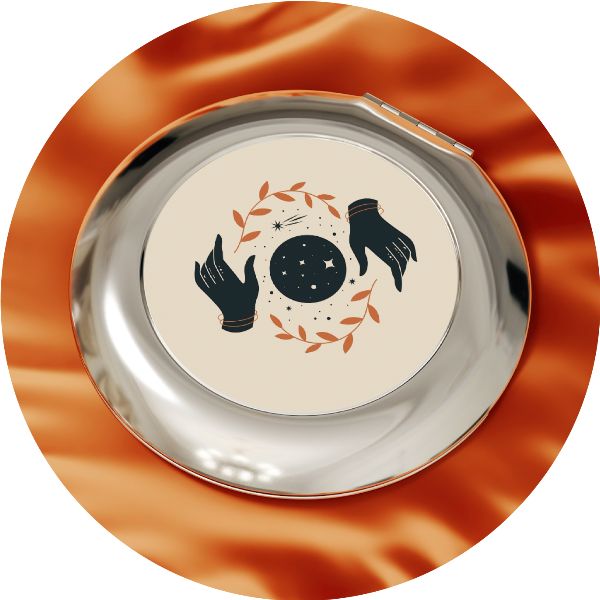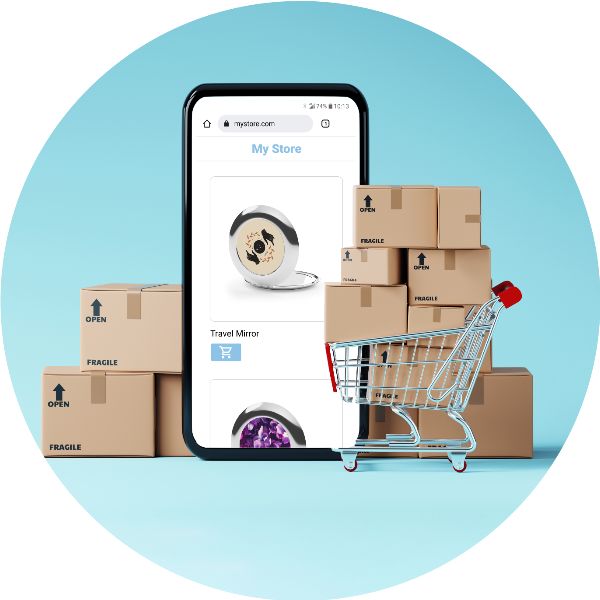 Why Work with Custom Compact Mirrors on your Site?
With today's technology, anyone can open a business via mobile phone, tablet, or laptop. Setting up a store takes less than an hour, and even less tech-savvy people can do it. And what's best, most eCommerce platforms are free to use. 
It's even easier when you partner with Printify. Once you have signed up and chosen the marketplace, you'll be guided every step of the way. Printify simplifies and automates the process of sourcing and creating print-on-demand products at the best prices on the market. 
Step into the world of a modern, low-risk business model that doesn't require a physical store. The online store owner, in this case you, sells products but never actually handles the inventory themselves.  other people's products and keep the price difference that you yourself have set.
POD is a durable fulfillment process in which products are personalized and drop-shipped to customers only once a sale is made – your merchandise will never require management, storage, packaging, or shipping by you.
The best part is – it's so easy to start, and you can customize the products you sell, standing out from the crowd. How easy is it? It only takes five simple steps:
Step 1: Sign up for Free Account with Printify
Click here to start. Enter your email address and make a safe password. Then go to "My Account" and complete your profile with your personal details. You can also do this from your smart device.
Step 2: Explore the Printify site and catalog to design compact mirrors
In our catalog you'll find hundreds of items to work with. Type 'compact mirror' in the search window to find product details and start designing.
Step 3: Upload Designs to Compact Mirrors
Now that you've found compact mirrors, it's time to upload your custom artwork. To make things easier for you, here's a video you can watch.
If you don't feel like much of a designer, you've got many other options to choose from: 
Step 4: Integrate your Printify Account with an Online Marketplace
When you're done designing your compact mirrors, editing the product details, and reviewing product mockups, it's time to start selling. Now is when you create an eCommerce store. Printifty offers smooth and easy integration with some of the most popular online marketplaces and eCommerce platforms like Etsy, Shopify, BigCommerce, WooCommerce, and others. For a more custom experience, we also offer the Printify API. 
To see how simple it is to connect an Etsy store to your Printify account, see this video:
Step 5: Publish those Creations Online
Now that you're all set, write descriptions using popular keywords. You can also stick with the default descriptions, add the product and shipping prices, and publish the personalized compact mirror to your store.
Pro tip: Increase the product price and offer free shipping to better attract the right kind of customer.
Once you make your first sale, Printify will automatically receive the order. Then our print provider will print, package and ship the mirror directly to your customer. It's as simple as that!
Start your Business Today.