Looking for custom bottle openers no matter the occasion? Have an eCommerce brand, or are you interested in ordering personalized bottle openers as party gifts? We have the perfect accessories for your printed designs.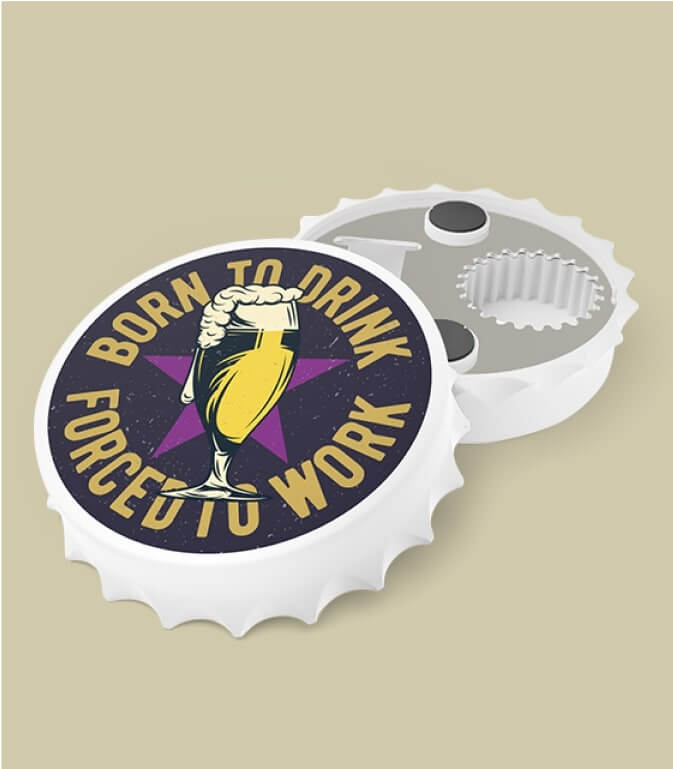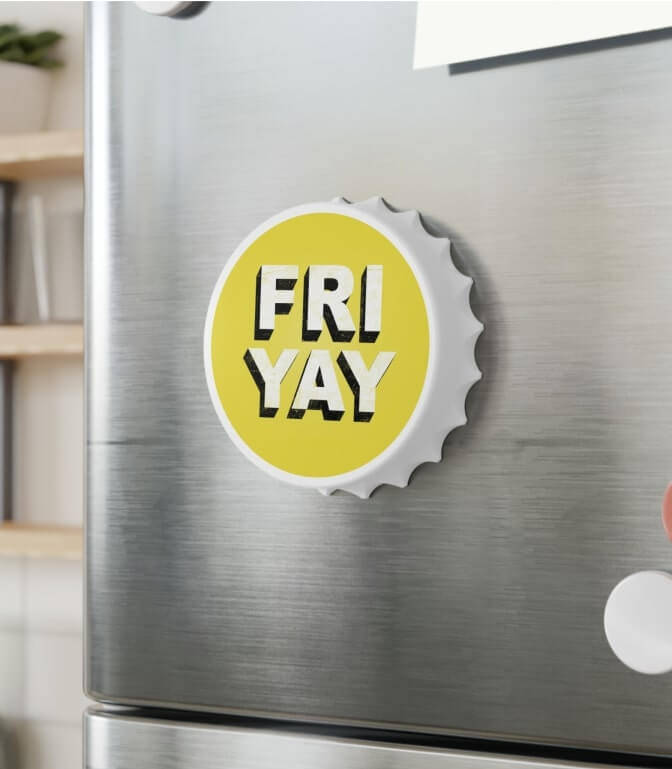 Start Your Business With Printify
Design a Custom Bottle Opener for Yourself or to Sell
Custom magnetic bottle openers offer plenty of design opportunities with a small yet detailed print surface in full-color variety.
Create personalized bottle openers for bartenders to remember their seasoned work, customers interested in sentimental bar accessories, or a little something for your own beer-loving needs.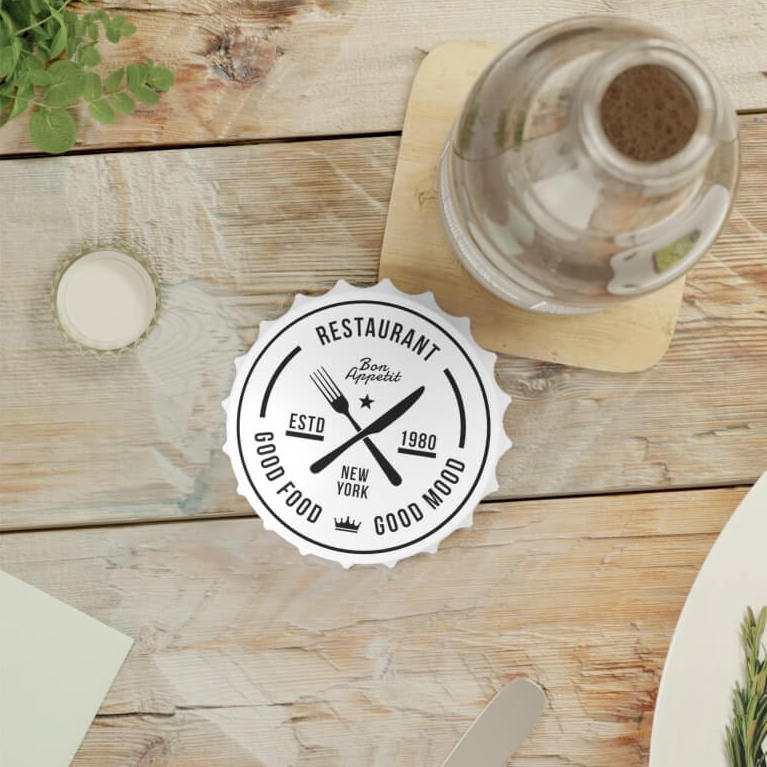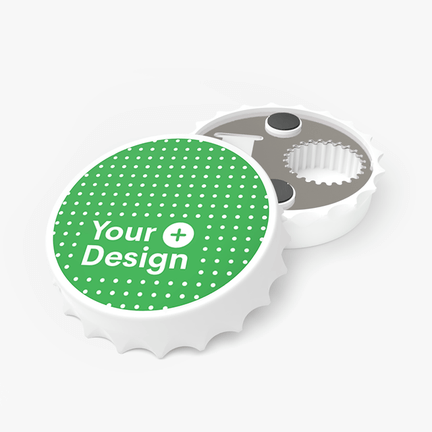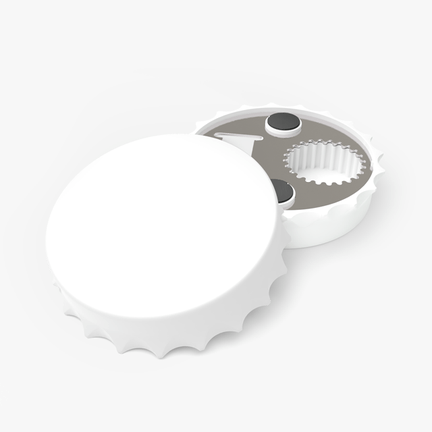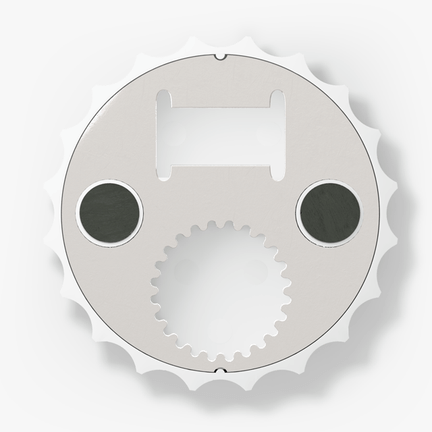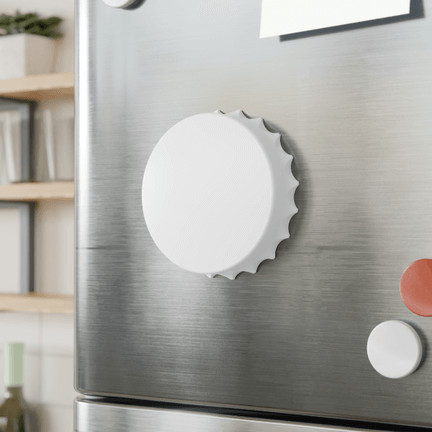 Our custom magnetic bottle opener offers a wide range of style features you can benefit from. The compact design resembles a bottle cap, making it a unique and attractive party item. The metallic surface is coated with a smooth matte finish with plenty of print space.
Access worldwide shipping and deliver personalized bottle openers for all occasions and customers. It's easy to use and tested durable through a multi-checkpoint quality control process.
A Personalized Bottle Opener With Any Custom Design
Try your hand at a custom design style that'll bring lots of attention, whether at a party, at bars or enjoying a beer at home. Check out our design tips for custom-made bottle openers.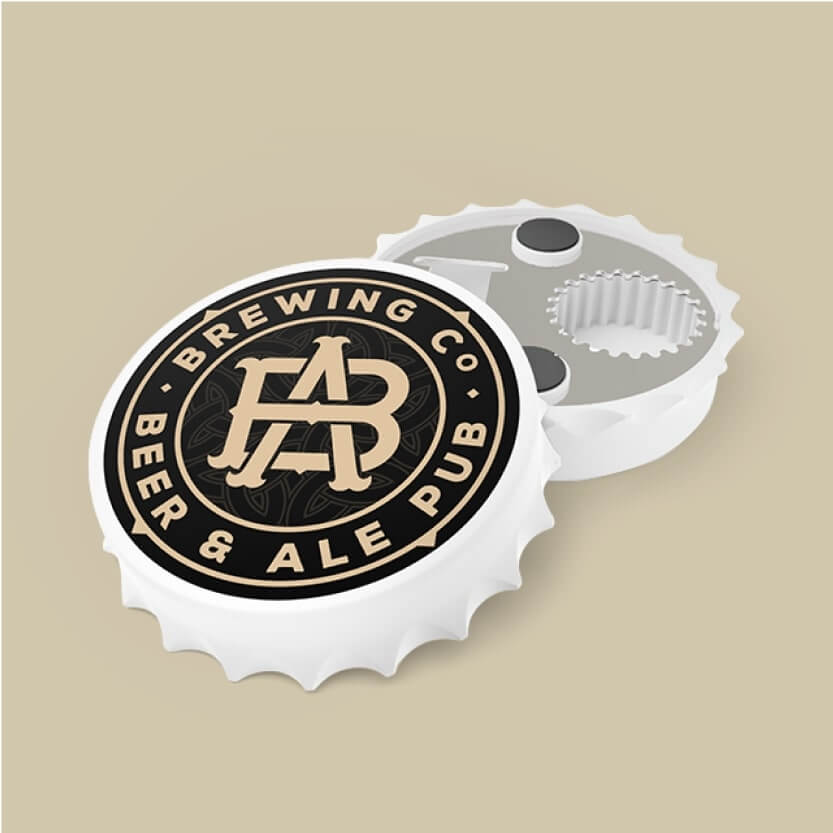 Promotional Bottle Openers
Personalize your promotional bottle openers with a business logo or brand imagery and create a special deal for your customer base or clients.
Custom bottle openers make handy gifts for gift bags at conventions or as added bonus products. Ordering bulk custom bottle openers is a great way to promote your business through passive exposure while keeping a light party tone.
Bottle Openers With Your Favorite Pictures
What better way to get an easy product design than with a valued and cherished photo, especially if it brings back fond memories with friends over a cold beer? Your design can be anything, no matter the need or recipient.
Design a personalized bottle opener by dragging and dropping an image from your device into our handy product Mockup Generator. Style a high-resolution image in the print area and order the first sample just for yourself.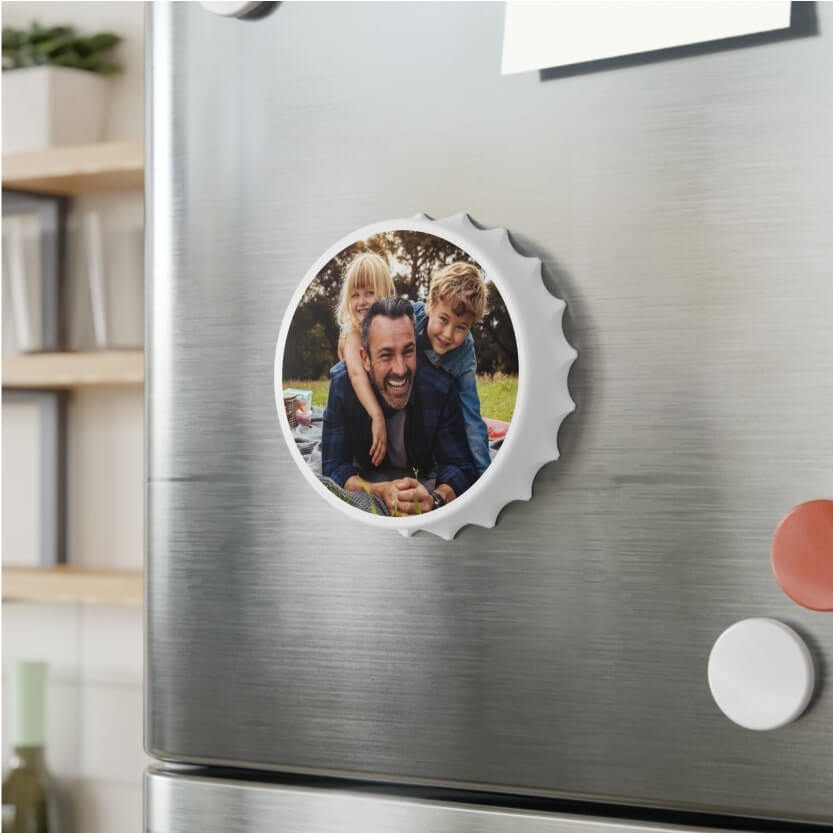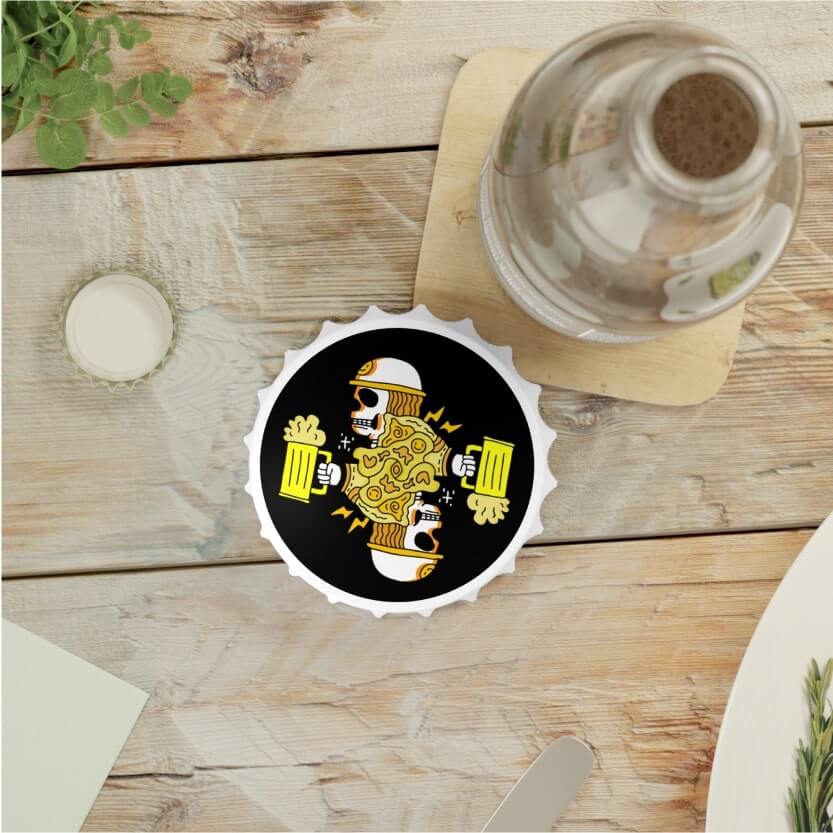 Illustrations Are Also Cool
Custom bottle openers with unique and visually appealing illustrations are sure to start a lively celebration, full of colors and a design straight from your imagination.
Use handy graphic design tools like Adobe Illustrator or free alternatives to create an image that fits the occasion. You can also look for royalty-free illustrations online, from stock photos to commissioned freelance artists.
Keep It Simple, Use Colors or Graphics
There's nothing wrong with a sleek and minimalist design with a colorful graphic that shines a light on your custom bottle openers with modern print techniques and vibrant colors.
You can style a perfect bottle opener with just a few colors, gradients, shapes, and patterns. Think of color theory, add a central element, or pursue a variety of unique patterns that create a busy design palette.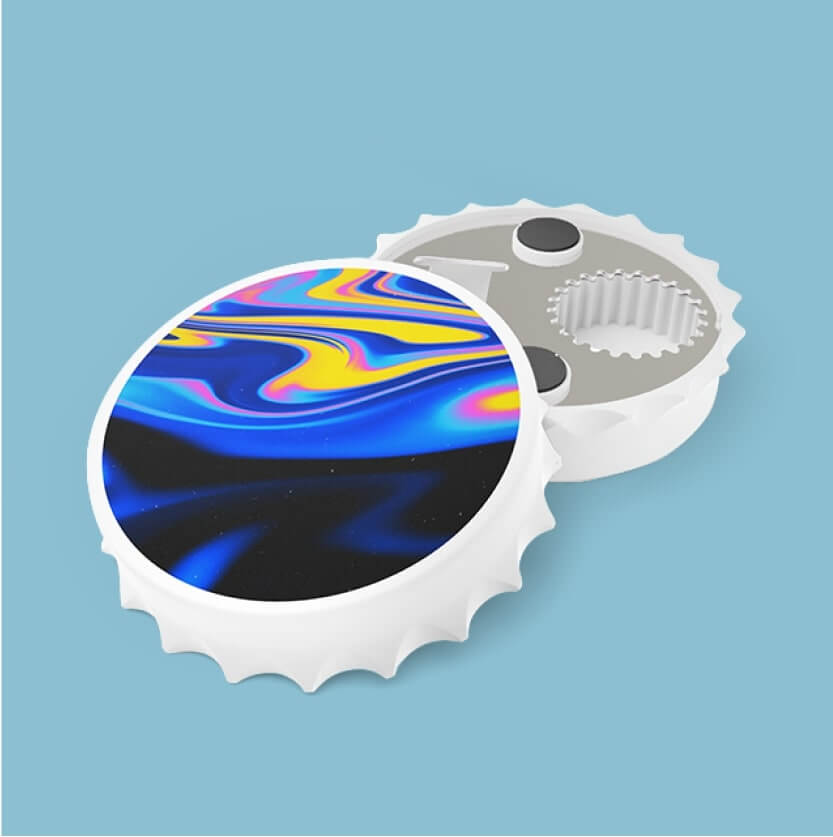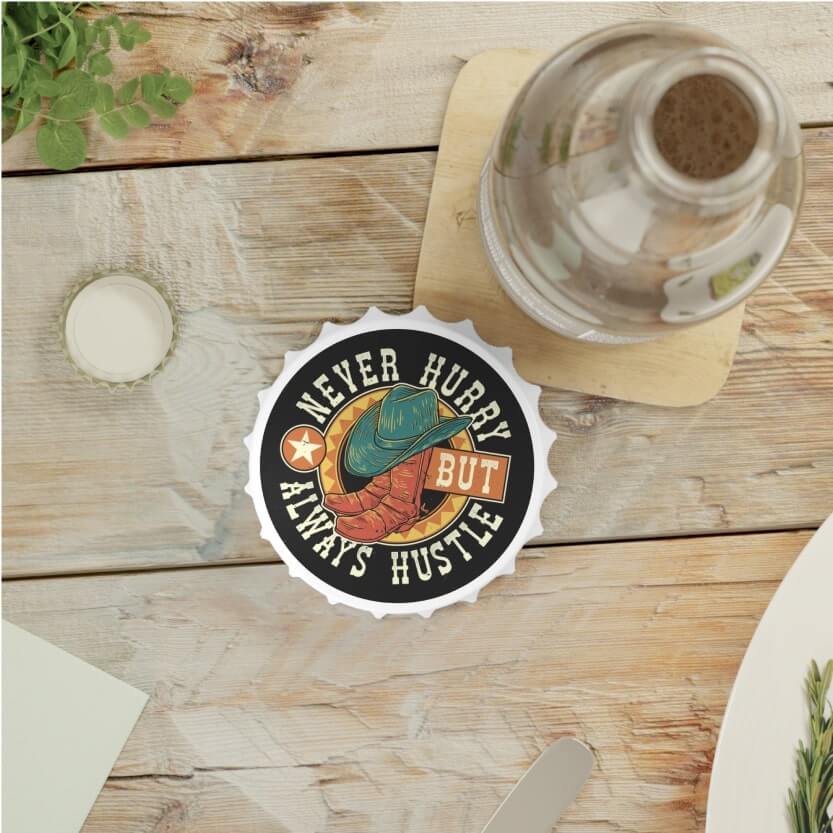 An unlimited number of slogans and quotes can turn any item into a rallying point to rile up a party occasion. Create a written crest in a circular design inspired by your favorite bottle caps or retro logos.
Printify's mockup software integrates a text design tool that lets you add any text with just a click of a button. Find a quote that makes everyone pass your personalized bottle openers in line like a sacred scroll imbued with the power to open a beverage.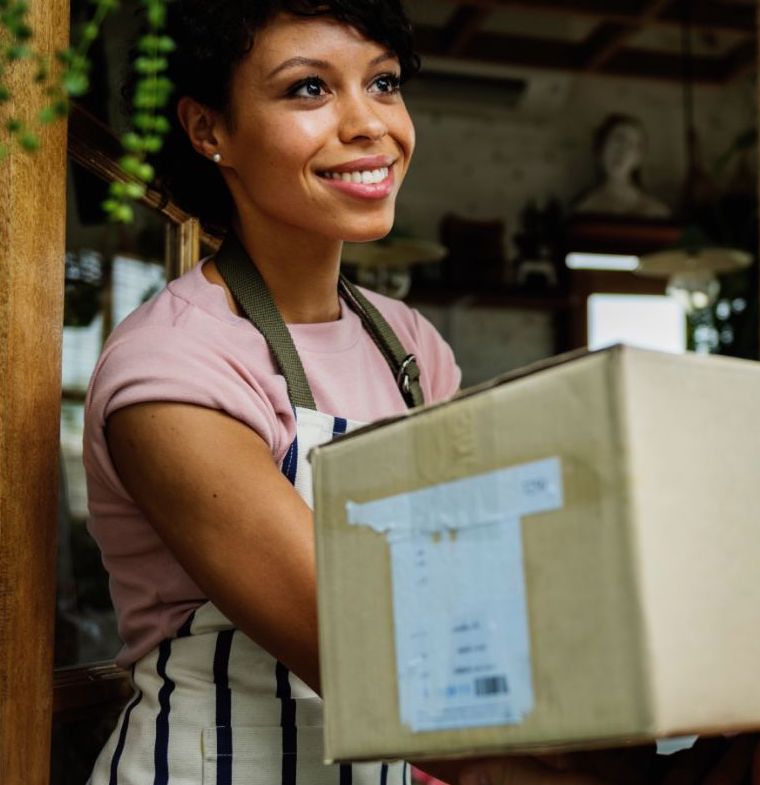 Custom Bottle Openers With No Minimum Order
Whether you want to expand your business catalog or share a new and handy item with friends, Printify maintains a generous zero minimum order policy.
Sell or order as many personalized bottle openers as you want without incurring small purchase fees or filling a bulk quantity order. All bespoke items are made on the spot with a print-on-demand production model specifically for your convenience. Keep your costs low and your wallet full.
Design and Sell Custom Bottle Openers With Printify
Ready to fulfill your order and make a listing of custom beer bottle openers? Expand your niche and develop a product that will produce consistent sales throughout the year, wherever a party is to be had. Create an account with Printify and make a product in just a few steps: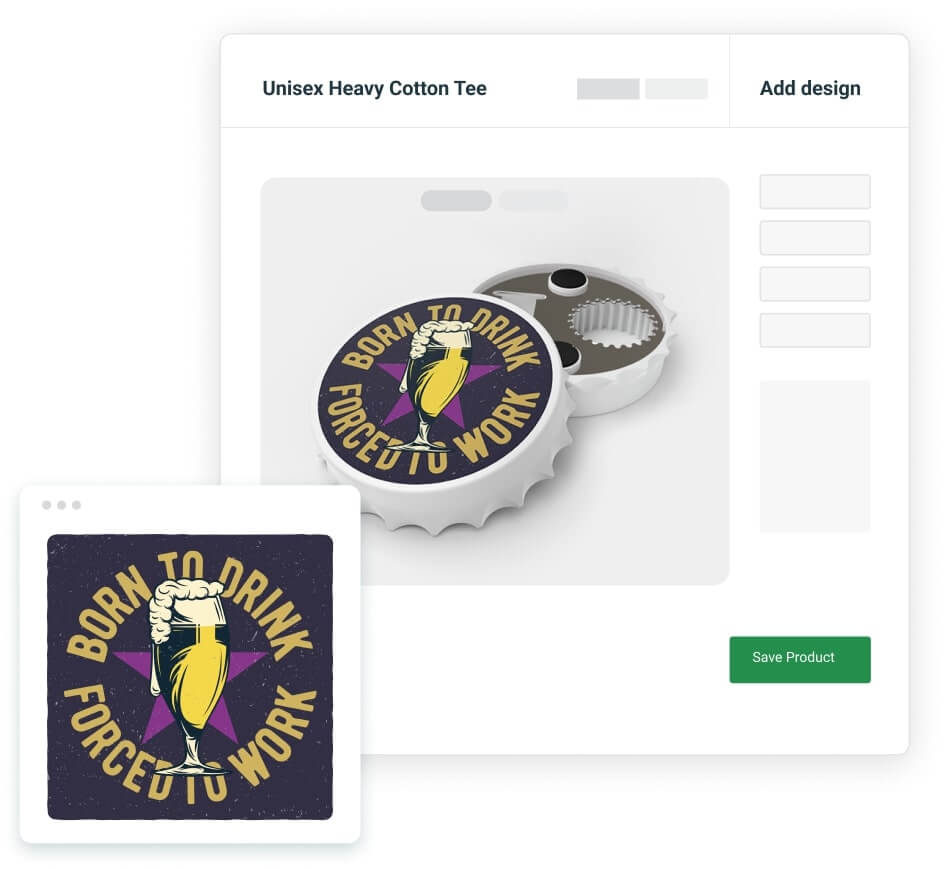 Enter the custom bottle opener product screen to view all manufacturing and print details, including the item's wholesale price and shipping options. Here, you'll find two buttons: More Details and Start Designing.
Click Start Designing to use the Mockup Generator. View the print area template, resolution requirements, and necessary file extensions before uploading your design. Upload, drag and drop your image, and check the products' preview tool to see the finished look.
Finally, click to save once you're satisfied with the custom bottle opener design. You'll be able to access your finished product in the My Products screen of your Printify profile.
Deciding where to sell can get tricky. You need to find the appropriate target audience, consider the variety of promoted products, and determine whether your brand can balance the competition.
Printify empowers merchants to choose an eCommerce platform or marketplace that fits their client's needs. Our platform has partnered integrations with some of the most popular sales channels available, including Etsy, eBay, Shopify, WooCommerce, and many more.
To enable a sales channel integration with Printify products, go to the upper dashboard of the website home screen, click on your profile, and choose to add a store. You'll be met with a list of integrations – select your store platform or marketplace host, and we'll integrate your store automatically.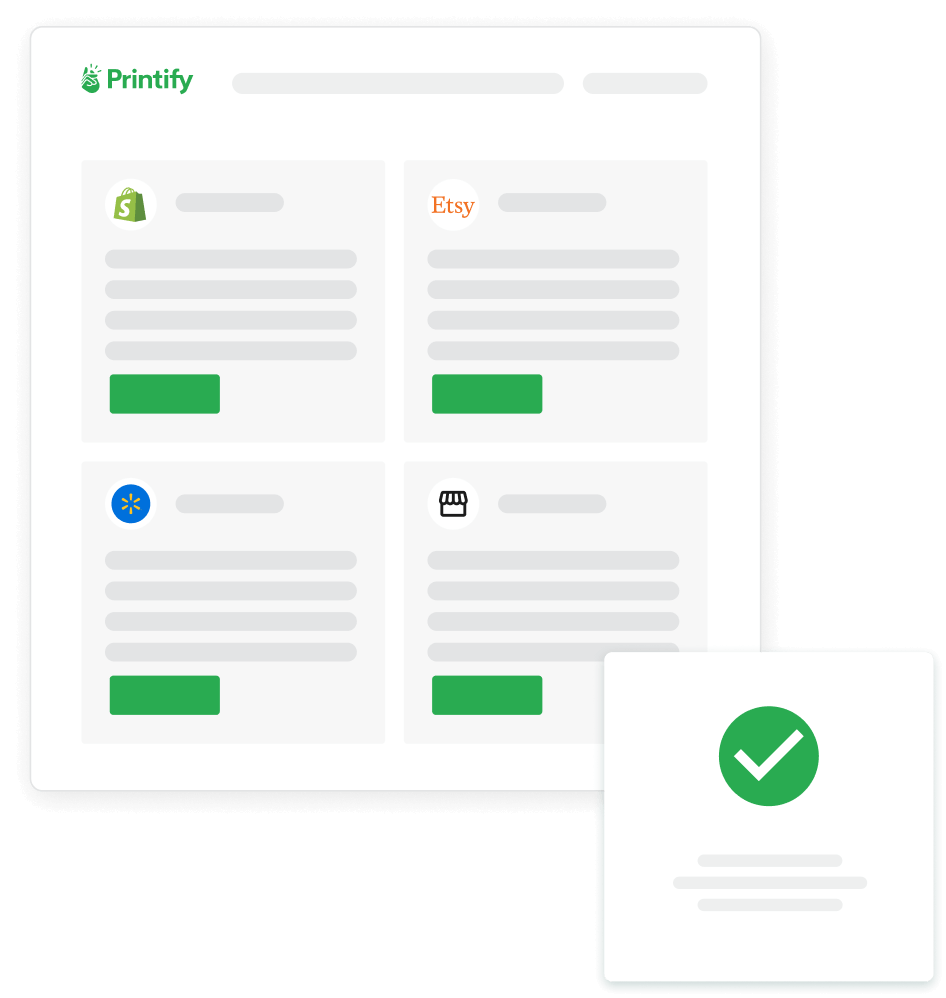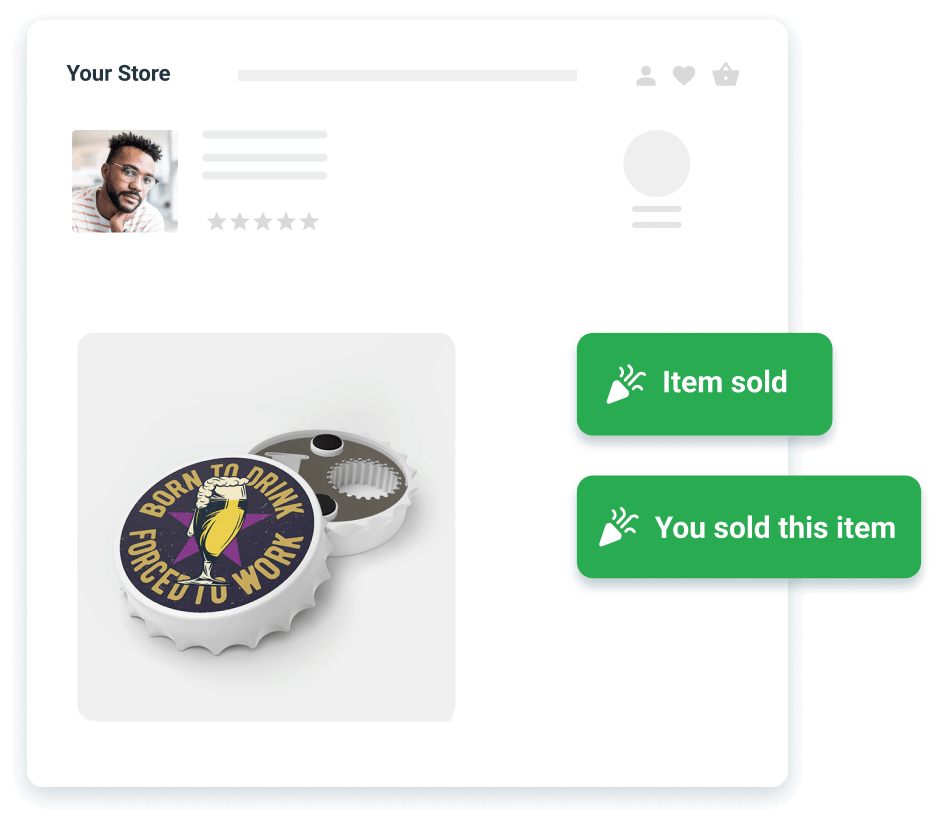 3. Let Printify Do the Rest
Once everything is set up, Printify oversees all order packaging, shipping, and delivery, so you don't have to.
Maintain a fully centralized sales model with Printify and have more control over product marketing, store layout, and creating a winning sales strategy – we'll take care of the rest.
Frequently Asked Questions
Make custom bottle openers with print on demand. Go to the Printify platform and explore our Catalog of white-label products to add your design – print and deliver with no minimum orders or hidden costs.
Design custom bottle openers with our easy-to-use Mockup Generator. Upload your image straight onto the product template and follow clear print and design requirements – order a sample straight from our website with transparent delivery estimates.
With Printify, you can always order a sample bottle opener for personal use or commercial testing. Make sure any promotional bottle openers fit your quality requirements, order samples for friends and family, and enjoy a truly bespoke design for any occasion.
Think of the possibilities you can unravel by creating a store for custom bottle openers as various gifts and opener types. Engage your customers or clients with a redefined essence of beer bottle opening. Get started with Printify today!