We Talk Designs for POD With Successful Indie Artist Jocelyn Ball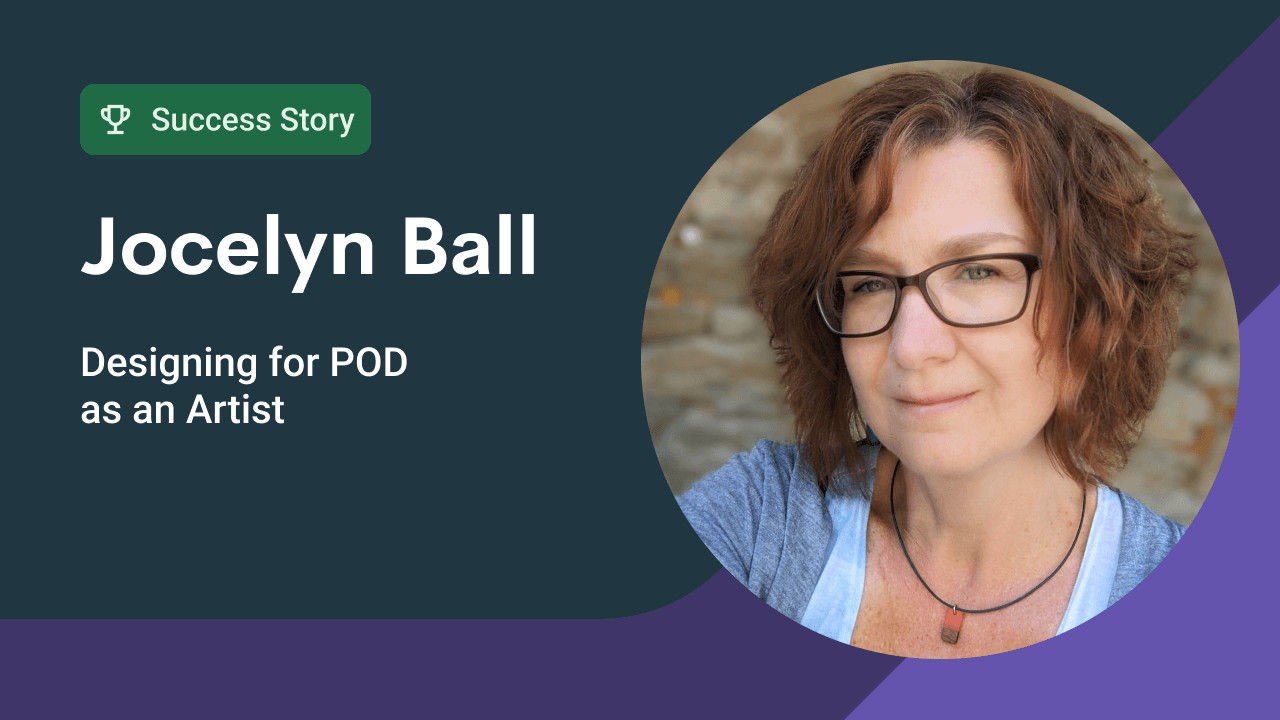 In today's Success Stories interview, we chat with artist Jocelyn Ball-Hansen from Owen Sound in Ontario, Canada. Jocelyn is a valued member of Printify's POD Rockstars Facebook Page and a very helpful and experienced Etsy seller who knows a thing or two about creating profitable designs for POD without stifling her creativity.
Jocelyn describes herself as a "creative and artistic person since early childhood" and a "visual artist, leaning towards traditional representational realism with a painterly approach." 
Her Etsy POD designs combine manual graphic design with her love of photography and feature dramatic contrasts, color combinations, and textures.
If you're an established artist trying to figure out how to use print-on-demand to your advantage, Jocelyn has plenty of tips and advice to help you overcome your fears.
It's Great to Catch Up With You, Jocelyn. Tell Us About Your Background.
In high school, I was part of a vocational art program. I actually switched schools so I would be able to take part in the course. After that, I spent four years at the Ontario College of Art, which was quite a difficult campus to get admission to.
I originally aimed to become an illustrator, but between 1988 to 1990, the industry changed dramatically. By the time I graduated, people were creating digital artwork using computers, so I went in a different direction. 
I've been selling my painting artwork since around 1993, including fine art pieces and around 30 commissioned portraits per year.
Did You Become a Full-Time Artist After Art School?
In the beginning, I worked part-time at a bank, so my art became a good side income, and at the same time, I didn't have to worry too much about earning my entire living from painting. 
I think a person's creativity can suffer if they're frantic to make money rather than simply allowing themselves to be an artist.
What Led to You to Print on Demand?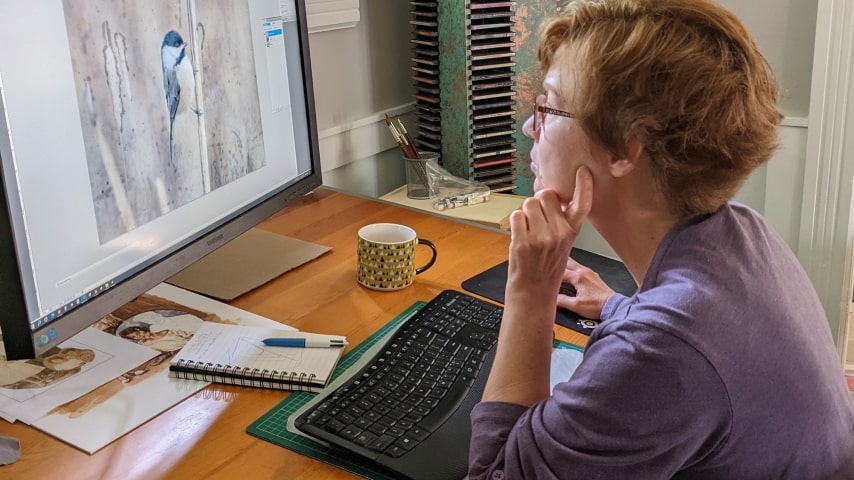 Back then, eBay had a section for independent artists, so I sold a fair amount of my work there. I moved towards print on demand around 2005 after seeing a business advert on a popular art forum. However, I ended up dumping the idea as the industry wasn't fully developed and was mostly business-to-business orientated.
In those days, print-on-demand was very limited. Creating posters and fine art prints was possible, but the clothing side wasn't very sophisticated. It was generally only possible to print very simple designs onto t-shirts, and all-over prints certainly weren't a thing.
Of course, back then, I also had the issue that my digital camera wasn't good enough to take high-quality images of my art to use as designs for POD. Eventually, with the help of my husband, who's also an artist, I learned how to use Photoshop. I could then separate my design work from my regular art and expand my business by creating things specifically for print-on-demand.
What Do You Love Most About POD?
I love that print-on-demand gives me lots of flexibility. If I don't feel like working on the computer or have a tight deadline on a commissioned portrait, I can let my business tick over in the background.
How Do Your Designs for POD Differ From Your More Traditional Pieces?
I often create specific backgrounds or bases that can be used as designs for POD shower curtains or other home decor items. I can also work with my own photography, hand editing, and combining images with abstract stuff like squeegee painting. I'll squeeze paint out and make individual pieces for a hand-done look completely different from everyone else's designs, using them as overlays for other graphical elements and things like that. 
Talk Us Through Your Design Process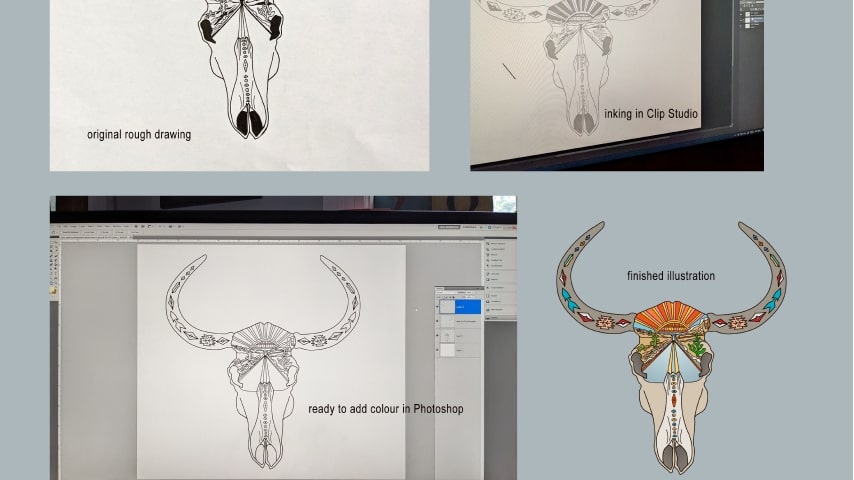 Although I sometimes start with a concept and create entirely digital designs for POD from scratch, I usually begin with a photograph I've already shot. Much of my design process is accidental, as you never know what will happen when you apply digital filters and things like that. 
Sometimes, I have a firm idea in my head of how I want something to look, but the end result is very different. As an artist, you must let things progress and be open to changing direction. 
How Do You Make Sure Your Designs Look Exactly How You Want Them?
If I want to know how several of my designs for POD will look on a new product, I'll sometimes create a single image that contains lots of little tiles, each with a separate mini version of one of my designs. That way, I can order a single product sample and check the print quality and color reproduction without ordering a different version for each design.  
Digital mockups often look different from the actual item. It takes a lot of experience and trial and error to understand what your designs will look like on the finished product. For example, you may have a design that looks great in neon green, but after ordering a sample, you might find that the printing process means that it's never going to look the way you imagined.
Do You Sell Your Designs on Etsy?
Yes, I returned to print on demand in 2012, resurrecting an old Etsy shop that had been lying dormant since 2008. Today, nearly everything in my Etsy shop is print-on-demand based, though I also have some digital files for sale. Having at least a couple of different mediums in a shop is important to bring in a larger and more varied audience.
Which Products Have Brought You the Most Success?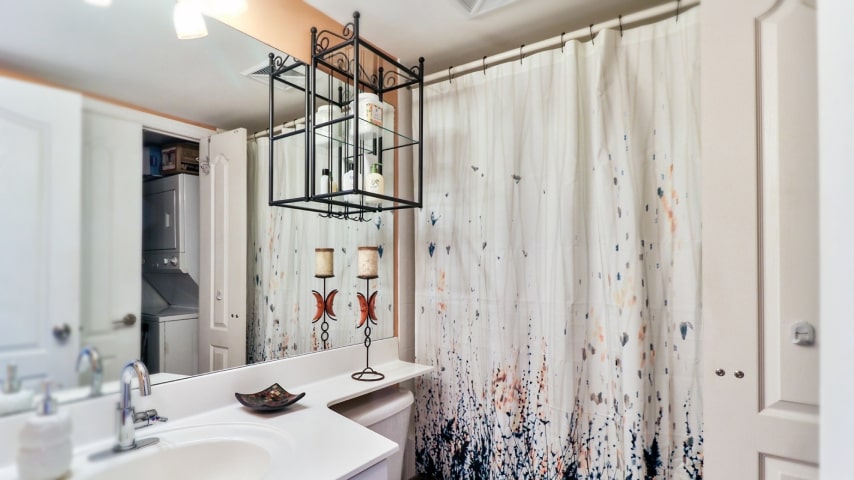 I seem to have the most success with home decor products. I'd love to sell more all-over-print clothing, but I think my style might be too bright and bold for most people to consider wearing.
What Appeals to You About the All-Over Prints?
As an artist, I like the idea of having a whole canvas to work with. It's much more exciting to me than POD designs from simple, flat PNG files. I've never been a real graphic designer, so although I'm happy to bring images into Photoshop and edit them, I'm probably not doing intricate enough work to really stand out in the broader t-shirt market.
Any Advice for Artists Who Are Afraid of Selling Out With POD?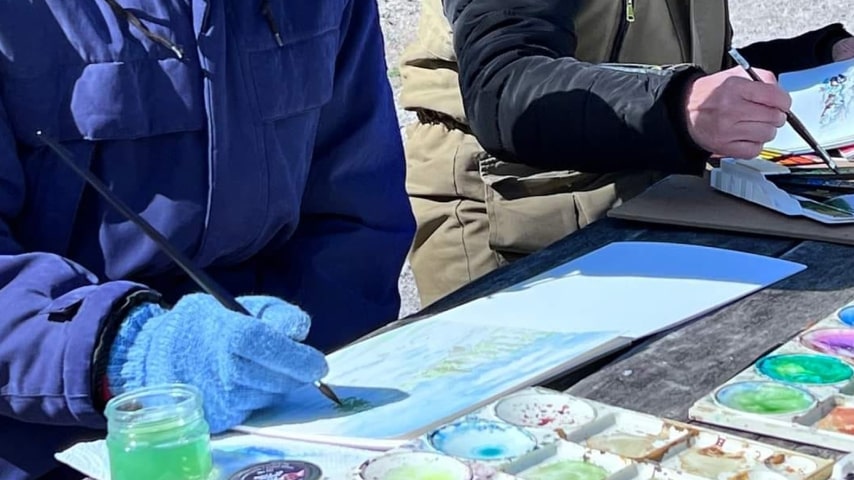 I don't research trends and am more inclined to create things to indulge myself. That probably makes me come across as more genuine, and a lot of my customers have commented that they love my creativity.
When people see something genuinely artistic, they're drawn to it and tend to love it. I would never deliberately research what's selling and try to create designs for POD to imitate it. That would be a real detriment to me rather than catering more to my inspirations and the things that I love.
Although I sometimes get a feeling that an item I have designed will be popular, most of the time, it's a genuine surprise. All of my designs start with an idea about what I could create from something I photographed or painted.
Are There Any Trends Artists Should Pay Particular Attention To?
Of course, it's essential to be aware of colors and things like that, but honing in on what will be popular will never be good for a person's creativity. I must say, though, that most artists are very aware of what kinds of images are timeless and which color palettes have fallen out of favor, for example. Constantly observing the outside world means that artists generally have a good understanding of trends.
Do You Have Any Tips for Listing Items on Etsy?
I know some people are against using only mockups to represent their items. Personally, I also like to take real pictures of some of my samples so that potential customers can see the pattern in more detail and the texture of the fabric. Obviously, you can't create unique mockups for every product in your shop unless you're willing to build a catalog very slowly from a small collection of items.
Have You Ever Considered Scaling Your Business to Be More Competitive?
I certainly wouldn't have the drive to run a print-on-demand business if I wasn't using my own creativity to make unique items. I have no desire to churn out designs for POD and simply stick them on t-shirts for a profit, as I'd feel more like a retailer than an artist. 
Sometimes I wish my art would thrill more people so that I could make as much as those big sellers, but if that happened, I'd probably no longer be creating the art I love. It can take years to build a business selling original pieces, but at least when I get a customer, I know they're buying something because they genuinely love it.
How Has Printify Helped You Make Money From Your Art?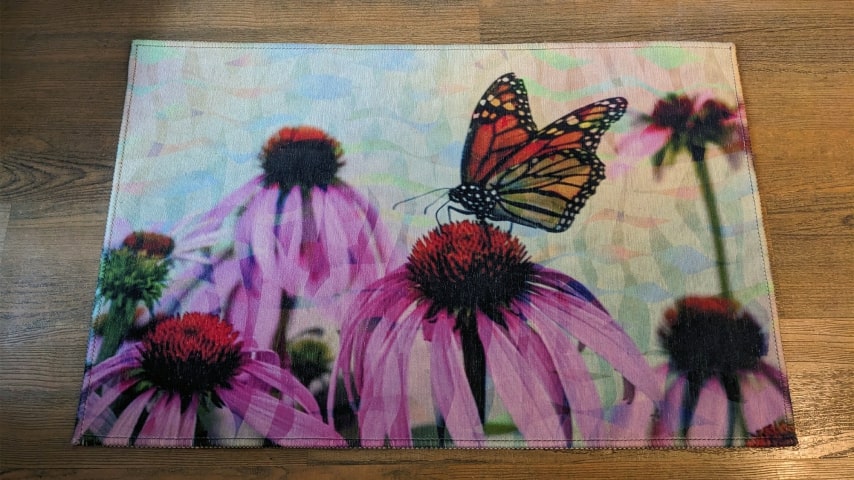 Printify's service has proved very trustworthy and transparent. I can find all the answers I need on the forums, and the customer service has been excellent. I also appreciate that Printify asks their sellers if things are working well and how the service could be improved.
Printify has given me access to printmakers and products I wouldn't usually have access to. Many big, high-quality printers only offer their services to businesses with large accounts. They only work wholesale and normally wouldn't entertain partnering with a small person requiring limited or individual print runs.
What Has Been the Biggest Challenge as a Print-On-Demand Seller?
I would say that shipping from different locations has been one of the biggest challenges, mainly in understanding how to handle returns. Sellers need to clarify that an item may ship from the USA, England, or somewhere in Asia and isn't necessarily coming from the home location of their shop, which in my case, is Canada.
I've already mentioned mockups, but due to the logistics of distance selling and the need to minimize returns, you need to make sure you have accurate representations of your products to show as much detail as possible.
And Finally, What's the Most Rewarding Aspect of Running a POD Business?
I love the idea of a buyer receiving my art and putting it in their newly renovated space. Many people send photos of my items in their homes, which is a joy. It's pretty isolating to create something yourself, so it's thrilling to see people from all over the place loving your art enough to buy it and then giving you positive feedback.
If Jocelyn's story has inspired you and you want to know more about her work, head over to her website at artworkbyjocelyn.com, or support her by visiting her Etsy shop and purchasing an original POD design.
Share the article
Topics