From Learning to Paint at 40, to TikTok Fame at 72, Artist Loretta Owens is a Marvel to Us All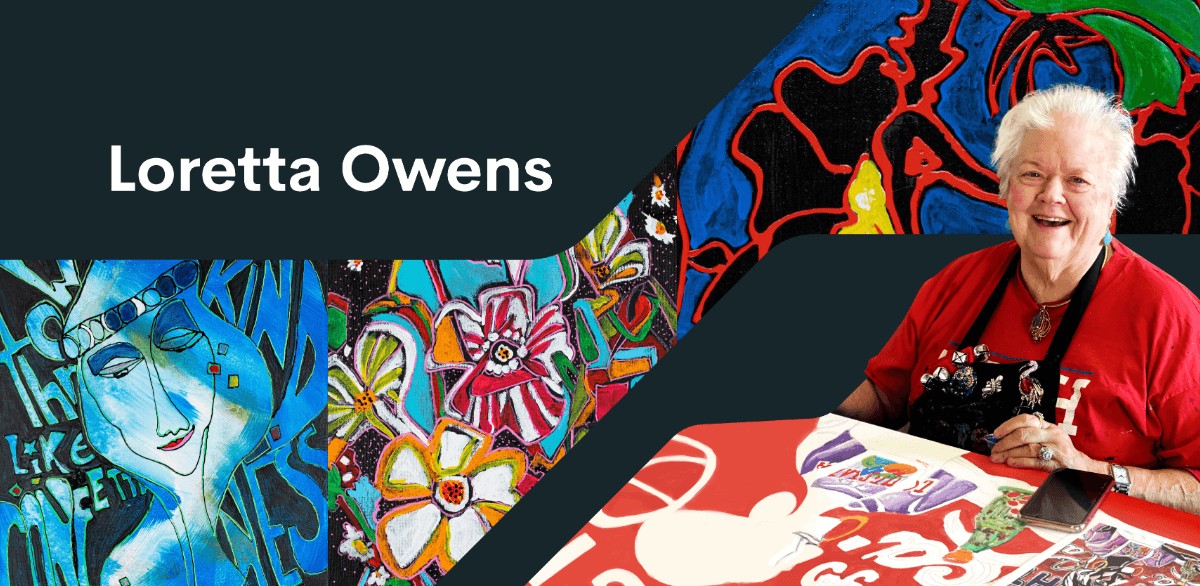 They say life begins at forty. It certainly seems that way for artist and overnight TikTok sensation Loretta Owens.
Loretta, 72, didn't take up painting until she was 40 years old. Since then, she's spent the last three decades building an extensive portfolio. But until now, her work remained under the radar. That's until the day she went viral on a friend's TikTok video.
As a self-proclaimed 'tech dinosaur,' Loretta has her friend and fellow artist Amy Bernard to thank for her rise to internet fame. Amy has been photographing Loretta's paintings and recently set up her Etsy store, LorettaShadowArt.
In this interview, we caught up with both Loretta and Amy to talk about painting, print-on-demand, and of course, her overnight internet fame.
How Did You Two Become Such Good Friends?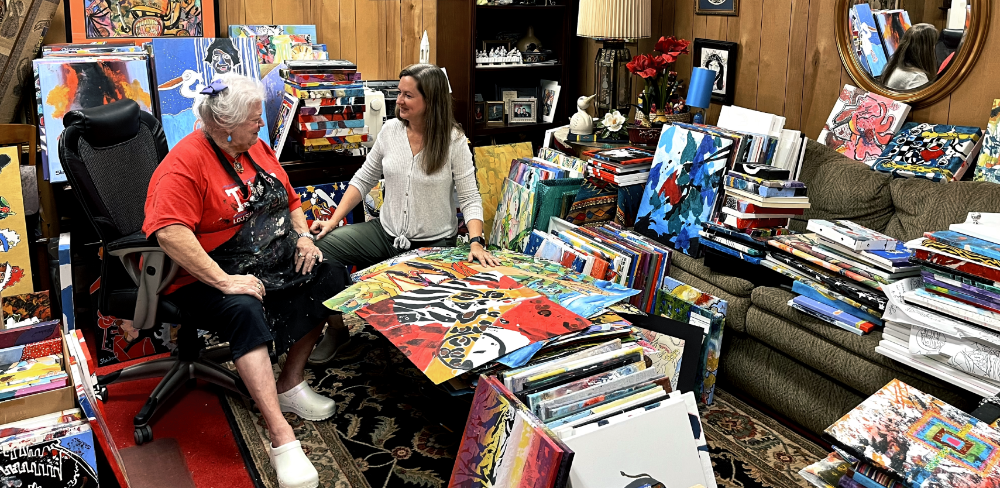 Amy: "Loretta has deep roots here in Ruston, Louisiana. Her family used to run a local Coca-Cola bottling plant, while I came here 32 years ago to attend school at Louisiana Tech. But my husband and I ended up staying till now.
I'm an artist on the side, not a full-time one like Loretta. I used to take classes and paint with her once in a while. I quickly noticed how much art was in her studio and her incredible style. It's a kind of funky folk art and very different from what people in our small town hang on their walls. So one day, I offered to help Loretta sell some of her stuff."
Loretta's art is striking, and the painter's massive collection of work sets her apart from other artists. Add that to her amazing studio, and it's no wonder she got noticed on TikTok.
Loretta: "I have a wonderful space to work. The building is maybe 60x100ft. That makes it much easier for me, as I can spread out and work on more than one thing at a time."
Loretta's studio used to be a feed and farming supply store that she owned with her husband. The business closed down twenty years ago and has been Loretta's studio ever since.
Loretta, You Started Late as an Artist. How Did Your Journey Begin?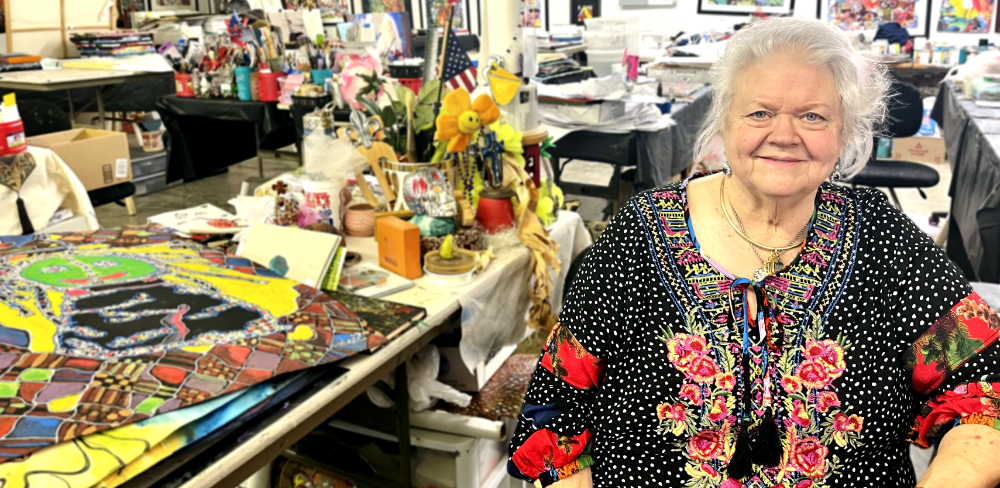 Loretta: "I met a local artist, Douglas Walton, at a Chamber of Commerce banquet evening. I was amazed that we had an artist speaking at such an event. And as luck would have it, we ended up sitting at the same table.
What intrigued me the most was his philosophy about not being able to believe in someone until you believe in yourself. Everything he was saying resonated with me, so I told him that I didn't like the way I drew. He told me he could teach me to draw in an hour. I thought he'd set himself up for the challenge of his life, but he actually did it."
Loretta took several art classes over the years, but raising four children made it difficult to find the time to paint regularly. Eventually, she set up her studio at the family's feed store business, and the rest is history.
Amy: "I'm currently organizing all of Loretta's work and getting it under control, as it's getting pretty full in the studio. I've photographed 75 paintings so far, but that's only about 3% of her current inventory."
By the end of August this year, Amy had persuaded Loretta to meet for two hours every week to build a website. That was when the idea for a TikTok video came about.
Amy, Tell Us About You Going Viral and the Launch of Loretta's Store?
Amy: "When I had the idea for the store, one of the things on my list was a TikTok video. I wanted to make something quick to try and get the word out. The first night that we posted the video, we started getting a lot of hits on it. Later on, I said to myself, 'my goodness, this is a lot of hits.' Soon enough, we were at a million views and thousands of likes!
People started commenting on the video and asking if they could buy Loretta's artwork. My son and I stayed up all night building an Etsy store and hooking it up to Printify. We probably had about 200 canvases and 20 original paintings on order when we launched the next day.
Everything happened so fast. We didn't even get the chance to order samples to check the quality of the canvas prints. It's all been a little nerve-wracking, to be honest. But we finally did and everything has been a whirlwind ever since."
Loretta, How Have You Found Being an Overnight TikTok Sensation?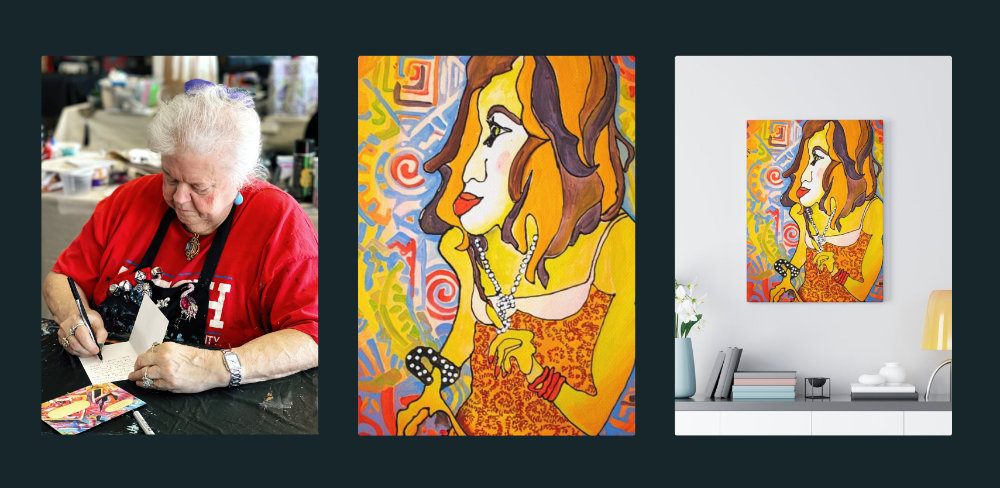 Loretta: "I guess one of the main things for me is to find other people that enjoy my work. Seeing the comments that people leave for me is unbelievable. I'm such an old-fashioned person, so I never dreamed I'd be on something like TikTok or have an online store. Mind you, I still keep things old-fashioned by including a written thank you note in every order."
"Loretta has written over 300 Thank You notes so far and claims it's the only part of the sales process she can do well. Luckily, she has Amy to run the entire back end of the online business."
Amy, Do You Have Any Experience in Marketing or Print-On-Demand?
Amy: "My background is in retail. I've had a wholesale company for around 22 years now. I'm very used to designing products and ordering stock and taking care of shipping.
I'm fascinated by print-on-demand because we often order products from China. They have huge minimum runs of 500,000 pieces, so you can get stuck with a lot of inventory if something doesn't work. I've always been keen to reduce inventory and have less cash tied up in my business. That's why print-on-demand caught my attention. You can design as many products as you like, and they aren't made until they're sold."
So You'd Say Printify Is a Good Fit for Artists in General?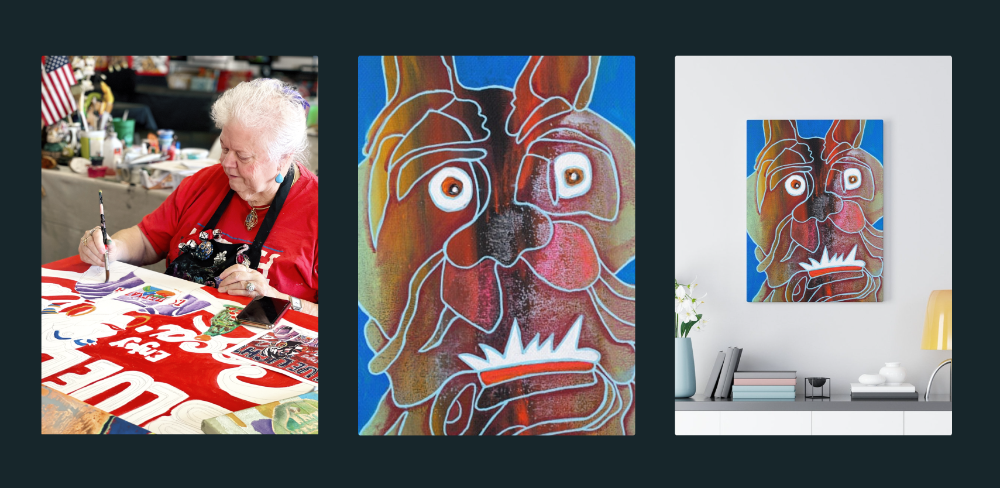 Amy: "Loretta sold her art at fairs using lithographic prints, having fifty left over at the end. That can be a big waste of money, plus it's hard to know what will sell at any one time or what kind of art is currently in fashion. Print-on-demand allows you to try out everything from shower curtains to coasters without having to buy the items upfront."
Loretta: "It's tricky to know what to print if you're using lithographs. There have been a lot of things I've personally loved that haven't sold that well. I've wound up with a lot of inventory that I've had to make sure doesn't get wet or damaged."
Amy: "This is exactly what I meant about print-on-demand being such a good business model. It allows the average person to run a business from their apartment or even while living in a van. You can sell straight to consumers with zero stock. Being able to hook everything up to Etsy and create a passive income is a game-changer."
It Sounds Like You Have Found a Great Working Rhythm. How Has Your Relationship Grown?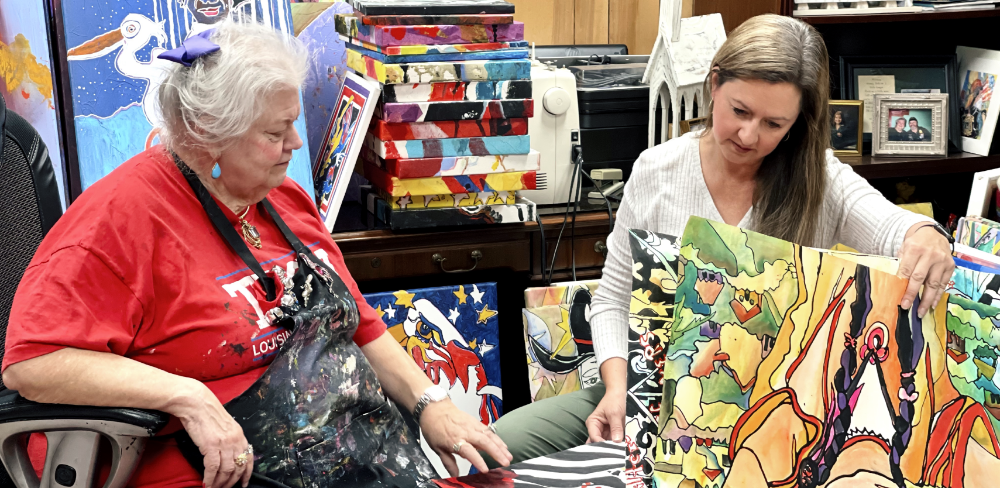 Loretta: "It's been a real privilege to be around Amy and her family. Her two sons are very computer savvy, and they help me out from time to time. Amy's husband has been one of my biggest cheerleaders. He once told me my paintings have something that people can sink their teeth into. I've thought about that comment a lot and found it such a compliment. I always try to paint things that bring joy and inspire people to go beyond, so that was amazing to hear."
Amy: "It's been a pleasure for sure. We've painted together over the years, and I've found Loretta to be such a precious person. Her nature and personality attract a lot of people towards her. She has a wide circle of friends and people that are willing to volunteer and come to her aid."
All This Begs the Question, What Happens When the TikTok Hype Dies Down?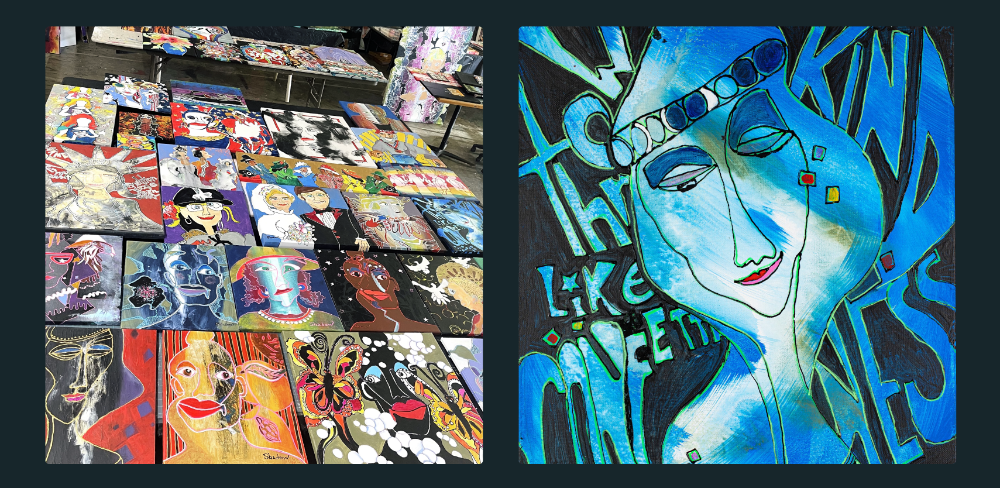 What does Amy see in the future for Loretta's work, and how will she continue to market it to a broader audience?
Amy: "We don't have a definite plan. We've been taking it day by day. We've been so taken aback by what has happened. At the moment, we're just trying to manage everything. We want to build sustainably so that we can handle the rapid growth. Loretta's warehouse is an ample space with a lot of money and upkeep required to keep it going. We're starting to look at ways to use the space better, such as bringing in art teachers from around the local area.
With the internet today, there's a lot of opportunity and plenty of ways that we could showcase Loretta's art. We're going to see what suits the situation best. We're building an email list of people that have bought two or more original paintings, as Loretta is already developing a list of collectors. We just need to make sure everything is slow and sustainable."
And Finally, Loretta, What Would You Tell Other Artists Wondering How to Start a Similar Journey?
Loretta: "I'd say the most important thing is to keep your eye on the process rather than the end product. I've always been blessed that I've been able to produce something on my own without necessarily thinking about whether I'd be able to sell them or not.
I've had people contact me from all around the world and across the United States. There's no way on planet earth that I could have gotten this exposure on social media by exhibiting in a gallery. It kind of tickles me how God works. He uses the most unlikely people in the most unlikely ways to help people become who he wants them to be.
I'm just an unknown person from a small town in South Louisiana. To be embraced by people from so many places, and be able to get their feedback, is the thrill of a lifetime."
Don't miss out on Loretta's incredible journey. Support her art by shopping in her store Loretta Shadow Art this holiday season. Until then, we wish Amy and Loretta the best of luck and happy holidays to us all!
Create Your Own
Print on Demand Success!
Share the article
Topics