Personalized Gift Wrapping Paper: What Your Online Store Is Missing?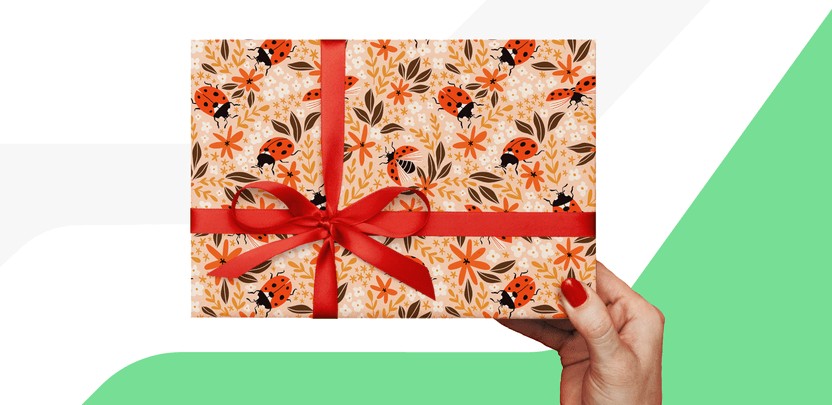 There's something wonderful about wrapping paper, wouldn't you agree? Receiving a gift is always great, of course, but when a gift arrives beautifully wrapped, it's an act of everyday magic.

Wrapping paper seems to give any gift extra-special status. Think about it: someone not only decided to get you something, but they also took the time to thoughtfully and prettily package it. What a beautiful thing to do for a loved one!
Selling Personalized Gift Wrapping Paper
Wrapping paper adds to a sense of occasion, which is probably why it's become such a central part of modern celebrations. Its cultural importance is reflected in the market.
Amazingly, gift wrapping products account for over 15 billion dollars of global spending in a year. As much as half of all the paper products consumed by people in the USA consist of wrapping paper too. Clearly, the demand is enormous.
That means there's an opportunity to make your own wrapping paper and make money on this product . If you've ever wished you could sell print on demand wrapping paper, here's some good news! Now you can.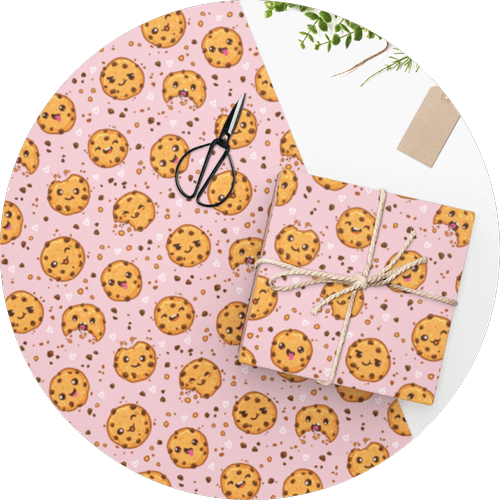 Check Out Our Gift Wrapping Paper!
Printify empowers people like you to start an online business selling custom products, and wrapping paper is proving to be a popular option all year round. It makes the process of personalized gift wrapping printing easy.
Because it's so culturally significant, many of us have special memories involving wrapping paper. Like moments spent looking longingly at all the gorgeous gifts gathered under the Christmas tree… It was so fun to imagine what the strange shapes could possibly be!
Whether you're someone who tears away the gift wrap like an excited kid, desperate to get to your present as quickly as possible, or a careful unwrapper who takes their time and preserves their fancy packaging — you can't deny that wrapping paper adds to the gifting experience.

That's why people now look for more unique designs in their personalized gift wrapping paper. You could be the one to provide them.
3 Reasons to Start Selling Personalized Gift Wrapping Paper
1. Normal wrapping paper can be found in stores, but personalized wrapping paper is something special. It gives an already popular product extra appeal.

2. Wrapping paper offers an ideal canvas for all kinds of designs! As a seller, you have plenty of scope to get creative and cater to your customer.

3. Everyone uses wrapping paper regularly throughout the year. You could design personalized birthday gift wrapping paper or develop designs for different holidays in the calendar.
Personalized Birthday Wrapping Paper
Think of all the birthday presents you purchase in a year. Now consider how many your customers buy as a collective. That's a lot of potential to make a profit when you're selling birthday-themed gift wrap.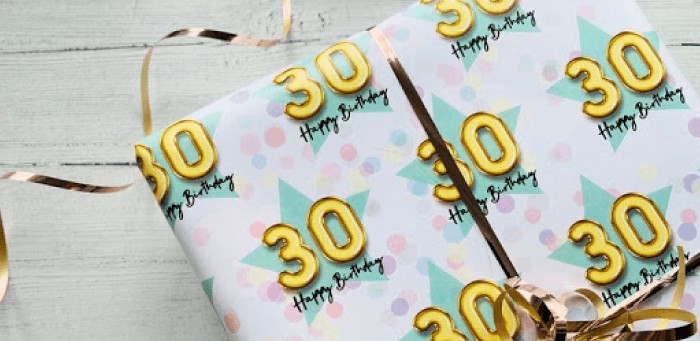 You could make your gift wrapping paper themed around milestone birthdays with slogans like "Happy 30th!" or even "50 and fabulous!" 
I don't know about you, but the first thing I think of when it comes to birthdays is cake. Maybe that could be part of a delicious design?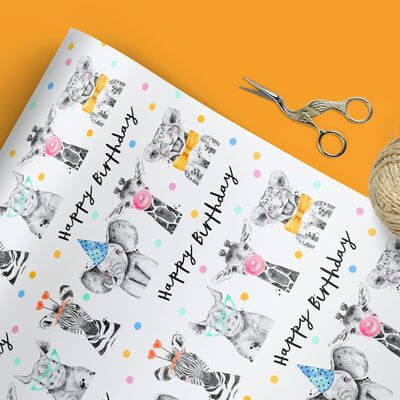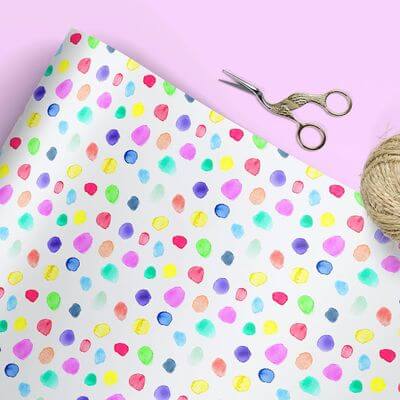 Personalized Baby Shower Wrapping Paper
The baby shower tradition originated in the USA, but now people all over the world hold gift-giving parties before the births of their babies. So what are the creative possibilities for baby shower-themed personalized gift wrapping paper?
You could stick to the traditional blue and pink options, but these days many people prefer a less conventional approach. That leaves plenty of space for sellers like you to design something eye-catching and innovative.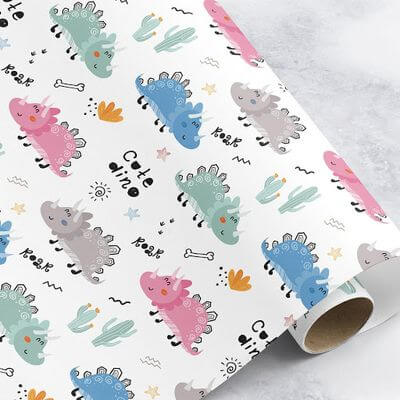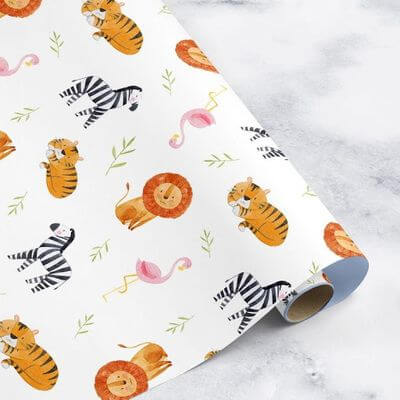 Christmas Gift Wrapping Paper
The typical Christmas colors are of course red, green, and gold, but you're not restricted to those in your wrapping paper design. You could create something totally unconventional, just to stand out from the crowd!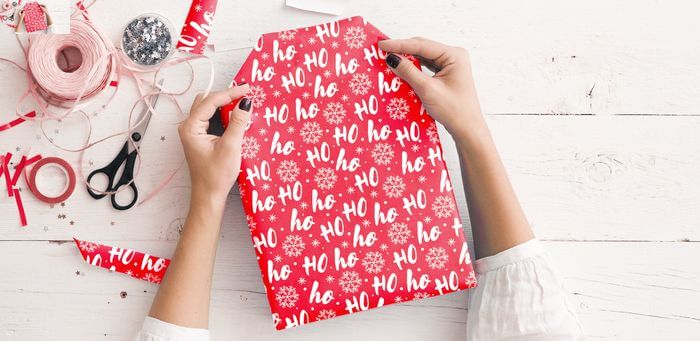 Valentine's Day Gift Wrapping Paper
Celebrating love is a great reason for gift-giving. It's also an opportunity to sell romance-inspired wrap.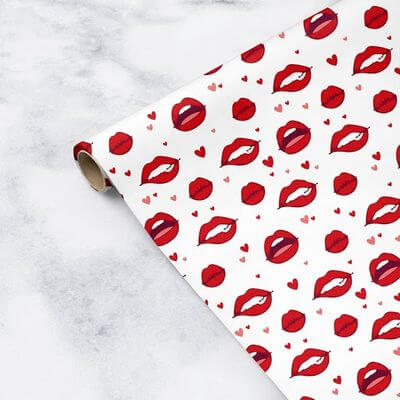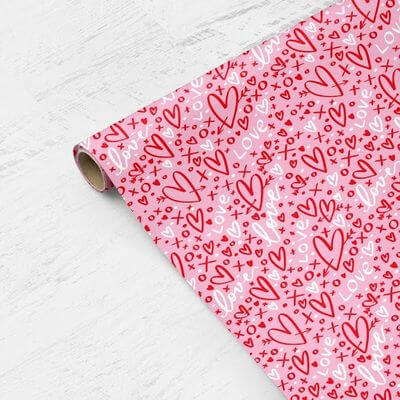 Sure, you could go with the typical hearts and flowers in your design — they're always going to be popular. Including puns or flirty cartoons on your personalized wrapping paper could bring a big smile to your customers' faces.
There's also a market for decadent designs. Couples that like the finer things in life would surely prefer to wrap their luxury treats with something chic. Ooh la la!
Sometimes giving a wedding gift can be a little boring. If the couple has created a wishlist at a registry, all the giver really does is hand over their credit card! However, they can still put their personal touch on a pre-chosen present.

How? By using beautiful and unusual personalized gift wrapping paper, of course! That's where your online store could come in handy. Since people get married all year round, you'll always find demand for wedding-themed gift wrap.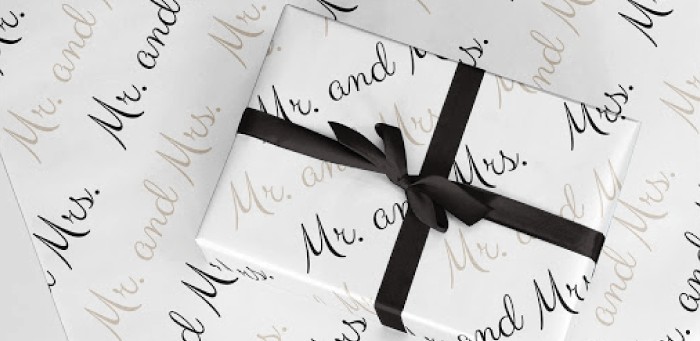 There are many iconic images associated with weddings. The ring, the dress, the wedding bells… Why not incorporate these visuals into your design? Or go for something totally wacky and unexpected, as this designer did with their dinosaur wedding day!
Anniversary Wrapping Paper
For special anniversaries, it's common to give a gift — especially if you've been invited to an anniversary party.

Remember, different anniversaries are represented by specific materials. You could get creative with that connection when you make your own design. A 50th anniversary is considered "gold," for example. Perfect color scheme inspiration!

Christmas and birthday paper can be found easily in stores, but personalized gift wrapping paper for anniversaries is a little more unusual. When it comes to selling, that's a potential gap in the market.
Personalized Gift Wrapping Paper Design Ideas for All Occasions
Of course, you don't have to theme your paper around a particular event. There are other trends to be inspired by when it comes to wrapping paper. Here are just a few that we've observed at Printify.
Are you a cat person, a dog person, or maybe even a chinchilla person? Your buyers' love for their furry friends could be reflected in their choice of wrapping paper — that's if you make your gift wrapping paper pet-inspired.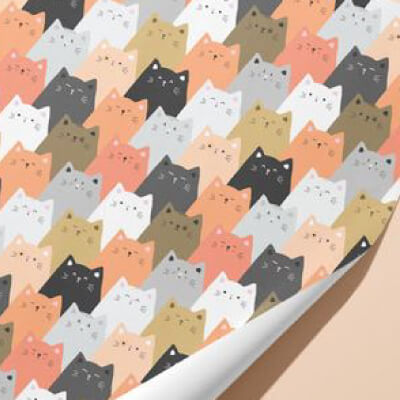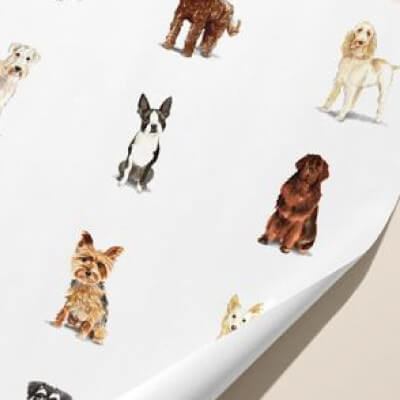 It's true; people are passionate about their plants! So take a leaf out of their book and design your personalized wrapping paper with a botanical theme. It pays to branch out with a creative, cultivated design.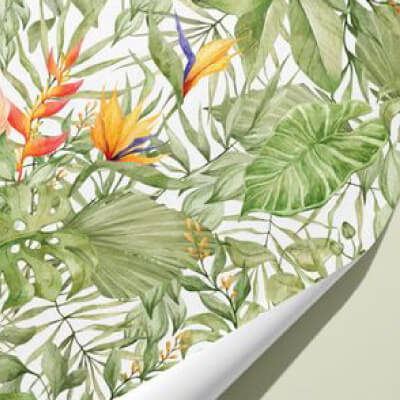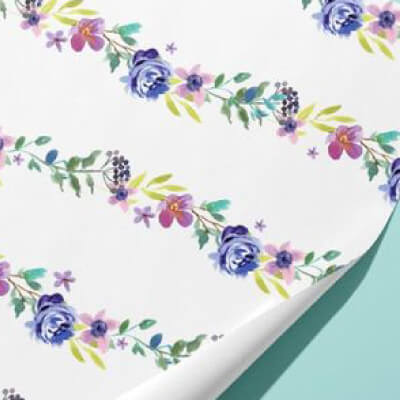 Whether it's the psychedelic visuals of the 60s or the disco prints of the 70s, retro aesthetics are definitely back in. Offbeat customers with a love for vintage looks will go gaga for groovy personalized gift wrapping paper rolls.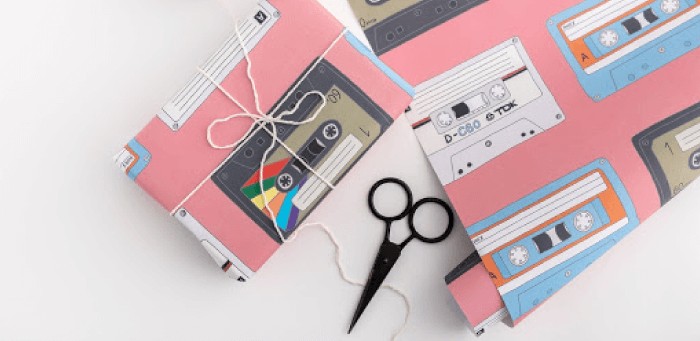 How to Start Selling Personalized Gift Wrapping Paper?
With Printify, it's incredibly easy to design your personalized gift wrapping paper and start selling. Use the intuitive design tool to finetune your product then add it directly to your online store.

The best part: you don't have to pay any costs upfront. You'll only pay the blank product cost and shipping after the sale is made. That means there's no financial risk in adding wrapping paper to your product line.

So what are you waiting for? This ever-popular item could be just what your online store is missing.
Create Your Personalized Gift Wrapping Paper!
Share the article
Topics