Meet Singer-Songwriter Arielle, the Analog Girl in a Digital World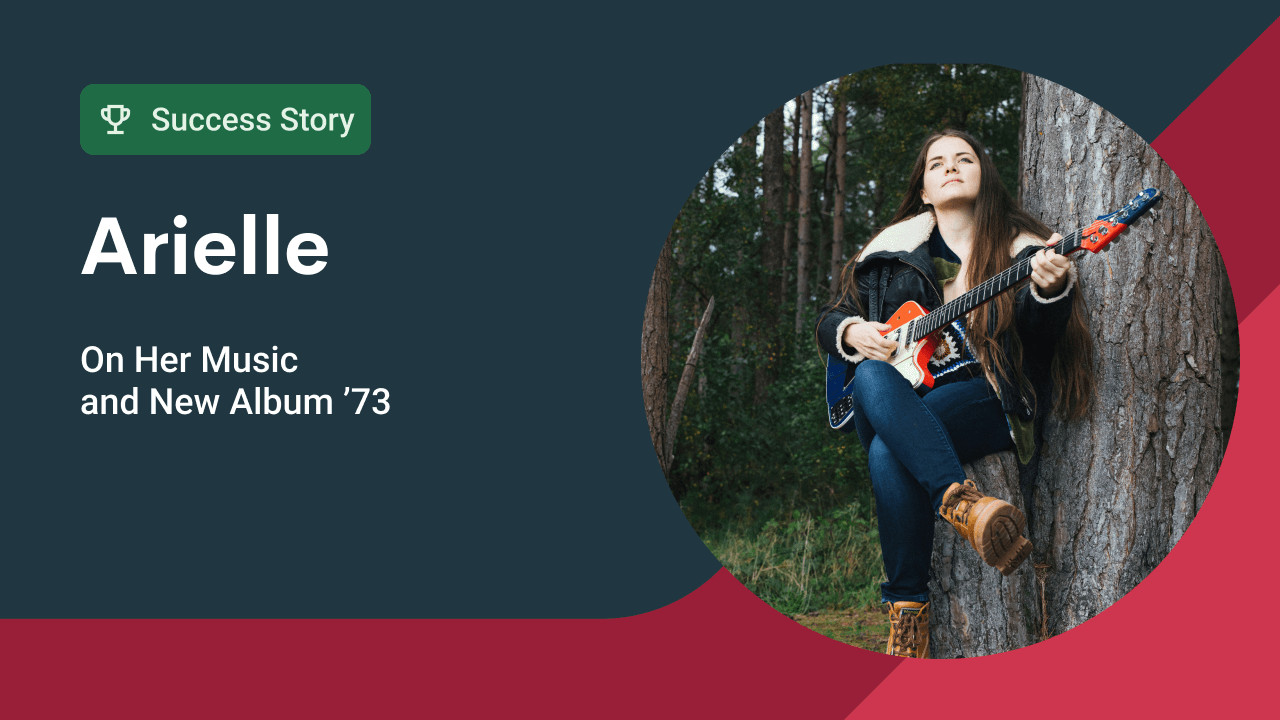 This edition of our Success Stories series is a very special one, as we catch up with Arielle, an independent singer-songwriter using Printify's platform to create custom merch for her fans. Her merchandise creates a unique relationship with her audience, and with the last album being crowd-funded, a welcome source of income.
Arielle, a childhood musical prodigy, had already worked alongside several legendary musicians by her early twenties and has since built a career as a formidable solo artist. 
The self-proclaimed "analog girl" might be a child of the nineties, but Arielle's soul belongs in the golden era of rock that reached its height during the early 1970s. In this interview, we sat down to chat about her upcoming new album, an enviable collaboration with one of rock's greatest guitarists, and of course, print-on-demand merch.
Natural Talent and a Chance Meeting
Born in New Jersey and raised in California and Hawaii, Arielle's musical journey began at a very young age. After being handed her first guitar at ten, she eventually gained a degree from the Musician's Institute in Los Angeles and continued her education at London's Institute of Contemporary Music Performance.
"I graduated early at 16, and I stayed in Hollywood for the first couple of years. Eventually, I moved to London because, during that period, I loved the band Queen so much. I'd always been inspired by guitar players like Jimi Hendrix, BB King, and Dave Gilmore, but for me, Brian May from Queen was just the coolest guy." 
As luck would have it, Arielle met Brain May at a book signing event just before she moved to London. The pair struck up a conversation, and after she impressed the guitarist with her skills, he invited her to an audition for the We Will Rock You musical tour.
Arielle would eventually go on to form a very special collaboration with Brian May, but in the meantime, she managed to make a name for herself playing alongside the likes of Cee Lo Green, Joan Jett, and many other famous musicians, before eventually forging her own path as a solo artist.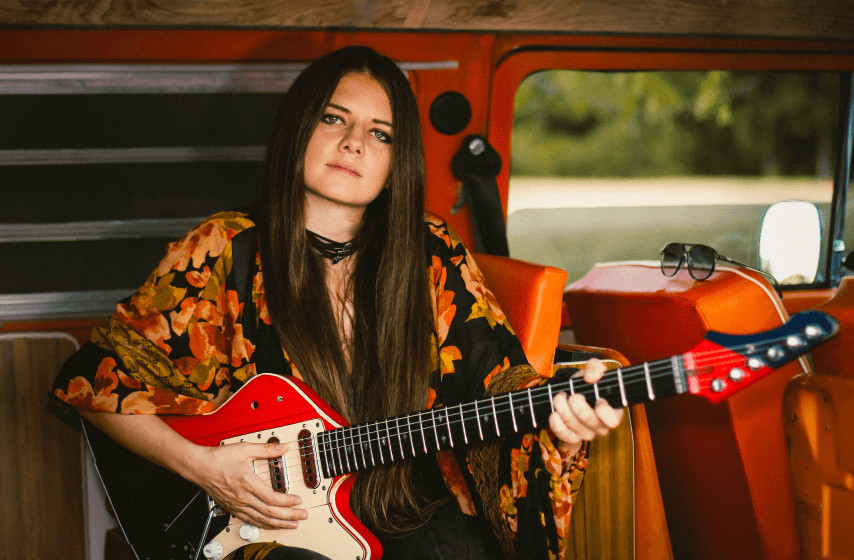 During our chat with Arielle, the subject quickly changed to merchandise and, more specifically, how the independent artist uses print-on-demand to create her own apparel for her online store. 
"I've really loved working with Printify. I'm a person that likes to have lots of options, and I always ask my Facebook group of 6,000 followers what types of merchandise they would prefer. I'll experiment with hoodies, sweatshirts, and different colors of t-shirts. Partly it's because I get bored, but I also want to ensure that people enjoy what I'm offering.
"Printify's platform has allowed me to experiment with different garments and designs without having to order in bulk. When I'm on the road, it would be really difficult to organize the merchandise side of things, and even ordering the right amounts of each size would take a lot of guesswork.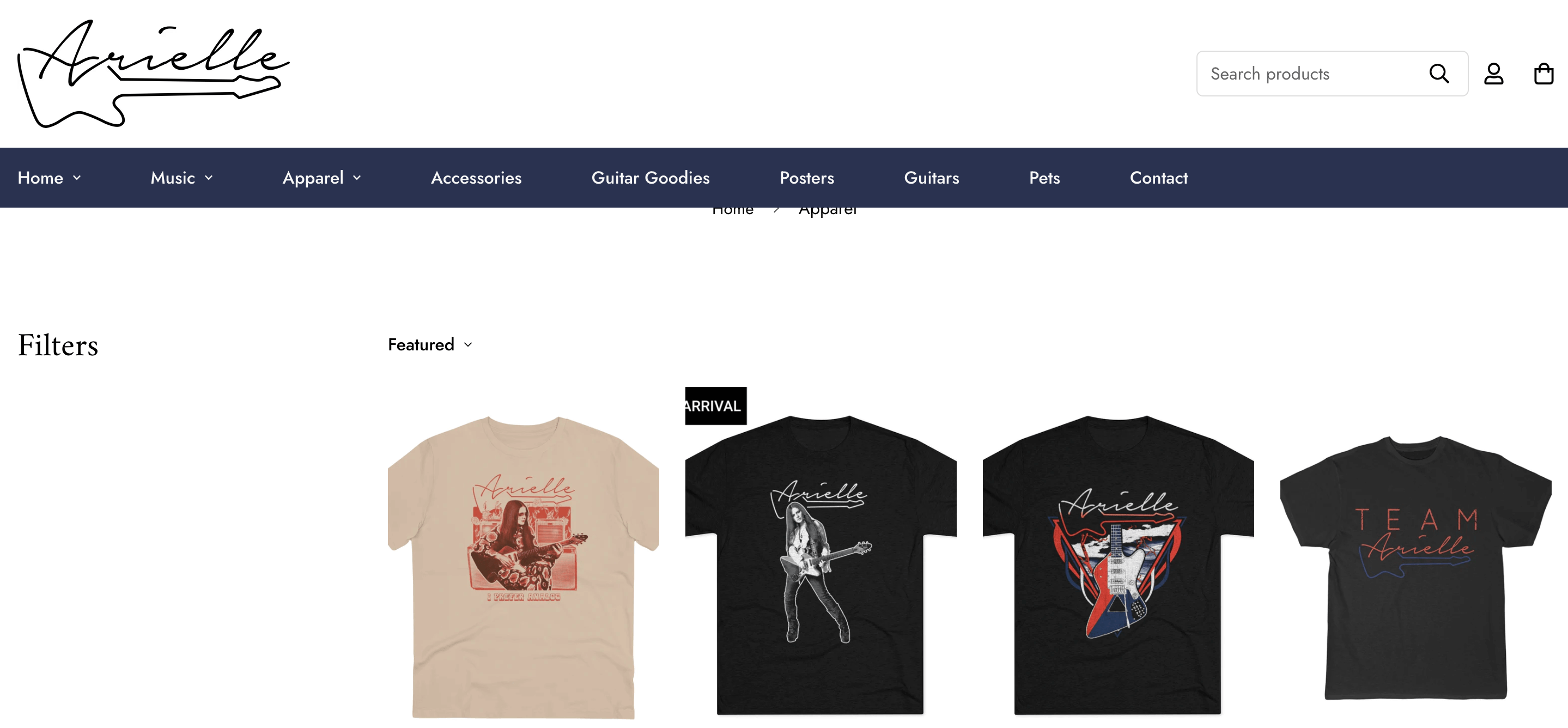 "Once my album comes out, we'll try a bunch of new ideas to add to the store, but we always try to be seasonal with the items. Most people will want a standard t-shirt, but we have branched out. My dog wears a bandana, so of course, we've started making those! We also sell hoodies, sweatshirts, socks, hats, and mugs. There are so many cool items in the Printify catalog, so I need to go back and figure out more ways to expand.
"Currently, I'm utilizing the Printify platform to offer merchandise in different countries. Having the United States and international options helps to keep shipping costs down, and I don't think I'd be able to offer such a wide range of designs if I tried to do all of this on my own. The feedback has been positive all around, and I've really enjoyed it." 
"As an independent artist, my last album was crowdfunded. The support from my fans made all of that possible financially, and I'm very grateful for the people who have followed me for years and allowed me to continue to make my music. Many of my followers and people that I've worked with have become my friends, and that's given me a lot of faith in humanity. So thank you for always being there and for buying my merch."
A Time Machine to 1973: New Album Alert!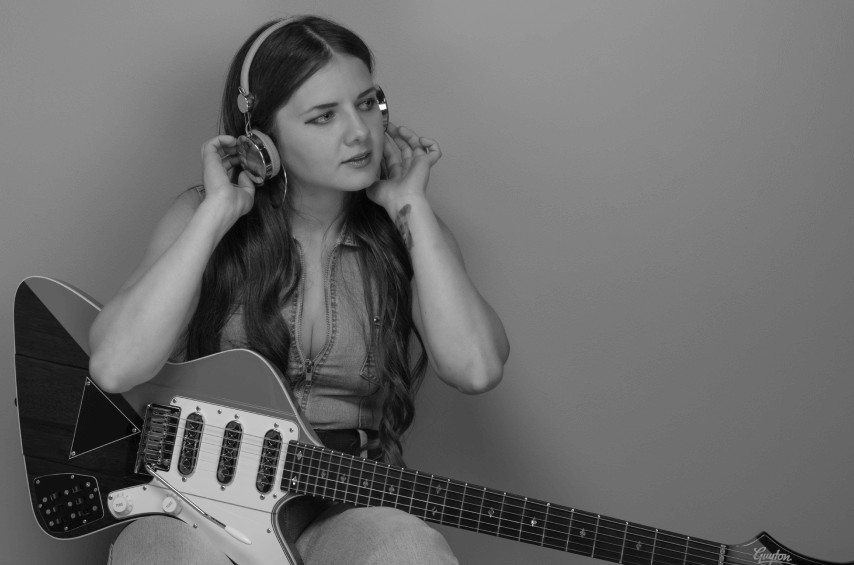 But of course, it wasn't all about merch, we focused on her career so far as well.
 We were also intrigued by the name of her last album, Analog Girl in a Digital World, which defines her style perfectly. 
"I like to compare my music to The Who and Fleetwood Mac. There's also a Joni Mitchell and Tom Petty influence in there. The themes are based on self-realization and self-exploration. I sing about my experiences and the lessons I get from them, whether they're good or bad."
Arielle's latest album, due out on the 18th of April, is called 73. Like the rest of her back catalog, the artist took an old-school approach to recording, laying down all of the tracks live without piecing everything together during post-production.
"The new album, 73, takes inspiration from my 1973 VW bus. I love how analog old vehicles can be, and I like to sit inside and think about all of the music played in there over the years by the various owners. In 1973, Queen's first album came out, along with Dark Side of The Moon, plus 10-15 other incredible albums.
"When that bright orange bus was new, all sorts of incredible things were happening in the world. Although there were a lot of problems in the 60s and 70s, I think music is what got a lot of people through the hardship. The theme of the 73 album is about exploring how we can go back to an analog world, allowing some rawness and mistakes to creep in, yet ultimately achieving something with a little more humaneness."
Arielle goes on to explain that she wants people to feel connected to themselves when they hear her music. The singer admits to struggling a great deal with her mental health and finding her own way in the world.
"I've used music and my life experiences to find healing and to make sense of everything. I hope my music allows people to be seen and feel like they are understood and less alone."
A Dream Partnership and an Unsolved Mystery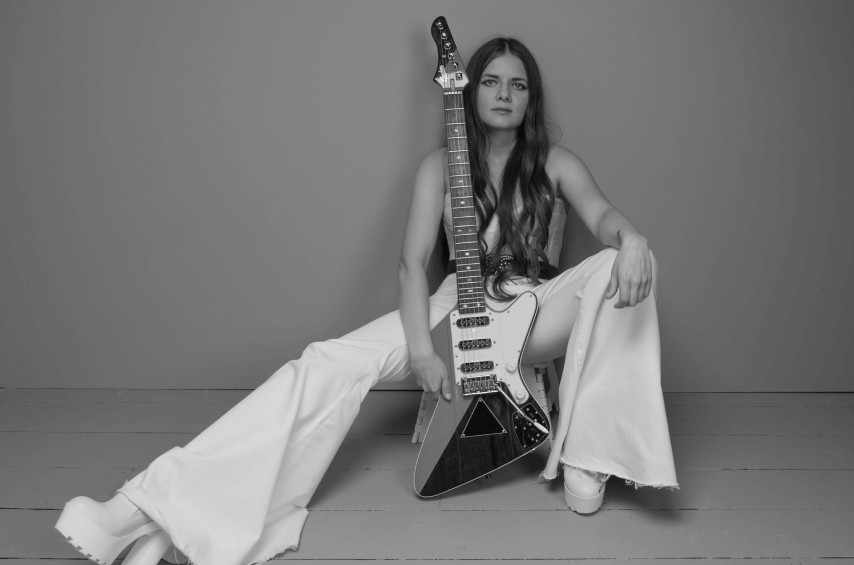 As we learned more about Arielle's music and her influences, it was clear that the meeting with Brian May had been a pivotal moment for the young artist. Her initial chat at the book signing event led to a longstanding friendship, which later morphed into a dream project working alongside the Queen guitarist.
"Around four or five years ago, Brian May asked me if he could make a version of my guitar under his company name, so we entered into a collaboration. The end result is a hybrid of his guitar and mine, and it's pretty unique."
"Brian's own guitar is called the Red Special and was built by his engineer father from scratch. You can probably count on one hand the number of guitarists who use a guitar that is truly their own creation, and I think it really helps to define his sound. You can tell within a few notes when Brian May starts playing, which is a pretty incredible feat when millions of people now play an electric guitar."
Brian knew that Arielle had been using a bespoke instrument for many years after being inspired by his own Red Special. However, Arielle's instrument comes with a unique and mysterious backstory all of its own, which we'll let her tell for herself.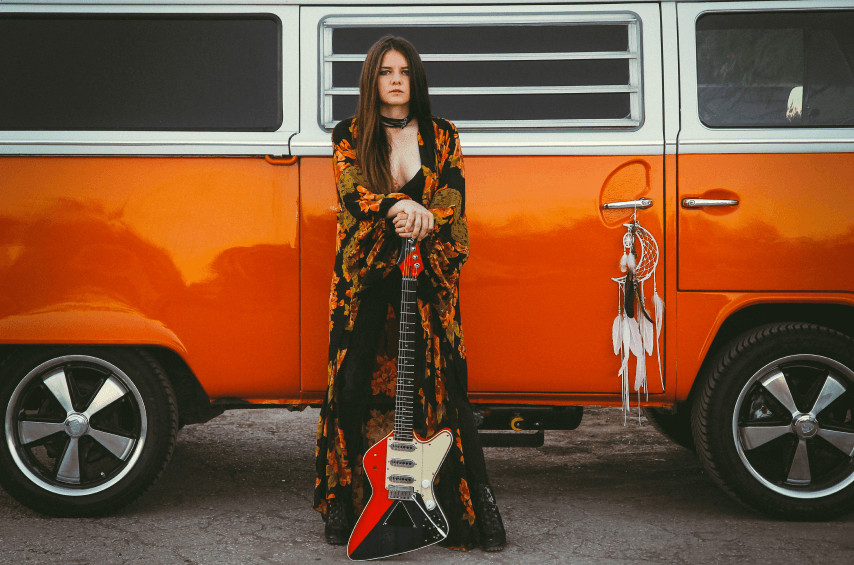 "When I was 16, I went to a summer camp just before starting music school in Hollywood. There was a guy there named Patrick who had built a couple of guitars. I said, 'Hey Patrick, would you consider making one for me?' He agreed, and a couple of months later, we reconnected and started chatting back and forth about specifications. 
"There's a strange end to the story, which I swear is 100% true. Patrick kept mentioning that we needed to finish the guitar as he was in a hurry. One day, my emails to him began to bounce, and his phone was disconnected. I was really upset, as I had no idea what had happened. I went over to his house, and it seemed like he'd just disappeared without a trace.
"Around 3 months later, I received a package in the mail with my custom guitar inside. To this day, I have no idea where Patrick went, and some of my fans, who are private investigators, have even tried to find him, but no one has had any luck.
"Today, that guitar is the one I still use, and I've spent the last decade taking it apart and rebuilding it, trying to make it perfect, only to return to the original setup."
The story behind Arielle's signature instrument is pretty remarkable, with Brian May himself describing the pair's recent version as adding a "new dimension to Brian May Guitars". However, there was one final detail that Arielle was keen to take care of.
Over 200 different species of trees are used each year to produce musical instruments. Many of those trees are exotic tropical tonewoods, often felled from rainforests at an unsustainable rate. Concerned about her environmental footprint and the potential extinction of these beautiful ancient trees, Arielle decided to create her own not-for-profit company.
"It's called the Tonewood Forest, where we plant a tree for every guitar we make. Many of the trees used for guitars are over a hundred years old, and some are now endangered. I want to know that people can continue to utilize these trees for their visual and tonal properties when I'm long gone."
After only planning to plant trees for the first 25 guitars sold, Arielle has since established plots in Belize and Hawaii and is working on another in Nicaragua.
Find Out More About Arielle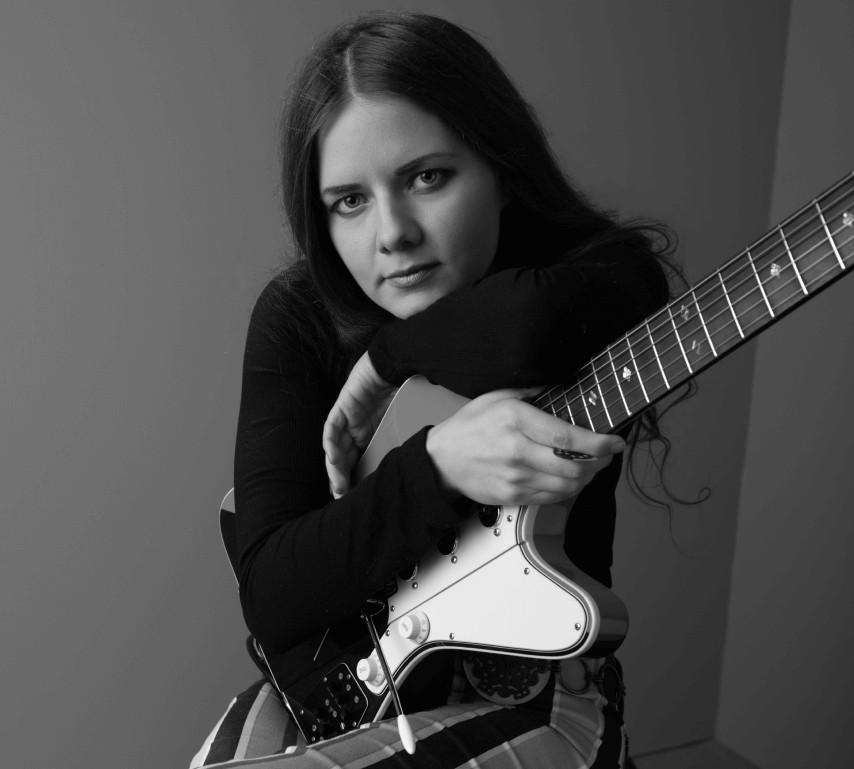 Arielle's music is available on all platforms, and you can hear samples of her albums on her website. For fans looking for a CD or vinyl experience and, of course, people looking for apparel, head over to her online store. For news, updates, and performances, you can find Arielle on the usual social platforms, including Facebook, YouTube, Instagram, and Twitter.
Share the article
Topics