Regina Coley, an Educator and Mentor on a Mission to Motivate Young WOC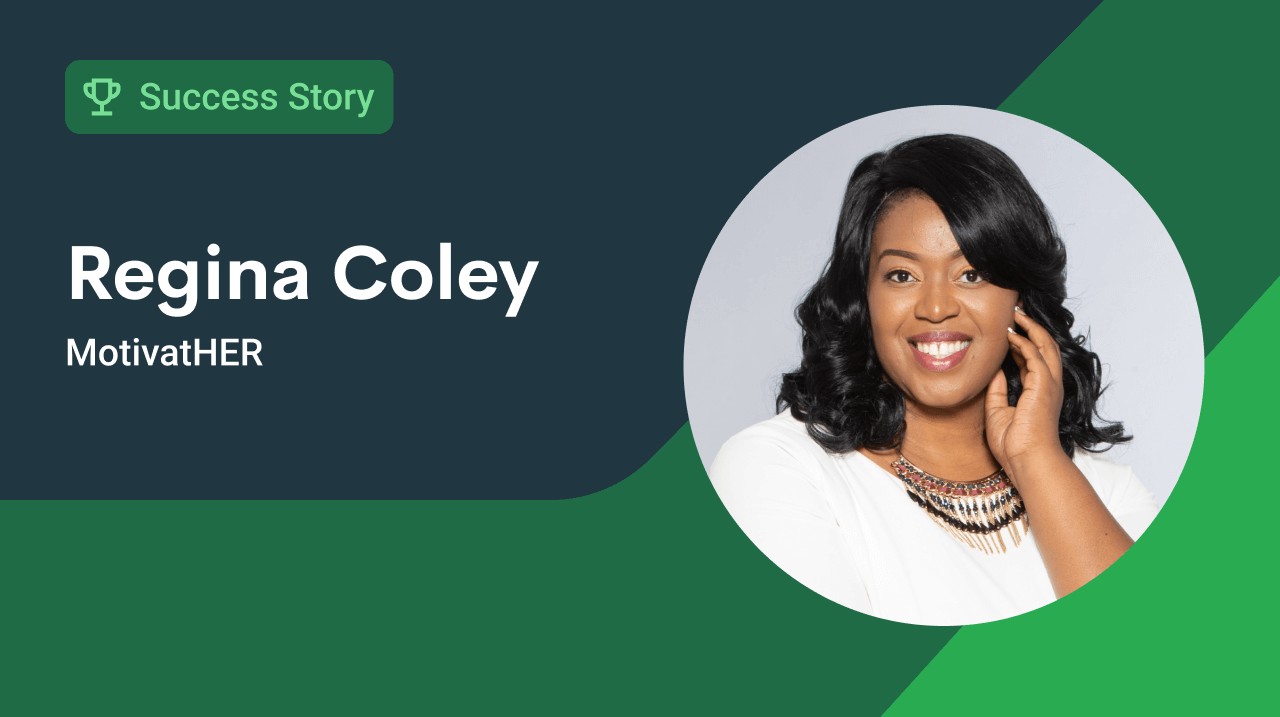 Regina Coley describes herself as an educational consultant and speaker. However, this Alabama-based mentor turned entrepreneur has become so much more than that since making it her mission to transform the academic lives of young women of color.
As well as creating transformational teaching experiences and helping schools and students to thrive, Regina has since founded MotivatHER Inc, which uses print-on-demand products and Regina's powerful personal brand to inspire young women to achieve their full potential. 
In this interview, we caught up with Regina to find out what makes her tick, and how she uses print-on-demand to market and grow her brand.
Hi Regina, You Have a Very Inspiring Story and Personal Brand. Could You Tell Us How Your Journey Began?
"After I graduated, I became a teacher. I wanted my students to have the same positive experiences at school that I did, so I transitioned to non-profit work. I realized that I didn't need to be in the classroom, I could go into the communities and provide supplemental programs that would help to fill specific needs for students, particularly focusing on girls of color."
It Sounds Like Your School Life Had a Profound Effect on You. Could You Tell Us a Little More About Your Experience?
"When I was in 8th grade at an inner-city school, I got the opportunity to go off to a prestigious boarding school. I'm an only child to a single mother, so she wasn't too happy with the idea initially, but agreed to give it a try. The boarding school was an all-girls campus in New Jersey, and there were students there from all around the world. 
I had international students telling me all about growing up in Rwanda, South Korea, and even had a roommate from Taiwan. The school really opened my eyes to other cultures and made me realize how much was out there outside of my community. The school was great at teaching girls that, while also important, there was more to education than just math and science. They encouraged us to think about what we enjoyed, whether that was in the art studio or out on the sports field. There was always someone to support us along the way. 
However, when I eventually went to college, I realized no one was there to help continue that support. To me, that time when you're transitioning into adulthood is when you need the most help."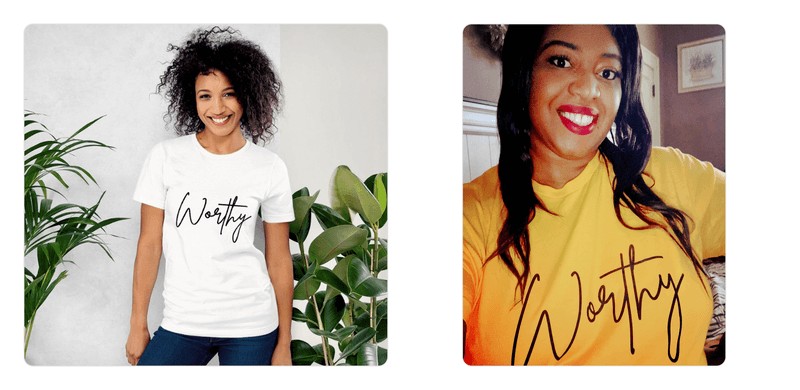 "Eventually, yes. I felt like the tools and experience those kids needed were missing. That's sort of how I transitioned into nonprofit work. I now go into the communities, providing supplemental programs. To me, it still feels like working in education, even though I'm not in the classroom."
How Would You Describe Your Brand's Target Audience?
"Educators and mentors are my target audience. It could be people serving multiple roles, such as parents who are also educators or anyone who spends time around younger people and is actively seeking information about transforming communities. 
"By consulting and working with people who serve girls and young women of color, I work with lots of educators. During the pandemic, we successfully shifted to the online space with Zoom and Google Meet, but at the same time, we recognize many of the students are suffering from emotional depletion. I always strive to do more by asking the right questions and checking in on how people are coping emotionally while at home." 
Do You Work With Any Government Organizations?
"Not currently but my hope is in the next year or two, I'll get to work with larger governmental organizations and get involved in larger spaces. I think there could be some fantastic opportunities to share my experiences with a broader audience and speak with people with greater impact on the socio-economic well being of our young women."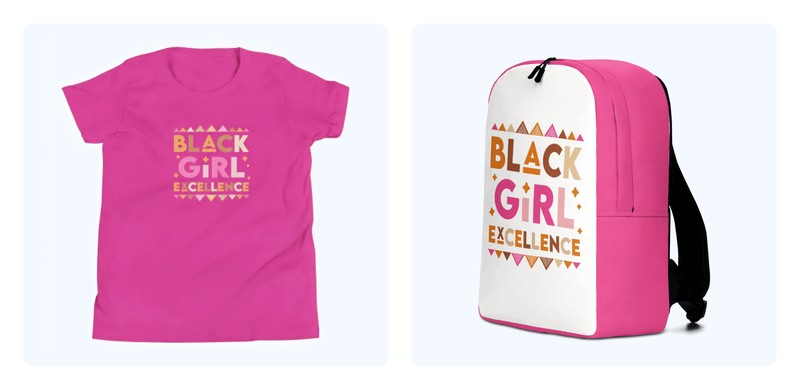 What Made You Consider Print-On-Demand Products for the MotivatHER Inc. Brand?
"One of my business coaches designs lots of books. So many, in fact, that it felt like she was printing them every day. She was one of the people that got me into the idea of alternative revenue streams for projects through print-on-demand. I liked the idea that I wouldn't need to store a big inventory. I could just run the whole thing from a laptop and get my brand out there. I didn't jump into it right away, but eventually, a second marketing coach also told me she was really into Printify, so I began to take it more seriously. Initially, I concentrated on motivational T-shirts, but I soon realized I could print designs onto rugs, yoga mats, and pretty much anything I wanted."
We've Heard That You're a Fan of Wearing and Using Your Own products. How Does That Help Your Brand?
"Oh, it helps a lot! If you create products with a more significant meaning or a powerful message, wearing them can be a definite conversation starter. It's really empowering being able to tell people why you created the product and especially, that you designed the item yourself. It makes the brand more accessible and opens a much-needed conversation." 
What Has Been the Biggest Challenge That You've Faced Creating Product Designs?
"It can be hard when your creativity is stifled. For example, when you have a great idea for a product but someone on Etsy already has a similar design in their store. Learning how to stand out from the crowd can be tricky in terms of product design. It's also tough to concentrate on serving your audience properly and not just putting out a little bit of everything."  
How Has Your Experience Been So Far Creating Products Through Printify?
"I really like the Mockup Generator and how easy it is to design new products. I also like how easy it is to connect my products to Shopify and have them in multiple places. Printify has helped me move away from making handmade products on Etsy and to embrace different platforms and online spaces.
As far as products go, I like the idea of things like pencil pouches and notebooks. Things people look at or carry daily that can be infused with a strong message."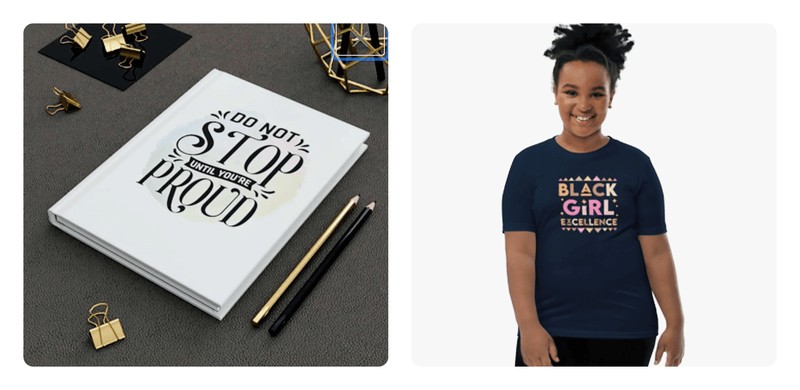 What Is the Main Takeaway You Want Young Women to From Your Website and Products?
"Some of the future products we're about to upload to the store are big representational pieces. I'm hoping that people see them, and it helps them to feel valued and validated. I want everyone to feel like they have something of worth and value inside them and that our brand helps them find encouragement."
Does Your Store's Profit Help You Continue the Important Work That You Do for Young Women?
"A portion of my sales go back to nonprofits that serve women and girls. I try to emphasize that shopping at my store supports not only a small business owner but also grassroots organizations that don't get the big grants or donors. Everyone's continued support hopefully means we can keep that cycle going and highlight even more organizations and the great work they do."
Have You Had Any Breakthrough Moments or Achievements With MotivatHER Inc. That You'd Like to Share With Us?
"I've struggled daily as an entrepreneur, but I'm starting to feel more validated. I think it's realizing that a little bit of my experience and education is infusing itself into the brand that really helps. I feel like it's beginning to become part of my destiny to provide a fresh voice and to share a bigger message. I'm not just doing this for me, but to fill a gap that I feel is missing for girls of color."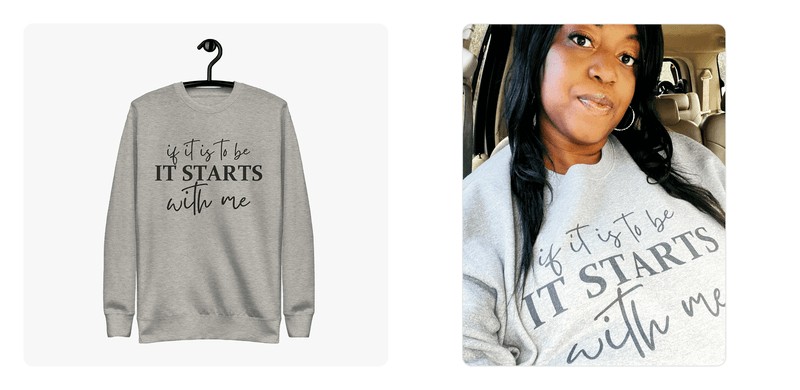 What's the Most Valuable Lesson You've Learned From Running Your Business?
"Since the pandemic, I've had more time to focus on what I want. I've challenged myself to keep thinking outside of the box. I'd say that the most important thing I've learned is to remove the limitations that you tend to force onto yourself. We all come into projects like this with preconceived ideas about how many sales we'll make. It's a very 'small-business' style attitude and approach. However, when you see what's possible and allow your creativity to come through, you start to see the greater ideas that live inside of all of us. You begin to realize you can support far more people than you initially thought possible and that you can create far more than you thought.
Overall, I'd say that it's essential to drop the limited mindset and realize it's possible to do so much more than you can imagine."
What Are Your Hopes for the Brand, and Where Do You See Yourself in the Future?
"I really hope that MotivatHER Inc. can eventually become a household name. I want to build a brand that grows with girls. I want young women to remember us as a brand that supported them when they were five, right through to graduating from college. I'm not sure that there's a family-style brand with that kind of lifetime focus — something that women and girls can find value from and benefit from throughout their lives."
Create Your Own
Print on Demand Success!
Share the article
Topics