eBay vs Etsy: Print-On-Demand Pro Alexis Correa Compares the Two Platforms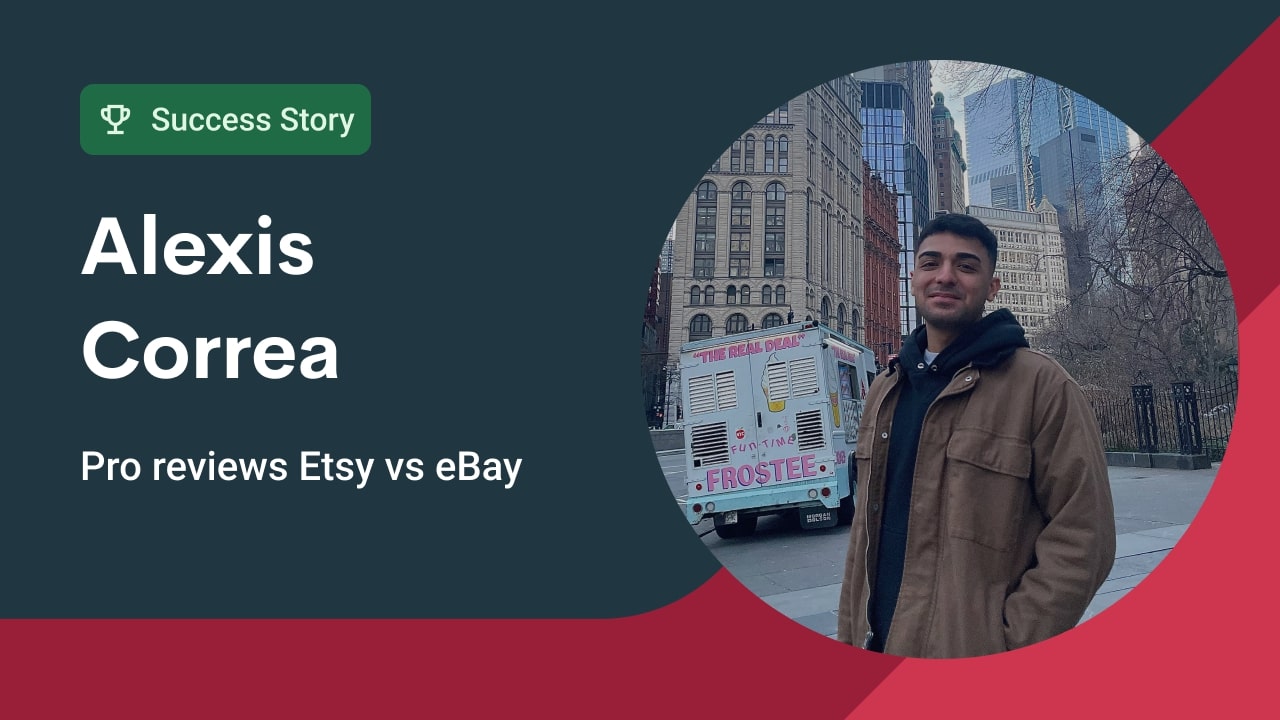 eBay vs Etsy: Both of these popular eCommerce sites have been used by entrepreneurs looking to escape the nine-to-five grind. 
However, when it comes to successful print-on-demand sellers, time and again, we see Etsy coming out on top.
It's easy to see why Etsy is so popular. The site has grown from a niche marketplace for handmade items into one of the largest platforms in the world. 
In terms of sales volumes, however, Etsy is overshadowed by the veteran eCommerce giant eBay. To help our merchants understand the benefits of adding a secondary eBay sales channel to their POD businesses, we'll chat with Alexis Correa.
Alexis is a highly successful print-on-demand seller, having achieved remarkable financial success using eBay and Etsy. Alexis will share his experience managing a POD business across both platforms while comparing and contrasting each marketplace.
Let's get started and find out how eBay stacks up as a place to sell POD products.
Hi Alexis, it's great to have you here. Can you start by telling us a little about yourself?
I'm currently a fourth-year student at Arizona State University. I'll graduate this semester or potentially the next, depending on how things work out. I've been a print-on-demand seller for two years now, and it's become my full-time living.
The great thing about POD is that I can study while running a business and have plenty of time for other activities. I enjoy sports and love to travel. I recently spent time playing soccer with my friends in Spain, Italy, France, and Portugal.
How did you discover print on demand?
Since 16, I've tried several online ventures, including reselling products and dropshipping. For example, I would go to different stores, look for electronic items in clearance sales, and sell them on eBay. 
I learned many different skills over the years, leading me to print on demand. I wouldn't say I was lucky, but trying and learning new things helped me stumble into POD. Eventually, I recognized an opportunity after identifying an eBay store selling products in a niche I was passionate about. 
After I successfully sold decent volumes of print-on-demand items on eBay, Printify reached out to me and helped me transition away from my existing provider and, in the process, saved me a ton of money.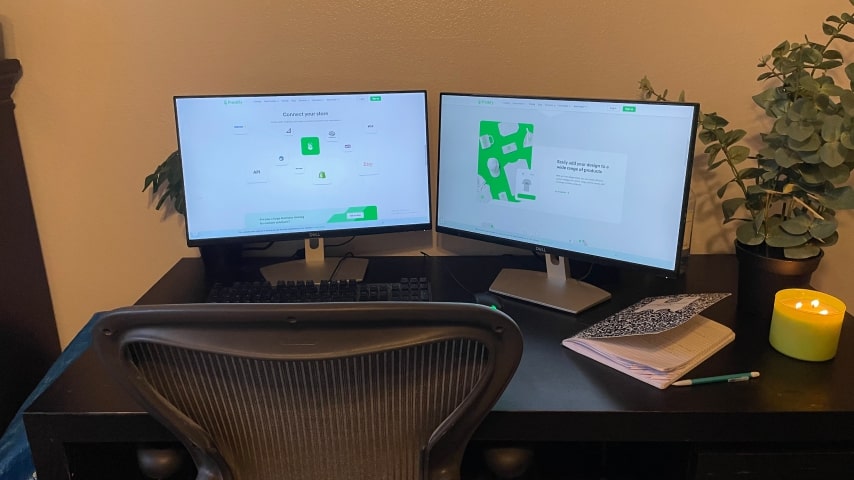 What made you choose eBay over more popular platforms like Etsy?
Honestly, I didn't really think about alternative platforms. I was new to print on demand, and I assumed that eBay was the biggest and best place to sell. I also had experience on the platform, and it was where I first discovered a potentially profitable niche. I didn't learn about Etsy until much later when I began trying different options.
Many people see eBay as a place for reselling and dropshipping. How viable is the platform for print on demand?
I'd agree that most people are making money on eBay using dropshipping or reselling business models. However, there's substantial demand for POD on the platform. It's just that most sellers don't think about using it. For example, when people type "custom blanket" or "custom towel" into Google, they'll likely be shown plenty of eBay search results.
But eventually, you also opened an Etsy shop?
Yes, I found out about Etsy through YouTube tutorials. I noticed every print-on-demand video was about Etsy and began worrying that I was selling in the wrong place. The Etsy demographic is mainly female, with most users searching for handmade items. As I'm not part of that audience, I only knew a little about the platform, but I began researching and understanding how it worked and eventually started a shop as an addition to my main eBay business.
What are the key differences between the two sites?
As I mentioned, the main difference is the demographics of the shoppers on each platform. eBay has a much broader and more diverse audience than Etsy, and the users of each marketplace are shopping for different things.
Etsy favors gift items, like t-shirts and mugs, whereas eBay shoppers are likelier to seek personal items. Overall, because eBay is used by resellers of electronics and other high-ticket items, the price point tends to be higher there, and users are often prepared to spend a little bit more than they might on Etsy.
Would you say that one platform allows for greater profit margins?
I'd say the two platforms are roughly equal, with eBay perhaps being slightly better than Etsy, especially when you factor in advertising costs. For example, you don't pay for an eBay ad unless you make a sale, whereas Etsy advertising is based on clicks, regardless of whether someone buys your item or not.
Overall though, profit margins depend on the product. Suppose you're selling something like a blanket. The perceived value is higher than a t-shirt, so you can offer it at a higher price point. On the other hand, the fulfillment costs will be far greater, so the profit margins may be similar.
Could you go into a little more detail about the advantages of advertising on eBay over Etsy?
From what I understand, many people avoid Etsy advertising because it can quickly become expensive, and you aren't guaranteed results. On the other hand, you don't have to worry about paying a massive bunch of fees on eBay and not getting a return. You can advertise as much as you want, which can be a great benefit. 
Etsy requires a little more optimization than eBay, as you'll pay by the click. With eBay, running ads is as simple as clicking a button, and although there are things you can optimize, there's less pressure because you only pay once you make a sale.
eBay allows you to decide how much of your final sale value you wish to spend on advertising, so you could set a limit of $3 or 7%, for example. Ultimately though, you can rest easy because you know you won't be losing money every day if people are clicking on your listings but not buying.
How do Etsy and eBay differ when it comes to the products people buy?
During busy periods and holidays, things like t-shirts will sell equally well on both platforms. However, some products work on one platform but not the other. 
There are so many print-on-demand niches that it's hard to think of specific items, but perhaps home goods and decorations would be a good example. Those products sell pretty well on Etsy, but they're more suited to eBay.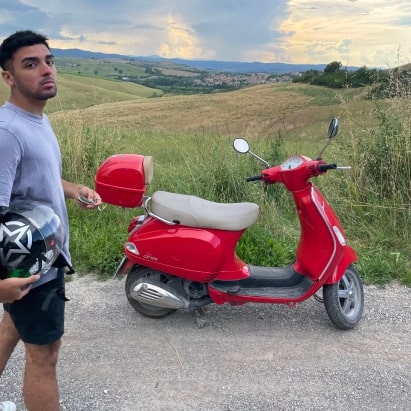 Are there any other major differences between the two sites?
Both eBay and Etsy are similar in terms of how you go about managing your business. That in itself is great because it helps to streamline operations. I'd say that how you handle customer service is a little different depending on which platform you're using. 
Etsy is more personal and customer-service focused, whereas eBay is more transactional. Obviously, you need to provide excellent customer service wherever you're selling, but eBay customers are less bothered if they don't receive personalized responses or if you don't reply in under an hour.
In short, an eBay customer is more likely to ask a simple question like, "Is this shirt unisex?" whereas an Etsy buyer will likely ask something more specific, requiring a detailed response.
What about managing product listings?
Both platforms are similar in terms of product listings, so many of the skills acquired on one platform can be used on the other. For both Etsy and eBay, I've become really good at automation. When I upload things to my stores, I use custom software that leverages the Printify API to do everything for me automatically.
How can eBay and Etsy sellers stand out from the competition?
Etsy and eBay are third-party platforms, so driving external traffic to your items is tricky. That means you need to cater to what people are already searching for and create a strategy to separate yourself from the competition.
I think running ad campaigns on both Etsy and eBay is pretty crucial. However, if you're not going to go down that route or you're just starting out, there are plenty of ways to grab people's attention. SEO is hugely important on both platforms, but creating quality mockups and product pictures for your listings is vital.
If you do everything you can to create the best listings possible, eventually, the algorithms will catch up and naturally push your products to the top of searches. In short, that means having great pictures, accurate titles, descriptions, and a good eye for detail.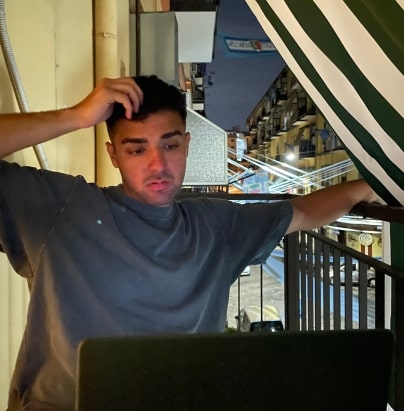 What should Etsy sellers do when first transitioning to eBay?
My first piece of advice would be to take things slowly so you're not overwhelmed. eBay can initially seem a little inconvenient and complicated, mainly because it's an old platform that's been around much longer than Etsy. However, when you get used to it, eBay can be much simpler in some respects, and things have improved since I began selling there.
For pure beginners, eBay also makes researching different products and sellers easier because you can filter their sold listings. With that being said, there are listing limits for new sellers, so it's vital to throw yourself in at the deep end and get started as quickly as possible to raise those limits.
What was the biggest challenge you faced when you began selling on eBay?
eBay places a lot of restrictions on you when you're starting out, so it can be challenging to make fast progress. In addition, when I first started, I didn't have any systems in place to help me manage all of my listings and uploads.
Once I understood how to work with the Printify API, I was able to create systems and get everything flowing nicely. I can now create listings and upload mockups in a fraction of the time it previously took, and I can instead devote my energy to improving my designs and SEO.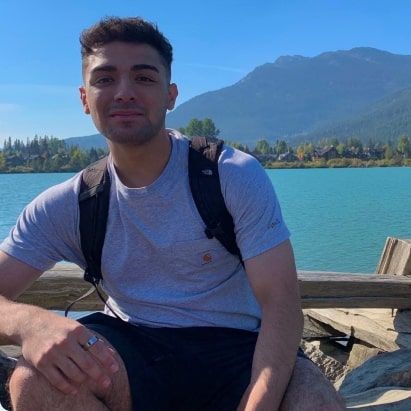 And to help inspire our readers, how about your biggest win?
I'd been working on the business for months but hadn't really seen any crazy growth. Suddenly, I reached the last quarter of my first year and experienced mind-blowing sales. All the hard work came together, and I started feeling reassured that what I was doing was working.
Overall, I probably made $180,000 across my different stores during December, and if I included October and November in that estimate, it would be closer to $300,000.
What final piece of advice would you give to beginners who haven't yet chosen a platform?
The great thing about print on demand is that you don't have to deal with inventory or shipping issues, so you can sell your products on as many platforms as you like. Although we're focusing on the differences between eBay and Etsy, there's no reason for newcomers not to try as many platforms as possible, including Shopify, Amazon, and more.
There really isn't any risk or cost involved, so why not try to put yourself in front of as many different audiences as possible?
The transcript of our conversation has been shortened and edited.
Share the article
Topics