Olympic Gold Medalist, Environmental Activist, Award-Winning Artist – Niall Guite Does It All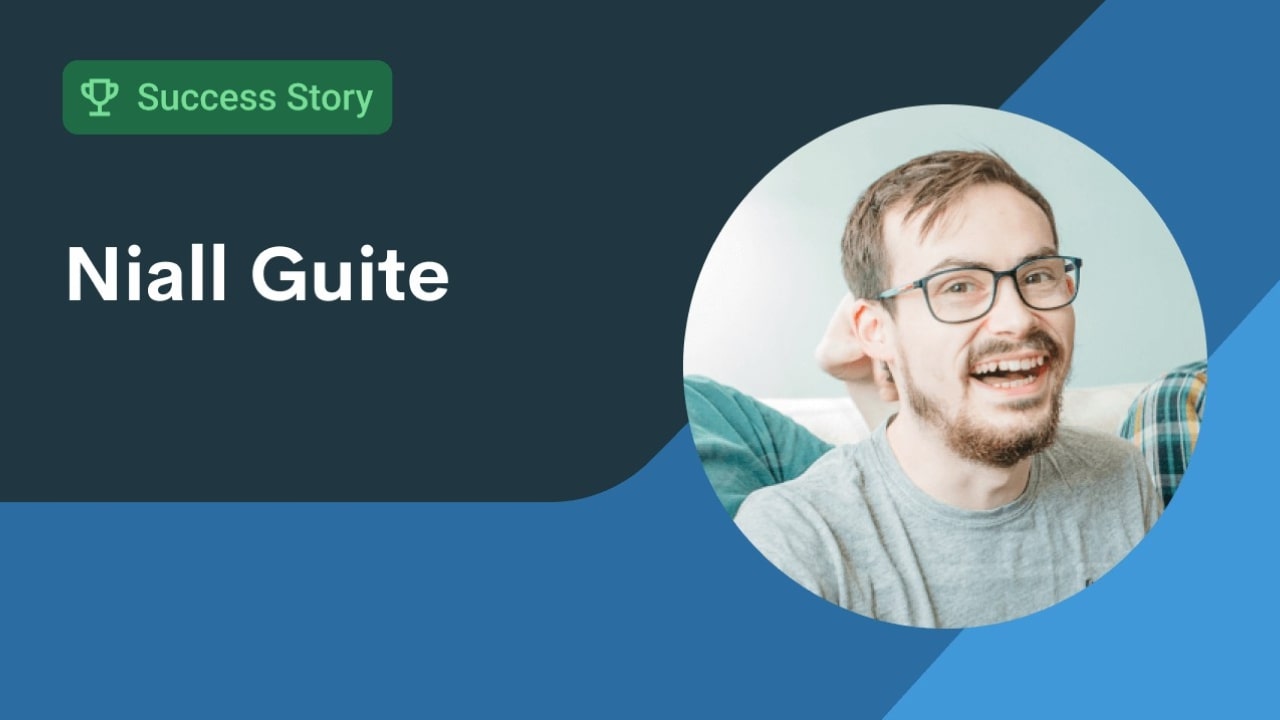 It's Learning Disability week in the UK, and to celebrate, we fittingly bring you the story of Niall Guite. Niall is a British Special Olympics GB gold medalist in basketball. He's also a talented artist who harnesses his unique artistic talents to champion environmental conservation and raise money for Special Olympics GB. This summer, not one but two of Niall's unique pieces are making their way into one of the world's most prestigious galleries, the Royal Academy of Arts in London, on show from 21 June to 21 August 2022.
We caught up with Niall himself, his mother and self-proclaimed personal assistant, Michelle Guite, and Special Olympics GB Business Development Manager, Tom Casson.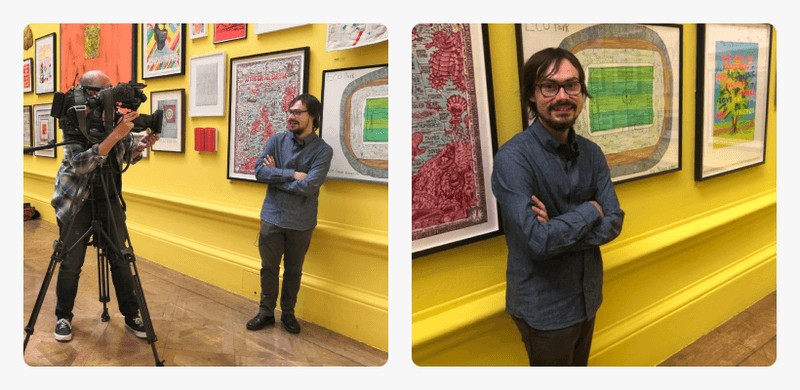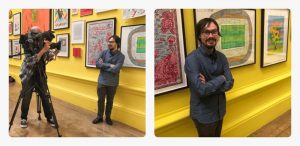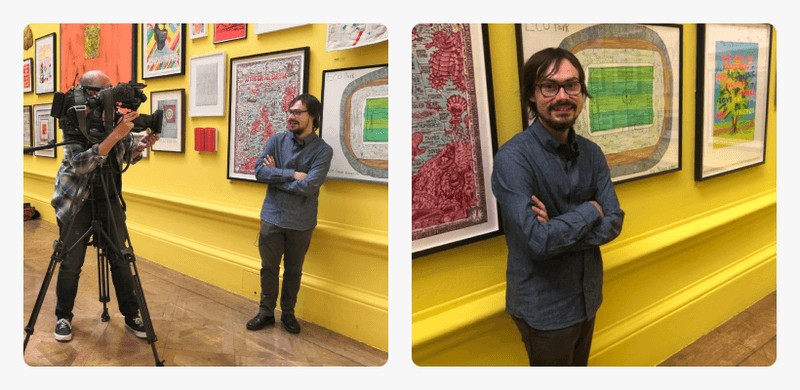 Niall Guite was diagnosed with an intellectual disability and autism early on. He attended mainstream schools with learning support, eventually developing a passion for horticulture and subjects surrounding environmental conservation. "Niall enjoyed getting his hands dirty in rivers, as well as taking over parts of our garden growing all manner of plants and things," his mother recalls.
Michelle Guite, Niall's mom, explains that as a youngster, due to his shyness and difficulty communicating with others, Niall found it hard to make friends. After Michelle heard about a newly-formed basketball group in Sheffield, affiliated with Special Olympics GB, she convinced him to try the sport. At first, Niall was hesitant about the idea, but after attending his first national competition in Leicester, he was completely hooked. 
Michelle: "Things really snowballed after that, with Niall ending up in Los Angeles representing Great Britain and returning with a gold medal, not to mention some lifelong friends that he's still in touch with today. The whole experience put Niall on a tremendous high, though if anything, he ended up feeling a little flat once everything had quieted down and he was keen to carry on competing."
The Special Olympics is an international organization, with nearly 200 countries involved with their own individual programs. Every four years a national games event takes place, where athletes get the chance to qualify for an international Olympic competition.
Pandemic Qualms and the 2.6 Challenge
Like the rest of the sporting world, the COVID-19 pandemic affected Special Olympics events. On what would have been the 40th Anniversary of the London Marathon, they organized a fundraising challenge dubbed the 2.6 challenge as an alternative. Niall chose to participate for Special Olympics GB. 
The idea behind the nationwide fundraiser was to organize individual events containing some form of the number 2.6, whether that meant running 2.6 miles or hosting an online workout with 26 friends. Niall decided to do his bit by combining two of his passions – football and art. He came up with the idea to draw a set of 26 individual football stadium pictures that could be auctioned off.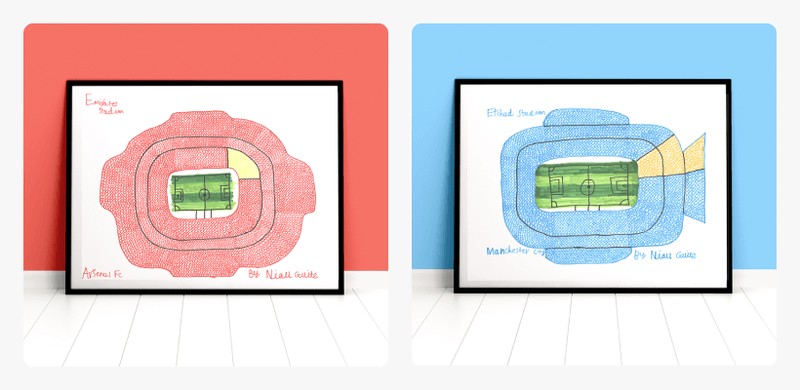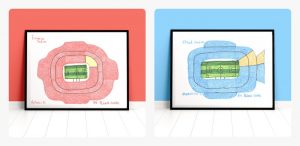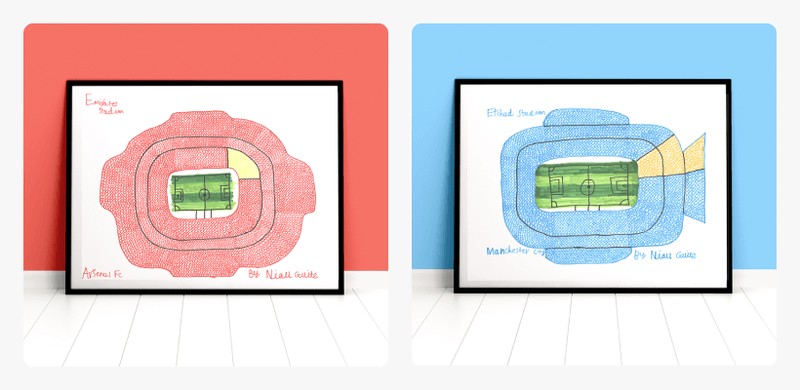 Niall: "I've loved football from a very young age. I am a season ticket holder for my team, the Sheffield Wednesday. I also enjoy drawing buildings, large road maps, and street scenes. I had a PA with an art degree who taught me how to use acrylic paints. For the 2.6 challenge, I was inspired by images of football stadiums from the air, packed with adoring fans who missed it since all the stadiums were closed. Everything just came together from that."
Special Olympic teams are still recovering from the impact of COVID-19. However, with the next games scheduled to take place next summer in Berlin, there are high hopes things are slowly returning to normal.
Finding Fame and Beating All Expectations
Niall has now illustrated over 100 stadiums from around the world and picked up some very famous fans along the way, including renowned UK artist Grayson Perry. What started as a fundraising challenge soon snowballed into something much larger. 
Niall: "I drew the Velodrome from the 2012 London Olympic Games for British Artist Grayson after he messaged me asking for an original picture. It's currently hanging in his home." 
Grayson Perry has since awarded Niall with a unique Artists Medal, known as the Alan Measles Medal (by Monnaie De Paris), which is only awarded to top artists for outstanding achievements. As his reputation began to build, he easily smashed his original goal of raising £260 by selling over £6,000 of artwork, a feat that's been made a whole lot easier by Niall's incredible ability to market himself and his work on social media.
Tom Casson of Special Olympics GB helps Niall with some of the operational aspects of his business and fundraising efforts and has nothing but praise for his talents.
Tom: "The idea went crazy. Everyone started requesting their particular stadiums to be drawn, and obviously, they were all originals that were auctioned off. I'm the proud owner of one myself!
Special Olympics GB is an athlete-led organization, so we want individual voices to be heard and be a part of the decision-making process, both on the field of play but also when it comes to making decisions on how we work with government and corporate partners. 
Because of Niall's artistic talents and the fact he's such a forward-thinking young man, he's been the main reason we've managed to venture so successfully into the social enterprise space. He's a shining example of how athletes can change societal views about what people with disabilities can and can't do, and to not undervalue people with intellectual disabilities."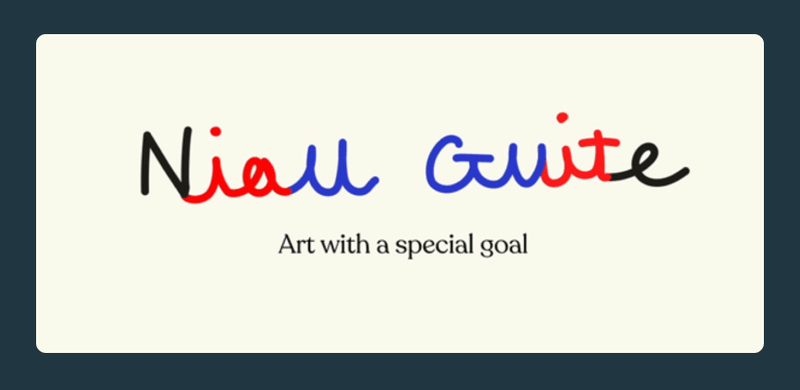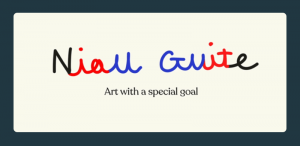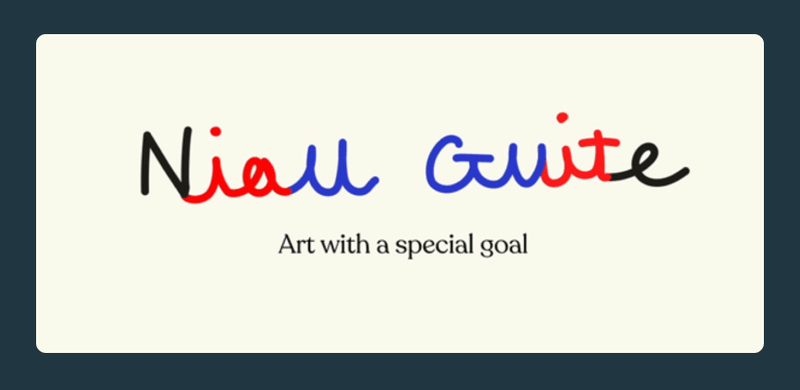 With direct input into the creation of a website and plenty of outreach on social media, Niall managed to create a huge buzz around his unique portfolio of football-related art. 
Michelle: "I think there were a lot of shared connections around sports during the lockdowns. Everyone had bonded over their favorite teams and formed communities, and now couldn't go out and play or get together at matches. Niall was getting lots of people asking for commissions as gifts for their dads and other family members because football was such a huge part of their lives."
Tom: "We had people buying them from America and all over the place. It was a lovely organic thing and also the start of Niall's personal website. After the initial buzz from the auctions, we started having a conversation about selling prints to give Niall a small income, but also to continue raising money for Special Olympics GB. But the interest in his originals never went away. Niall has now had around 20 commissions."
Pushing Forward with Printify
Niall, Michelle, and Tom knew that the stadium pictures would look great on everything from art prints to t-shirts and mugs. What they needed was a simple method to include all of those items with minimum overhead costs. An idea was hatched to integrate print-on-demand into the website.
Tom: "We didn't know how many we were initially going to sell, so print-on-demand was the natural solution for us. We were able to offer customers a range of options, but wouldn't run into the associated costs of buying up a lot of stock in bulk. We were also able to have the items printed and fulfilled in the UK from a company that used renewable inks, which was a perfect fit for Niall's environmental and sustainability concerns.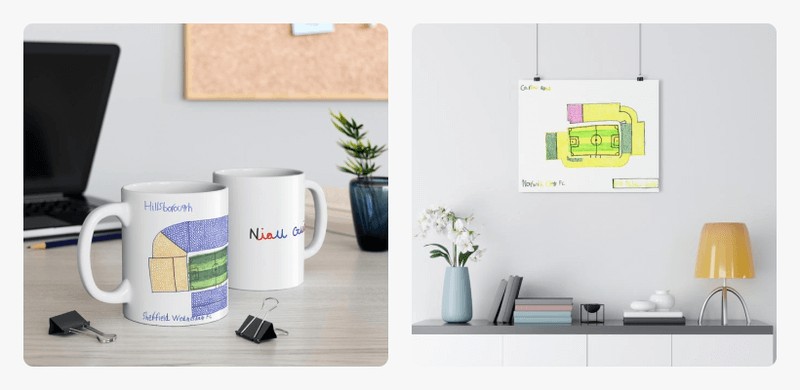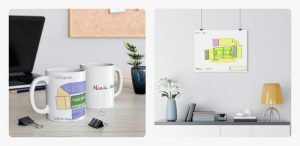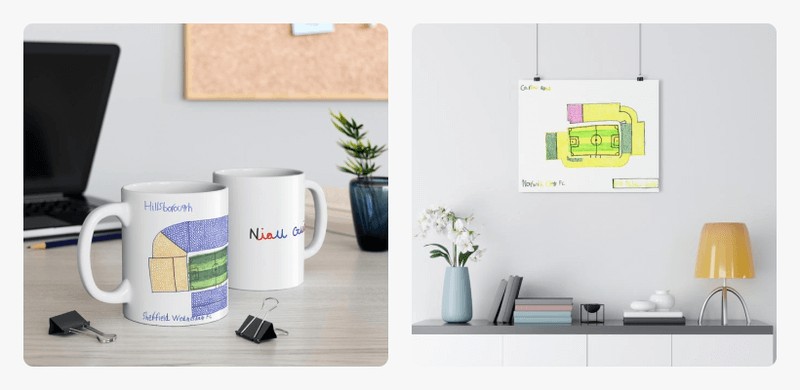 "I've been really impressed by how accessible the Prinitify experience has been. Niall and I have both worked on listing products and things like that, and although it can be a challenging thing to do, Printify has made it relatively straightforward."
Tom is particularly passionate about the business side of the operation, as he points out that just 5.1% of people with learning difficulties are currently in paid employment in the UK.
"I think what we're doing is an interesting model that could work well for others, and we hope that we can transition to a point where Niall is taking 100% of the profits without any external support."
A Summer Exhibition at the Royal Academy of Arts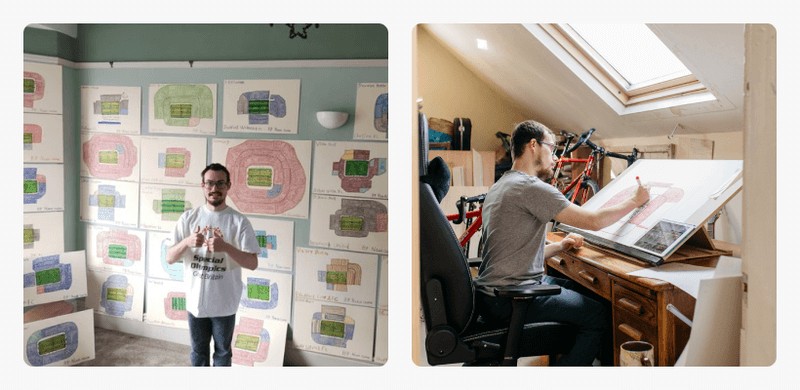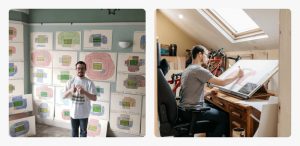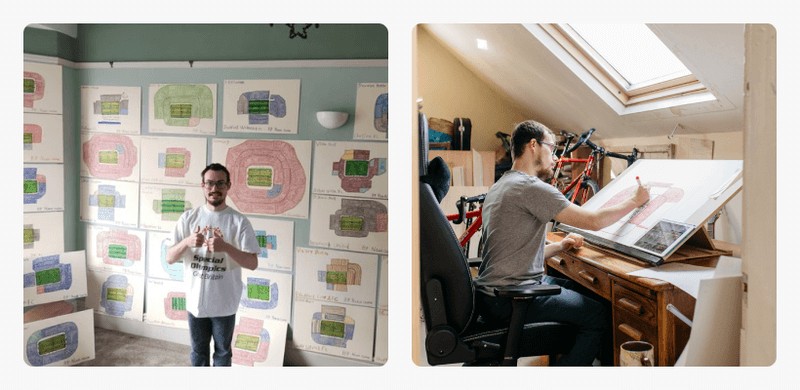 As Niall's website sales, social media presence, and requests for original commissions began to blossom, he received a very exciting request from new-found fan Grayson Perry. 
Niall: "After meeting Grayson at his A Show for Normal People exhibition, I got a message inviting me to display my pictures at the Royal Academy of Arts Summer Exhibition, and of course, I said yes to that!"
As luck would have it, the theme of the exhibition was climate change – one of Niall's personal passions – so Niall immediately asked if he could show two pieces instead of one. Why? Well, he had quickly hatched a plan to give an impression of contrasts – obviously!
Niall wanted pictures of two stadiums. After all, it was this style of art that had catapulted him to success. But which two to choose?
He chose to display two stadiums, both designed by Zaha Hadid Architects.
The first one is the Eco Park stadium of Forest Green Rovers, a team known for their environmental conservation efforts. The Forest Green Rovers' Eco Park is built entirely around sustainable principles, with the aim of being "The World's Greenest Football Stadium".
The second stadium was the Al Janoub Stadium in Qatar, which has faced lots of criticism for its environmental impact.
Michelle: "Although both venues are beautiful in their own right, the idea is really to show the contrast between the two stadiums from an environmental point of view. It highlights how we can make better choices around environmental and conservation decisions and simply do better."
The Royal Academy Exhibition represents the culmination of nearly two years of dedication and hard work for Niall, and he's finding it hard to contain his excitement about the now ongoing summer exhibition. However, he's remained humble throughout the entire experience and has a strong message for people in a similar situation to himself.
A Positive Message for Learning Disability Week UK
As we head into Learning Disability Week in the UK, Niall's success story and positive message are especially important to recognize and share.
Niall: "I want to show people with intellectual disabilities that they can achieve something if they stick with it and just keep working towards their goals." 
Michelle: "As a parent, when you have a young person living with a disability, you can get bogged down with the minutiae of life, and you spend far too much time worrying about how to support them and how they'll fit into society. You can cushion young people too much and stop them from finding their own way. But learn to follow their lead and what makes them happy.
"It's hard not to want to protect them against absolutely everything. For example, I know that social media can be a horrible place, but Niall has used it to great benefit, and the support he's got has been phenomenal."
Show Your Support for Niall and His Artwork
If you are in London from 21 June –  21 August 2022, run, don't walk, to view his display in person at the Royal Academy of Arts Summer Exhibition. Support Niall, his teammates, and his work on Twitter or Instagram, and please head over to his website to buy prints of his work today. 
Printify would like to thank Niall, Michelle, and Tom for helping us share this amazing story. Niall, congratulations on your summer exhibition, and here's to many more wins!
Share the article
Topics