How Alejandro Bounced Back By Using Printify To Sell In The US, UK, and EU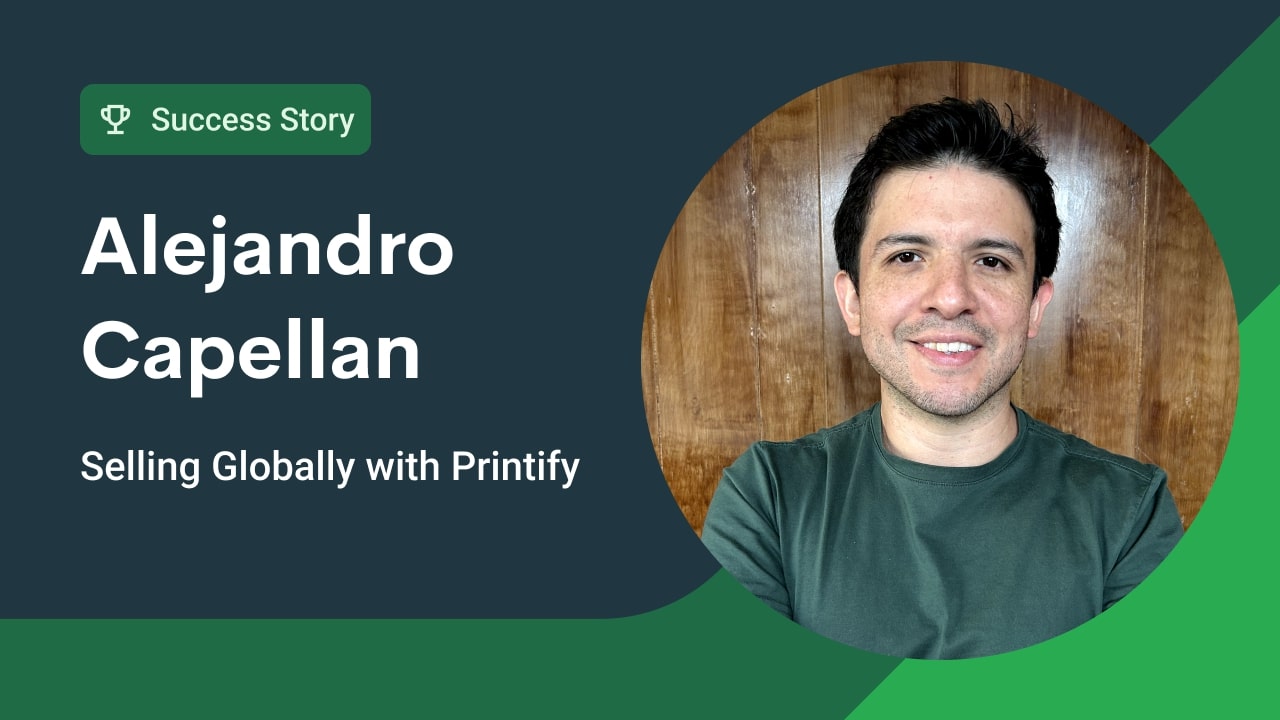 Etsy is the most popular marketplace, with sellers using Printify to sell globally. The site has grown substantially over the past few years and is the most-mentioned platform in our Success Stories series.
Today, we're catching up with an experienced seller, Alejandro Capellan, who had an altogether different Etsy experience. Suffering the horror of putting a huge amount of effort into his shop only to see it suddenly close down.
Although much of Alejandro's hard work and source of income vanished overnight, he was able to pivot to a new niche on Shopify and joins us today to tell his story. 
We unearthed plenty of insights from this successful POD entrepreneur, including genius marketing techniques and advice for newcomers to Print on Demand.
Hi Alejandro, How Did You Get Started With Print On Demand?
I initially worked in digital advertising. After noticing a big demand for e-commerce in my home country of Mexico, I started a small t-shirt store. Like many Mexicans, I'm a musician and music enthusiast, so I quickly found a niche centered around rock music and vintage designs, which I love.
Initially, I was screen-printing my designs, as it was much cheaper locally than an online service. After traveling to the US for an internship, I noticed plenty of demand for the same niche items I was selling in my home country. So, I decided to start shipping my designs internationally.
I quickly learned that despite sharing a border with Mexico, shipping to the USA wasn't cheap, often costing twice the price of the items themselves. I knew my designs were good, but I wasn't sure customers would be willing to pay such a high price. 
When I started researching different ways of reducing shipping costs, I discovered dropshipping and the print-on-demand business model.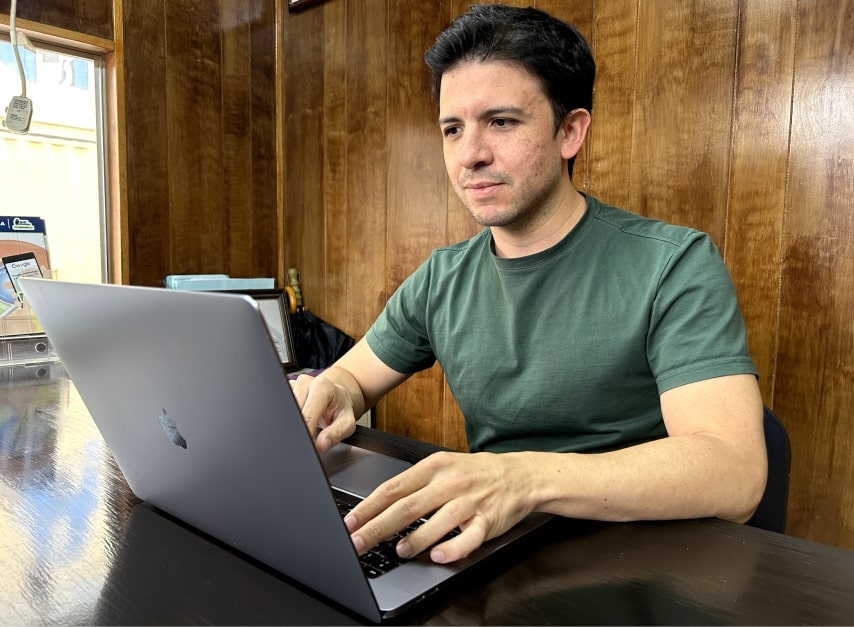 What Platform Did You Use To Sell Your Designs?
I started selling on Etsy in 2019 alongside a Shopify website. I chose to enter the US market because it's one of the largest in the world, and I had personal experience living there. Although I didn't do so well initially, things began to snowball, and eventually, I started selling my designs in the UK as well.
Unfortunately, when any of my products began to sell well on Etsy, other companies would steal the designs. I tried to have their versions removed, but that backfired massively when my store was closed down.
That Sounds Like A Huge Setback. How Did It Happen?
Several rival stores that had stolen my designs claimed that their versions were the originals and I was the one at fault. I tried to show evidence that I'd been selling my products in Mexico since at least 2016, but that didn't turn the tide.
I really liked the Etsy business model but decided I couldn't risk being closed down again. I put all my efforts into Shopify but found similar copyright issues cropping up. With piracy being such a huge problem, I decided to change my tactics. By 2020, I'd found a new niche and started from scratch.
How Did You Manage Your Pivot To A New Niche?
Years before getting into Print on Demand, I had noticed a trend for customized products, such as t-shirts with names printed on the back or designs for couples. Although screen printing was a cheaper option for t-shirt designs in Mexico, it would have been extremely expensive or simply impossible to make those kinds of custom designs. Print on Demand makes that kind of business idea very simple, as you can effectively create print runs of just one item. 
Of course, how you promote and sell customizable products is very different from regular designs and requires certain changes to your website. My main advantage was to avoid having my designs stolen, so I began researching how to get started.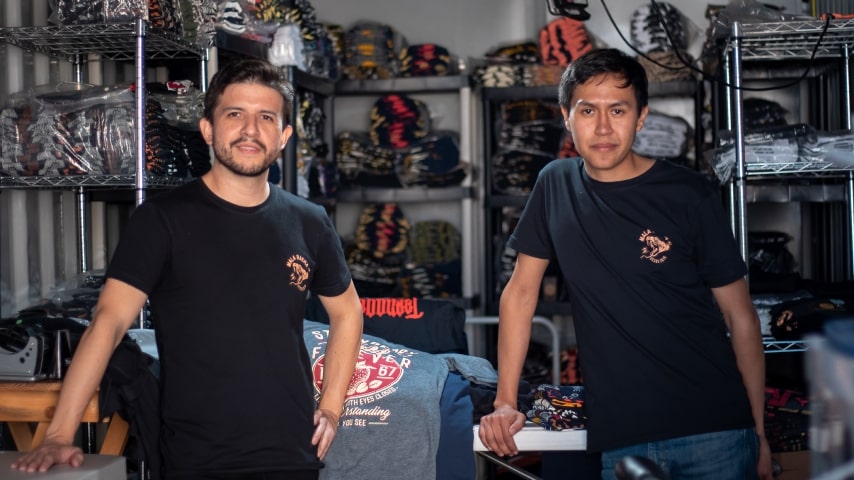 Are Custom Designs Complicated To Set Up?
While building a Shopify website wasn't rocket science, there was a pretty steep learning curve with the custom design aspect of the store. I didn't know how to code or anything like that, but once I joined Printify, I was able to use the API to get everything working correctly. It was absolutely magical to see the system fetching and receiving customer orders for the first time.
Because we offer customizable products, it's essential that we have plenty of disclaimers and warnings so that we're covered in case our customers make mistakes or don't like the items they've created. We still want to provide excellent service and get five-star reviews, so we'll do everything in our power to cancel an order if a customer has a problem. 
Today, I primarily offer custom products in the music vintage niches, but I'm exploring many different options. When it comes to customization, people want all kinds of unique, personalized items.
Why Did You Choose Printify As Your POD Partner?
I had a massive issue with my previous provider on Black Friday, the worst possible day of the year in 2022. The communication between our website and theirs broke, and instead of helping us fix the problem, they asked us to do it manually. That was a complete nightmare, and that's when I found Printify and decided to move everything over to Printify immediately.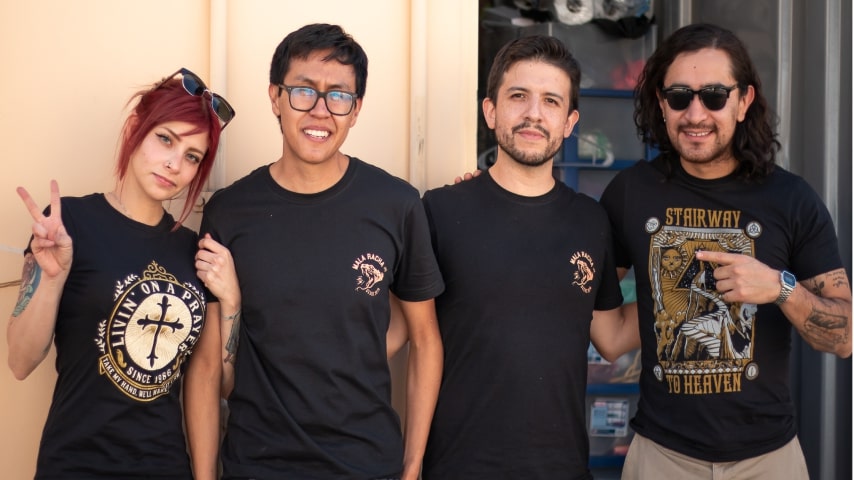 Are You Excited For A Less Chaotic 2023 Holiday Season?
Aside from the occasional 'out of stock' issues that we resolve by changing print providers, we generally have a good time during Black Friday and the other holidays with Printify. I'm hoping this year will be no different. 
Despite spending a lot of money on advertising, we get the best response from our email lists at this time of the year, as we offer big discounts of up to 50% on some of our products. For people who know a musician or a music lover, a customized product makes a great gift, so we do very well over the holiday period.
Do You Now Sell Mainly Through Your Shopify Website?
Yes, we make most of our sales through our website, but I'm cautiously getting back into Etsy with a new store and working like crazy, creating new products each week. After my previous issues with people stealing the designs, I'm taking things slowly and thinking of ways to keep one step ahead of the competition.
When Etsy closed my last store, I was a Star Seller. I want to get back to that level of success. Although I can do little to stop people from stealing my designs, I'm determined to become the leader of my particular niche.
You Currently Sell In The US, UK and EU. Any Plans To Expand Your Business Into New Regions?
It's important to take things slowly to avoid unexpected issues. For example, we're only selling in the US and Europe right now, even though finding print providers in places like Australia and New Zealand would be easy. 
If I were to sell products to customers in a particular country, but they didn't receive them on time, I'd have to deal with lots of refunds and chargebacks. When that happens, payment providers like Stripe or Paypal suspend or even ban you from their platforms, which would create huge headaches. 
What Would You Do Differently If You Started From Scratch?
I'd do plenty of things differently if I could start from scratch. Initially, I only considered making certain designs or selling in particular niches that I enjoyed. Today, I actively look for new trends and watch what others are doing to help me better understand different markets. 
Entrepreneurs should always be paying close attention to what other people are doing and the trends and technologies that are becoming popular.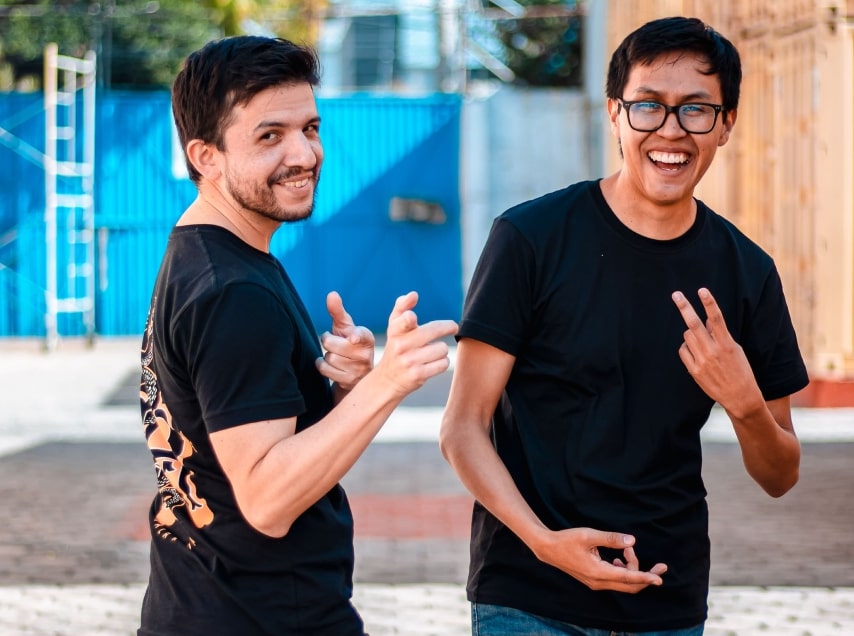 Any Advice For Print-On-Demand Newcomers?
Find a niche that you're familiar with. If products are already being sold in your chosen niche, don't worry; that's usually a good thing. You just need to try and do better than the other sellers. 
Don't overthink things. Get started today. Platforms like Shopify and Etsy make it easy to set up a business. With technologies like AI becoming increasingly sophisticated, you don't need to be a great artist to create unique designs. If you don't want to learn any design skills at all, you could hire someone on a site like Fiverr and concentrate on the marketing side of the business.
Many of my friends have asked me for a checklist on how to get started with Print on Demand. I always tell them to get a Shopify or Etsy store opened up, even if they don't have a brand name or any products to sell. It's easy to get overwhelmed when confronted with a list of the 1,000 steps required to start a business. In the beginning, I think it's best to jump in with the least amount of planning.
And Finally, Any Parting Words To Wrap Up The Interview?
I want to say thanks to my team for their amazing support. Several people are excellent at helping me deal with things I'm not good at or don't enjoy doing. I hired someone to help with customer service, for example, and she's very lighthearted and knows precisely how to speak to customers and keep them happy. 
It's always been important to me to make my customers feel special and be there for them. My team are fellow music lovers who understand my mission and make it their passion as well. I'm really thankful for that.
Share the article
Topics