Is any item of clothing more versatile than a black hoodie or a sweatshirt? They can be dressed up and down, they go with everything, and they're the ideal canvas for a cool custom print. 
In this article we take a look at sleek black hoodies for men as well as sweatshirts – aka the most versatile garments, ever.
Why Create Black Hoodies with Printify?
A hoodie can be worn at home, outdoors, at the bar, at the skatepark, in the club, at the office… This is a garment that really gets around! And if you add the right custom designs, you could become your customers' go-to hoodie provider.
Printify has a range of black hoodies in our catalog, so you can choose the perfect piece for your online store. Alternatively, you can create a whole line of custom sweatshirts. After all, it doesn't cost to customize products or add them to your online store.

Read on to learn about the high-quality options available and to receive some design inspiration before you start making your own.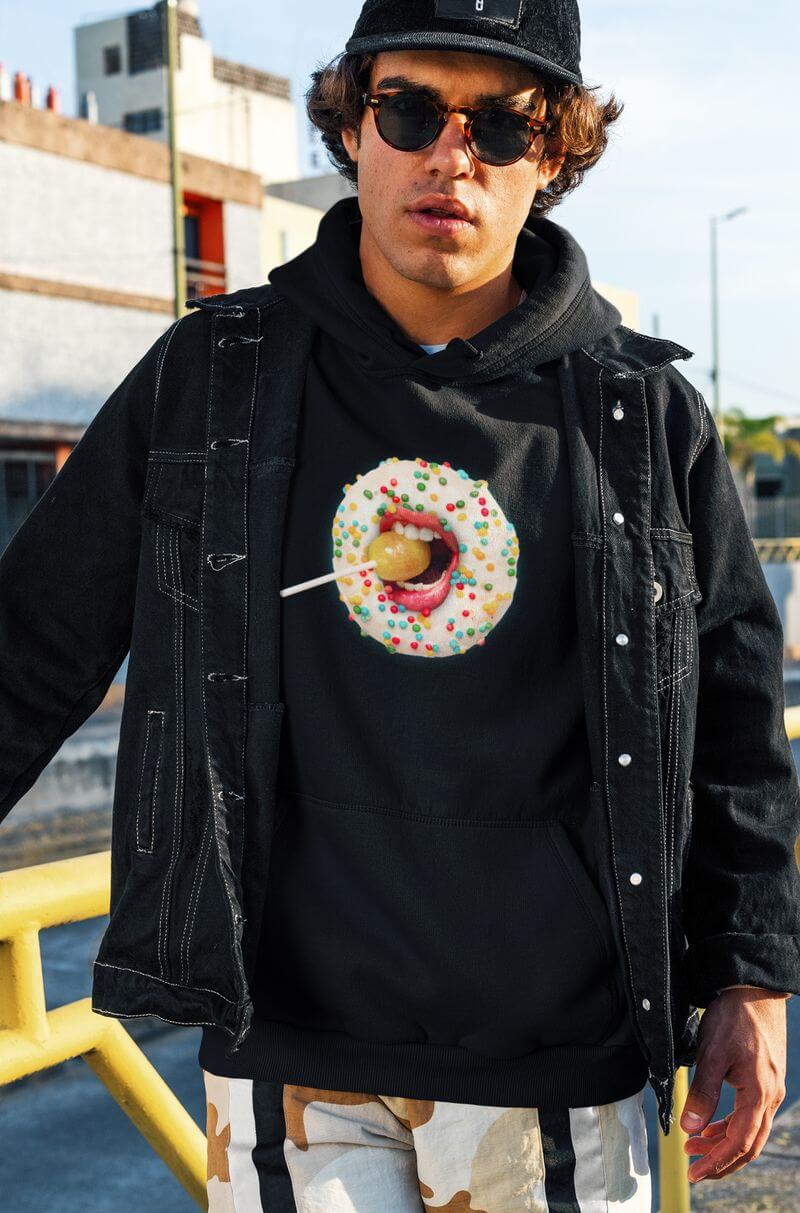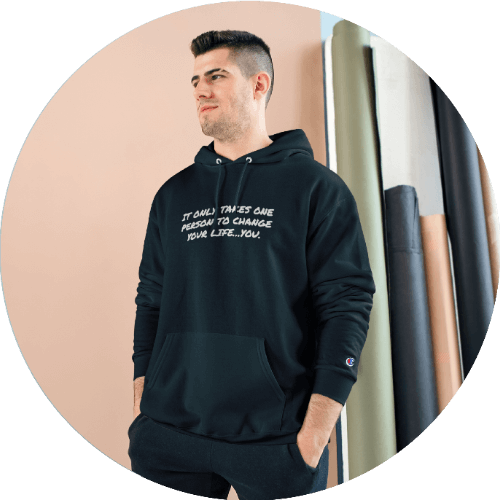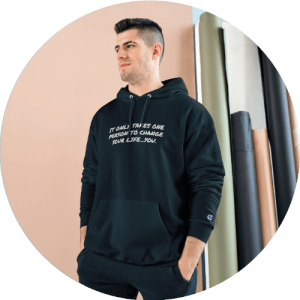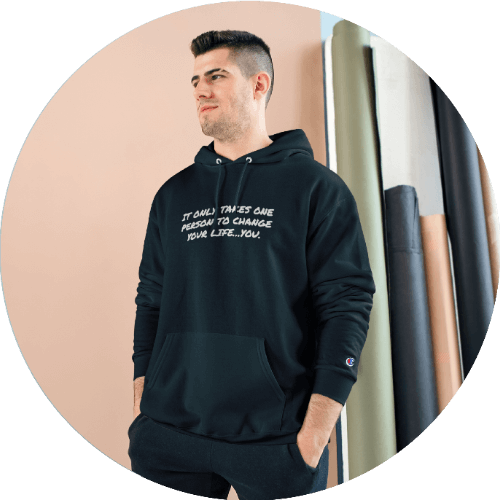 Champion is an internationally-known name in the world of sportswear. Their black hoodies are a perfect example of the qualities that make Champion so popular. It's made of a cozy but comfortable medium-heavy fabric (50% cotton and 50% polyester) and it boasts a flattering regular fit.

You could give this product extra appeal and interest by adding an inspirational slogan, like "It only takes one person to change your life… YOU." Then it'll become a source of motivation to anyone throwing it on for an early morning gym session.
Thanks to its brushed fleece interior, the unisex pullover hoodie feels like a warm hug! It's made of a 50% cotton and 50% polyester fabric that's soft on the skin, but it still has that streetwear silhouette that we expect from black hoodies as well as a convenient kangaroo pocket.

When it comes to design, why not play with the streetwear theme and make this a skate-inspired product? Graffiti prints or a city skyline would transform it into a tough, cool look that's perfect for the skate park.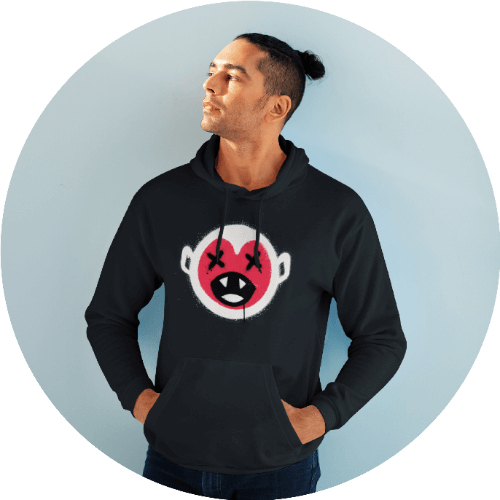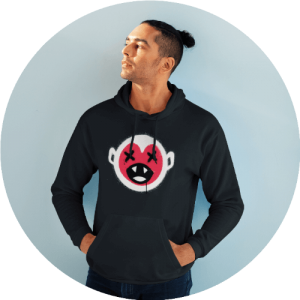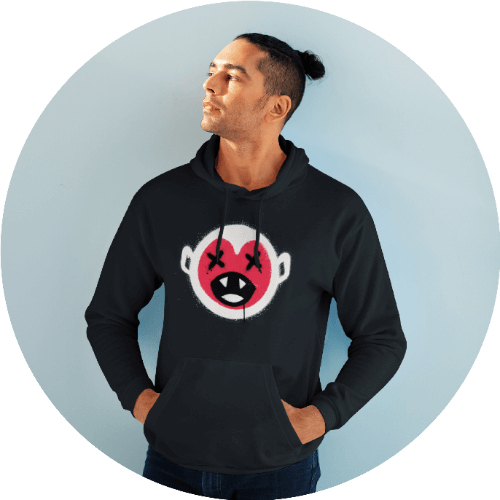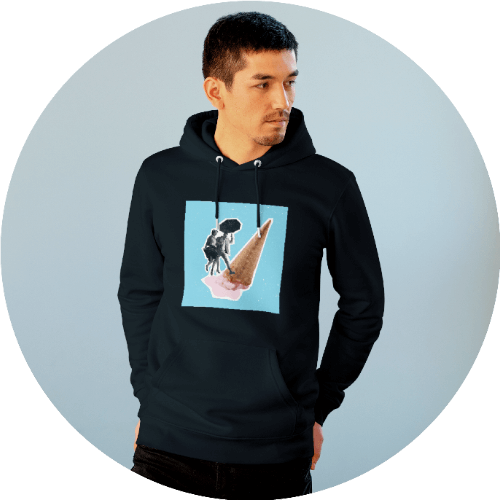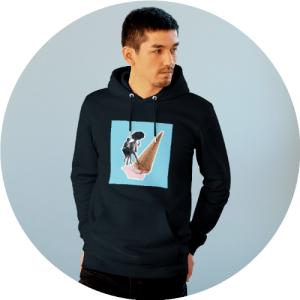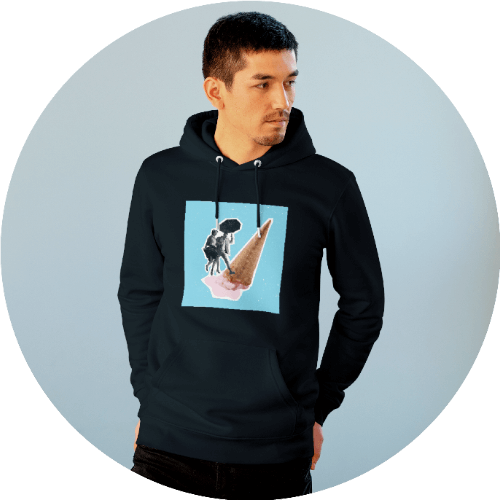 This product takes the everyday staple of a hoodie and makes it slightly more luxurious. How does it achieve this? Through a tight-knit, organic fabric that brings a high-end feel and increased durability. Customers will love the fact that it has less than 5% shrinkage.

With a premium product like this, you should look to the runways for inspiration. Abstract prints are modern and stylish, so they'd enhance the cruiser hoodie's fashion-forward aesthetic.
If your customer is looking for that go-to hoodie they can wear constantly without wearing it out, here it is! This midweight supply hoodie fits the bill. It's built to last, preshrunk to minimize shrinkage, and made from anti-pill materials to maintain quality through washes.

Look for design inspiration from traditional tattoo motifs. They're trendy but timeless, and they look bold on black hoodies. A skull and crossbones, a rose, a snake, a ship in a bottle… There are many ways to channel this retro aesthetic with your supply hoodie.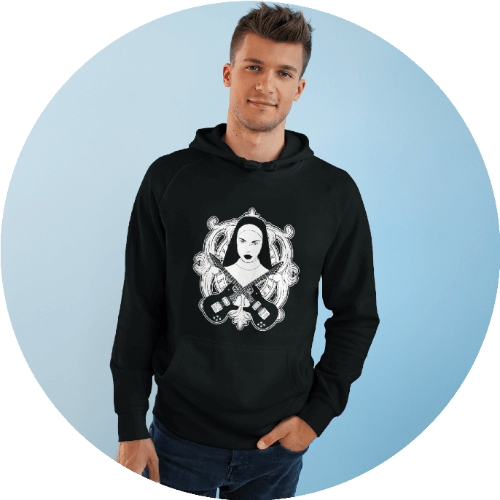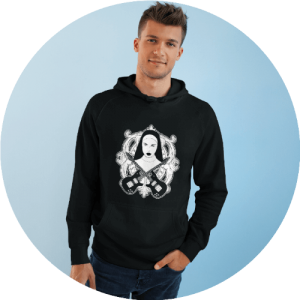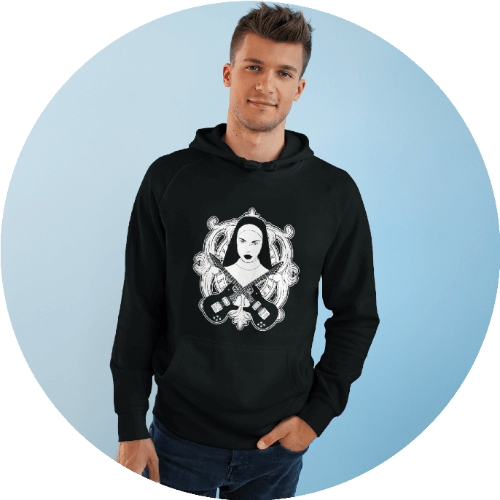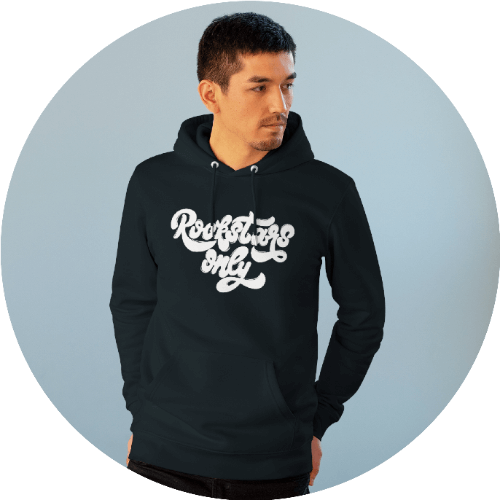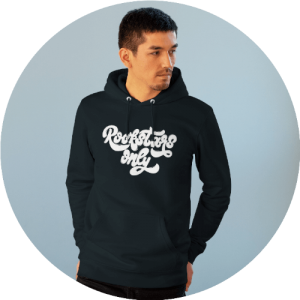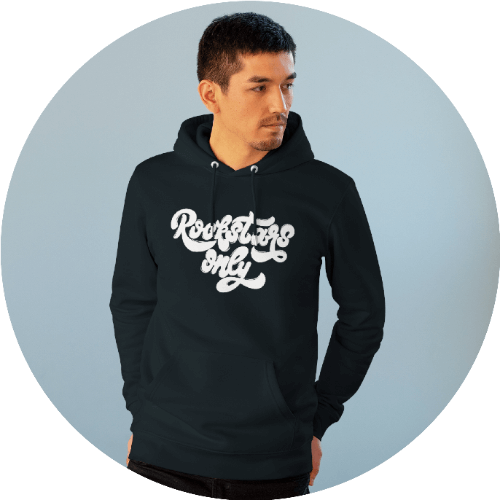 You don't have to be a drummer to know that this product rocks. It is made using a comfortable, stretchy blend of 85% organic ring-spun combed cotton and 15% recycled polyester. Drawcords and a kangaroo pocket add utility to this easygoing, attractive product.

Drummer hoodies are designed with rockstars in mind. Why not reflect this with your print? A guitar outline would look great, as would a concert-themed slogan like "Make some noise and have some fun."
College hoodies have that classic preppy aesthetic that never goes out of style. This model has a loose, relaxed fit so your customers can be comfortable and trendy all at once. It's made of a medium-heavy fabric that will help get them through the chillier winter months.

Why not emblazon this hoodie with the name of your favorite place? They don't have to host prestigious universities to deserve the spotlight on a college-style hoodie. Everyone should have the chance to rep their hometown on a black hoodie!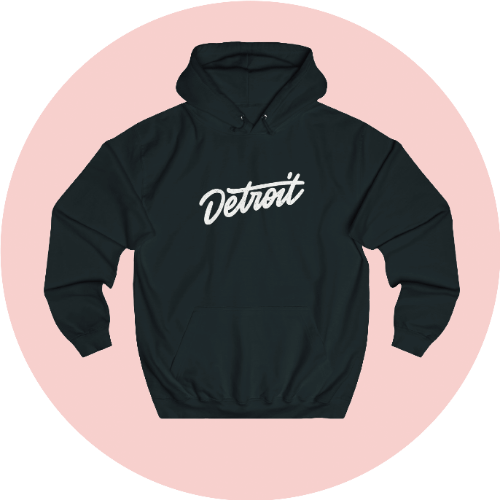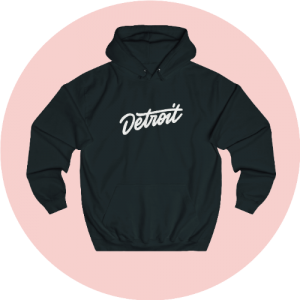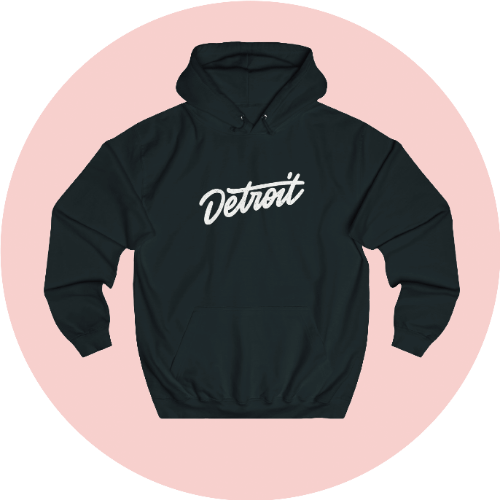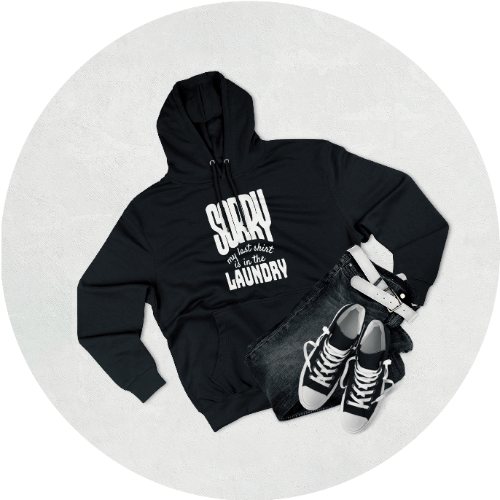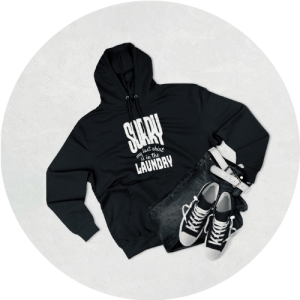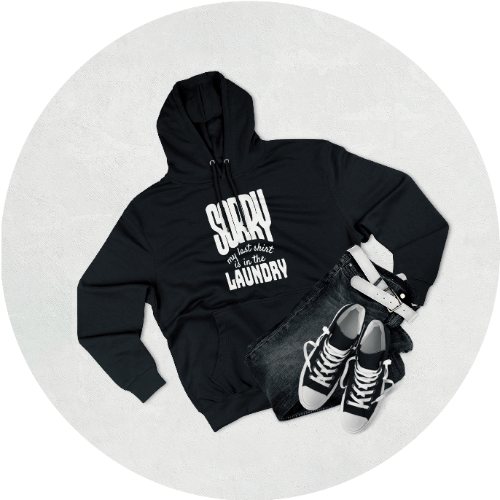 Black hoodies with a pullover style keep you warm and keep you looking cool. This one has a kangaroo pocket for your hands and a three-panel fleece lining. Whether your customers choose to wear it hood up or hood down, they'll feel snug and smug in it!

It could be fun to play on the relaxed image of a hoodie with a funny slogan. For example, you could add "sorry, my last shirt is in the laundry." A casual black hoodie with a humorous print is a winning combination.
You'll be amazed when you realize how this all-over print hoodie is manufactured. It's printed in pieces and assembled afterward, ensuring complete continuity of the print. With all-over print models, you can cover the entire garment in a vibrant, colorful design.

One moment of the day that definitely calls for a hoodie is an early morning dog walk. Why not cater to passionate pet owners with animal-themed designs? You could cover this product in multicolored dog prints, for example. Bright colors look amazing on black hoodies.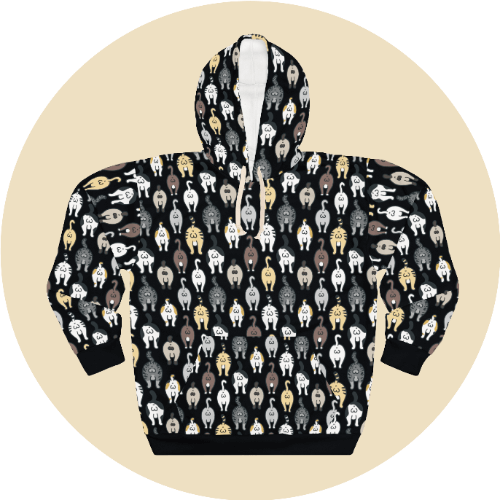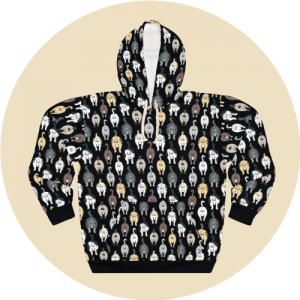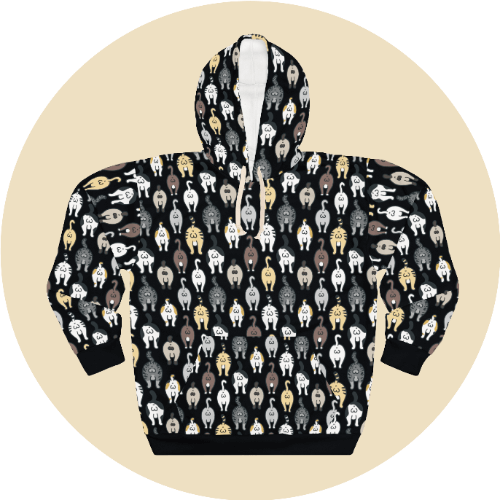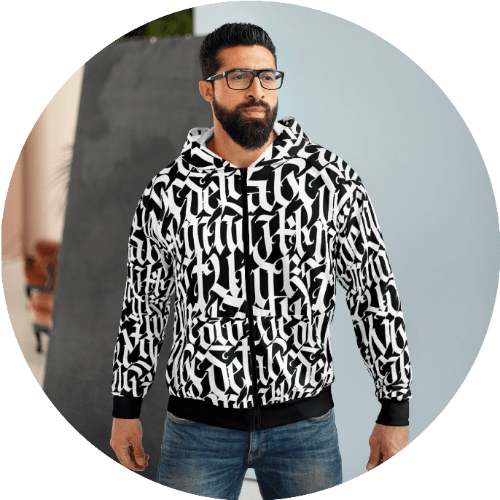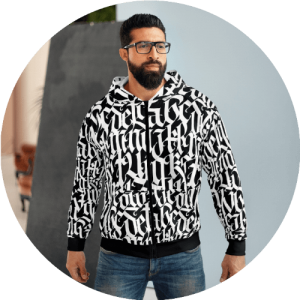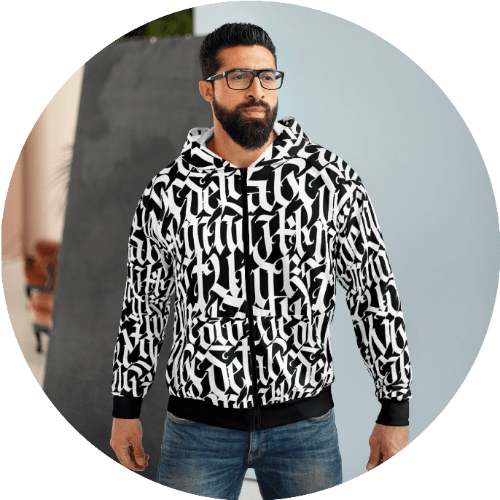 Here's another hoodie you can print all over, but this time it's a zip-up model. Even the zipper is black, which gives it a very smart, polished finish. You won't have to worry about white lines on the seams, either! This product was clearly designed for maximum visual impact.

You can improve on it even further with an original custom print. If you're a Youtuber, for example, you might print it all over with your brand logo. Your fans will surely want to snap up this modern merchandise.
Feeling inspired already?
Start designing!
We've talked about different black hoodies, but what about black sweatshirts? Because they don't have the same streetwear associations, sweatshirts can be dressed up as well as down. They're sporty, but they're also stylish.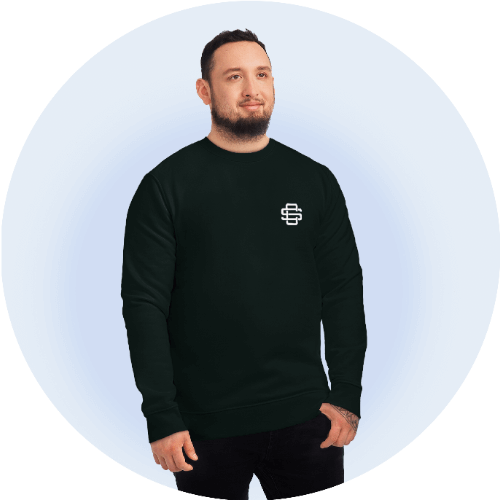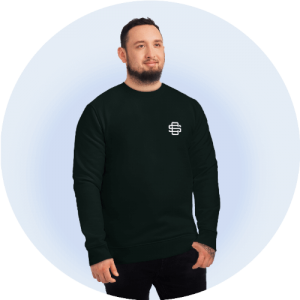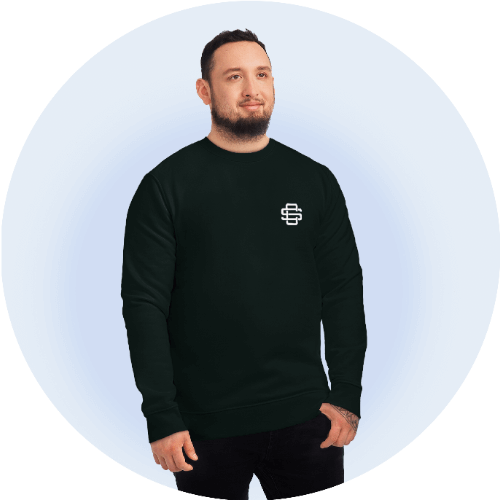 This sweatshirt is fitted, giving it a more elegant look that could even work at the office. It has a set-in sleeve and it's made with a blend of 85% ring-spun cotton and 15% recycled polyester. This is definitely a classy cover-up!

Work with the chic vibe of this sweatshirt by making any print that you add subtle and sophisticated. A small monogram or logo on the chest would add a little edge while maintaining the classic look of the garment.
This product was manufactured by Gildan, a reputable brand name in American and Canadian apparel. It's a loose-fit sweatshirt that permits free movement, so it's a great choice if you'd like to offer customers athleticwear. Made from a medium-heavy fabric, this sweatshirt is ideal for outdoor activities.

You could use this product to target runners and cyclists. You might choose a relevant print like a bicycle, or you might apply a slogan like "working to beat my personal best." Maybe you could add bright colors to improve the wearer's visibility as they exercise.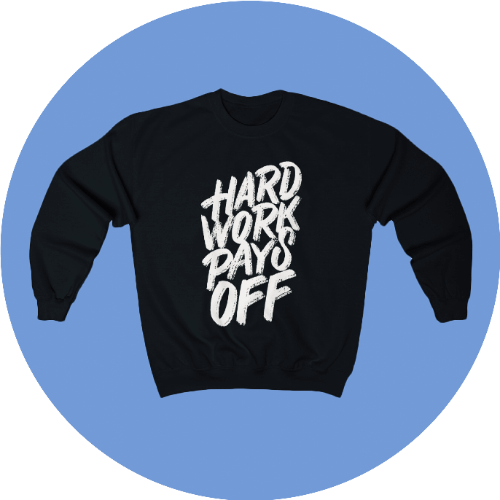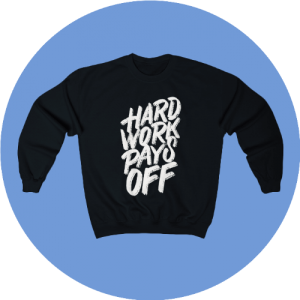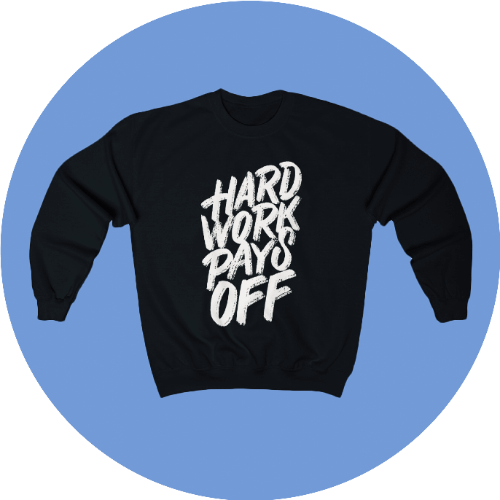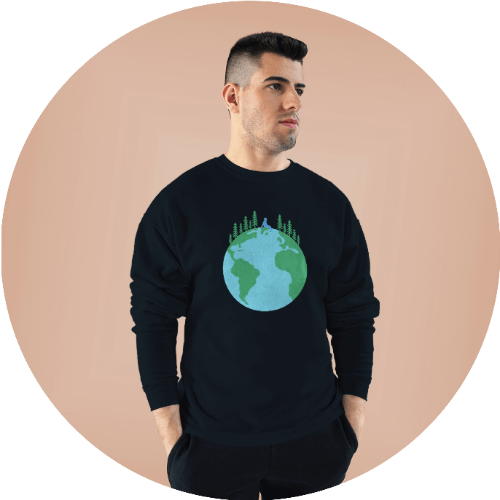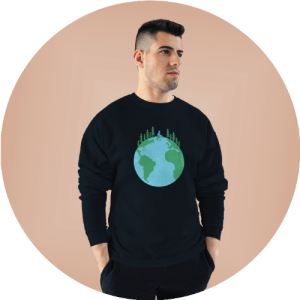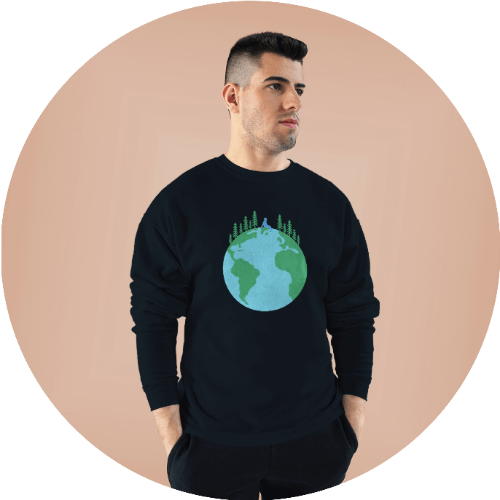 This Hanes sweatshirt offers a relaxed fit and a medium-weight fabric. That makes it suitable for just about any person in just about any climate! Sweatshirts don't get more versatile than this. Your customers will love the attractive crewneck detail too.

What differentiates this sweatshirt from the rest is the fact that it's Ecosmart, which means it's made with up to 5% polyester created from recycled plastic bottles. Why not play on this green theme with your design? Tree motifs, a peace sign, or an image of the Earth would make this a must-have item for environmentalists.
An all-over print sweatshirt with a classic fit and a crew neck has amazing design potential. You can cover every inch of this garment with your own custom print. As a seller, you should take full advantage of this creative freedom and make something really eye-catching.

Imagine the crazy Christmas sweatshirt you could create, for example? You might also consider designing for the club scene, where anything goes style-wise and you can really have fun with wild color combinations and bold, graphic prints.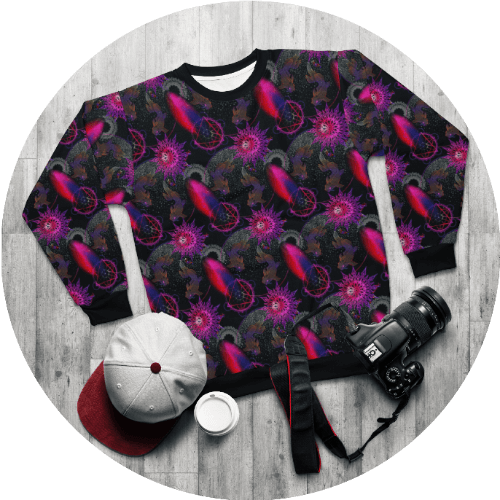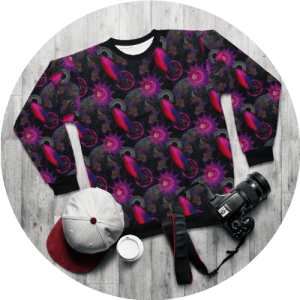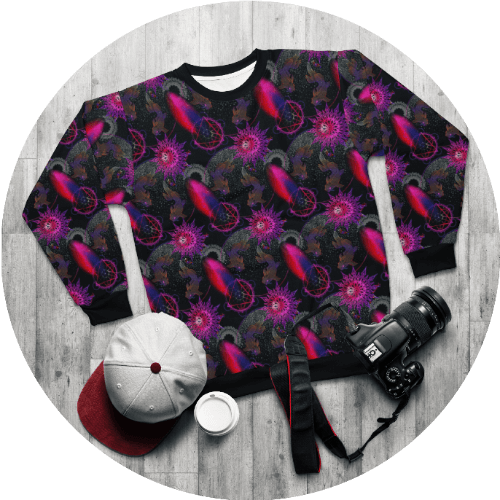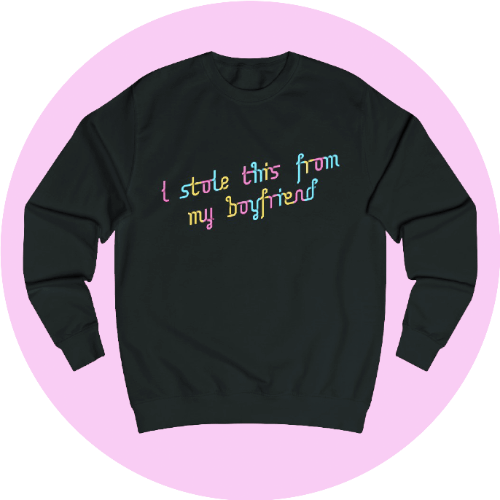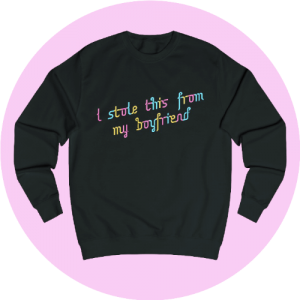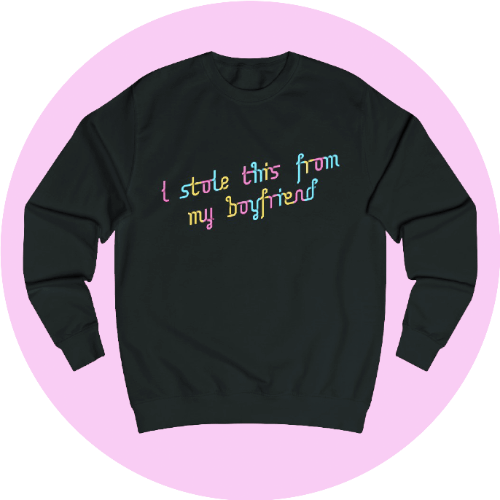 Black hoodies are very popular with male customers, but so are sweatshirts! This one is especially soft and stylish. It's made from 80% cotton and 80% polyester, so you can expect this garment to last. The seams have ribbed knitting too, helping them retain their shape over time.

It's well known that many women love to wear their partners' sweatshirts. You could reference this with slogans like "My girlfriend isn't stealing this one!" or "I stole this from my boyfriend, and he isn't getting it back." Then, it'd make a funny but practical present!
Start creating custom hoodies on demand!
Design Your Own Custom Black Hoodies
Are you ready to start selling your own hoodies and sweatshirts? With Printify, the process is straightforward. In fact, it's so simple that you could start selling straight away!
Make Unique Black Hoodies!