Custom Fabric Printing on All-Over-Print Products
AOP products not only allow your designs to cover the whole suffice of your chosen product but your designs will all pass the test of time because your designs are printed on fabric and then cut and sewn together.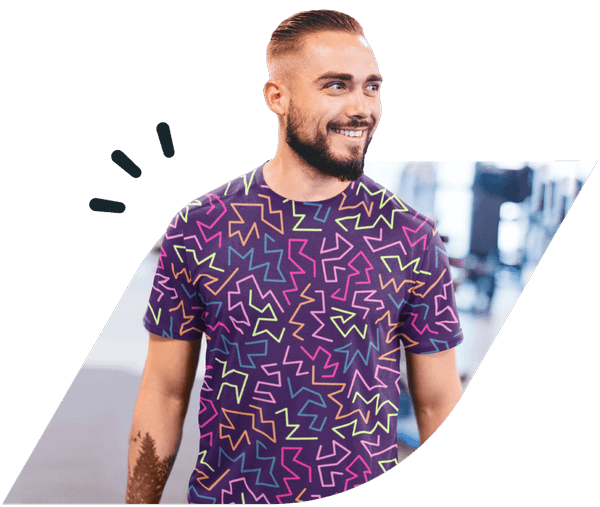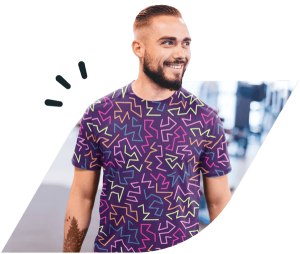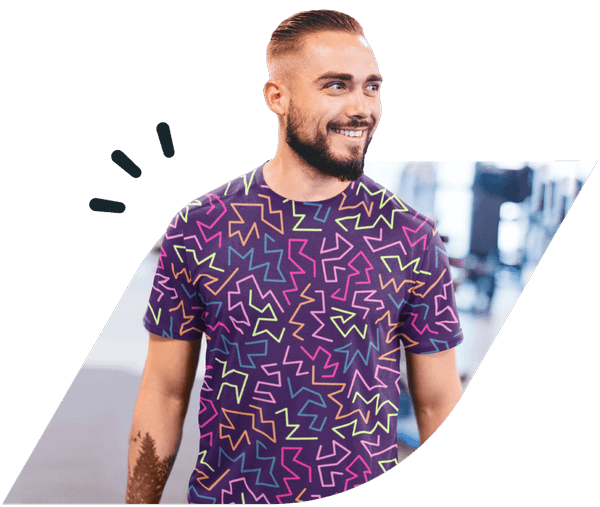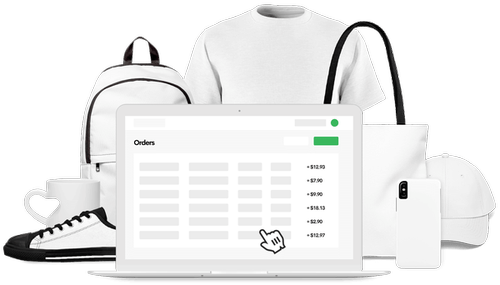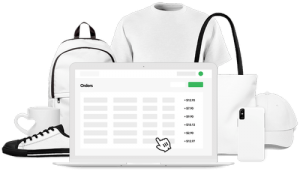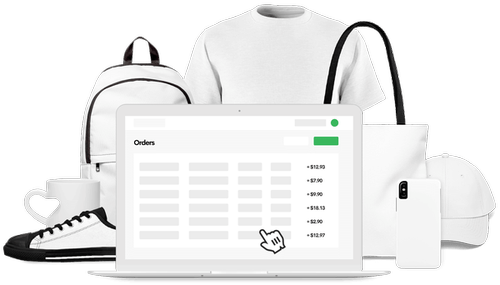 Why Create a Range of Custom Fabric Printing Products?
What AOP offers compared to the standard printing option is the ability to truly maximize your designs. Instead of the traditional front and back areas of the product to customize, you now have every fibre of the fabric to stylize.  This means that patterns and slogans, for instance, are shown off to the true intent, making the product look and feel more unique and as a design piece more complete; which in our experience leads to 3 things, Sales, sales, sales!

The custom fabric printing and sewing process makes sure that not only the quality of the design looks stunning, but also the manufacturing of the product is of the highest quality! If you are using patterns, for example the fact that your design is first printed onto the fabric and then sew together, means your designs will fit seamlessly together.

With our large range of AOP and custom fabric printing and sewing products available, creating your own unique range has never been more lucrative and more simple to do!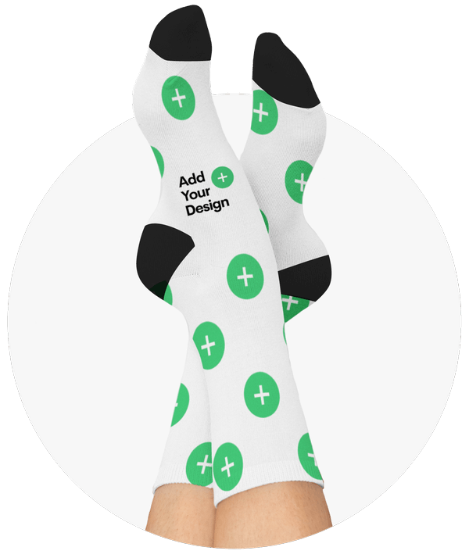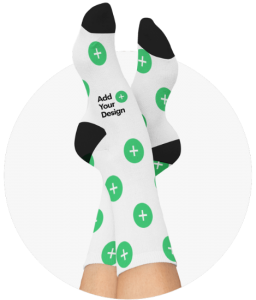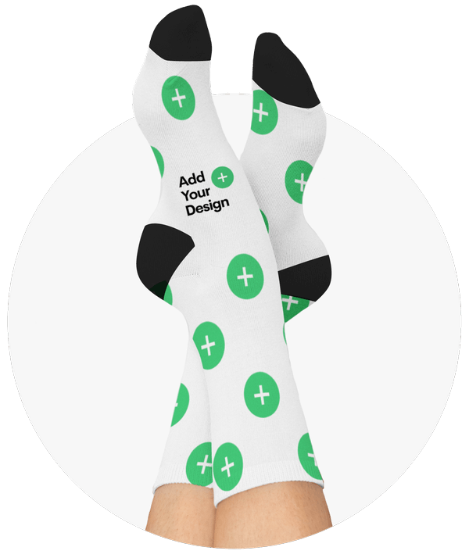 How Easy Is It to Create a Range of Custom Fabric Printing Merch -
With Printify?
Whether you want to add your AOP designs to a pair of our socks, or a hoodie, leggings, or a pencil skirt our free mockup generator has been designed to be user-friendly and easy to use. If you don't believe us you can test it out for free here on our AOP Unisex Sweatshirt mock-up.
If you are interested in creating your own range of custom fabric printing products, setting up shop, and publishing your designs can be done in a matter of minutes. Once you have chosen your target audience and picked the products your market research has suggested selling and of course, your designs are complete.

Then it's just a case of creating your Printify account, all you need to do is validate an email address and answer a couple of questions on what you will be using your account for.  
Now your account has been sent up, all that is left to do is browse our catalog in this case of our custom printing fabric products and add your designs!

Before you publish your designs now is the perfect time to take advantage of our samples option, to get a real feel for the product, and to make sure you 100% happy with the quality of the printing, how your designs look, and of course how the products have been manufactured. As our samples are real production items you just have to pay the same price as your customers would.

Now your market research is complete, your target audience has been chosen, your designs have uploaded to your product range and you are 100% happy with your sample! There is only one thing left to do, publish them, and start making sales!
No Money Upfront.
How Print on Demand Works
Due to the hybrid business model of drop shipping and print on demand, as a merchant, it will not cost you a single penny to set up shop! We want you to spend your time researching the market and perfecting your designs because these are the two main factors in running a successful store.

Our business model has been designed to take out the stress and worry of starting up your business from scratch.  Our drop shipping service will allow you to create a range of custom printing fabric products, and not have to pay any warehousing or staff costs! Because the items you design will not be made until a customer has successfully made an order.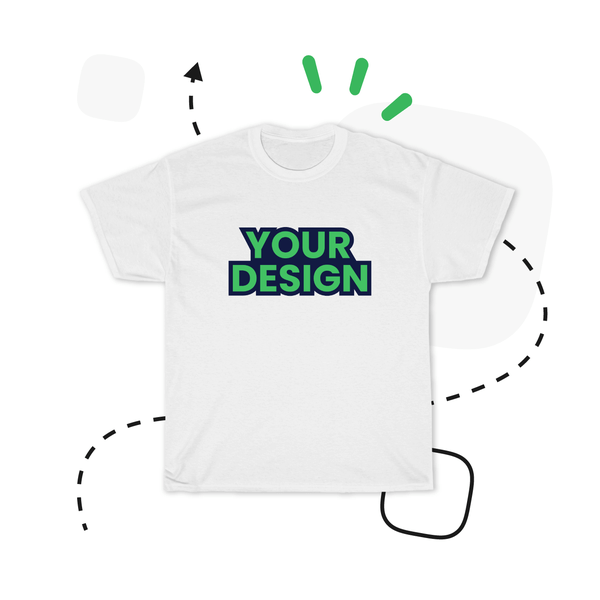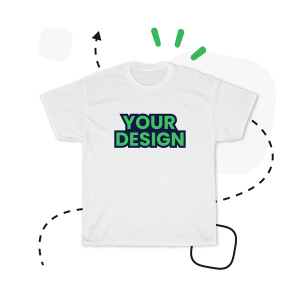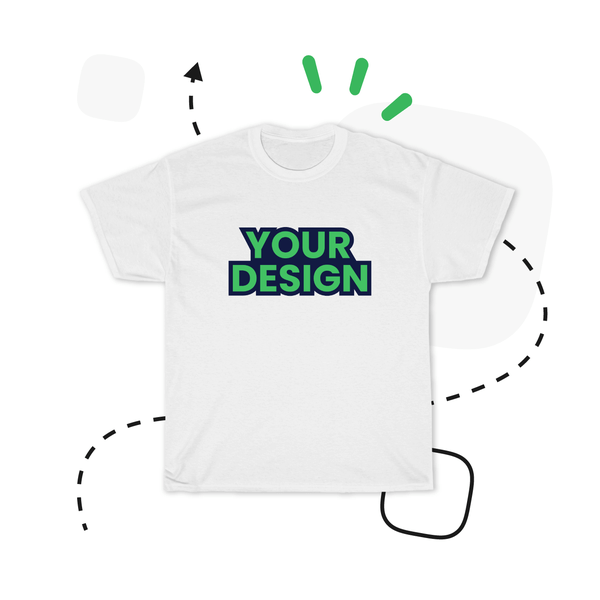 Once an order has come in, the first step you need to take is to choose a print provider for the product. On the item page, you will be able to see what print providers are available, their shipping costs, and times. Remember the closet the provider is to your customer the quicker and cheaper the order can be fulfilled.
Create Your First Custom Fabric Design!
Let's take some time to look at what support there is and what advantages you can expect when partnering with Printify to create your unique range of custom fabric printing products.
Using custom fabric printing and sewing techniques is a great way to enter the eCommerce market for new merchants! and with the products available for AOP it's perfect for the more experienced seller to create truly one-off products.  Our mock-up generator makes adding your designs to items a simple but rewarding process one that is sure to get the cash register ringing!  So, don't delay and start your eCommerce adventure with custom fabric printing.
Start Your eCommerce Adventure Today!