Printify is the most loved POD company in the world
Rated Excellent 4.8 out of 5
Create Beautiful Product Mockups in a Snap With Our Mockup Generator
Online Mockup Generator for Entrepreneurs of All Levels
Whether you're just starting out or are one of the professionals in the world of print-on-demand drop shipping, it's so easy to do business with us. Our free product mockup generator is super intuitive to use and allows you to design and make your ideas come true within minutes. Create hoodies and other apparel, posters, accessories, and home decor products and their mockups to showcase in your online storefront.
Browse Our Product Catalog
Before you dive deep into creating your awesome Printify products, explore your options in our Catalog. We have a wide range of different custom products – custom personalized t-shirts, hoodies, phone cases, mugs, custom tote bags, laptop sleeves, wall art and more.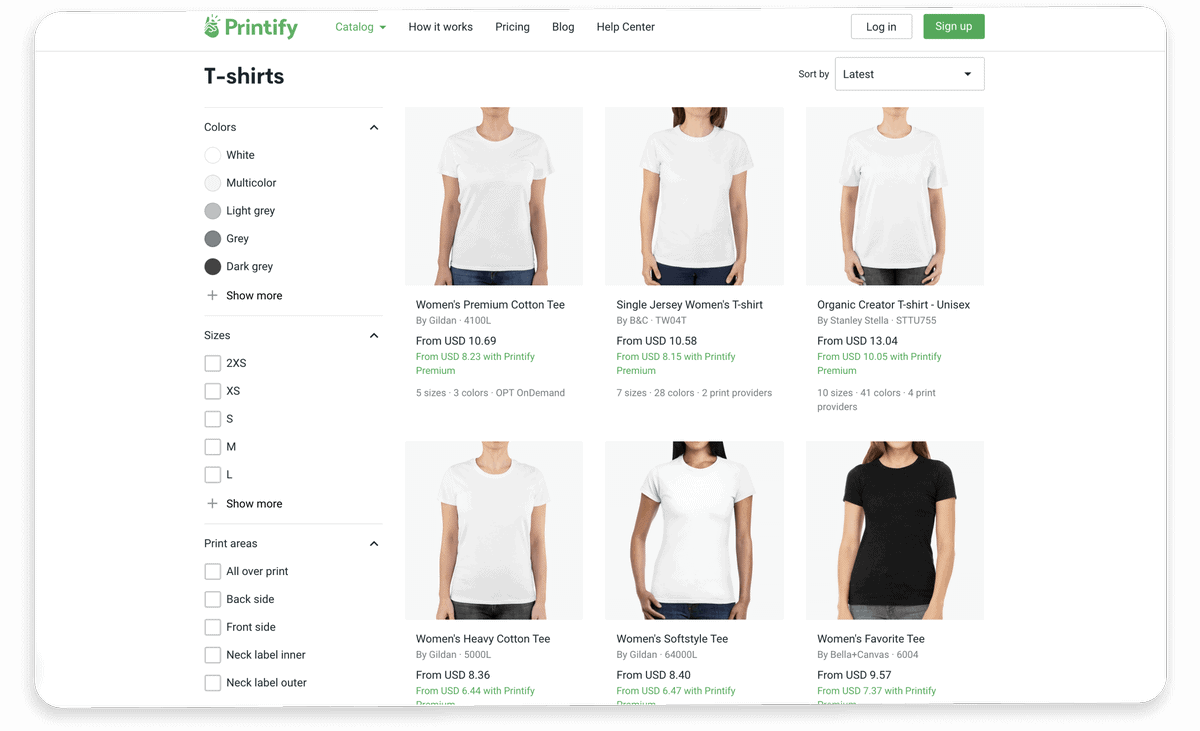 Once you have chosen a product that you want to create and sell with your design, the next step is to select a Print Provider. Compare Print Providers by location, price, available colors, sizes and more. Once you have selected your Print Provider, the next step is to select "Start Designing" and go to the Printify Mockup Generator.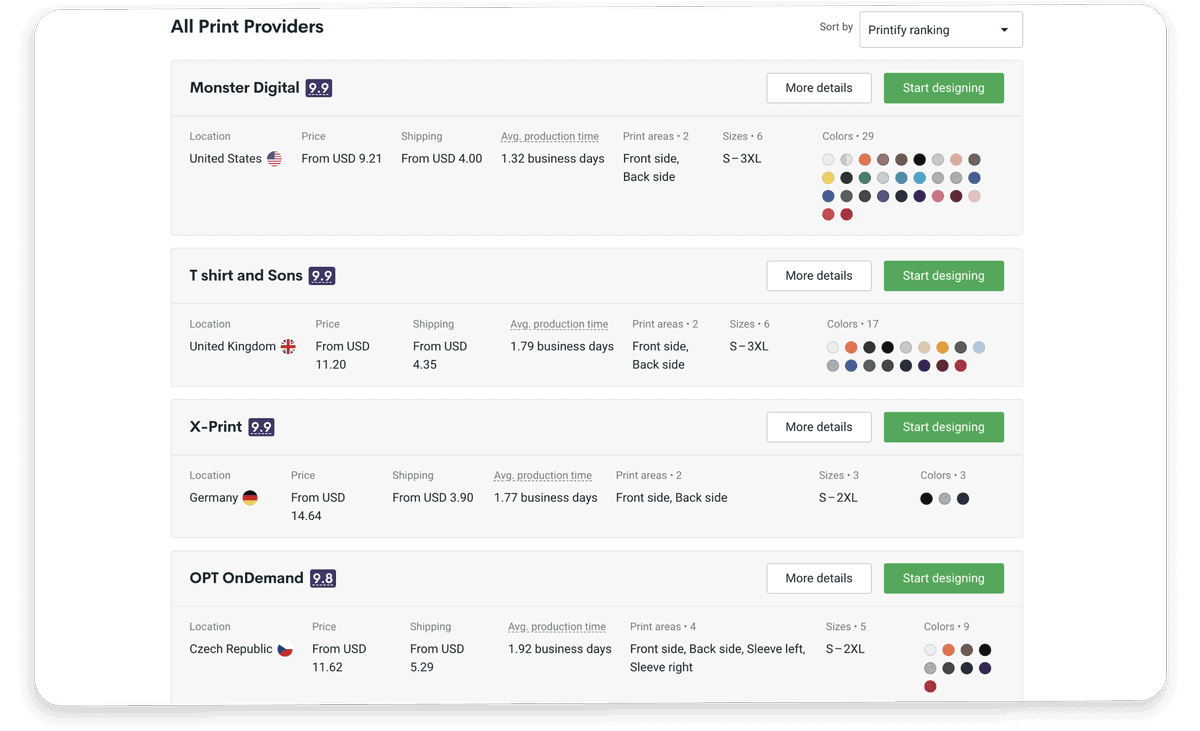 800+ Product Mockups With Your Design
In our catalog, you'll find a wide range of custom shirts for your brand starting from just $7.09 per shirt. And yes, it's including printing with your design!
In addition to the front print area, most of our t-shirts also come with the back print and sleeve print area options. For some t-shirt models, you can even add custom outer and inner neck labels.
Once you're finished with the design part and variants in our easy-to-use online mockup generator, select Preview mode and see how your product will look in real life – that's the perk of having mockups.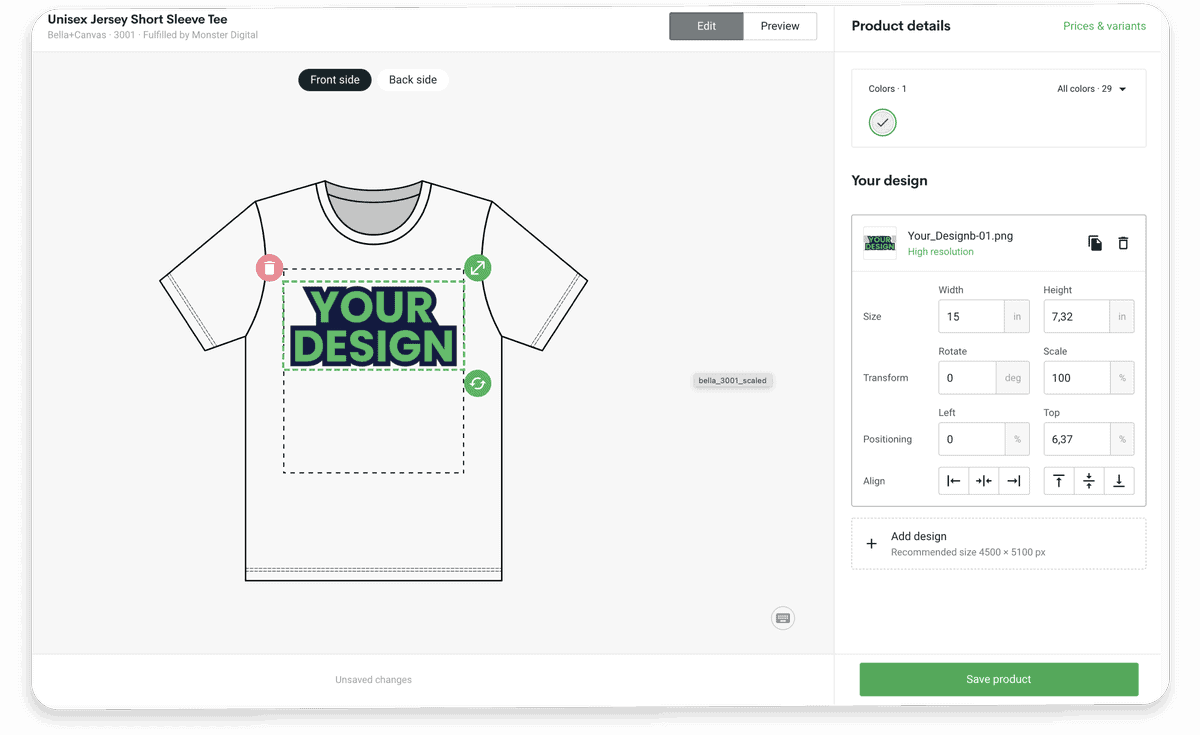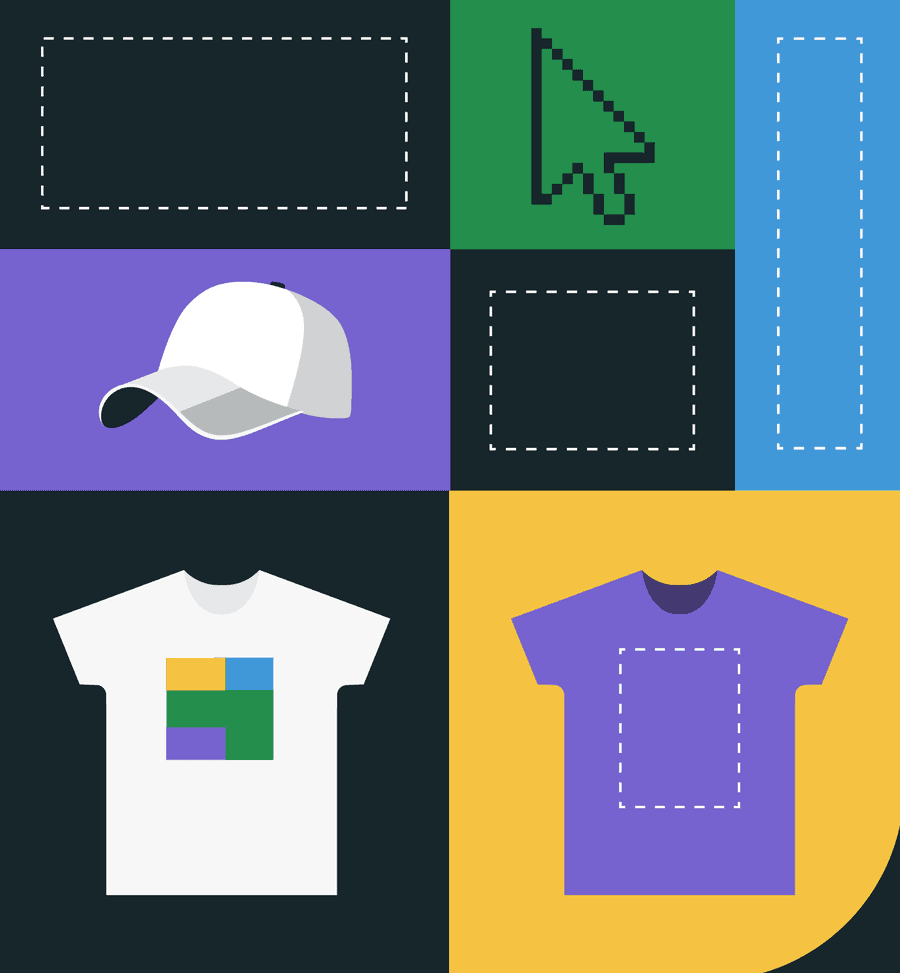 Check Out Our Thorough Design Guide to Achieve Perfect-Looking Products!
Phone Case Mockup Generator
Whether there's a particular custom phone case that you want to create and sell, or you're up for designing all available phone case models in our catalog, it's simple as 1-2-3.
Use Printify design templates to make your phone case and then choose your preferred background color to apply. Use the positioner to zoom in, rotate or resize to fit. Alternatively, drag & drop your own design to the interface, then select a background color from the available color options. 
For best results, make sure that your custom designs are of excellent quality. You can then switch between phone case models and sizes to ensure your design suits all of them and you come up with a stunning product mockup.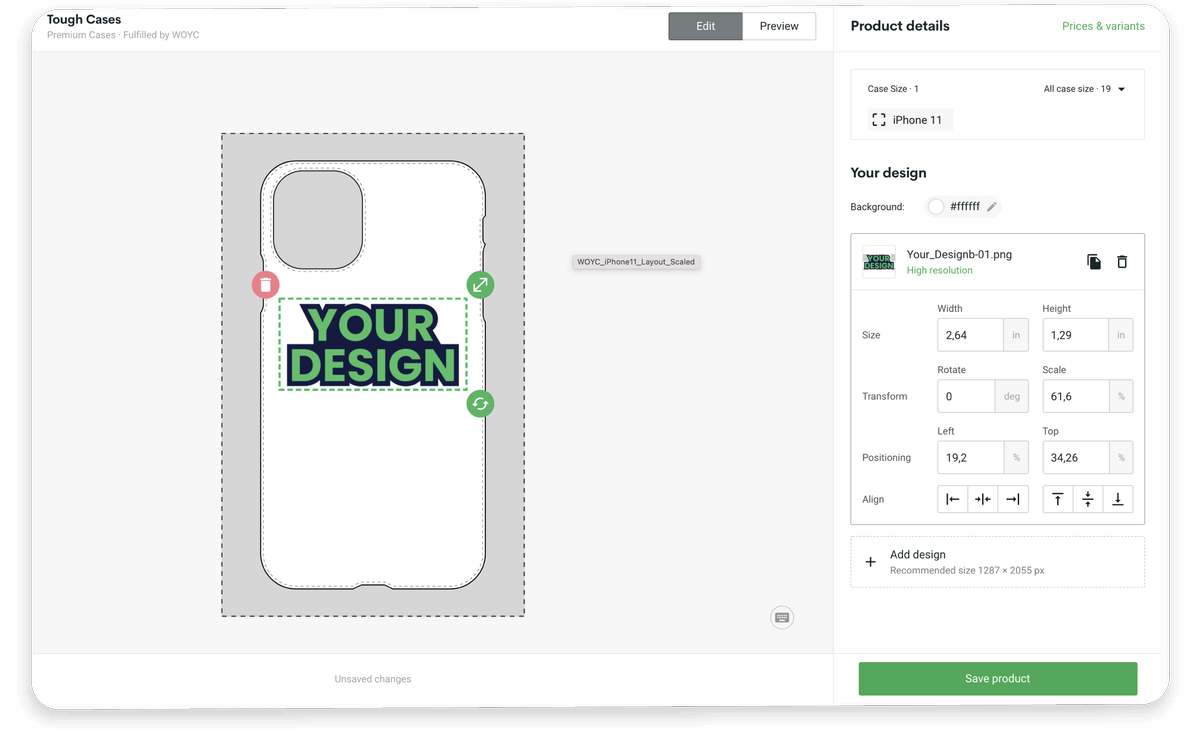 Aside from apparel mockups, with Printify, you can create stunning custom mugs and their mockups with just a few clicks. We've got various options in 11 oz. and 15 oz., stainless steel travel mugs, and even silver and gold beauties.
As for all Printify products, when uploading your design in our online mockup generator, please make sure that your image quality meets our requirements.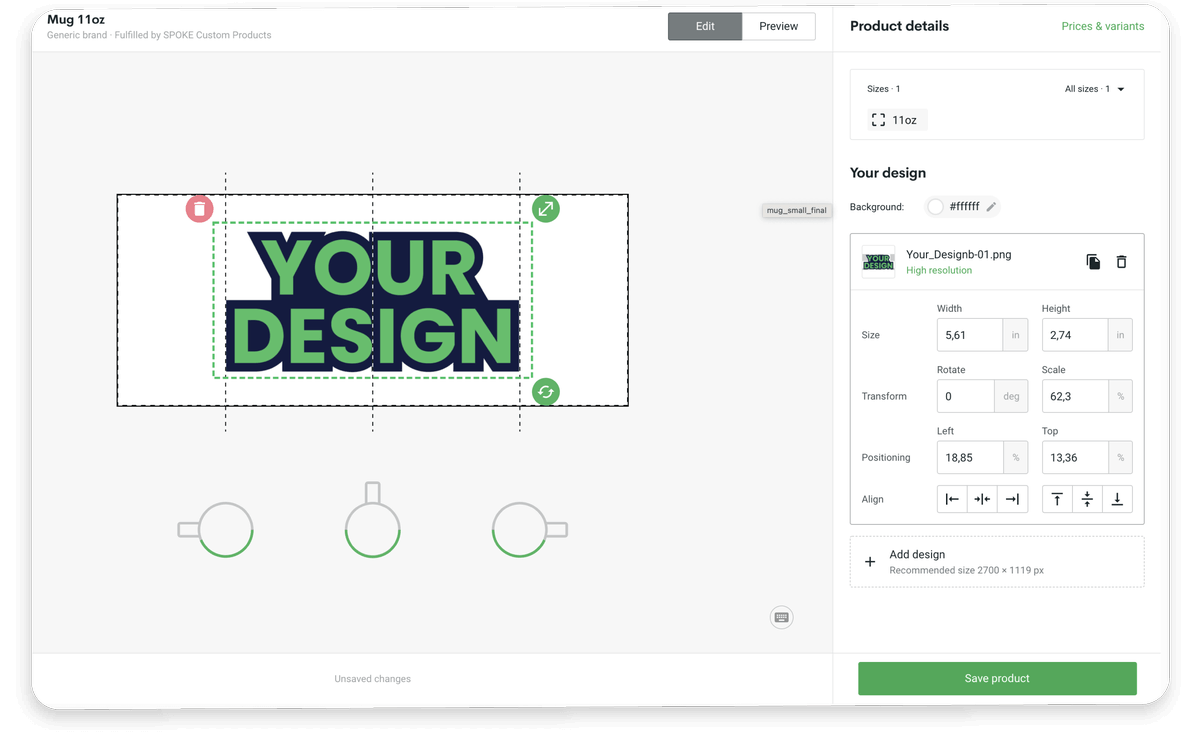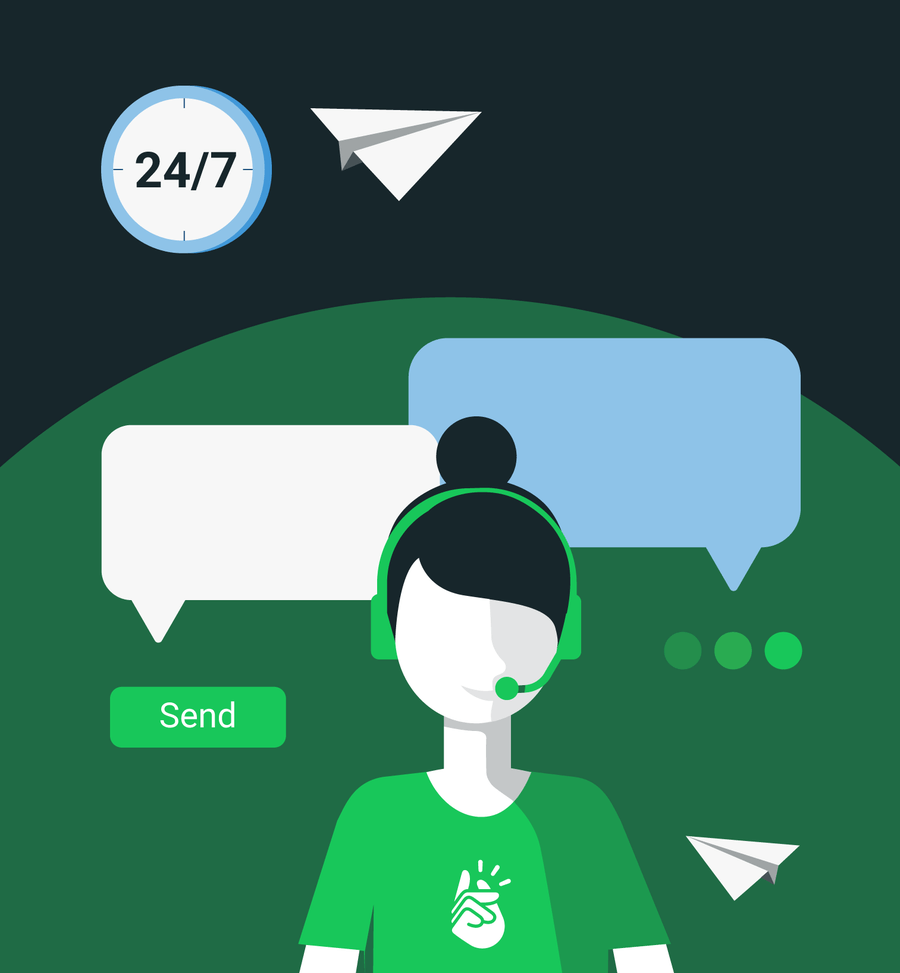 Our Help Center Is Here to Help – Take Advantage, Explore and Let Us Help You Sell Better!
Create Stunning Product Mockups With Printify!
Wall Art Mockup Generator
Wall art is so fun to create! There are just a few things to keep in mind: when you add your custom design to our canvas wraps it's important to understand how the 'wrap' effect might alter your artwork. This is where one of the best online mockup generators – ours– comes in handy by helping you understand how your final design will look on your customers' wall. And did we mention that it's completely free? 
To ensure that your designs are high enough quality to print, always aim for 300 dpi. If this is the first time you are designing wall art, check out our Design Guide for some useful tips that will help you achieve the highest quality and aid to make those sales.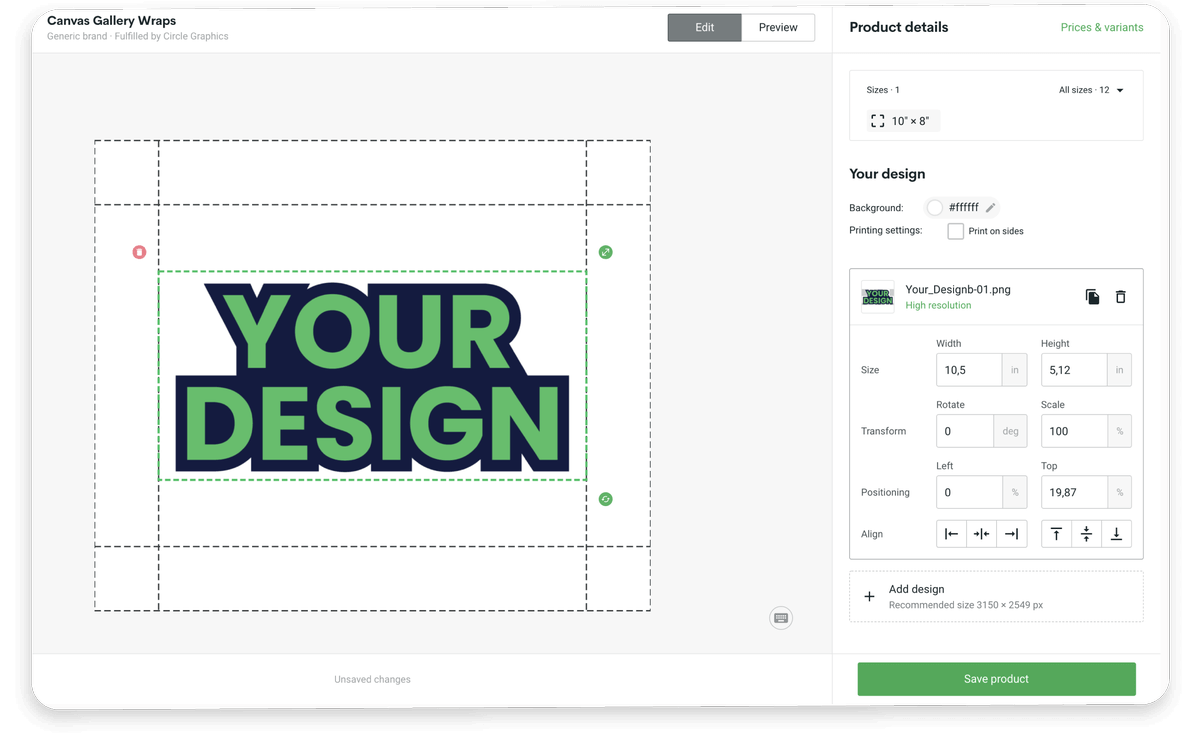 Free Mockup Generator, Hundreds of Products
In our vast catalog, you'll find a wide range of other products – home decor, accessories, pet products, and more. For all the mockups you create, make sure that your design is created according to the Printify Design Guide, for you surely want your clients to receive an end product that matches or exceeds your expectations.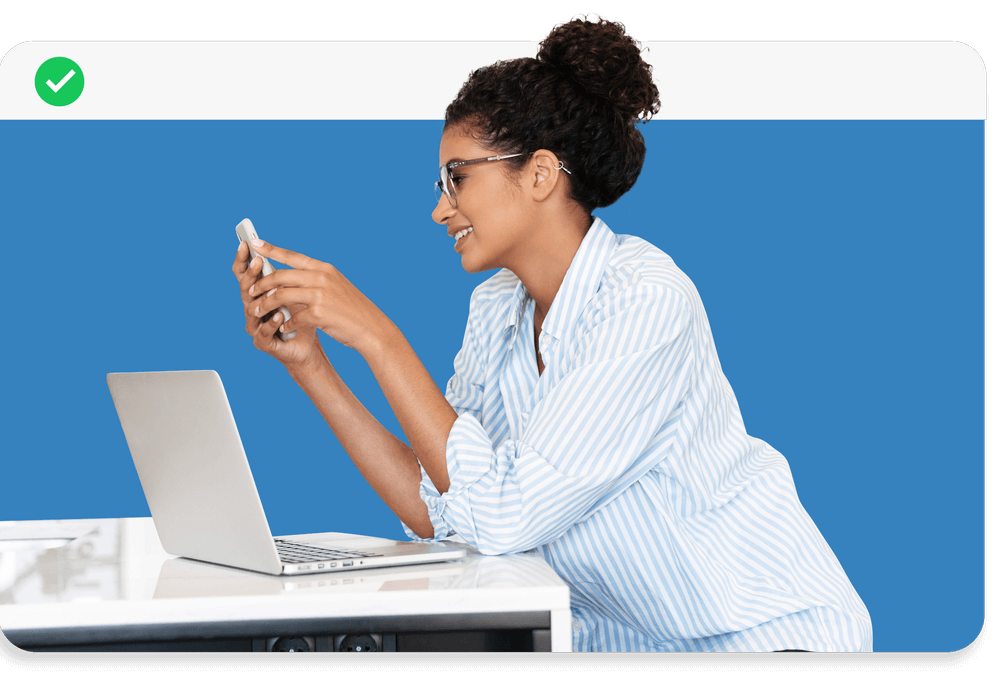 Not only you'll get to create beautiful mockups, but you will also be provided with product descriptions that you can leave as is or alter to your liking, showcasing your copywriting skills. Also, our clothing mockup generator automatically publishes your products to your Etsy, Shopify, or other popular marketplaces. Easy integration means you can start selling and profiting ASAP. You don't have to be a professional designer to get access to professional product photos for your business – create mockups with us, and that's one of the only tools you'll ever need to start making money.
Start Creating Custom Products With Printify