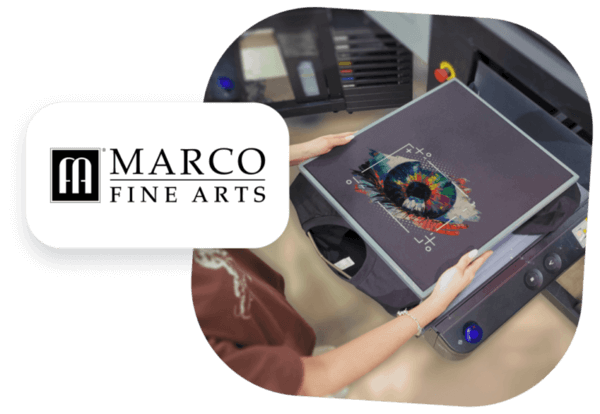 39 products · 8 brands · 2 locations
Marco Fine Arts (MFA) is the premium destination for on-demand art, fabric printing, and product fulfillment.
Their experienced team uses innovative fulfillment solutions to ensure the highest quality products and the best merchant experience for Printify.
MFA expanded to offer faster fulfillment, a diversified product catalog, a robust quality control program, and the capacity for high-volume orders.
Marco Fine Arts offers the following products to Printify merchants:
The Marco Fine Arts catalog features the following brands:
Marco Fine Arts has two fulfillment locations in the USA:
| USA | Marco Fine Arts · Santa Ana, California | Marco Fine Arts · Austin, Texas |
| --- | --- | --- |
MFA employs over 100 cutting-edge art and garment printers, including Epson and other high-tech hardware for large-format printing.
They offer beautiful-quality direct-to-garment and film-to-garment printing, ensuring our merchants have access to the latest printing processes.
MFA has an in-depth quality assurance program to ensure the best customer experience for every product we produce.
The program utilizes the latest technologies and best practices for testing, inspection, and personnel training.
Already Found What You Were Looking For?
Choose Marco Fine Arts as your Print Provider for innovative custom apparel and art printing with decades of experience in product fulfillment.