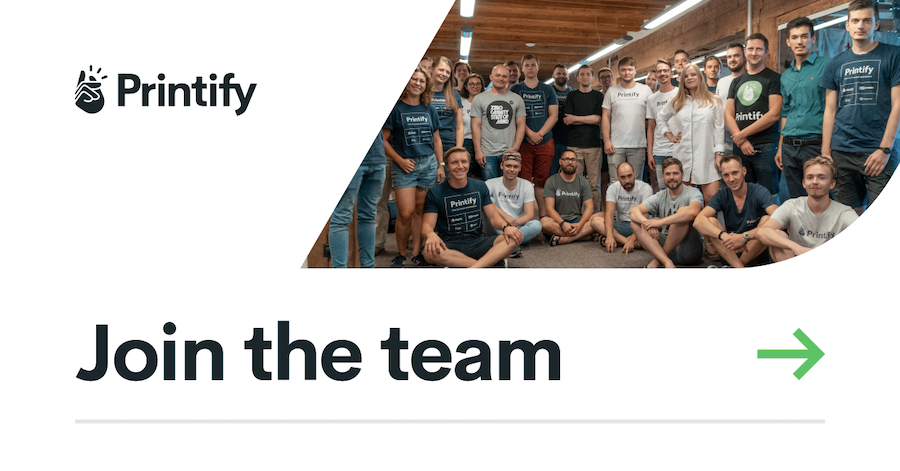 At Printify, Technical Recruiters undertake one of the most exciting roles within the Human Resources Team. A skillset in technical recruitment will be essential – we are looking towards 2.5-3x team growth within 2021, and the role involves supporting both international and local hiring.
Collaborate with hiring managers
Proactively source candidates through a range of platforms
Screen candidates
Arrange interviews
Send offers
Collaborate with HR team to optimize onboarding processes
Participate in in-house and external hiring events
Analyze and improve recruitment metrics
3+ years of experience in technical recruiting
Experience of working in a startup or other fast-paced environment
Excellent written and spoken English
Strong interpersonal and relationship-building skills
Self-discipline and time planning skills
Stock options so you own a part of Printify
Career development opportunities – mentorship, internal meetups & hackathons
Learning budget as a % of your annual salary
Flexible work schedule, start your workday between 7AM and 11AM
Option to work remotely
Health insurance to support your well-being (in Latvia and Estonia)
Modern & ergonomic office space in Printify House in Riga
Access to gym in Printify House
Free food in Printify House: breakfast, snacks, and Friday lunch
We offer international relocation support for international candidates who wish to work in Riga. Printify covers relocation costs, helps with immigration processes, housing and more.
Printifyers come from more than 20 countries
Our team has grown to more than 300 team members (and growing!)
We are the 15th America's fastest-growing company in 2020 (Financial Times)
Join Printify as Technical Recruiter