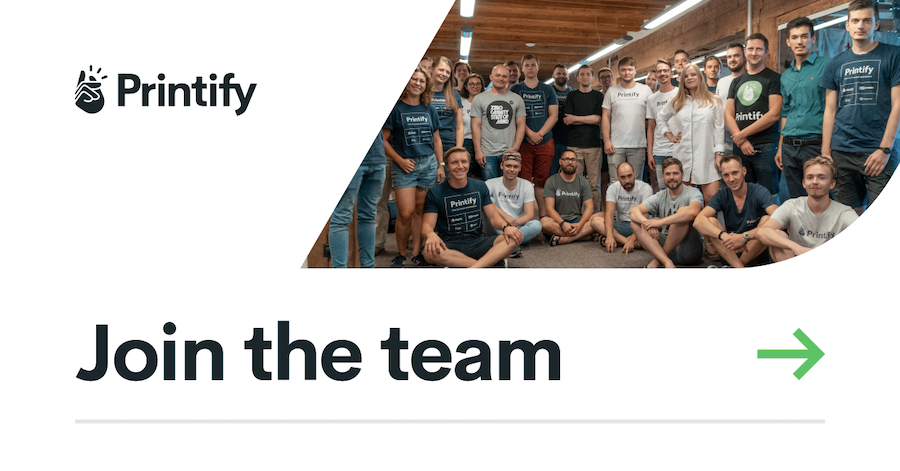 Printify is a high-growth, print-on-demand platform that connects e-commerce merchants and print-on-demand manufacturers. We work in a fast-paced and ever-developing industry with endless growth opportunities.
Merchant Support is the largest and fastest-growing squad in Printify. As such, we are looking for an experienced, responsible, and hard-working support data analyst to join our efforts in taking over the print-on-demand industry. You would work in an international environment with talented teammates in a casual atmosphere. As a support data analyst, you'll partner with our merchant support leadership team to help build a scalable model as we consider squad location, strategy, hiring capacity, outsourcing opportunities, specialization, and cost modeling. You'll have oversight regarding contact data, will share contact attribution, and provide actionable insights across all product teams at Printify. In doing so, you'll help them accurately engage with data and reduce contact rates.
Assist merchant support in analyzing what our merchants expect from support, what their reasons are for contacting us, their satisfaction levels, and how our service levels impact Printify's growth
Analyze and translate data into actionable insights
Act as a user insight liaison for the merchant support team
Recommend, analyze, and review support data and trends to help build a better customer support experience
Stay informed on the competitive marketplace, manufacturing, pricing, and industry changes
Recommend efficiency adjustments and improvements based on the analysis
Create reports, dashboards, and recaps on different metrics
Summarize and recommend improvements collaboratively based on customer behavior insights
Identify opportunities how to more powerfully use data and machine learning, to automate and optimize MS processes and solutions
Bachelor's degree in business, mathematics, or a related quantitative field required
3+ years of professional experience in business/data analytics
Proficiency in SQL-like language, experience with BI tools, and mastery of Microsoft Suite (Excel)
Strong mathematical and analytical problem-solving skills
Demonstrated ability to summarize analytics into concise statements
Technical aptitude to quickly learn new technologies
A team player spirit who possesses the ability and willingness to diplomatically challenge business staff at all levels
Stock options so you own a part of Printify
Career development opportunities – mentorship, internal meetups & hackathons
Learning budget as a % of your annual salary
Option to work remotely
Health insurance to support your well-being (in Latvia and Estonia)
Modern & ergonomic office space in Printify House in Riga
Access to gym in Printify House
Free food in Printify House: breakfast, snacks, and Friday lunch
Printifyers come from more than 20 countries
Our team has grown to more than 300 team members (and growing!)
We are the 15th America's fastest-growing company in 2020 (Financial Times)
Our team has achieved 3.5x year-over-year growth
Want to know more about work at Printify?
Join Printify as Support Data Analyst