Senior Designer, Marketing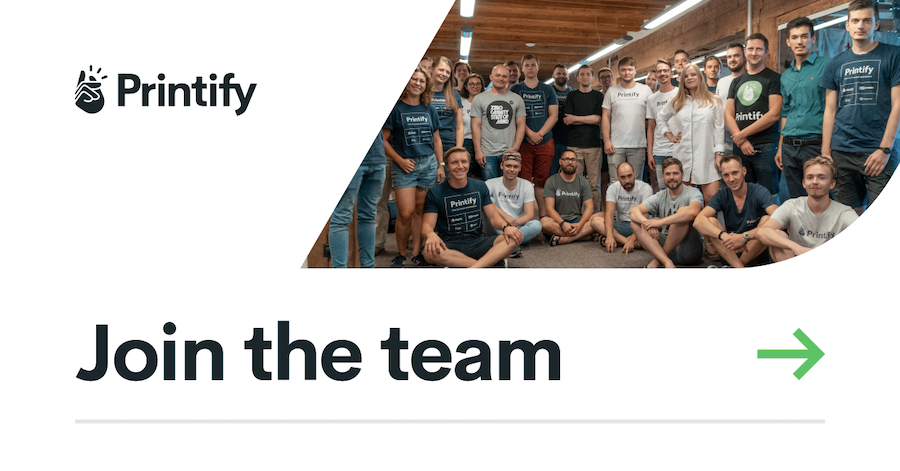 Printify is a high-growth, print-on-demand platform that connects e-commerce merchants and print-on-demand manufacturers. We work in a fast-paced and ever-developing industry with endless growth opportunities.
Printify is seeking a Senior Designer for the marketing team. You will creatively lead the team creating visual and video marketing content for Printify ads, social media and landing pages. You will be accountable for the creative quality of the marketing content and also for consistency of visual and tonal execution between content and product experience.
Creatively lead and support the team of content creators (graphic designers & video producers) to produce high quality marketing content for all channels.
Also creatively lead and support team members creating content for internal (non-marketing) teams and projects such as HR, employer branding, events, internal communications, office management and major pitch presentations.
Work with stakeholders to develop strategies & briefs for content.
Work with content creators to develop creative concepts and craft high quality executions.
Ensure all content maintains a consistent Printify brand voice and follows tone and guidelines.
Work with DesignOps team and Product Designers to maintain brand consistency for users across marketing channels and product experiences.
Collaborate with both stakeholders and content creators to ensure projects are on track and keep to deadlines.
A highly creative and strategic thinker.
An experienced content professional.
A natural talent with colour theory, composition, visual hierarchy, pacing, storytelling and concepts generation.
Someone who understands customer needs and quantifies appropriate actions.
Someone that enjoys to challenge the status quo.
Team orientated and enjoy helping others grow and deliver.
Someone who maintains composure under pressure with multiple projects.
Persuasive, a good communicator of concepts and fluent in English.
Interested and excited to work in a cross-cultural, high growth environment.
Ambitious and driven for the team to create their best possible work.
2+ years leading other content creators and working with multiple stakeholders.
Experience in estimating and scoping creative projects that will be executed by yourself or others in the team.
4+ years experience creating content across the range of marketing channels and internal teams as specified above.
Experience in design software required such as Adobe creative suite (focus on Photoshop, Illustrator, AfterEffects).
Experience in 3D software such as Maya, Studio 3D Max or Cinema 4D is a plus.
Experience managing multiple projects at the same time, and prioritising your time and attention.
An understanding of qualitative research methods.
Awareness of costs and budgets.
Previous experience or understanding of Digital marketing would be a plus.
Experience can be from a design/advertising agency or in-house marketing team.
Career development opportunities – mentorship, internal meetups & hackathons
Learning budget as a % of your annual salary
Stock options so you own a part of Printify
Flexible work schedule, start your workday between 7AM and 11AM
Health insurance to support your well-being (in Latvia and Estonia)
A budget for health insurance and gym membership for remote employees
Remote work is possible and encouraged from anywhere across Europe
International relocation support for international candidates who wish to work in Riga or Tallinn
Modern & ergonomic office space in Printify House in Riga
Access to the gym in Printify House
Free food in Printify House: breakfast, snacks, and Friday lunch
Join Printify as Senior Designer, Marketing