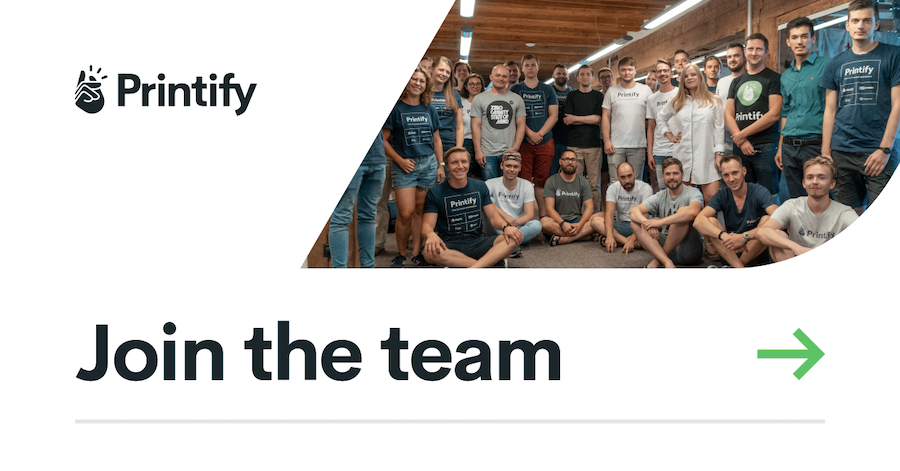 At Printify, our product managers have an opportunity to deliver huge value to both merchants & print providers by setting product vision and executing on user research insights. Our product managers work with product designers, engineers and researchers to deliver the best product experience in the industry. This role requires a high level of analytical thinking, attention to detail, project management skills and a "get shit done" attitude.
Set a strategic vision for your product team by inspiring and motivating the team
Lead cross-functional team (Designers, Engineers, Analysts, Researchers) to research, design and ship features that influence Printify's growth plan
Identify opportunities and adjust team priorities and backlog to maximize business impact
Set clear goals and deliverables for the team
Align the team's processes with other Printify teams, e.g marketing, customer support, and product teams.
At least 3 years of experience with user-facing product management
Demonstrate a track record of product management skills e.g. proof of shipped product with your participation
Excellent quantitative problem solving and analytical skills
Excellent written & spoken communication skills in English
Ability to quickly absorb technical concepts and communicate them to a non-technical audience
Career development opportunities – mentorship, internal meetups & hackathons
Learning budget as a % of your annual salary
Stock options so you own a part of Printify
Flexible work schedule, start your workday between 7AM and 11AM
Health insurance to support your well-being (in Latvia and Estonia)
Remote work is possible and encouraged from anywhere across Europe
International relocation support for international candidates who wish to work in Riga or Tallinn
Modern & ergonomic office space in Printify House in Riga
Access to the gym in Printify House
Free food in Printify House: breakfast, snacks, and Friday lunch
Printifyers come from more than 20 countries
Our team has grown to more than 400 team members (and growing!)
We are the 15th America's fastest-growing company in 2020 (Financial Times)
Join Printify as Product Manager