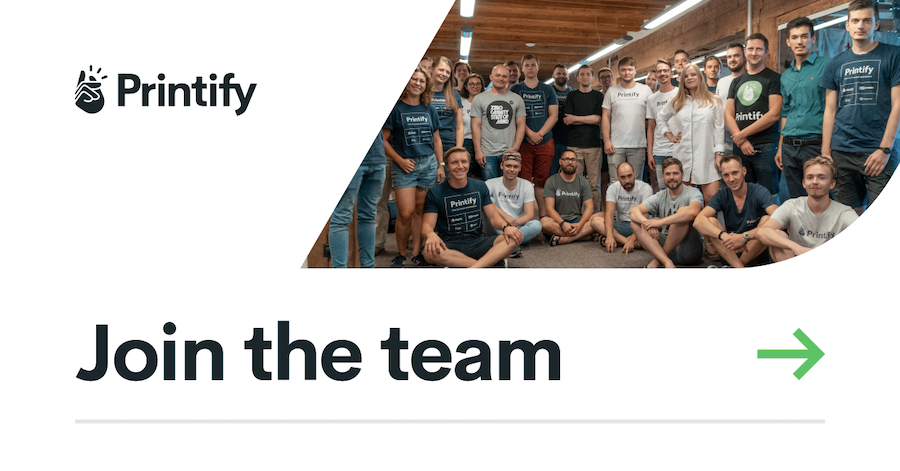 Printify is a high-growth, print-on-demand platform that connects e-commerce merchants and print-on-demand manufacturers. We work in a fast-paced and ever-developing industry with endless growth opportunities.
Merchant Support is the largest and fastest-growing squad in Printify. As such, we are looking for an experienced, responsible, and hard-working manager to join our efforts in taking over the print-on-demand industry. You would work in an international environment with talented teammates in a casual atmosphere. As a Merchant Support manager, you would lead a team of supervisors within the squad. The mission would be to design new workflow procedures and implement them using data-driven decisions, providing stellar support for our Printify merchants.
Drive efficiency and performance improvements in the Support squad
Manage, design, develop & document daily workflow improvements within the squad
Analyze the quality and effectiveness of the existing processes and make data-driven decisions toward improvements
Keep the supervisors and other direct reports accountable for work done according to the agreed performance and success metrics
Work with other Printify team members cross-team to communicate key merchant insights and obstacles to other teams, while contributing to the planning and growth of Printify
A meticulous, structured, and organized way of doing things
Ideally (but not necessary) previous leadership experience
Ability to visualize, articulate, conceptualize, and solve problems using available data and observations
Experience with various process improvement methods
To be "forward-thinking" – ability to proactively think several steps ahead and plan to scale
Stock options so you own a part of Printify
Career development opportunities – mentorship, internal meetups & hackathons
Learning budget as a % of your annual salary
Health insurance to support your well-being (in Latvia and Estonia)
Modern & ergonomic office space in Printify House in Riga
Access to gym in Printify House
Free food in Printify House: breakfast, snacks, and Friday lunch
We offer international relocation support for international candidates who wish to work in Riga. Printify covers relocation costs, helps with immigration processes, housing and more.
Interesting facts about Printify
15th America's Fastest-Growing Companies 2020 (Financial Times)
228th America's Best Startup Employer, 2021 (Forbes)
Our awesome team has grown to over 400 people
Join Printify as Merchant Support Manager