Learning and Development Manager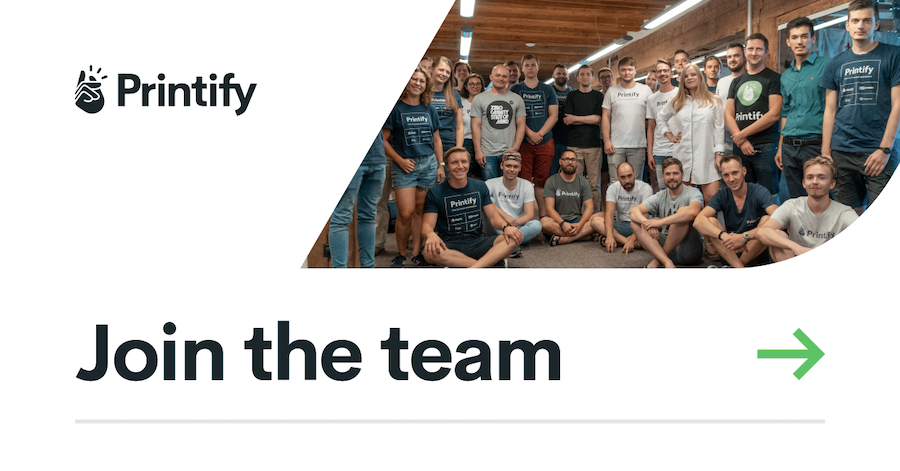 Printify is a growth-oriented print-on-demand platform that connects e-commerce merchants and print-on-demand manufacturers. We work in fast-paced, ever-developing conditions – resulting in expansion, evolution, and the discovery of modern opportunities.
At Printify, one of our core values is "learning".
Inspired by best practices from top companies
, we constantly strive to develop internal talent through several company initiatives. However, we are in need of a dedicated manager who will improve existing initiatives while proposing new ones.
The Learning and Development Manager role involves supporting both international and local staff while facilitating day-to-day management, including but not limited to onboarding programs, in-house and external training, and the continual optimization of relevant processes.
Strategize Printify's onboarding training and continuous-learning program
Develop general and department-specific onboarding programs
Develop an onboarding program for remote employees
Map existing in-house training programs
Plan internal and external training
Evangelize Professional Development OKR initiative throughout the company
Communicate across the organization with different stakeholders, their involvement in onboarding and training activities
Excellent English writing and speaking skills
3+ years of working experience in the role of Training / Learning & Development Specialist or similar
3+ years of hands-on experience of onboarding programs development
Experience working in software product development companies is a strong preference
Strong interpersonal and relationship-building skills
Tech-savvy
Self-discipline and excellent time planning skills
A workplace culture cognizant of human requirements – including flexible work scheduling
Stock options; a chance to own a share of the Printify company
Health insurance to promote your well-being
Career development and personal growth through special events, conferences, and mentorships
A modern office, located in the center of Riga, with free employee parking
Regular food provision; breakfast and snacks every single day with a bonus team lunch on Fridays
Interesting facts about Printify
America's 15th fastest-growing company, 2020 (Financial Times)
281st America's Best Startup Employer, 2020 (Forbes)
24th fastest-growing American-based company, 2019 (Inc. 5000)
3.5x year-over-year growth
A valued team of over 140
Join Printify as Learning and Development Manager