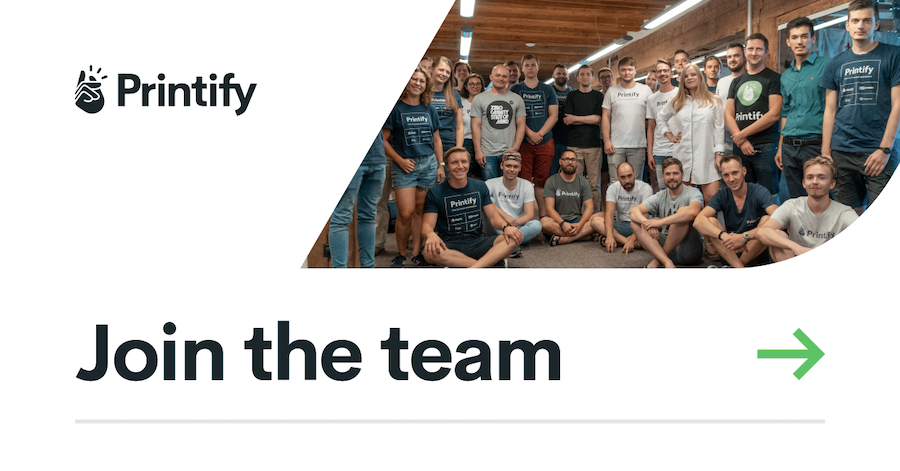 Printify is a high-growth, print-on-demand platform that connects e-commerce merchants and print-on-demand manufacturers. We work in a fast-paced and ever-developing industry with endless growth opportunities.
Interesting facts about Printify:
24th fastest-growing, American-based company, 2019 (Inc. 5000)
15th America's Fastest-Growing Companies 2020 (Financial Times)
281st America's Best Startup Employer, 2020 (Forbes)
An awesome team of over 400
Growth:
Printify's Growth team sits at the convergence of product, marketing, sales, and data, digging through data to find the needle in the haystack and obsessing about user experiences, balancing what's right for the business and fighting for what's best for the user!
Position Description:
Printify is looking for a Growth Product Manager to take on a meaningful role within the Growth Team. We are seeking an exceptional PM with the ability to manage and run a fast, nimble, high impact process experimentation and iteration process.
Drive the discovery, execution, and analyses of the experimentation program
Embrace the testing process: form and validate data-driven hypotheses across the product
Perform quantitative and qualitative research to identify opportunities for improving merchant experience
Ship minimum-viable-products to test your hypotheses while delivering a quality customer experience
Capture insights from growth experiments successes and failures, and communicate them to the broader team
Partner across the organization to drive and evangelize experimentation
Uncover growth levers through experimentation and drive the productization of it
2+ years experience as a product manager
Growth experience working to improve product metrics
A solid understanding of product funnel and metrics
Strong analytical skills, and experience with tools for doing data analysis
An owner's mindset – you don't shy away from the hard stuff
Experience in agile development
Experience conducting quantitative and qualitative analyses to identify user pain points
Strong collaboration in team environments but able to act quickly as the decision-maker
Reforge knowledge is a plus
Career development opportunities – mentorship, internal meetups & hackathons
Learning budget as a % of your annual salary
Stock options so you own a part of Printify
Flexible work schedule, start your workday between 7AM and 11AM
Health insurance to support your well-being (in Latvia and Estonia)
Remote work is possible and encouraged from anywhere across Europe
International relocation support for international candidates who wish to work in Riga or Tallinn
Modern & ergonomic office space in Printify House in Riga
Access to the gym in Printify House
Free food in Printify House: breakfast, snacks, and Friday lunch
Join Printify as Product Manager - Growth