Front-end Software Engineer (multiple teams)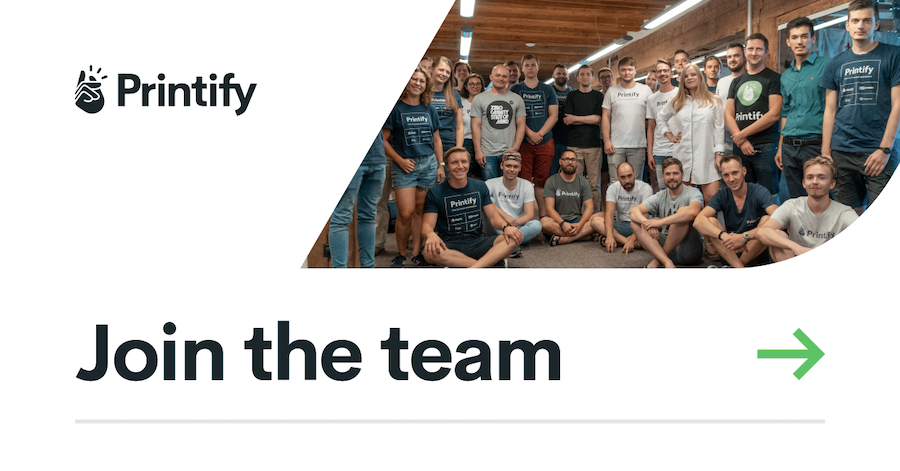 Printify is a high-growth print-on-demand platform that connects e-commerce merchants and print-on-demand manufacturers. We work in a fast-paced, ever-developing industry with endless growth opportunities.
As a Front-End Engineer working at Printify, you will:
Write and ship high-quality, scalable code.
Contribute to the company's engineering culture.
Work closely with UX designers, product managers, and other stakeholders on improving the overall experience of our product.
Develop skills by applying best practices and technologies.
Participate in pair programming, code refactoring and reviews, knowledge sharing sessions, and A/B testing.
Engage in full-stack development.
As a Printify Front-end Engineer, we expect you to:
Advocate user experiences via a product mindset.
Have solid software engineering background.
Have solid knowledge of TypeScript, HTML, and CSS.
Have experience with Angular or similar UI frameworks/libraries like React.
Have experience writing tests.
Help speed the migration to Angular10+ from Backbone.
Possess functional programming experience.
Understand design principles and development practices.
Stock options: You own a part of Printify.
Career development opportunities like mentorships, internal meetups, and hackathons.
A learning budget as a % of your annual salary.
Flexible work schedule: Start your workday between 7 – 11 a.m.
Printify is on the way to become remote first company
Health insurance (Latvia and Estonia)
Modern, ergonomic office space (Riga)
Gym access (Riga)
Free food in Riga's Printify House: Breakfast, snacks, and a Friday lunch are served.
We offer international relocation support for international candidates who wish to work in Riga or Tallinn. Printify covers relocation costs, helps with immigration processes, housing and more.
Printifyers come from more than 20 countries
Our team has grown to more than 400 team members (and growing!)
We are the 15th America's fastest-growing company in 2020 (Financial Times)
Join Printify as Front-end Software Engineer (multiple teams)