CRO / Content Optimization Specialist
Marketing & Communications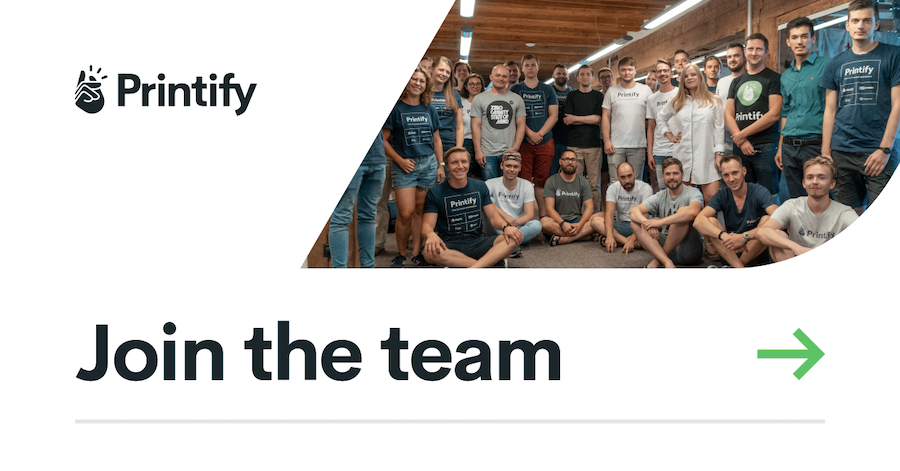 Printify is a high-growth, print-on-demand platform that connects e-commerce merchants and print-on-demand manufacturers. We work in a fast-paced and ever-developing industry with endless growth opportunities.
As a CRO/Content Optimization Specialist you will collect data, use your understanding of analytics, UX and A/B testing to find pain points and execute CRO campaigns on website content projects and landing pages to maximize conversion rate. This position requires a high-energy, self-motivated individual who thrives in a fast paced environment.
Oversee and optimize website content (landing pages, blog posts, guides) to establish trust, make it function perfectly, convert well and deliver the best possible user experience.
Collaborate with the Content Marketing Managers, SEO Specialists, Designers and WP Managers to incorporate conversion-driving functionality of our website content.
Collect data on website metrics, heat mapping, A/B tests and user surveys to get a full visual perspective of how exactly users are using our website.
Produce and present testing roadmap, CRO performance reports and recommendations on new feature implementation to optimize conversion.
Prioritize optimization projects.
Leverage design best practices.
Understand, monitor, and improve key conversion metrics.
Stay on top of CRO trends and best practices.
3+ years experience in marketing and CRO, content optimization.
A strong understanding and hands-on experience with Google Analytics, Optimizely, Hotjar, A/B testing and other CRO optimization and website analytics tools.
Strong analytical skills and understanding of the fundamental elements that convert visitors.
Great project management skills to manage multiple projects in a fast-paced, deadline-driven environment.
Ability to report and act on data to drive decisions, identify opportunities for improvement, and to validate the success of key site changes/enhancements.
Excellent written and verbal communication skills in English to effectively communicate test results, insights and recommendations to internal teams.
Excellent time-management and project management skills with strong attention to detail.
Solid understanding of online content marketing strategies and SEO.
A good understanding of persuasion techniques and consumer behavior.
Amazing workplace culture with a flexible work schedule.
We offer Stock Options, so everyone at Printify owns a part of the company.
Health Insurance to support your well-being.
Career development and growth through training such as events, conference training, and mentorship.
Relocation assistance is available. Modern office in the center of Riga.
Possibility to work remotely from Tallinn, Estonia or Kiev, Ukraine
Free food: breakfast, snacks, and Friday lunch.
Printifyers come from more than 20 countries
Our team has grown to more than 300 team members (and growing!)
We are the 15th America's fastest-growing company in 2020 (Financial Times)
Join Printify as CRO / Content Optimization Specialist