Content Marketing Manager
Marketing & Communications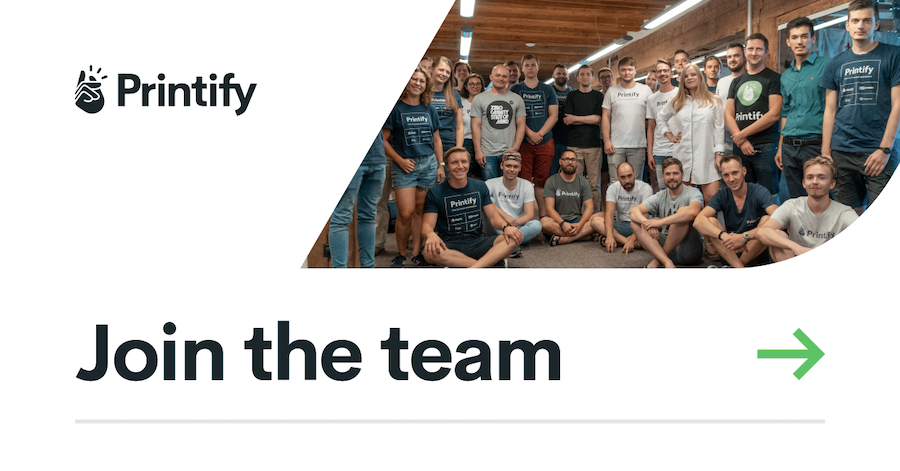 Printify is a high-growth, print-on-demand platform that connects e-commerce merchants and print-on-demand manufacturers. We work in a fast-paced and ever-developing industry with endless growth opportunities.
We are looking for a talented Content Marketing Manager to help create a strategy on media/pitching using existing content and managing copywriter resources.
Boost brand awareness online, coming up with content ideas, and distribute them on external channels.
Establish and maintain relationships with industry experts, media, and blogs.
Developing strategy and manage marketing campaigns across online platforms to ensure that products and services meet customers' expectations and build the credibility of our brand.
Shape and communicate our vision and mission into all content materials – like success stories, landing pages, and blog articles.
Devise innovative growth strategies.
2+ years experience in brand content, content marketing, and building online partnerships.
Excellent English communication skills, both verbal and written.
Highly organized and perform well under pressure.
Strong research and analytical skills.
Degree in Business, Marketing, or related field.
Amazing workplace culture with a flexible work schedule.
We offer Stock Options, so everyone at Printify owns a part of the company.
Health Insurance to support your well-being.
Career development and growth through training such as events, conference training, and mentorship.
Relocation assistance is available. Modern office in the center of Riga.
Possibility to work remotely from Tallinn, Estonia or Kiev, Ukraine
Free food: breakfast, snacks, and Friday lunch.
Printifyers come from more than 20 countries
Our team has grown to more than 400 team members (and growing!)
We are the 15th America's fastest-growing company in 2020 (Financial Times)
Join Printify as Content Marketing Manager